New York Jets vs. New England Patriots: Live Score, Highlights and Analysis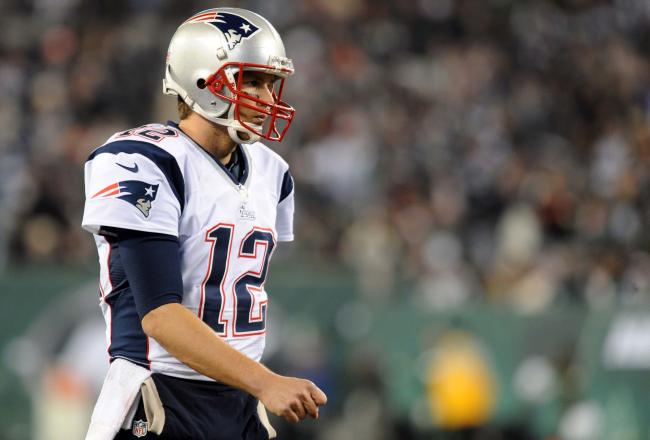 Joe Camporeale-USA TODAY Sports
It certainly wasn't easy, but the Patriots found a way to eek out a win in what was by far the ugliest game of the 2013 season. The second-half rain certainly didn't help, but drops and miscommunication on both sides of the ball killed offensive drives.
Stay here for live updates and analysis.
FINAL
Patriots 13

Jets 10

That ends it.
FINAL SCORE:

Patriots 13, Jets 10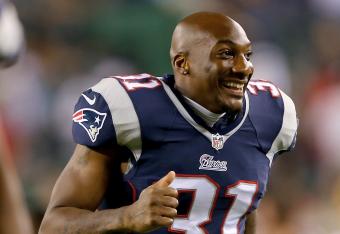 INTERCEPTION!

Aquib Talib intercepts an underthrown ball by Geno Smith, and that will end the game.
:56 4th Qtr
Jets have it on the 30. Can they win on another miracle drive?
This looks real. This could be a huge loss for the Jets—Wilkerson is arguably their best player.
1:47 4th Qtr
The Jets get the third-down stop, but Muhammad Wilkerson comes up with an injury—a tactic to stop the clock, or a real injury?
Brady has 19 completions... 13 of them to Edelman

— Dan Hellie (@DanHellie) September 13, 2013
2 minute warning
The Jets, without any timeouts, need a big stop here to get a chance to have the ball back.
Geno Smith has completed 45 percent of his passes with a 41.7 passer rating to this point. #nyj

— Manish Mehta (@MMehtaNYDN) September 13, 2013
Could be a "defensive tactic"
Sheldon Richardson is hurt

— Brian Costello (@BrianCoz) September 13, 2013
4:00 4th Qtr
INTERCEPTION
Geno Smith underthrows Gates on the sideline, which leads to the interception by Alfonso Dennard. Give some credit to the Patriots' defense, they have gotten the turnover when they needed them most.
Following a big first-down run:
So far: Powell with 13 runs, Ivory with 12. #Jets

— Dennis Waszak Jr. (@DWAZ73) September 13, 2013
6:30 4th Qtr
The Jets take over again thanks to a terrific breakup by Darrin Walls (taking over for Dee Milliner). This may be their last chance to put some points on the board to at least tie this game up. Remember—they only have one timeout.
7:40 4th Qtr
A delay-of-game penalty pushes the Jets back to a 3rd-and-10. Powell, drops a checkdown, and we get another punt.
Edelman follows with a nice 15-yard return. If the Patriots win, Edelman will be the biggest reason why.
Jets have a 10-minute advantage in time of possession.

— Brian Costello (@BrianCoz) September 13, 2013
10:00 4th Qtr
Brady FINALLY is able to connect with Aaron Dobson to a first down. If the Patriots can put together a long, time-consuming touchdown drive, it could end the game.
11:13 4th Qtr
INTERCEPTION!


Geno Smith tries to hit his reciver on a broken play, but the throw is behind him and the ball is tipped into Aquib Talib's hands.
The decision was solid. The accuracy wasn't.

— KC Joyner (@KCJoynerTFS) September 13, 2013
Hill appeared to tweak an ankle on that Gates incompletion. Went to the sideline.

— Jane McManus (@janesports) September 13, 2013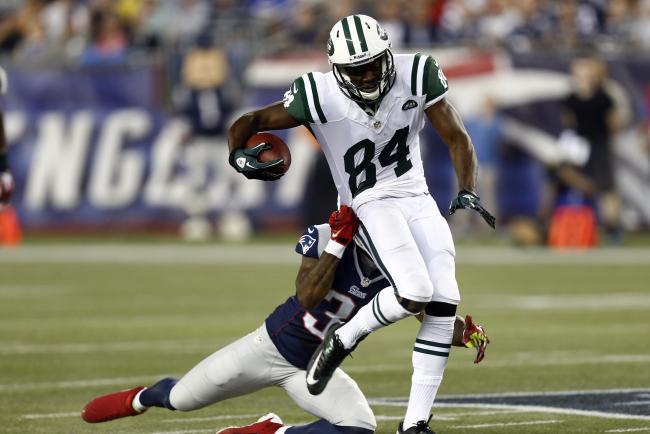 12:00 4th Qtr
Stephen Hill uses his size to come up with another big catch to flip field position. Hill has bad hands, but he was drafted because of his ability to make catches like the one he just did.
13:44 4th Qtr
The Jets make a huge conversion to Santonio Holmes, who was coming out of the slot. Holmes has not made many catches this game, but they have all been huge.
14:00 4th Qtr
Jets are forced to take a timeout. This may come back to bite them later in the game.
14:55 4th Qtr
The Jets force yet another fourth down, as Brady and his receivers cannot get on the same page. However, as bad as the Patriots have been on offense, the Jets need to put together one more drive if they want a chance to win this game.
Jets continue to shuffle their cornerbacks:
Kyle Wilson in for Milliner right now. #nyj

— Seth Walder (@SethWalderNYDN) September 13, 2013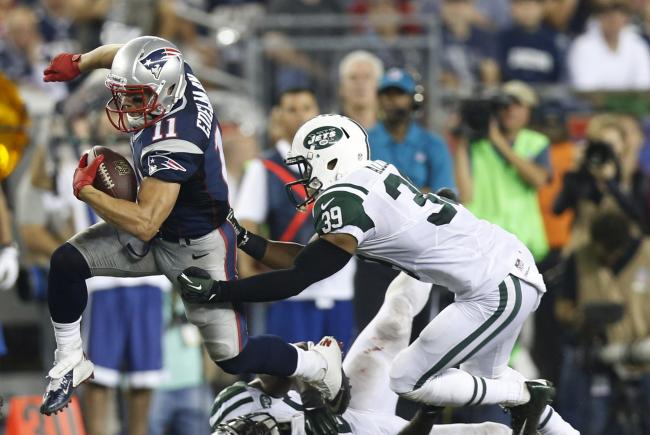 4:00 3rd QTR
Julian Edelman is the only receiver Brady can trust anymore. He picks up a first down after Dobson drops a routine catch.
This article is
What is the duplicate article?
Why is this article offensive?
Where is this article plagiarized from?
Why is this article poorly edited?

New York Jets: Like this team?