TCU vs. Texas Tech: Live Score and Highlights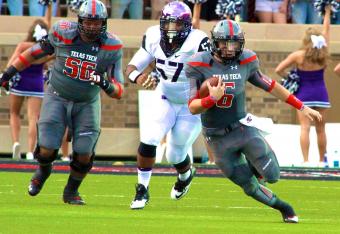 TCU - 10

Texas Tech - 20

Final

In one of the most bizarre games you'll ever see, Texas Tech was able to knock off the 24th ranked Horned Frogs. There were terrible calls, poor offensive execution and even a fox running across the sidelines.
But most importantly, the Red Raiders outplayed TCU and found a way to win. Quarterback Baker Mayfield threw for 216 yards and a touchdown, while the defense forced two turnovers.
However, it was freshman Davis Webb who came in through the clutch once Mayfield got banged up, throwing a touchdown late in the fourth quarter to give the Red Raiders the victory.
TCU will look to bounce back in a couple of weeks against SMU, and Texas Tech will look to continue its momentum against Texas State on Sept. 21.
What did we learn from this big game?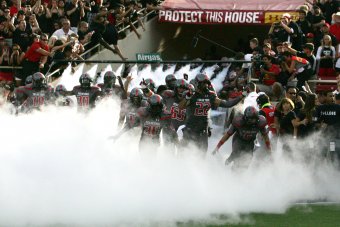 Michael C. Johnson-USA TODAY Sports
Texas Tech - 20
TCU - 10
Game over.
Wait...
Didn't TCU need two scores? Why not kick a field goal?
Well, Texas Tech wins.
Blame the referees all you'd like, but TCU did absolutely nothing to help themselves. The offense was brutal and there were 13 penalties.
Tough to win a game like that.
Texas Tech - 20
TCU - 10
Texas Tech pretty much put the game on ice. But with the way everything has unfolded within the last three hours, a comeback the ages and 67 overtimes wouldn't surprise anybody.
I blame the fox.
The refs just whistled TCU for traveling.

— Adam Jacobi (@Adam_Jacobi) September 13, 2013
It's getting to this point:
And another.
How is a running back down when his legs are still moving and he's picking up yards?
Although Texas Tech has outplayed TCU all game long, there have been many questionable calls down the stretch.
TCU just got screwed out of a horrible call.
Wow...
Texas Tech's defense stepped up once again to force a punt.
If the Horned Frogs are going to have any chance of winning this game, the defense must force a turnover.
Boykin has to make plays in the air, but with three timeouts, the Horned Frogs can't get rid of the the run just yet.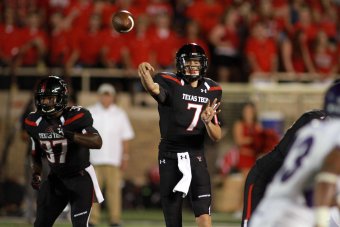 Michael C. Johnson-USA TODAY Spo
Texas Tech - 17
TCU - 10
Who is Davis Webb?
Oh, he's just a freshman quarterback who came off the bench in the fourth quarter to give Texas Tech the lead.
Your move TCU.
DeAndre Washington scores on a touchdown that looked awfully similar to the first touchdown of the game. TCU missed tackles and everything.
But wait!
He dropped the ball before scoring. Thanks to a penalty, the Red Raiders will get the ball at the 16-yard line.
Stupid rule. It should be ruled a touchback.
Uh-o.
Mayfield is hurt.
Texas Tech will now use Davis Webb, who is a more athletic quarterback.
This is Baker Mayfield's chance to arrive. National television, tied game, under seven minutes left in the fourth quarterback.
What ya got?
TCU - 10
Texas Tech - 10
Touchdown TCU!
Wait...
There may be a flag.
Just kidding!
Texas Tech's defense must man up here. It's obvious TCU is turning to its ground game to have offensive success.
Grown man football!
Who is going to blink?
OH. MY.
Cam White comes up with a huge reception and displays incredible hand strength.
Well...
Brandon Carter's touchdown run was called back. He called for a fair catch.
The ball goes back to TCU's offense.
Get ready to jab your eyeballs with a fork!
Who needs offense?
Brandon Carter takes one back the distance!
And this game is tied up.
But what's up with the fair catch? Carter did wave his arm, which looked like a fair catch attempt.
TCU has turned 3 Texas Tech turnovers into only 3 points. One of many reasons the Frogs trail 10-3, 12:23 4Q

— Eye on College FBall (@EyeOnCFB) September 13, 2013
Story of the game.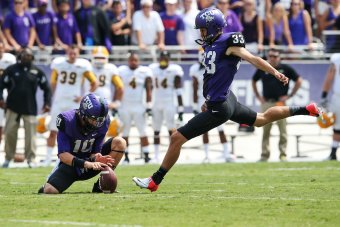 Kevin Jairaj-USA TODAY Sports
Jaden Oberkrom hooks a 55-yard attempt.
Maybe if he weighed a little more than 170 pounds (Which seems like a stretch,) he would have had the leg muscle to finish the job.
TCU is moving in Texas Tech territory.
Unfortunately for TCU fans, they've head this before.
Jason Verrett comes though with a monster hit!
Oh my goodness.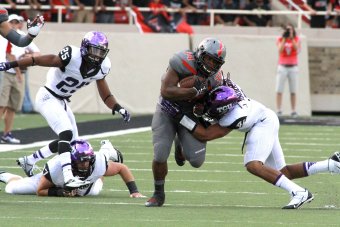 Michael C. Johnson-USA TODAY Sports
As we enter the fourth quarter, it's safe to say that one more score would secure a victory for Texas Tech. TCU can't get anything going offensively.
At ALL!
Jackson Richards comes away with a huge interception, as TCU was looking to tie the game up!
The Horned Frogs have shot themselves in the foot all night long.
This article is
What is the duplicate article?
Why is this article offensive?
Where is this article plagiarized from?
Why is this article poorly edited?