Ranking the 25 Most Valuable Players on 2013 MLB Playoff Contenders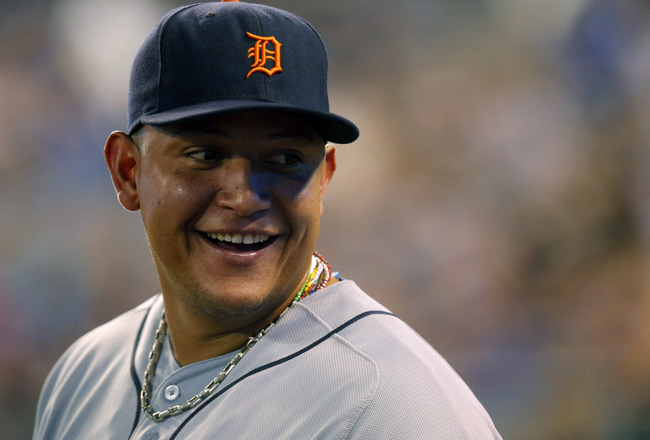 Kyle Rivas/Getty Images
There are certain players whose value is measured in multiple ways. Whether it's in normal statistics or sabermetrics, a player's value is more easily recognizable today than it was 20 years ago.
For some MLB teams, those players are the reason they are in the midst of a playoff hunt.
So, which players stand out the most?
Here's a look at the 25 most valuable players on 2013 MLB playoff contenders.
Note: A variety of factors were taken into account for each player. Regardless of what their role is with their team, they bring value in a variety of ways.
Just Missed the Cut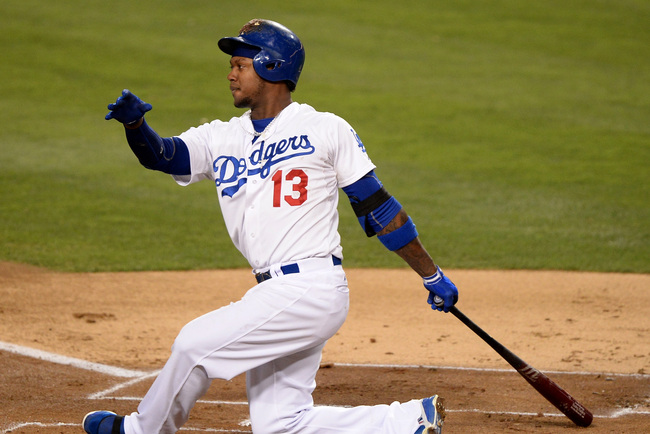 Harry How/Getty Images
Hanley Ramirez
Francisco Liriano
Hiroki Kuroda
Manny Machado
Bartolo Colon
Jordan Zimmermann
All six of these players deserve to be mentioned, but unfortunately, there are only 25 spots in this list.
Regardless, I would be remiss not to mention these players, who have been key in getting their teams to where they are.
25. Billy Hamilton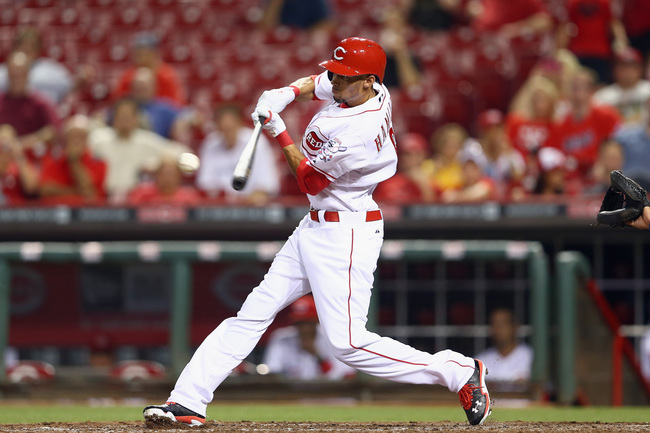 Andy Lyons/Getty Images
This may be one of the biggest shocks for anyone, especially considering guys like Ramirez and Machado have played in a lot more games this season.
However, Billy Hamilton brings the one element to the game that not many others can bring—speed. He'll be called on in many late-game situations to steal a base and score on a single from second.
We saw last week how he scored on a single to right against the Dodgers, beating Yasiel Puig's throw to home to give the Cincinnati Reds the win.
That's what Hamilton brings, and his value in that sense is huge, especially this close to playoffs.
24. Jayson Werth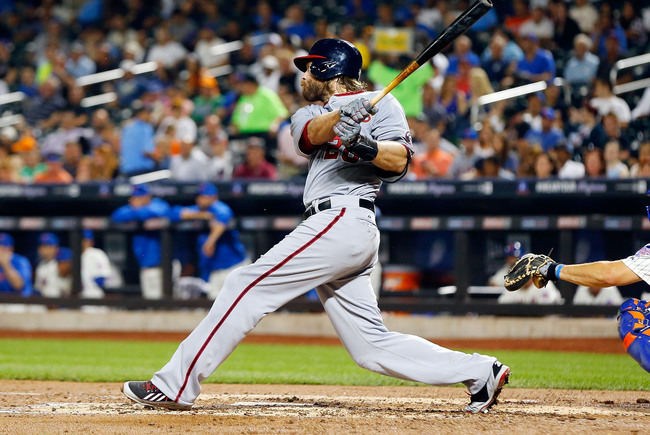 Jim McIsaac/Getty Images
When it comes to the Washington Nationals, a lot of people talk about Bryce Harper and what he's able to do.
However, Jayson Werth has been the most valuable to his team this year, batting .324 with 23 home runs and 71 RBI. In fact, during Washington's current 8-2 run, Werth is batting .333 with two home runs and six RBI. He's helped power Washington back into the playoff race.
And for a player who has underperformed since signing the $126 million deal with the Nationals, he can finally show the fans that he is worth every penny.
Now, could he do more? Absolutely.
But for a team that struggled for a majority of the year, Werth is showing his true value when it counts the most.
23. James Shields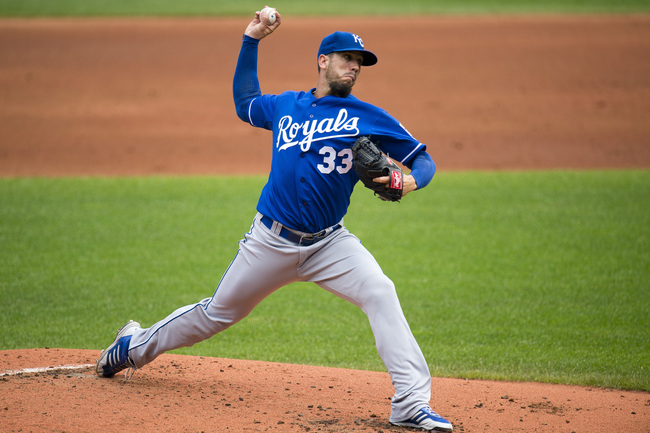 Jason Miller/Getty Images
Nobody thought the Kansas City Royals would still be in the hunt at this point in the season, but thanks to great pitching, they're still battling for a spot.
James Shields is one of the reasons for the success of the Royals as of late.
Over his last 10 starts, Shields has won seven of nine decisions and struck out 52 in the process.
Some people will point to him giving up 10 runs to the Tigers on Sept. 6 or the seven runs he gave up to the Twins on Aug. 6. Outside of those two games, Shields has given up 10 runs in 56.1 innings in his last 10 games.
The bottom line is: When Shields is on top of his game, he's tough to beat.
22. Chris Tillman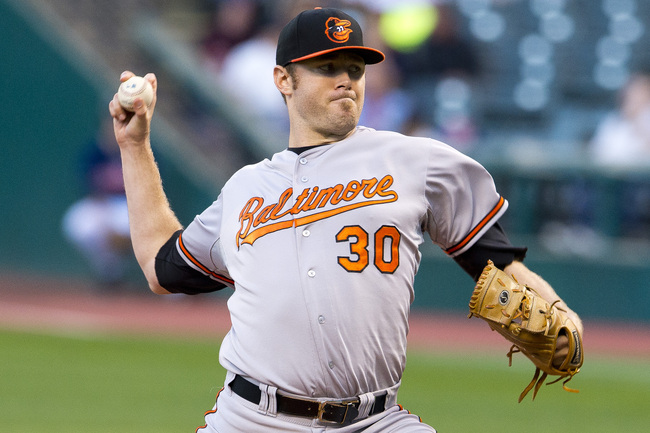 Jason Miller/Getty Images
Nobody would have thought of it before the season, but Chris Tillman is the unsung hero of the Baltimore pitching staff.
Tillman is 16-5 with a 3.66 ERA and 153 strikeouts. Now, some people might say that's nothing amazing, but let's remember he only had 16 career wins heading into this year.
So, the fact that he's doubled his career win total in one year is spectacular.
Tillman has won five of his last seven decisions, beating the Red Sox (twice), Rangers and Yankees.
The one knock on him is the fact that he's given up 29 home runs this year. But other than that, he's managing games real well.
If Baltimore makes the playoffs, Tillman will be a big reason why.
21. Brandon Phillips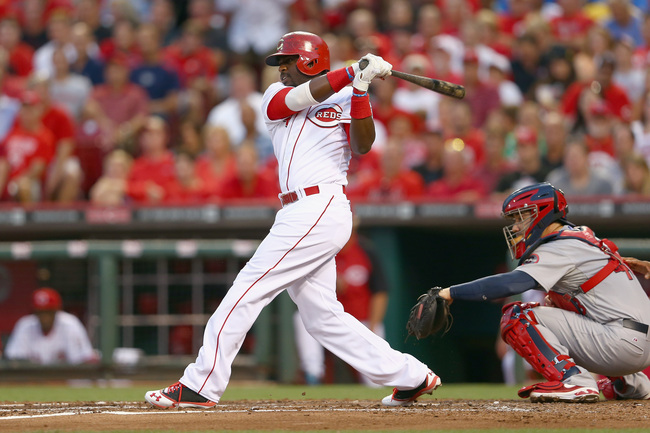 Andy Lyons/Getty Images
For some reason, Brandon Phillips still doesn't get the respect he deserves across baseball.
Sure, he gets All-Star consideration every year, but what about some recognition for being one of the most consistent players over the last six years?
His numbers may not be sexy for some, but he has hit 18 home runs in each of the last six years and hovers between .260 and .300 in batting average.
This year, he leads the Reds with 101 RBI, with 94 of those coming from the No. 4 hole.
With Ryan Ludwick back, Phillips seems to be going back to the No. 2 hole, which could hurt a little. Still, I like what he has done all year.
Outside of Joey Votto, Phillips is the most valuable on the Reds.
20. Shelby Miller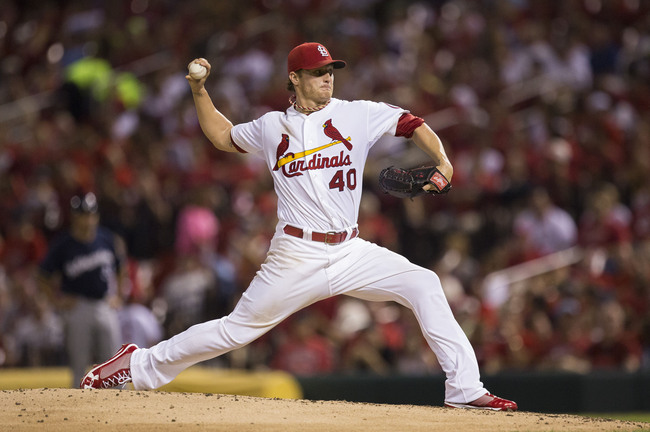 David Welker/Getty Images
We all knew he would be good, but not this good.
Shelby Miller has been a dynamic starter for the Cardinals, giving the team an ace-like pitcher when Chris Carpenter went down at the beginning of the year.
Miller is 13-9 with a 3.05 ERA and 161 strikeouts. If it weren't for another pitcher in Miami, Miller might very well be walking away with the NL Rookie of the Year.
He did struggle in recent starts against Cincinnati and Pittsburgh but rebounded nicely with 6.2 shutout innings against Milwaukee on Sept. 10.
If St. Louis is going to go far in the playoffs, Miller is going to have to perform like another ace. If he does, we could be watching the Cardinals raise the trophy for the second time in three years.
19. Alfonso Soriano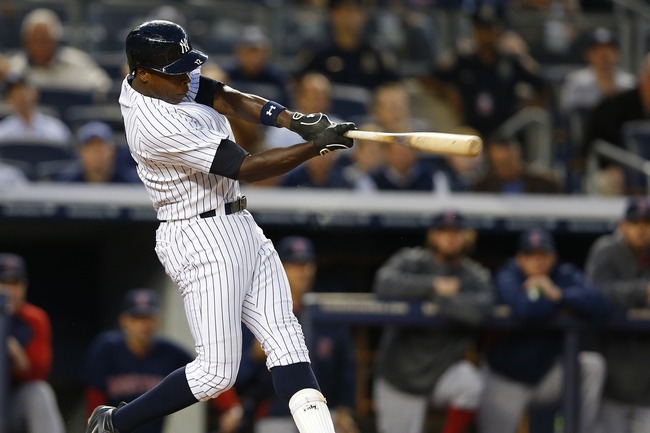 Rich Schultz/Getty Images
Alfonso Soriano has been a huge boost to the Yankees since he was acquired from the Cubs.
This year, he is batting .253 with 32 home runs and 98 RBI. Since joining the Yankees, he is batting .251 with 15 home runs and 47 RBI. His average may still be the same, but there's no doubt Soriano is providing a lot of power.
Since Soriano joined the team, the Yankees have gone 25-20 and gained 2.5 games in the wild-card race. It may not seem like much, but with all of the injuries the Yankees have faced, Soriano's acquisition was huge.
The injuries may be just too much to overcome for Soriano and the Yankees, but there's no doubt that having him in the middle of the lineup has been valuable to the organization.
18. Anibal Sanchez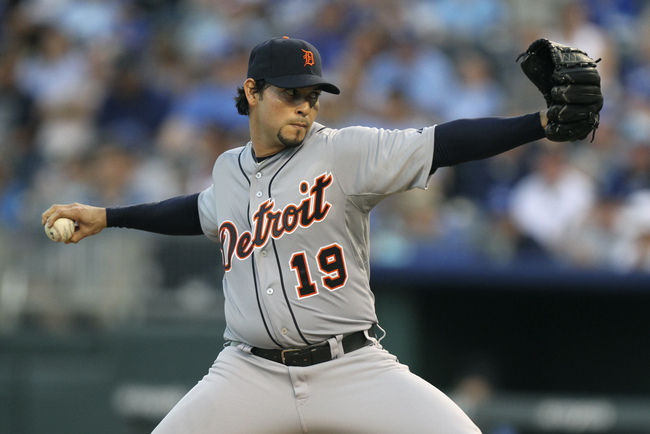 Ed Zurga/Getty Images
Max Scherzer and Justin Verlander may be getting all of the attention on the mound in Detroit, but Anibal Sanchez has been just as good this year.
So far, Sanchez is 14-7 with a 2.50 ERA and 178 strikeouts. He's allowed 15 earned runs in his last 67.2 innings pitched. In that time, he's added seven more wins to his total.
Sanchez's ERA leads the AL, with Yu Darvish in second at 2.84.
If Detroit is going to get back to the World Series, Sanchez will have to continue to pitch the way he is, as it's impossible to know if Verlander will get out of his funk.
17. Craig Kimbrel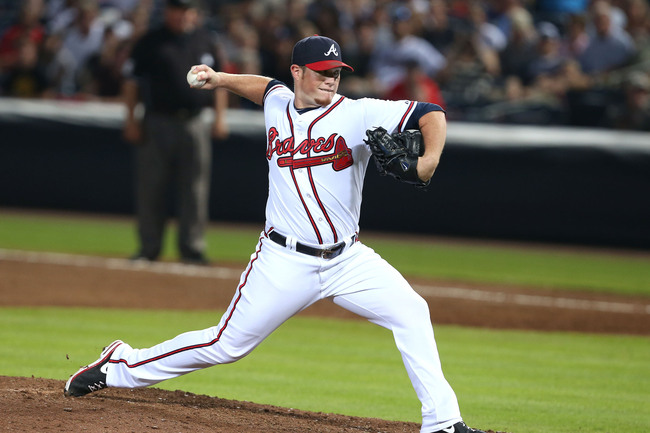 Mike Zarrilli/Getty Images
When it comes to closing the door in the ninth inning, there are none better in 2013 than Craig Kimbrel.
Kimbrel leads all of baseball in saves with 46 and has the best ERA (0.91) among closers.
He's been so good that it's been since July 4 that he's given up a run. That's 28.1 innings of spotless relief work. If you want to go even further back, before the July 4 game, Kimbrel hadn't given up a run since May 7. In fact, he's only given up six earned runs this year.
With all of the injuries the Atlanta bullpen has had to deal with this year, having Kimbrel to close things down has been great.
16. Zack Greinke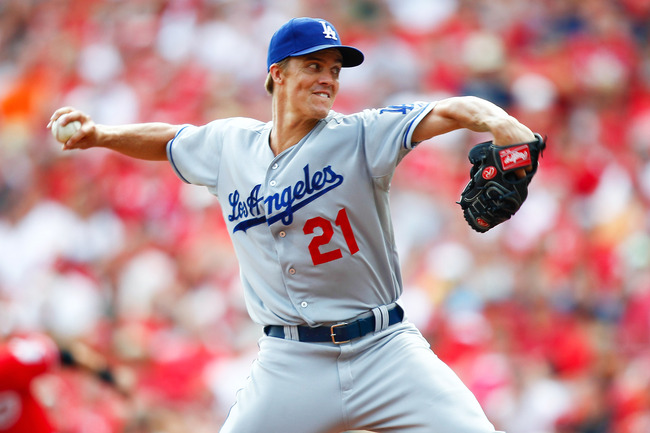 Michael Hickey/Getty Images
Zack Greinke has given the Dodgers a second ace on the staff, which is a big reason why they're currently in first place in the NL West.
Greinke is 14-3 with a 2.74 ERA and 133 strikeouts. The reason his strikeout total is so low is because he missed a month's worth of starts due to a fractured collarbone.
During his absence, the Dodgers went 10-19. While they didn't fare much better in the 29 games after he came back, things slowly started to turn around.
While he wouldn't have pitched every day had he not been injured, I think it goes without saying the Dodgers missed his presence in the rotation. Some people will point to Yasiel Puig as the impetus for the turnaround, but Greinke played a large part in it as well.
15. Adam Jones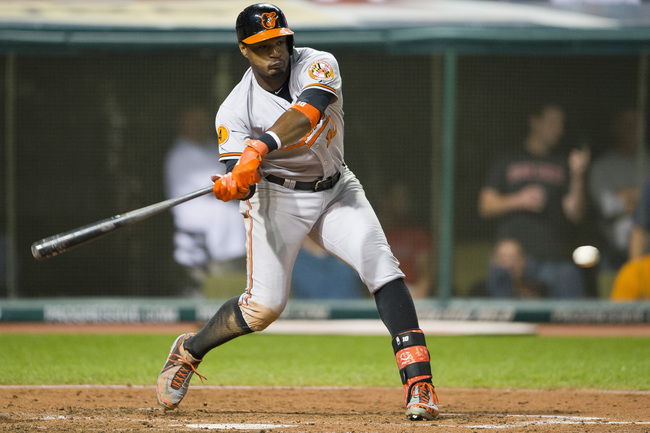 Jason Miller/Getty Images
Adam Jones is one of two 100-RBI guys for the Orioles. He's batting .290 with 31 home runs and 102 RBI. He's also stolen 13 bases this year.
Jones continually goes about his business with the Orioles, doing what he's done consistently over the last few seasons.
His fielding has been even better this year, only committing two errors and garnering nine outfield assists.
He won't get the press like other guys will, but Jones is just one of the many reasons why the Orioles are back in the playoff hunt.
14. Evan Longoria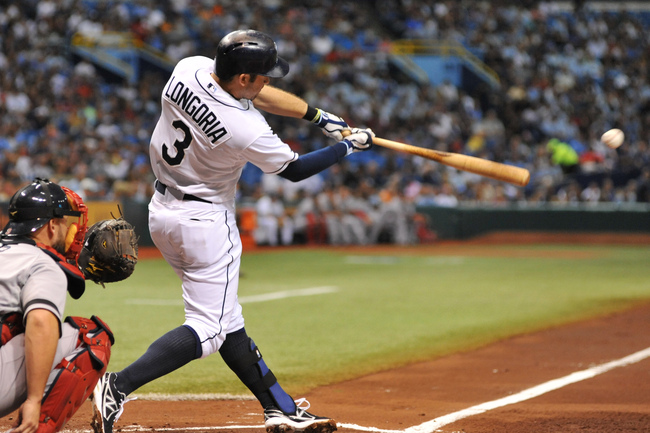 Al Messerschmidt/Getty Images
Evan Longoria is the face of the Tampa Bay Rays, and if they're going to hold off the rest of the AL in the wild-card race, he has to step up even more.
Currently, Longoria is batting .268 with 29 home runs and 75 RBI.
It's not enough that he's 11-for-35 in his last 10 games—he has to light a fire under the rest of the Rays offense. During the last 10 games, the Rays have scored an average of 3.1 runs per game and have gone 4-6. Only once have they scored more than four runs.
That's where Longoria comes in. He is the leader in the clubhouse and on the field. He's been there to deliver big hits before and can easily do it again.
13. Yu Darvish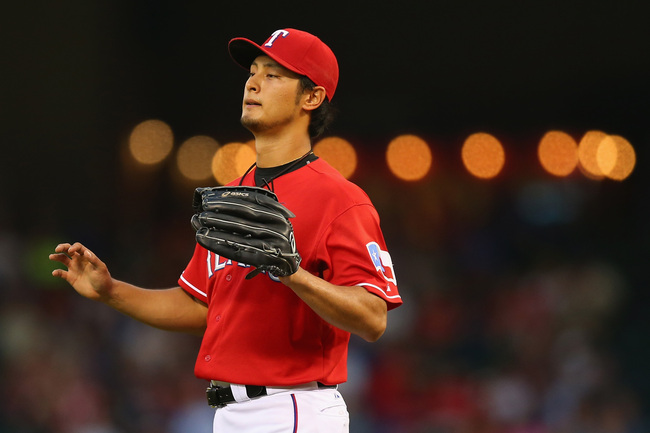 Ronald Martinez/Getty Images
The Texas Rangers have been in a bit of a slide lately, but so has Yu Darvish.
Over his last five starts, Darvish has picked up three losses, given up 14 runs and walked 16 batters. The Rangers have lost all five of those starts.
While it's easy to point to the offense since it's only scored 11 runs during that time, it's hard not to say that the team struggling because Darvish isn't living up to his lofty standards.
That just shows how valuable he is. This year, Darvish is 12-8 with a 2.84 ERA and 246 strikeouts. He's going to make a run for 300 strikeouts. If he does accomplish that, he'll be the first since Curt Schilling and Randy Johnson both did it back in 2002.
I firmly believe that when Darvish gets back on track, the Rangers will too.
12. Adam Wainwright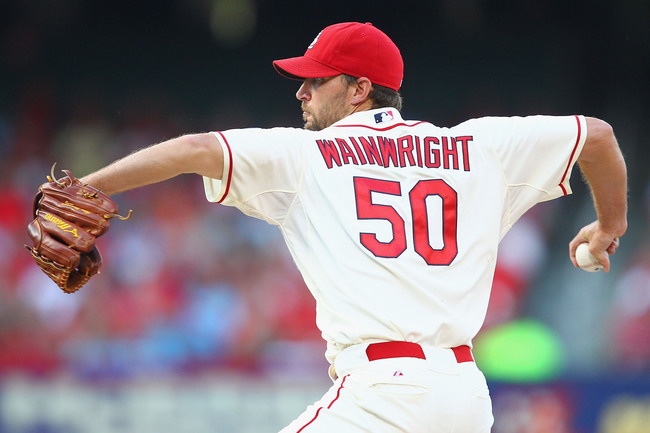 Dilip Vishwanat/Getty Images
I'll be honest: As a Braves fan, it's tough to see Adam Wainwright being so successful—especially considering J.D. Drew was a one-year rental.
Regardless, Wainwright is a candidate for the Cy Young every year, and this season is no different. He is 16-9 with a 3.03 ERA and 195 strikeouts—though he likely won't win it this year with Clayton Kershaw having a monster campaign.
Wainwright has struggled in his last 10 games, going 4-4 and watching his ERA climb from 2.44 to 3.03.
Still, it's been a good year for the right-hander, and one that could possibly end with the Cardinals winning their second World Series in three seasons.
11. Jason Heyward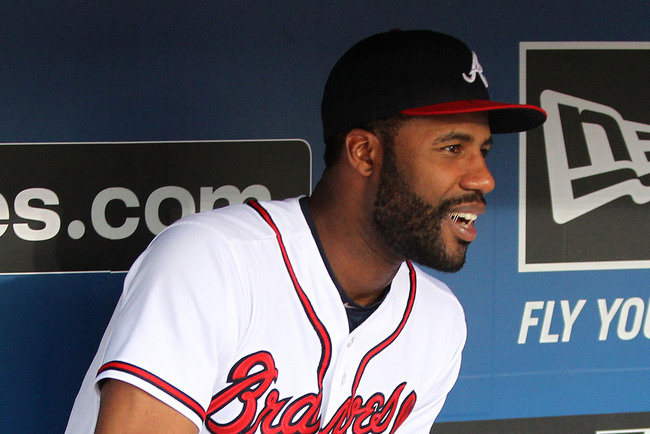 Mike Zarrilli/Getty Images
It's true Jason Heyward is on the disabled list with the Braves.
But if you saw what he brought to the Braves when they moved him to the leadoff spot, you would know how valuable he is.
From the leadoff spot, Heyward was batting .341 with five home runs and 15 RBI in 88 at-bats. He also scored 24 runs. Even more than that, the Braves were 17-5 in games where Heyward started at the top of the order. Since then, Atlanta has gone 11-9.
If that doesn't tell you what Heyward's value is in the leadoff spot, then I don't know what does.
10. Chris Davis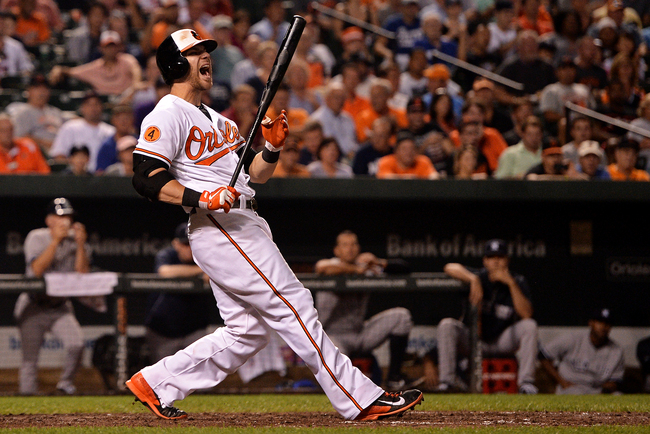 Patrick Smith/Getty Images
Chris Davis has been hitting balls out of the ballpark left and right all season.
His power ability is so valuable to the Orioles that he's played in all but one game this year. Thus far, Davis is batting .297 with 49 home runs and 128 RBI.
He's set to become the first player since 2010 to hit 50 home runs in a season, and only the second in Orioles' history (Brady Anderson, 1996).
Davis is a big reason why the Orioles have emerged as contenders the last two years. A change of scenery is just what he needed, and he's thriving in Baltimore.
9. Yasiel Puig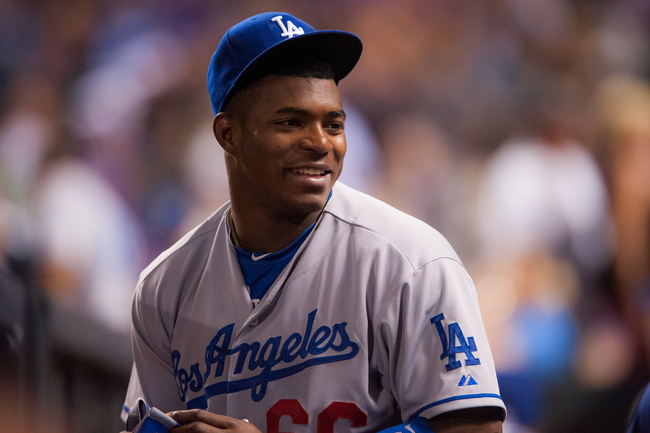 Dustin Bradford/Getty Images
I'll admit, I have criticized Yasiel Puig in the past, but that still doesn't take away how valuable this kid has been to the Dodgers.
With his promotion to the big leagues—along with a few other things—the Dodgers were able to turn things around and become one of the NL favorites this year.
Puig is batting .340 with 16 home runs and 37 RBI. He plays excellent defense and can throw out runners at any base with no problem.
While my criticism has been mostly for his attitude, his play has made him a valuable member of the Dodgers organization. As long as he can continue to learn the proper way to play the game, he'll eventually become one of the faces of the franchise.
8. Joey Votto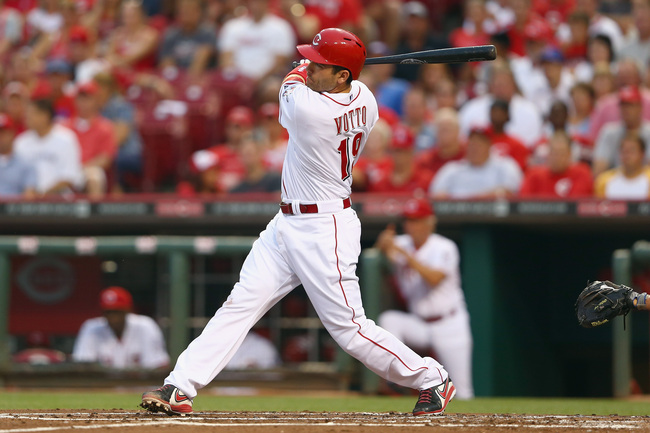 Andy Lyons/Getty Images
Joey Votto is the most important member of the Cincinnati Reds. His power in the middle of the lineup has been key for the Reds all year.
So far, Votto is hitting .306 with 22 home runs and 66 RBI. While the RBI total is down, his WAR rating (6.0) is better than last year (5.7), according to Baseball-Reference.
If the Reds are finally going to get over the hump in the playoffs, Votto will be vitally important to that.
If he doesn't hit well in the No. 3 hole, that could chase RBI opportunities from Brandon Phillips behind him.
7. David Ortiz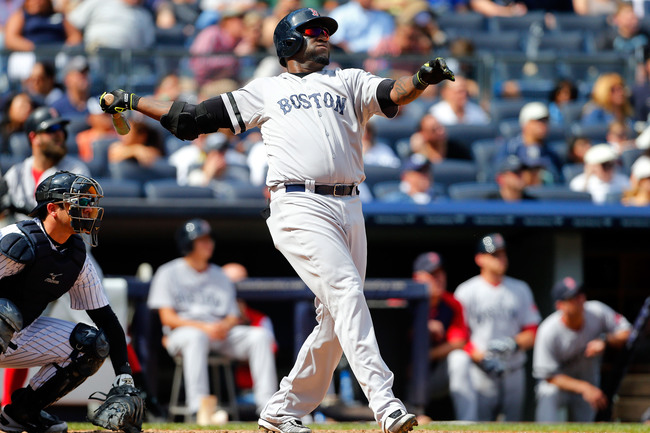 Jim McIsaac/Getty Images
Big Papi is one of the most exciting players in all of baseball, despite the fact that he rarely plays the field.
When you look at the Red Sox, there is no question who the heart and soul of the team is. David Ortiz is batting .308 with 27 home runs and 91 RBI.
The Red Sox are 54-33 when Ortiz gets at least one hit, while they are 25-21 when he doesn't get a hit. While they are still above .500 in the latter scenario, just the mere fact that Ortiz gets even one hit gives the Red Sox a better chance at winning.
Of course there are other guys who contribute to the team, but when it comes to Ortiz, he is the most valuable to the Red Sox.
6. Freddie Freeman
Marc Serota/Getty Images
Freddie Freeman's value is underrated across baseball.
He's not considered to be in the same class with Joey Votto, Prince Fielder, Chris Davis or Adrian Gonzalez, but he continues to put up good numbers for the Braves.
Early in the year, when Justin Upton stopped hitting, Freeman was the one who stepped up to keep the Braves going. In fact, from May 5 to June 17, Freeman batted .341 with six home runs and 36 RBI.
Since then, he hasn't slowed down. He currently sits at a .309 average with 20 home runs and 98 RBI.
He'll never be considered one of the elite first basemen in the league, but the fact remains Freeman gets the job done in the middle of the order for the Braves.
Over his last 10 games, he is 14-for-41 with three home runs and 10 RBI. With two more RBI, he will become the first Brave since Chipper Jones did it in 2007 to amass 100 RBI.
5. Max Scherzer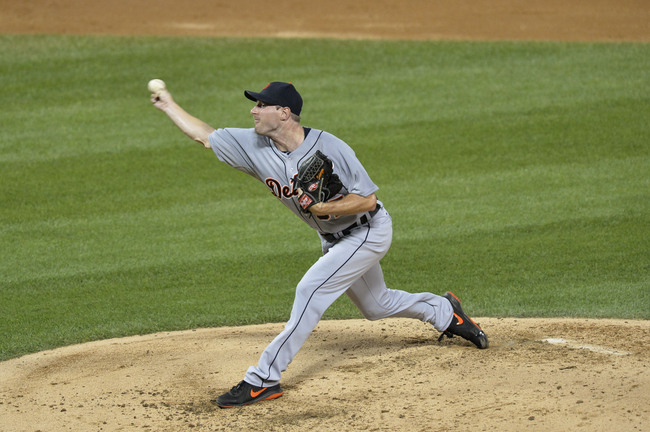 Brian Kersey/Getty Images
I'm not going to say he came out of nowhere, but what the heck has gotten into Max Scherzer these last two years?
Scherzer has put himself at the forefront of the AL Cy Young discussion by going 19-3 with a 3.01 ERA and 215 strikeouts this year.
He started out the year winning his first 13 decisions and not losing a game until right before the All-Star break.
Scherzer has earned the right to start Game 1 in the ALDS for the Tigers. His value has been shown through just going out there and doing his job. There was no hype surrounding him before the year. He just reared back and focused on the task at hand.
4. Robinson Cano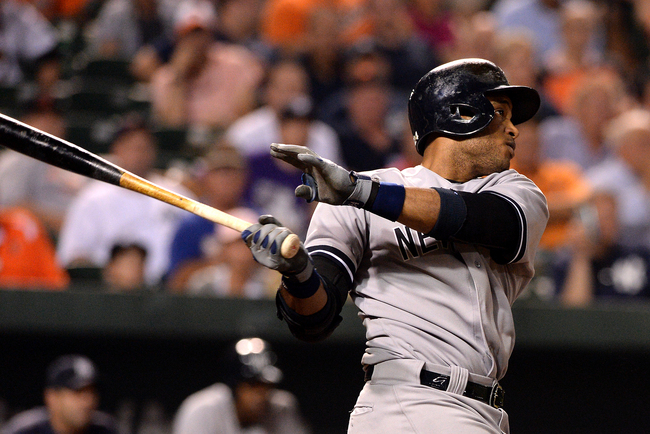 Patrick Smith/Getty Images
With all of the injuries the Yankees have faced this year, the one constant has been Robinson Cano. And even without the typical No. 2 guy in front of him, Cano has still thrived.
He is batting .309 with 27 home runs and 100 RBI. Without him, the Yankees wouldn't be in the thick of the playoff race.
His play, along with the play of recent acquisition Alfonso Soriano has been a huge spark for the Yankees once again.
His value is in the fact that he held the team together when there was nobody else to do so.
3. Andrew McCutchen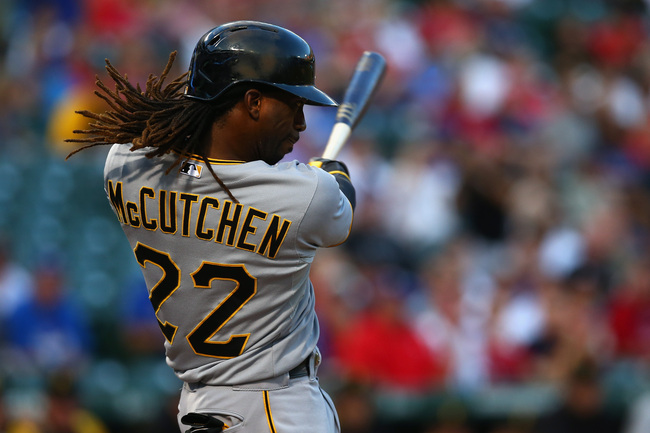 Tom Pennington/Getty Images
Andrew McCutchen can do it all for the Pirates.
He's currently batting .326 with 19 home runs and 79 RBI, and plays some of the best defense in center field in the league. If you don't believe me, check out the two catches in this story.
McCutchen is the do-it-all player for the Pirates and a big reason why they are having their first winning season since 1992. His play is a large reason why he's going to get a lot of consideration for the NL MVP.
If I had a vote for the award, McCutchen would definitely get it for his play at the plate and in the field.
There is no better way to describe what a valuable player is than to just say "watch what McCutchen does."
2. Clayton Kershaw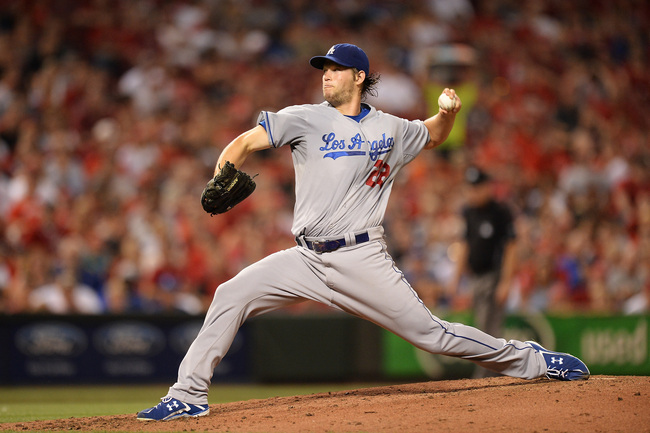 Jamie Sabau/Getty Images
Clayton Kershaw continues to get it done this year as well, lining himself up for the NL Cy Young.
So far, Kershaw is 14-8 with a 1.92 ERA and 208 strikeouts.
Every time he takes the hill for the Dodgers, you can just about guarantee a quality start. In fact, of his 30 starts, 24 of them have been quality. That ties him with James Shields for the most in baseball.
Kershaw is the top pitcher in the game and gives the Dodgers a chance to win every time he takes the mound. And that's all you can ever ask out of a pitcher.
1. Miguel Cabrera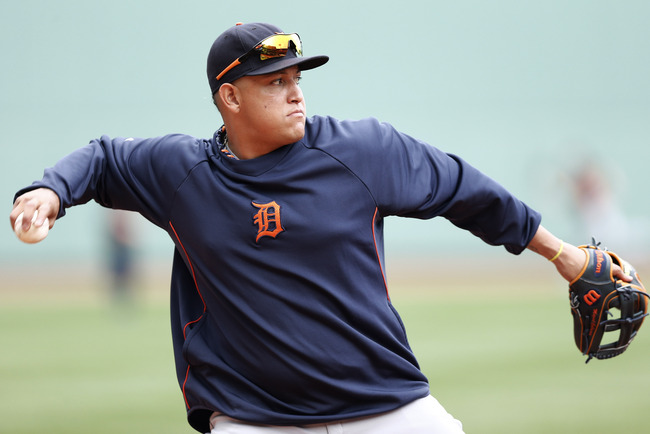 Winslow Townson/Getty Images
Obviously, the most valuable player on a playoff contender is the most valuable player in all of baseball.
Miguel Cabrera has performed consistently throughout his career.
This year, Cabrera is batting .349 with 43 home runs and 133 RBI. His on-base percentage (.442) and slugging (.657) lead the league as well.
You can talk all you want about the Tigers having Verlander, Scherzer and Sanchez, but without Cabrera, they are not a World Series contender. He is the best player in the game.
Keep Reading