The Carolina Hurricanes wasted little time in the search for a Joni Pitkanen replacement.
General manager Jim Rutherford signed free-agent defenseman Ron Hainsey to a $2 million contract Thursday to help re-strengthen the team's blueline corps. Per TSN's Aaron Ward:
Ron Hainsey and the Carolina Hurricanes have come to terms on a 1 year deal #TSN

— Aaron Ward (@aaronward_nhl) September 12, 2013
The news comes less than 36 hours after the club announced that Pitkanen has been ruled out for the entire 2013-14 NHL season with a broken heel bone. Rutherford promised swift action in response, and he fulfilled that statement quickly.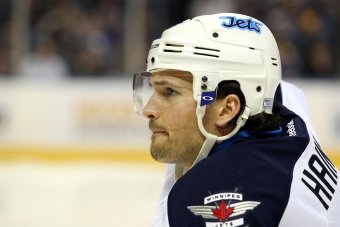 USA TODAY Sports
Hainsey's availability this late in the offseason was puzzling considering how well he performed in 2013. The 32-year-old averaged 22:51 in ice time for the Winnipeg Jets, finished third in the league with 123 blocked shots and tallied 13 points in 47 games (two more than any 'Canes defenseman did).
Rutherford also praised Hainsey's versatility in his official press release. Per team reporter Terrell Williams:
Ron is an experienced, two-way defenseman. He was very interested in joining our team this summer, and was patient as we waited for updated information about Joni Pitkanen's injury. We are happy to be able to solidify our defense with a player of this caliber at this stage.
The veteran rearguard was consistently matched up against tough competition during his time in Manitoba—only two other Jets players, Nik Antropov and Zach Bogosian, faced a higher Corsi quality of competition last season.
Are you happy with the Hainsey signing?
Nonetheless, Hainsey was still able to maintain a fantastic shift start/finish ratio, beginning only 44.2 percent of his shifts in the offensive zone yet ending 54.5 percent there.
In fact, Hainsey has been nothing short of a shape-shifter over his career.
He was brought in by the Thrashers in 2008 and tallied a career high 33 assists and 39 points in the 2008-09 season, filling an offensive defenseman role with Atlanta.
His box score numbers have steadily declined since, but his defensive reliability has increased at an equal pace, allowing him to fill a Tim Gleason-type mold with the Jets last spring.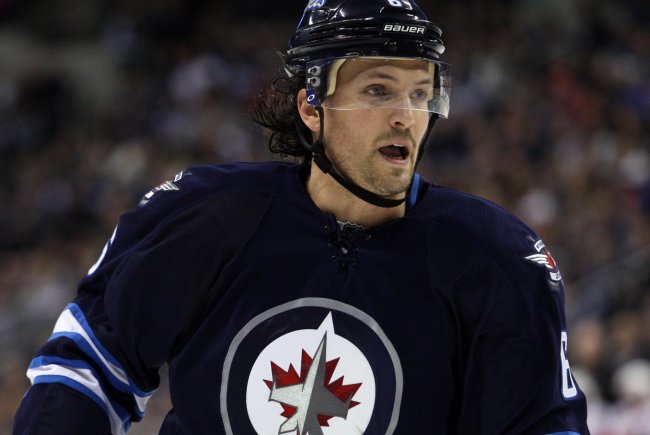 Bruce Fedyck-USA TODAY Sports
The 'Canes already have up-and-coming first-round pick Ryan Murphy to replace Pitkanen's puck-moving contributions, so Hainsey's multi-faceted abilities could be a perfect fit.
In fact, it's remarkable that Rutherford was able to land him at the price he did. Hainsey's $2 million salary in 2013-14 will be less than half of his $4.5 paycheck last season; entering the summer, however, it's unlikely he would've been appraised at much less than $3.5 million by most free-agency experts.
The signing garnered praise but little surprise around hockey's social media universe:
Nice deal for Hainsey in Carolina. Glad he could find a spot.

— Joe Yerdon (@JoeYerdonPHT) September 12, 2013
Given the gauntlet I laid down for the Hurricanes this morning, biting the bullet and signing Hainsey is a step in the right direction.

— Luke DeCock (@LukeDeCock) September 12, 2013
Hainsey should be great value for the Canes at $2MM but I still don't get why Gilbert is unemployed.

— 67Sound (@67sound) September 12, 2013
So Ron Hainsey just signed for a lower cap-hit than Grant Clitsome? Huh.

— Ryan Blight (@arby_18) September 12, 2013
Chip Alexander of the News & Observer also noted that the 'Canes had expressed interest in Hainsey even before Pitkanen's setback:
GM Jim Rutherford noted Canes had interest in Hainsey before learning of Pitkanen's situation. "And he was interested in coming here."

— Chip Alexander (@ice_chip) September 12, 2013
Hainsey is expected to report to his first team practice Saturday in Raleigh.