Calder Trophy Watch: Preseason Ranking of the Top Candidates for 2013-14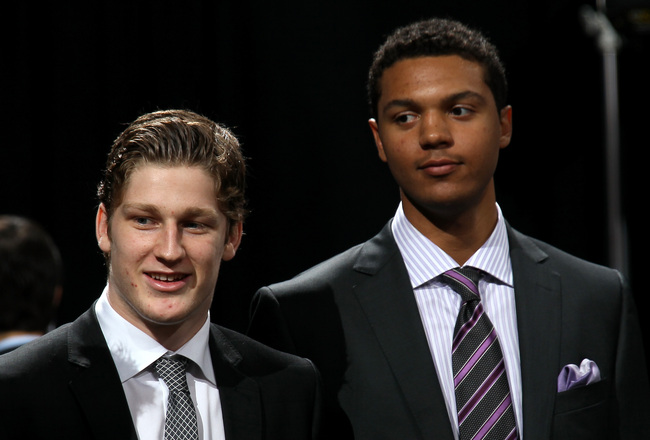 Bruce Bennett/Getty Images
With several of the top picks from the 2013 NHL draft looking to promptly crack their organization's top roster, the pool of candidates for the 2013-14 Calder Trophy promises to be one of the deeper and more intriguing of recent years.
In the months leading up to the draft, the big three of Nathan MacKinnon, Seth Jones and Jonathan Drouin did not generate heaps of headlines by happenstance. They all have the means to remain on the radar without interruption and start making news between the dashers without delay.
The top troika of new North American skaters has bountiful company in the Calder quest, though, whether it is from their own draft class or other incoming NHL freshmen.
As the league's website states on the top rookie trophy's web page, "To be eligible for the award, a player cannot have played more than 25 games in any single preceding season nor in six or more games in each of any two preceding seasons in any major professional league."
That rules out several otherwise intriguing up-and-coming stars, such as Buffalo forward Mihkail Grigorenko (25 games in 2012-13) and Ottawa goaltender Robin Lehner (eight, six and 12 games in 2010-11, 2011-12 and 2012-13, respectively).
Even so, there should be enough credible contenders to keep observant eyes darting from October to April. The 15 rookies who enter the season with the best combinations of skill set, seasoning and circumstances to challenge for the prize are ranked as follows.
Unless otherwise indicated, all statistics for this slideshow were found via nhl.com
Keep Reading