Mayweather vs. Canelo: Saul Alvarez Will Build Legacy Regardless of Result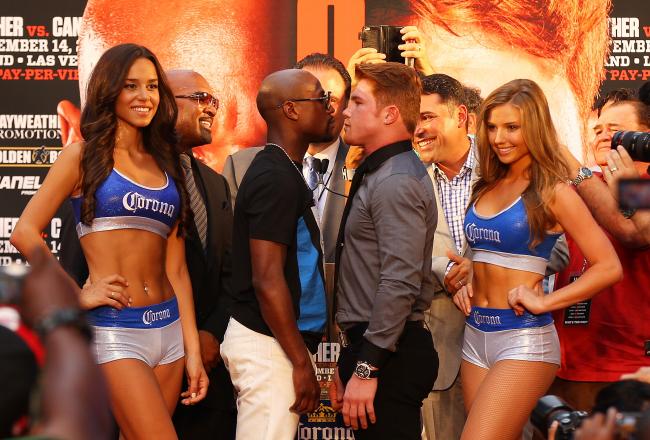 Mike Stobe/Getty Images
Regardless of the outcome on Saturday, Saul "Canelo" Alvarez will be able to build his legacy in his fight against Floyd "Money" Mayweather.
Many people expect Mayweather to have his way with Alvarez, so it would be a huge upset if Canelo comes out on top. Is it even possible for a boxer to build a legacy if he loses a big fight?
In this case, yes.
Money has a perfect 44-0 record in his career. He has plenty of experience and will show it on Saturday. The 36-year-old has built his legacy thanks to a great defense, and he will get another chance to show it.
Canelo's career would take off if he becomes the first fighter to defeat Mayweather, and he would make a name for himself all around the world.
Like Mayweather, Alvarez has yet to be beaten. He is 42-0-1, and he has won every bout since July, 2006. This is a fight that Canelo has been looking forward to and training towards for a while now, so he will be ready to go.
The bout has implications for both fighters. Mayweather can prove that he is still the best pound-for-pound fighter in the world and still able to beat a rising star. Canelo can get the biggest win of his career, or he can show the world that he has what it takes to hang with the best.
The most likely way Canelo will be able to win is if he can get the knockout. If it goes the distance, Mayweather will outlast Canelo. Mayweather is as quick as it gets, and he just wears his opponents down.
As long as Canelo shows patience, he will have a chance to wear Mayweather down. Most fighters get frustrated when they miss the majority of their punches. The 23-year-old will need to stay patient and make sure that he gets enough power behind his punches.
Canelo has already made his mark on boxing. He is able to dominate opponents with his strength, and he has 30 knockouts to his credit.
Winning is certainly the goal. If Canelo didn't think he could win, there would be no point to step in the ring. However, he can build his legacy just by hanging with the best fighter in the world.
Not many people can last 12 rounds with Mayweather and make it close. All it will take for Canelo to look good is to make it as even as possible. He doesn't have to win, but he needs to be able to compete with Mayweather for 12 rounds.
Mayweather is much older, and Alvarez has a chance to be one of the new faces of boxing. If Canelo wins, it will be the signature moment for his career.
Mayweather has fought older opponents in recent years, so Canelo's youth gives him an advantage. The younger fighter needs to stick with his aggressive approach.
Whether he gets the knockout or is just able to hang with Mayweather, Canelo will be able to build his legacy in this fight.
This article is
What is the duplicate article?
Why is this article offensive?
Where is this article plagiarized from?
Why is this article poorly edited?