Predicting New York Rangers' Final 2013-14 Roster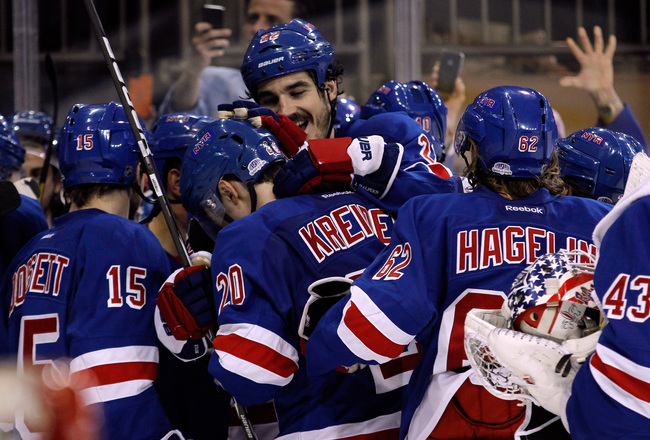 Bruce Bennett/Getty Images
With so much uncertainty surrounding the New York Rangers as training camp opens, it's tough to envision what exactly the team's opening-night roster will look like.
Derek Stepan's holdout situation, Marty Biron's personal issue and the injuries to Ryan Callahan and Carl Hagelin all leave significant holes in the Rangers' lineup. How incoming coach Alain Vigneault plugs those holes will determine how the team starts the season.
Eventually, all four players are expected to rejoin the lineup, but that won't help the Rangers when they embark their nine-game road trip to start the season.
Thus, there should be some surprise inclusions in the opening-night roster. And as much as it's worrisome for Vigneault that he will not be able to feature his full squad to start the season, the situation may prove opportune for a handful of players.
So, in the wake of all the drama, we'll predict what the Rangers' opening-night roster will be today. After the jump, we'll break down the forwards, defensemen and goaltenders and make all the tough decisions.
Forwards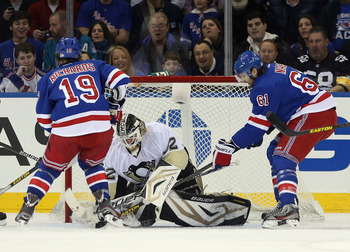 Bruce Bennett/Getty Images
The potential for the Rangers to be without Stepan, Callahan and Hagelin for the start of the 2013-14 season is a serious issue. To put it into context, the three could, potentially, have been the Rangers first or second line. But we know Callahan and Hagelin will likely miss the opener—and possibly up to 10 games each—and there appears to be no end to the Stepan holdout situation.
Young players like Oscar Lindberg and J.T. Miller are now presented with golden opportunities to prove they belong with the big club. With Stepan out, the Rangers' top-four centermen are as follows: Derick Brassard, Brad Richards, Dominic Moore and Brian Boyle. That group isn't particularly strong, so you'd assume players like Lindberg and Miller—who can play both in the middle and on the wing—will get a real shot to slide into the third-line center spot to start the season with Boyle probably moves back out to the wing.
Amidst all the uncertainty, the Rangers do have a host of players who can steady the ship. Of course superstar Rick Nash will be ready to go for the start of the season, and look for him to play on the right side, considering the team's depth on the left side and its deficiencies on the right.
Mats Zuccarello, too, can play on both sides, but look for him to work on the right side on one of the top-two lines while Callahan is out. Once the captain is back, Zucc may move back to the left side. Chris Kreider, in my estimate, should be handed top-six minutes to start the season. He'll hold down the left side with incoming free agent Benoit Pouliot.
Richards will more than likely get a real good opportunity on the first line with Nash if Stepan is absent as he looks to rebound from him miserable 2013 campaign. Brassard will again assume his second-line role.
The bottom-six is a bit trickier. If Callahan and Hagelin were to be available, players like Arron Asham and Darroll Powe would probably not get looks, seeing as they were waived earlier in the summer, but they both could now be included in the preliminary roster.
I do think that if Stepan is a holdout when the season begins, Lindberg is the player who grabs that third-line center spot. And, as was the case with Asham and Powe, I believe Miller can also squeeze his way on the preliminary roster, and I'd look for him to play on the third line with Lindberg.
I doubt another rookie forward would make their way on the team, so look for a veteran to complete the third line. It could be Boyle, who would bring a lot of size to the trio, but it could also be Taylor Pyatt or Derek Dorsett, if Vigneault is looking for more of a bite on the checking line.
The fourth-line pivot is, without question, Moore, who returns to the Rangers after a seven-year absence. His versatile nature will give the Rangers' a lot of options in the bottom-six. His linemates will be determined after Vigneault decides who he wants on the third line. In my eyes, Boyle would be best there with Lindberg and Miller, so by my estimate Pyatt and Dorsett will skate with Moore.
Kreider – Richards – Nash
Pouliot – Brassard – Zuccarello
Miller – Lindberg – Boyle
Pyatt – Moore – Dorsett
Spares: Asham, Powe
IR: Callahan, Hagelin
Defensemen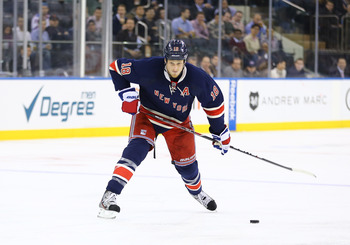 Al Bello/Getty Images
Alain Vigneault would be a fool to tinker with the Rangers' defense—a unit that has been a perennial top-five goals-against leader the past three seasons.
The group's anchor, Marc Staal, is said to healthy and ready to go for the start of the season after he was struck by a puck in the eye in March last season. Look for him to either rejoin his old partner Dan Girardi on the first pairing or work with Anton Stralman on the second. Either or, the Rangers are still in great shape.
What Vigneault does with Staal will affect where budding star Ryan McDonagh plays. Considering McDonagh and Girardi have played together more than Girardi has played with Staal, I'd assume McDonagh nabs the spot on the first pairing.
The third partnership will be Michael Del Zotto and John Moore. Although they're both left handed and puck-moving defensemen, they're also both very responsible and could prove to be the defense's x-factor. With three solid defensive pairings, the Rangers will be a nightmare for any team on any given night.
I see the team carrying just one extra defenseman, and for me it's new arrival Justin Falk, who was acquired from the Minnesota Wild in a trade back in June. At 6'5", 215 pounds, Falk will provide size if Vigneault feels it's necessary in a particular game. His responsible nature, too, means he'll fit right in with one of the league's best defense groups.
As for Dylan McIlrath, I don't think he gets a serious look just yet. The six starters are far ahead of him in terms of development. Plus, the 21-year-old needs top minutes. He won't get them in New York.
McDonagh – Girardi
Staal – Stralman
Moore – Del Zotto
Spare: Falk
Goaltenders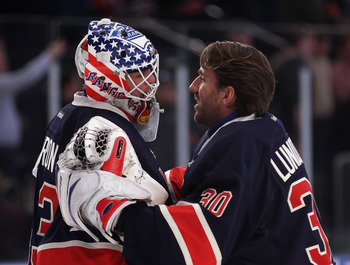 Bruce Bennett/Getty Images
There's no question as to who the starting goaltender on the Rangers is as long as Henrik Lundqvist is employed by the organization. The 2012 Vezina Trophy winner is the world's best goaltender, and now that he's in his prime, look for him to continue to lead the way for the Rangers.
It was announced on Tuesday that the Rangers had invited former New Jersey Devils backup goaltender Johan Hedberg to camp. Sometime later it was also revealed that two-year Rangers veteran Marty Biron had not yet arrived at camp, as he was dealing with a personal matter.
On Thursday news broke that Biron was on his way to camp, but Hedberg would also stick around, fulfilling his professional tryout agreement (PTO).
There was quite a lot of uncertainty surrounding Biron's situation a few days ago, but it seems as if the dust has settled and Biron is ready to fight for his spot. Although Hedberg is a solid option in the number-two spot, I believe Biron will remain at his post.
Starter: Lundqvist
Backup: Biron
Keep Reading

New York Rangers: Like this team?