The Biggest Improvement Every Top 2014 NBA Draft Prospect Must Make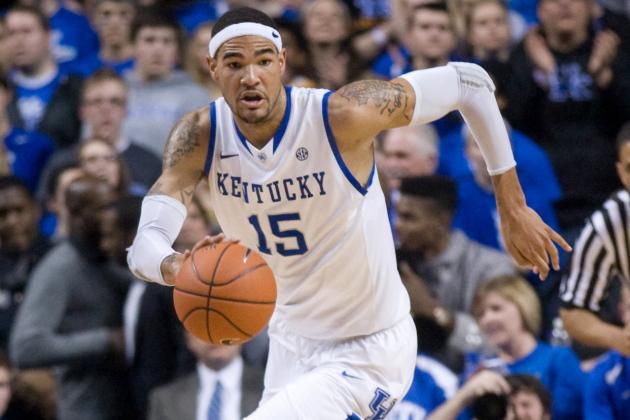 Mark Zerof-USA TODAY Sports

Each NBA prospect has a weakness or a specific need for improvement. This area that needs improvement represents a roadblock in the way of them reaching their NBA ceilings.
Sophomores should know exactly what they need to work on. They'll return to school with a comfort level that isn't shared by incoming freshmen.
These freshmen will have the challenge of adjusting to a new speed and size, as well improving in the areas that needed special attention coming in.
The following are nine top prospects who've solidified their status in the upper echelon. And all of them have areas of their game that need some polishing up.
Begin Slideshow

»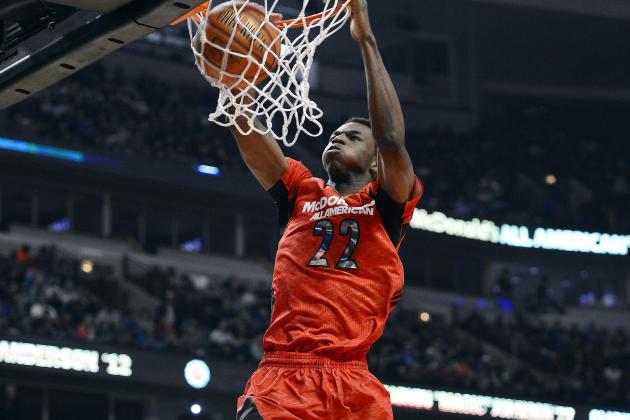 Mike DiNovo-USA TODAY Sports

Area that Needs Improvement: Perimeter Scoring
Based on all the hype you'd think the guy didn't have a flaw. But Andrew Wiggins will have some wrinkles to iron out as a freshman at Kansas.
When you look at some of the top scoring wings in the NBA game, they all have one thing in common—they can all separate off the dribble and create easy, makeable jump shots.
Wiggins is lethal attacking the rim north and south, but he still needs work getting balanced looks moving east and west.
He has to work on his perimeter-scoring arsenal—implementing step-backs and pull-ups into his offensive repertoire. Right now, he relies on elevating higher than his defender and simply shooting over the top. But when a guy like Paul George is guarding him in the pros, he'll need to get a little more creative with the dribble.
Developing a more refined shot selection as a perimeter-oriented scorer will make him the offensive superstar many project him to be.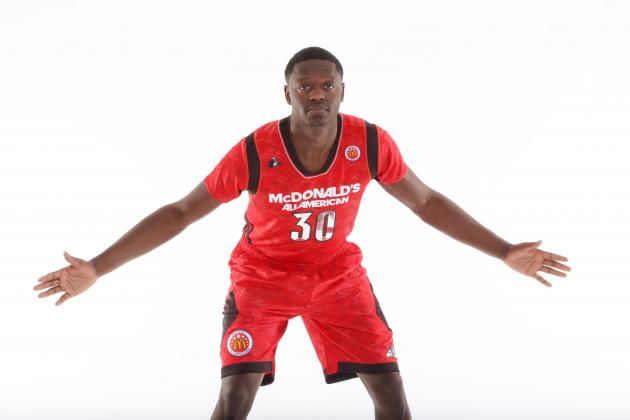 Brian Spurlock-USA TODAY Sports

Area that Needs Improvement: Defense
Julius Randle's biggest improvement needs to come on the defensive side of the ball. Randle uses his body much more effectively on offense than he does on defense.
He has a tremendous motor, but he doesn't always show it as a defender. At times, he's caught standing upright instead of low to the ground and locked in.
Defensively, he lacks court awareness and focus. But he'll learn. Individual defense isn't something that's heavily taught at the high school level.
This year, Randle will have to pick up on rotations, as well as learn how and where to position himself as a help defender.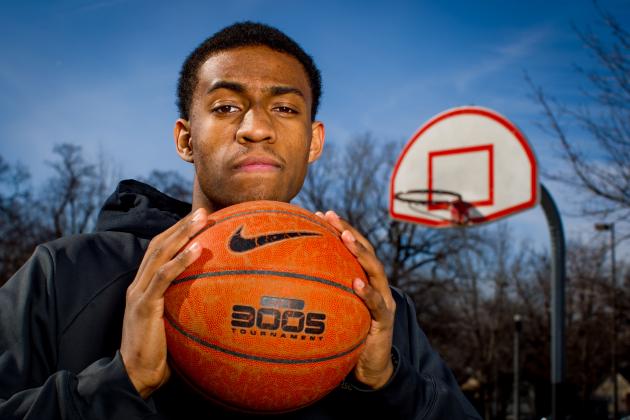 USA TODAY Sports

Area that Needs Improvement: Attacking the Rim
While Jabari Parker is arguably the most polished perimeter scorer amongst all the top prospects, he struggles beating his man off the dribble and attacking the rim.
It forces him to have to make a lot of contested jumpers.
Parker might want to shed a few pounds to help make him lighter on his toes. His first step isn't overly quick, and that prevents him from exploding to the rack.
One of the reasons Parker falls behind Andrew Wiggins and Julius Randle in our prospect rankings is because he lacks the athleticism to give him that towering upside. Wiggins and Randle are able to consistently get themselves easy buckets. Parker has to make a lot of tough ones away from the basket.
Parker should look to frame his offensive game around guys like Paul Pierce and Carmelo Anthony—two elite scorers who get to the line without needing that explosive athleticism.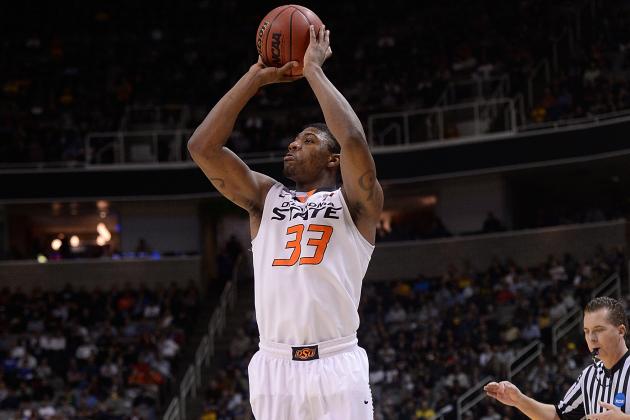 Thearon W. Henderson/Getty Images

Area that Needs Improvement: Shooting
One of the reasons everyone is so high on Marcus Smart is because he excels in the areas that can't be taught and has room for growth in those that can.
Smart's biggest weakness last season was his shooting consistency. He showed he can create his own shot, whether it was pulling up, stepping back or fading away. But the further he got from the rim, the more his percentages fell.
He only shot 29 percent from downtown last season on four attempts per game. The fact that he made 1.2 a game tells us that there's promise.
Overall, he shot 40 percent from the floor, a number that could be much higher with a more reliable outside shot.
If Smart wants to mimic James Harden and become a similar scoring playmaker, that jumper will need to become a bigger weapon than it is.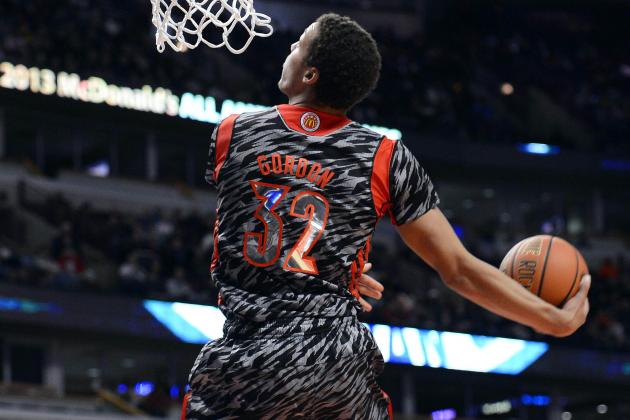 Mike DiNovo-USA TODAY Sports

Area that Needs Improvement: Half-Court Offense
Aaron Gordon's strengths shine most in open space. With room to run, Gordon is able to activate trampoline mode, where he's an easy-basket machine above the rim.
But in a slow, jam-packed, man-to-man half-court set, Gordon could have trouble generating offense.
He's not very slick off the dribble and struggles creating his own shot on the perimeter. Gordon also struggles consistently with the jumper, something he'll need to improve on as a half-court scorer.
Gordon is going to make a ton of highlight-reel plays that flash his big-time NBA potential, but whether he makes it or not as an All-Star pro will come down to his ability to score when the game is slowed down.
Area that Needs Improvement: Post-Game Delivery, Unrefined Offensive Skills
Joel Embiid is a raw, long-term prospect with a monstrous upside, given his size, athleticism and inside-outside skill set.
He's flashed promise in every offensive department—finishing, over-the-shoulder touch and even perimeter shooting.
But it's not second nature yet. Embiid still needs the spacing and timing to be perfect in order for him to execute his move. Right now, his footwork and overall delivery are both choppy.
One day, he'll want to get to the point where he has a move for each spot on the floor that he can execute with fluidity.
It's just a matter of continuing to refine his skill set and increasing the threat he poses to defenses with the ball in his hands.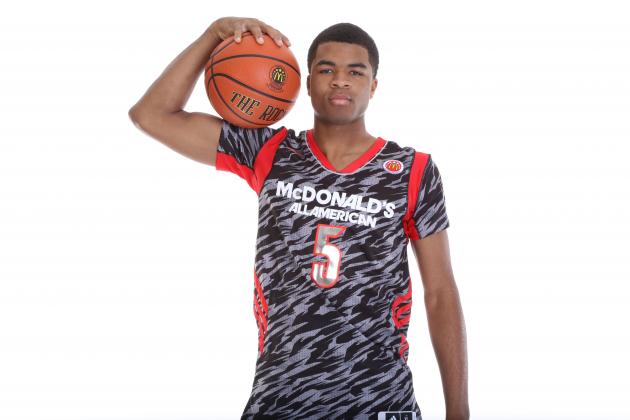 Brian Spurlock-USA TODAY Sports

Area that Needs Improvement: Half-Court Facilitation
In high school, Andrew Harrison had the green light from coaches and teammates to take over the game. That won't be the case at Kentucky.
Harrison will be required to command John Calipari's offense by getting the ball where it needs to go.
In terms of weaknesses, he tends to get a little too caught up with one-on-one scoring, resulting in over-dribbling at times when the ball needs to move.
Facilitating in the half court is more of an upcoming challenge than a current weakness. But not every top point guard can transition from complete freedom to rigid structure.
Harrison will have to adopt a pass-first mentality from day one at Kentucky.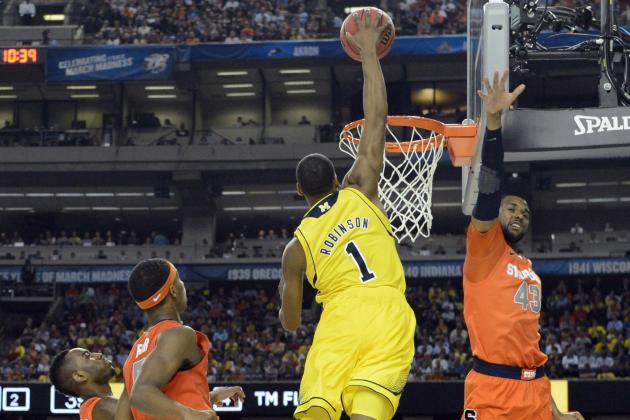 Robert Deutsch-USA TODAY Sports

Area that Needs Improvement: Dribble/Shot Creativity
Glenn Robinson III has proved to be a promising and currently effective off-the-ball player. You often saw him sneaking backdoor for layups or alley-oops and drafting to corners for open three-point looks.
But rarely did Glenn Robinson score after more than two-to-three dribbles. Most of his production came off catching and shooting or catching and finishing on the move.
If Robinson really wants to solidify himself as a lottery prospect, he'll need to become a bigger threat with the ball in his hands. Right now, he lacks one-on-one skills and struggles creating his own shot.
He's an accurate shooter with strong mechanics, but unless he improves his dribble creativity, he won't be able to get many good looks off on his own.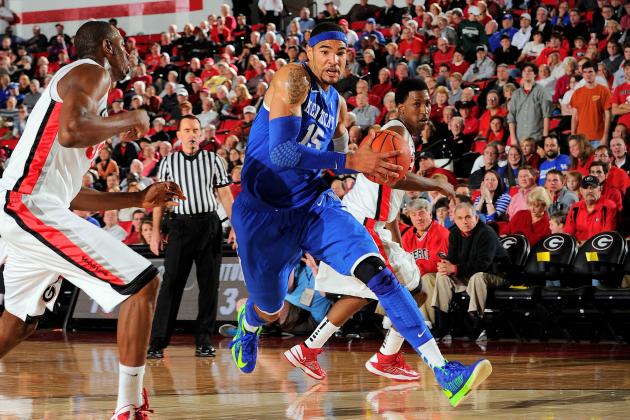 USA TODAY Sports

Area that Needs Improvement: Low-Post Game
Willie Cauley-Stein scored the majority of his points on strong finishes from dump-off passes or put-backs off misses.
This year, Cauley-Stein should look to be a little more aggressive in terms of calling for the ball. He's got the size, athleticism and strength to really carve out space and get good position down low. Cauley-Stein needs to build his confidence as a scoring threat, so he doesn't just have to rely on being fed or waiting for a miss to bounce his way.
He should be able to make an impact at the pro level even without a refined post game, thanks to elite physical tools for a big man. But Cauley-Stein's NBA ceiling would rise a few stories if he's able to implement some post moves into his repertoire.