Top Storylines for the Edmonton Oilers 2013-14 Training Camp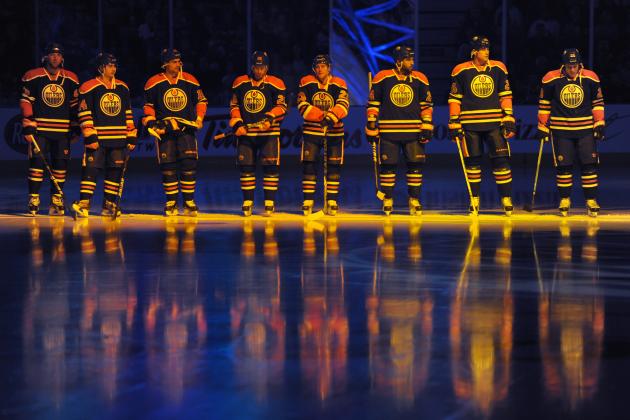 Dale MacMillan/Getty Images

The Edmonton Oilers are an interesting team heading into the 2013-14 training camp.
Steve Tambellini and Ralph Krueger are out as general manager and coach respectively and there is once again a renewed sense of optimism heading into the season.
Craig MacTavish has done a decent job thus far as new GM, assembling some key pieces to help his squad take the next step and finally compete for a playoff spot.
Enter Dallas Eakins as the Oilers' new head coach, armed with a reputation of being able to develop young talent and it is easy to see why fans believe this could finally be the year for the Oilers' ascent to credibility once again.
Here is a look at the top storylines for the Edmonton Oilers 2013-14 training camp.
Begin Slideshow

»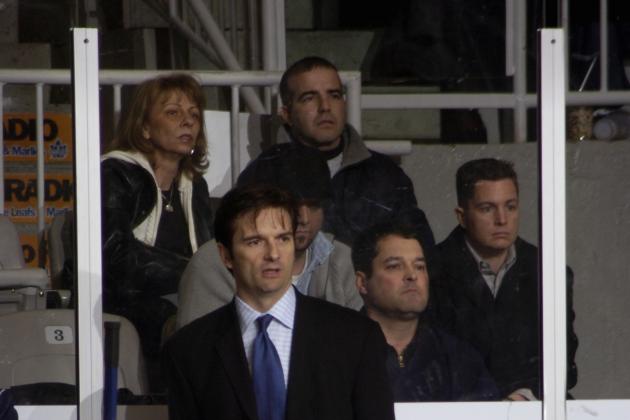 Graig Abel/Getty Images
It may be a tough task for some of the young Oilers to adapt to the demanding Eakins.
Dallas Eakins is credited in having a huge hand in Nazim Kadri's progression into a legitimate NHL player, after mentoring the Toronto Maple Leafs center in junior prior to his breakout season last year.
It is this ability to help mold young talent that surely played a huge part in Oilers management deciding to bring Eakins on board as the new coach in Edmonton.
With such a young core of players, it is important that everyone is on the same page and Eakins has asserted that his Oilers team will be a team defined by "total commitment."
For Eakins, fitness will be a major determining factor of who is buying in to his system and who doesn't have what it takes to compete for the Oilers.
Unlike the Kadri situation in Toronto, all of Edmonton's young forwards are already established NHL players, and could very well have a hard time adapting to an all-in type of coach like Eakins.
If there was to be any friction between coach and player, it could perhaps provide new GM Craig MacTavish all the fuel he needs to trigger a bold trade.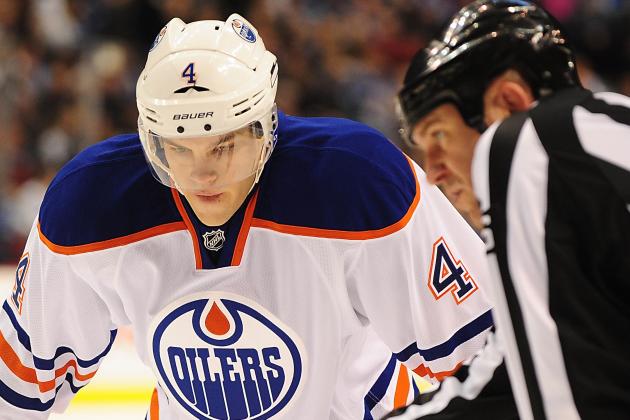 Anne-Marie Sorvin-USA TODAY Sports
Hall will be tasked with being the default No. 1 center until RNH is cleared to play.
With Ryan Nugent-Hopkins slated to return to the ice in late October or November, the Oilers are in need of a No. 1 center, and instead of just bumping players up the depth chart, Dallas Eakins is going to give Taylor Hall a shot in the faceoff circle.
Last season Hall already began demonstrating his ability to support the defense in his own zone, an aspect crucial to the center ice position, and has played a bit of center in the past.
If Hall can master the art of winning faceoffs, this move could be one that works out best for both parties involved.
The Oilers would have a young, strong center iceman and Hall could be spring boarded to superstardom.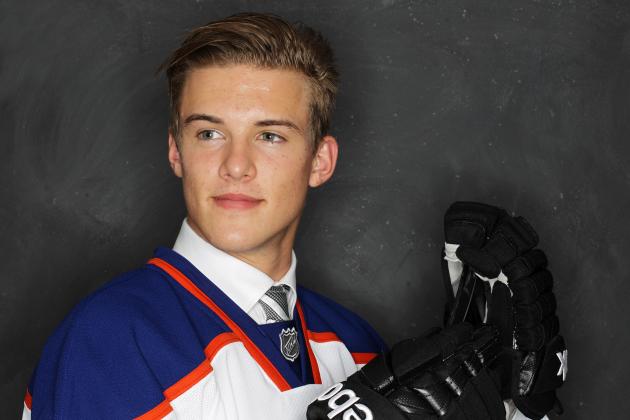 Nick Laham/Getty Images
The Oilers are hoping that Oscar Klefbom can shake off the rust and compete for a roster spot this season.
For one of the first times in recent years, the Edmonton Oilers have organizational depth on the backend and will have a strong competition between quite a few bodies.
The top four defensemen in Edmonton will likely consist of Justin Schultz, Ladislav Smid, Andrew Ference and Nick Schultz, but after that things get interesting.
Recently acquired Anton Belov will get a long look at training camp and is likely to make the team headed into the regular season.
Having played and excelled in the KHL over the past couple of seasons, Belov will have an upper hand as opposed to younger players like Oscar Klefbom, Martin Marincin or Martin Gernat.
Klefbom will get his chances during training camp, but considering he is coming off of a serious shoulder injury and is entering his first year of North American hockey, a trip down to Oklahoma City is more than likely for the talented Swedish defenseman.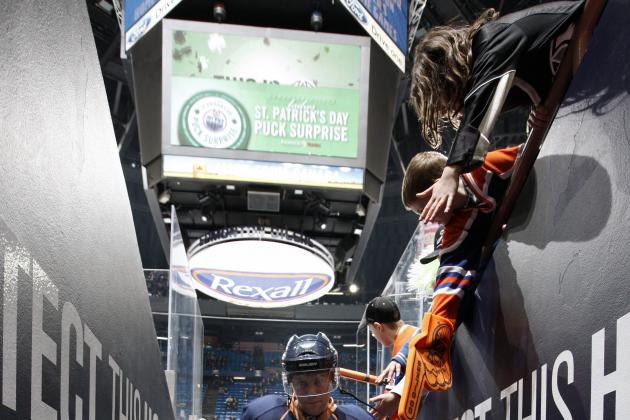 Dale MacMillan/Getty Images
This could be Linus Omark's last chance to make the Oilers roster.
Linus Omark has had a tenuous relationship with the Edmonton Oilers franchise to date, but will look to the 2013-14 training camp as somewhat of a fresh slate.
If there is one thing that the Oilers do not need anymore of is an undersized forward, but if Omark enters camp with the right attitude and right level of commitment he may find himself on the NHL roster when the regular season begins in October.
Omark had a standout season last year in the Swiss National League, registering 69 points in 48 games played, and it is safe to say it is this performance that earned the talented Swede another shot in Edmonton.
Omark wants to play in the NHL but it will be interesting to see if he defects once again if he doesn't manage to crack the Oilers roster.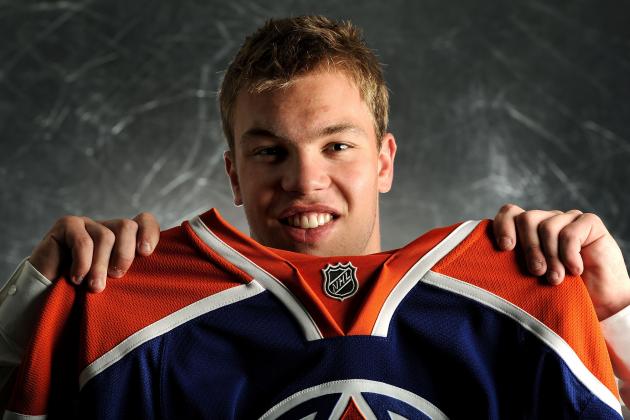 Harry How/Getty Images
Taylor Hall could very well earn the captaincy during Oilers training camp this season.
After trading Shawn Horcoff to the Dallas Stars in the summer, the Edmonton Oilers are currently without a captain.
Though he has said that he is in no hurry to name a new captain, Eakins would ideally select a new leader before the beginning of the regular season.
Andrew Ference represents a strong candidate, though a new addition to the team, Ference is a proven veteran who is both vocal on and off the ice and has a winning pedigree after having served with the Boston Bruins over the past few seasons.
Sam Gagner would be another likely candidate, having recently signed an extension with the team, and at 23 has already played for the Oilers for six seasons.
Taylor Hall remains a dark horse candidate, and if Dallas Eakins was going to follow the trend of young captains in the NHL, Hall would be the likely choice.
How he adapts to the positional switch will go a long way into determining if he is indeed a suitable choice for captain. By attempting the switch to center, Hall is putting the effort in to show that he is willing to do whatever it takes to help the team succeed, which would bode well for a captaincy nod.