NFL Week 2 Picks: Predictions for Every Game Against the Spread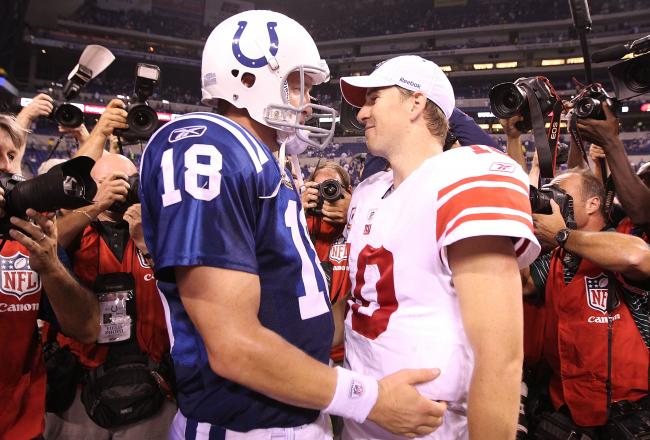 Who will win this year's Manning Bowl, Peyton or Eli?
Andy Lyons/Getty Images
We're officially off and running, folks.
With the first week of the 2013 season now in the books, it's time to turn our attention to a Week 2 slate of games that is headlined by two high-profile showdowns: Broncos vs. Giants and 49ers vs. Seahawks.
From a betting standpoint, this week's card features plenty of intriguing lines that are worth close examination.
After going 11-4-1 on my against the spread picks and 11-5 on my total picks in Week 1, I'm looking to do even better this week.
Here's a look at my picks and predictions for every Week 2 game.

Note: All lines courtesy of Covers.com
New York Jets at New England Patriots
Spread: New England (-12)
Total: 43.5

Just judging by what we saw in Week 1, the most impressive unit in this matchup is the Jets defense. Though New York's secondary had a few breakdowns against Tampa Bay last week, the front-seven, led by disruptive force, DE Muhammad Wilkerson, looked outstanding against the Bucs. I watched the entire game, and I was surprised by just how fast, physical and nasty the Gang Green front-seven looked.

If Wilkerson and the Jets can match that level of play against a beat up New England offense, there's no reason New York shouldn't be able to at least keep this game to a single-digit deficit.

The wild card of course is rookie QB Geno Smith, which is likely why this spread is so high. Smith had a solid debut performance. But the conditions will be much tougher this time around, and it's impossible to tell just exactly how he'll respond. You can get away with a few rookie mistakes at home against a team like the Bucs, but those same type of mistakes will cost you dearly on the road against Tom Brady.

Still, it's likely that Jets offensive coordinator Marty Mornhinweg will try to establish the run and work the screen game early and often to help to minimize the pressure and burden on Smith. If the Jets defense comes to play, it's a strategy that should result in a low-scoring game that could be a lot closer than many seem to think.
Picks: Jets (+12), Under
Prediction: New England 23, New York 16



St. Louis Rams at Atlanta Falcons
Spread: Atlanta (-7)
Total: 47.5

Both these teams played close, hard-fought games last week, and that's exactly what I expect this contest to be.

These two dome teams are built to score points, which is why I wouldn't be surprised if this game quickly escalates into an offensive shootout between Sam Bradford and Matt Ryan.
Ultimately, I expect Ryan, who failed to get the job done last week in a last-minute goal-line situation in a loss to the Saints, to redeem himself and lead the Falcons to a close, high-scoring victory at home.
Picks: Rams (+7), Over
Prediction: Atlanta 34, St. Louis 30

San Diego Chargers at Philadelphia Eagles
Spread: Philadelphia (-9.5)
Total: 55

The Chargers may have a new head coach, but it was the same old story as usual in Week 1, as they managed to let a big lead slip away in a disappointing loss to Houston in Week 1.
Following that meltdown, San Diego will have to travel across country to play an early game against a Philadelphia offense that looked even better than advertised in Chip Kelly's debut against the Redskins.
If the Eagles offense keeps playing at the pace we saw in Week 1, this game has blowout written all over it.
Picks: Eagles (-9.5), Under
Prediction: Philadelphia 36, San Diego 17



Dallas Cowboys at Kansas City Chiefs
Spread: Kansas City (-3)
Total: 46.5

Some bettors may be concerned about just how effective Tony Romo will be playing with bruised ribs this week. However, judging by the fact that Romo completed 11 of his 16 passes in the second half after suffering the injury last week, it's not exactly a big concern of mine.
What is a bigger concern is whether Dallas has spent more time this week celebrating a big home win over their hated division rival, the New York Giants, or actually preparing for a tough upcoming road test at Kansas City.
The Chiefs are coming off an easy win over Jacksonville in Week 1. But it's tough to judge yet just how much better they really are with Alex Smith at quarterback and Andy Reid calling the shots.
This has the potential to be one of the best and most exciting games of Week 2. Ultimately, though, Romo should be able to show his toughness and lead the Cowboys to a hard-fought win on the road.
Picks: Cowboys (+3), Over
Prediction: Dallas 30, Kansas City 24



Tennessee Titans at Houston Texans
Spread: Tennessee (-9.5)
Total: 43

Tennessee picked up a surprising upset win on the road in Week 1 against a sleepwalking Steelers team. But that won't be the case again this week, when the Titans head back out on the road yet again to play a much more talented and balanced Texans team.
After a rather uneven performance in a close-call 31-28 win over San Diego in the season-opener, Houston will be motivated to prove that it's a better team than the one we saw on Monday night.
The Texans defense, led by star DE JJ Watt and resurgent LB Brian Cushing, should smother Titans QB Jake Locker. The Houston offense should put on an aerial show, led by QB Matt Schaub, who looked stellar in the second half of last week's win.
Picks: Texans (-10), Over
Prediction: Houston 34, Tennessee 17



Washington Redskins at Green Bay Packers
Spread: Green Bay (-9.5)
Total: 49.5

On Monday night, Washington's defense had no answers for Philadelphia's high-powered offensive attack. It's doubtful that the unit will fare much better on the road against Aaron Rodgers and Green Bay's powerful passing attack, which averaged nine yards per pass in Week 1.
The Redskins look like they've regressed from last season, and the rust on Robert Griffin III was certainly showing in last week's loss.
If Green Bay can put last week's tough loss at San Francisco in the rear-view mirror, the Packers shouldn't have much trouble taking care of business at home against Washington's overmatched defense.
Picks: Packers (-9.5), Over
Prediction: Green Bay 37, Washington 20



Miami Dolphins at Indianapolis Colts
Spread: Indianapolis (-3)
Total: 42.5

From a situational standpoint, this is a matchup that would seem to heavily favor Indianapolis, mainly due to the fact that the Colts will be playing their second straight game at home, while the Dolphins will be playing their second consecutive game on the road, following a win at Cleveland in Week 1. However, I actually prefer Miami in this game, regardless of the toll that the extensive traveling may play.
QB Ryan Tannehill and WR Mike Wallace weren't able to get on the same page in the preseason, and they certainly weren't able to click in Week 1, as Wallace finished with just one catch. However, Tannehill and Wallace should have more opportunities to create big plays in the passing game this Sunday against a Colts secondary that leaves a lot to be desired.
Picks: Dolphins (+3), Over
Prediction: Miami 27, Indianapolis 24



Cleveland Browns at Baltimore Ravens
Spread: Baltimore (-6.5)
Total: 44

The big storyline of Baltimore's season-opening loss to Denver was how Peyton Manning tore up the Ravens defense, throwing a record-tying seven touchdown passes. However, what I really took away from that game was just how non-threatening the Ravens offense looks this year.
Ray Rice is a powerful rushing threat and WR Torrey Smith is an explosive, field-stretching speedster. But besides those two, Baltimore just doesn't have any other playmakers that will really strike fear in the hearts of opposing defenses.
It's clear that the defending Super Bowl champions have taken a noticeable step back on both sides of the ball.
After a lopsided loss to the Broncos, you have to wonder what the Ravens' psyche will be for this week's bout with the Browns.
Cleveland looked dreadful last week against Miami. But the Browns should be able to give the Ravens a run for their money on Sunday, since Baltimore just doesn't have the offensive threats to run away with this game and pull off the beatdown that some may expect.
Picks: Browns (+6.5), Under
Prediction: Baltimore 21, Cleveland 16



Carolina Panthers at Buffalo Bills
Spread: Carolina (-3)
Total: 43

The Bills surprised a lot of people in Week 1 by nearly beating New England at home. Though Buffalo wasn't able to get the job done and pull off the upset, it was still encouraging to see rookie QB EJ Manuel look as good as he did during his debut performance.
After giving away last week's game late in the fourth quarter, though, you have to wonder how Manuel and the Bills will respond this week against the Panthers.
Carolina managed to score just seven points in a loss to Seattle at home last week. But the offense should be able to create more explosive plays this week. I expect Cam Newton to have a big performance against a mediocre Bills defense, which is still trying to learn all the ins and outs of new coordinator Mike Pettine's scheme.
Picks: Panthers (-3), Over
Prediction: Carolina 28, Buffalo 17



Minnesota Vikings at Chicago Bears
Spread: Chicago (-6.5)
Total: 42

The Bears new-look offense looked impressive in the second half of last week's win over Cincinnati. It should look even better against a Vikings defense that got lit up by Detroit last week.
Like the Miami-Indianapolis matchup, this game features a situation where one team, Minnesota, will be playing its second straight road game against a team, Chicago, that will be playing its second straight game at home. Unlike the Dolphins-Colts game, however, I actually prefer the home team in this one, especially after seeing Christian Ponder's performance in Week 1, when he threw three interceptions.
Picks: Bears (-6.5), Over
Prediction: Chicago 31, Minnesota 21



New Orleans Saints at Tampa Bay Bucs

Spread: New Orleans (-3.5)
Total: 47

It's tough to figure out how the Bucs will respond after last week's loss on the road to the Jets, considering they basically gave the game away at the end with a stupid penalty.
Still, Tampa Bay should be able to get up for a key divisional matchup against New Orleans. The Saints are coming off a big win at home last week over Atlanta, so it wouldn't be surprising to see a bit of a letdown performance from New Orleans on Sunday.
If Doug Martin and the Bucs offense can control the ball against a rather weak New Orleans defensive front-seven, the Bucs should be able to hang around and keep this game close deep into the fourth quarter.
Picks: Bucs (+3.5), Under
Prediction: New Orleans 24, Tampa Bay 21



Detroit Lions at Arizona Cardinals
Spread: Arizona (-1)
Total: 47.5

Arizona's offensive line was a big concern coming into the season, and it once again proved to be the team's vulnerability in last week's loss to the Rams, as Carson Palmer was sacked four times.
Still, when Palmer wasn't getting taken to the ground, he did look impressive, throwing for 327 yards and two touchdowns.
I expect Palmer to look even better at home this week against a Lions defense that has some noticeable holes, especially in the secondary.
Picks: Cardinals (-1), Over
Prediction: Arizona 34, Detroit 23



Jacksonville Jaguars at Oakland Raiders
Spread: Oakland (-6)
Total: 39

In a matchup of two of the league's weakest and least talented teams, it's hard to put a whole lot of confidence in either of these two squads. However, I do like what Terrelle Pryor brings to the table as an overall playmaker, and I expect Pryor to have a solid showing at home against the lackluster Jaguars defense.
Picks: Raiders (-6), Under
Prediction: Oakland 23, Jacksonville 13



Denver Broncos at New York Giants
Spread: Denver (-4.5)
Total: 55

I expect this year's edition of the Manning Bowl to feature plenty of scoring, since these are two of the most powerful passing attacks in the NFL.
The question is, will it be Peyton or Eli who is able to make the crucial plays down the stretch to pull off the victory?
Judging from what I saw from both teams in Week 1, at this point, I'd rather trust Peyton and the Broncos, even though they're on the road.
The Giants secondary just doesn't have enough quality cover men to slow down Denver's potent passing game.
Picks: Denver (-4.5), Over
Prediction: Denver 38, New York 30
San Francisco 49ers at Seattle Seahawks
Spread: Seattle (-3)
Total: 44

You can easily make the argument that a letdown performance could be expected from San Francisco this week, following that huge win over Green Bay in the spotlight game of Week 1. However, the 49ers should have plenty of motivation for this game, since they still remember what it was like the last time they went to Seattle and got embarrassed 42-13.
After flying over 4,500 miles to Carolina and back, I expect the Seahawks to be a bit jet-lagged this week.
Colin Kaepernick and the rest of the high-powered 49ers offensive attack should be able to take advantage of the Seahawks' tired defense and avenge last year's blowout defeat.
Picks: 49ers (+3), Over
Prediction: San Francisco 33, Seattle 24



Pittsburgh Steelers at Cincinnati Bengals
Spread: Cincinnati (-7)
Total: 40.5

Obviously, you can never call a Week 2 game a must-win matchup. But there's definitely a sense of urgency surrounding this AFC North Monday night showdown between the Steelers and the Bengals, as both these teams will be looking to avoid 0-2 starts.
Pittsburgh was arguably the most disappointing team of Week 1, scoring just nine points at home in a loss to Tennessee. Cincinnati, on the other hand, at least looked strong on the road in the first half against the Bears before folding down the stretch.
After seeing how ineffective the Steelers were last week, there's no way I would trust Pittsburgh on the road at this point. The Bengals defense should cause a lot of problems for a Steelers offensive line that lost its leader, center Maurkice Pouncey, to a season-ending knee injury.
Picks: Bengals (-7), Under
Prediction: Cincinnati 24, Pittsburgh 14
This article is
What is the duplicate article?
Why is this article offensive?
Where is this article plagiarized from?
Why is this article poorly edited?