Kent State at LSU: Live Score and Highlights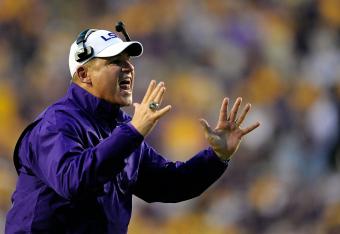 Stacy Revere/Getty Images
LSU 45, Kent State 13—Final

The LSU Tigers handled their business again, as they dominated another opponent.
The 45-13 win over Kent State gives the Tigers momentum heading into SEC play next week against Auburn.
Zach Mettenberger remained efficient, throwing his ninth touchdown of the season without an interception, while Jeremy Hill racked up 117 rushing yards and two rushing touchdowns in the first half. Terrence Magee contributed another 100 yards on the ground as well.
It was an impressive win that saw the Tigers outgain Kent State by 323 yards. Here is my analysis and breakdown of key plays in the game.
Both Jeremy Hill and Terrence Magee go over 100 yards vs. Kent State. Great night for the run game. They look in sync.

— Shea Dixon (@Sheadixon) September 15, 2013
Tigers take the "win" formation and this game is in the books.
That was Anthony Jennings doing what Anthony Jennings does—creating electrifying plays.
It's going to be a lot of fun watching Cameron dial up a read offense with Jennings in the future.
I typed, backspaced and typed consecutively on the referee's decision to not throw the flag there.
I didn't see a receiver in the vicinity, but this is the price I must pay for typing from my living room, rather than attending tonight's game. You had the last laugh, football gods.
What a favorable spot... Mickey Johnson and Lewis Neal had Kent State stopped short, but the referees were gracious and awarded the Flashes with a first down.
We have a Robinson sighting, friends. It blows my mind that four weeks ago this guy was not yet eligible to play.
The fact that he played last week and is playing tonight speaks volumes about his raw athletic ability.
Kwon Alexander, man.
He should start at SAM easily.
That was about the ugliest coordinated celebration you'll ever see in the end zone, but hey, give 'em a break—they're offensive linemen.
LSU 45, Kent State 13—4th Quarter (10:44)
Oh Magee, how are you the No. 4 tailback?
You realize this guy could start at half of the schools in the nation, right?
The Tigers should be ready for any offense that is screen-happy in the future. Geez, how many screens can one team run?
In case your wondering, @LSUfball has won 28 straight games when wearing the PURPLE Nike uniforms entering tonight's game. 19-0 under Miles

— Bill Martin (@LSUBillMartin) September 15, 2013
LSU 38, Kent State 13—4th Quarter (14:55)
Mettenberger is doing his best A.J. McCarron impression with nine touchdowns and no interceptions. His efficiency this season has been off-the-charts, and after that touchdown pass to Beckham, it's likely that his day is done.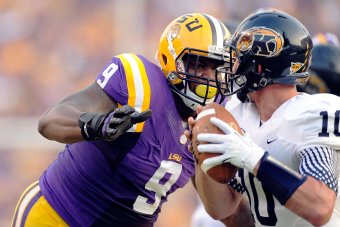 Stacy Revere/Getty Images
As fate would have it, the third quarter ends on an official review. Hey, I believe in moral victories. This decision could be huge for Kent State moving forward.
The Tigers are pounding the ball with Blue and Magee like its nobody's business. With the clock winding down, I must ask the question on everyone's mind—will Kent State win the third quarter?
Terrence Magee with his "Hey guys, remember me?" run of the night.
Even if it was negated because of a block in the back, Magee's vision, cuts and explosiveness were all on full display.
LSU 31, Kent State 13—3rd Quarter (3:16)
Wow, the Golden Flashes field goal attempt bounced off of the goal post and through the uprights. Just like they drew it up.
Nice play design by Kent State to throw back against the coverage of LSU. However, Kent State found out on that play that SEC speed is not a myth.
Kent State's tight end was about the size of Anthony Johnson, who was responsible for covering him. Wait, what?
Oh John Chavis, you truly are a wizard.
Mettenberger doesn't look as accurate throwing the deep ball in this game as he did against TCU and UAB.
Alfred Blue gets his first carry of the night and goes 11 yards for a first down. #LSU

— Dandy Don LSU Sports (@dandydonlsu) September 15, 2013
Bluuuuuueeeeee. We have an Alfred Blue sighting folks. I believe the coaching staff came into this game with a game plan of keeping Alfred Blue fresh, keeping Jeremy Hill ready for SEC play and rewarding Kenny Hilliard with multiple reps.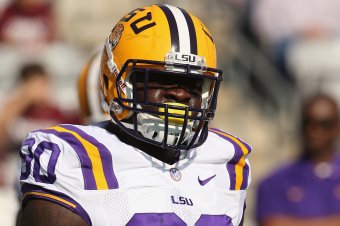 Ronald Martinez/Getty Images
The defensive tackles have been outstanding for LSU thus far. Ferguson had seven total tackles in the first half and Johnson has 1.5 tackles for loss.
Perfectly timed play-calling by Kent State on this drive. The wide receiver screen and play-action pass had LSU's defense on its heels, but unfortunately for the Golden Flashes, they failed to convert the play-action pass.
Collins is now in the ballgame, and immediately Kent State looks to exploit any wide receiver matched up against him.
Mettenberger has 232 passing yards and two touchdowns, Hill has 117 rushing yards and two rushing touchdowns and Jarvis Landry has 67 receiving yard and two touchdowns. As you can tell, the offense is having its way once again.
Mettenberger kneels and we're at halftime, friends.
LSU 31, Kent State 10—2nd Quarter (0:17)
The Golden Flashes cash in on Dural's mistake.
Kwon Alexander is worthy of starting at linebacker. His quickness, athleticism and willingness to lower his head make him fantastic against the run, and as he just showed there, he's a great cover linebacker as well.
This article is
What is the duplicate article?
Why is this article offensive?
Where is this article plagiarized from?
Why is this article poorly edited?

LSU Football: Like this team?