5 Ranked Teams Whose Schedules Are Setting Up to Be Cakewalks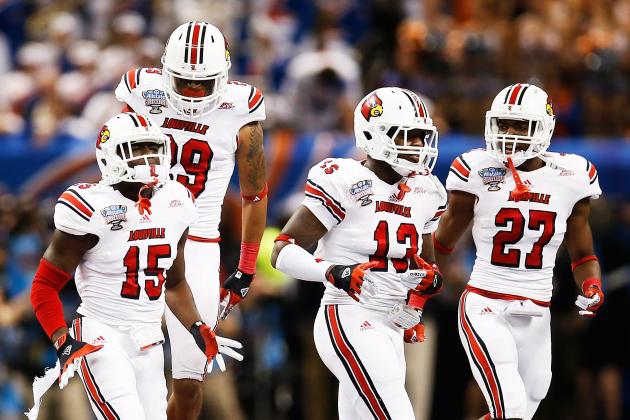 Chris Graythen/Getty Images
There's not a team with an easier path to a BCS bowl than Louisville.
The right schedule can make or break a college football team.
Sure, a good team should be well prepared to face any and all opponents. However, what if none of those opponents are even worth 75 percent of your effort?
Sometimes, having an easy schedule can be more beneficial than having a talented roster.
Here are five ranked teams who are finding that out this season.
All rankings are based off the current AP Top 25
Begin Slideshow

»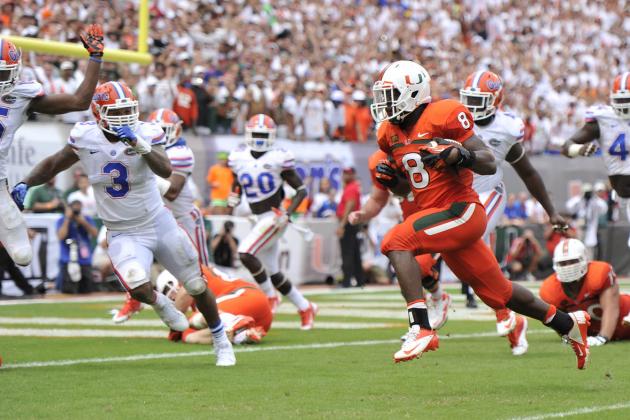 Brad Barr-USA TODAY Sports
Duke Johnson and the Hurricanes look to be in good shape for the remainder of 2013.
Remaining Schedule
Sept. 21 vs. Savannah State
Sept. 28 @ South Florida
Oct. 5 vs. Georgia Tech
Oct. 17 @ North Carolina
Oct. 26 vs. Wake Forest
Nov. 2 @ No. 10 Florida State
Nov. 9 vs. Virginia Tech
Nov. 16 @ Duke
Nov. 23 vs. Virginia
Nov. 29 @ Pittsburgh

The Lowdown
The Hurricanes passed what could be their stiffest test of the season in Week 2 by getting past Florida 21-16.
Following that, the road doesn't look to be all that difficult. In fact, Miami's remaining opponents have a combined record of just 8-9.
The Oct. 17 matchup at North Carolina could be a tough one, especially if the Hurricanes roll into Chapel Hill at 5-0. Not only is the game played on a Thursday night, but the eyes of the entire college football world will be on them.
However, with two weeks to prepare for the contest, it shouldn't prove to be a hurdle for Miami.
On the other hand, the Nov. 2 showdown at Florida State will be a tough one. There's a good chance both could come in as Top 10 teams.
Then again, with just one game under their belt, it's tough to get a read on just how good the Seminoles really are.
All in all, it would be a travesty if the Hurricanes don't win at least 10 games this year.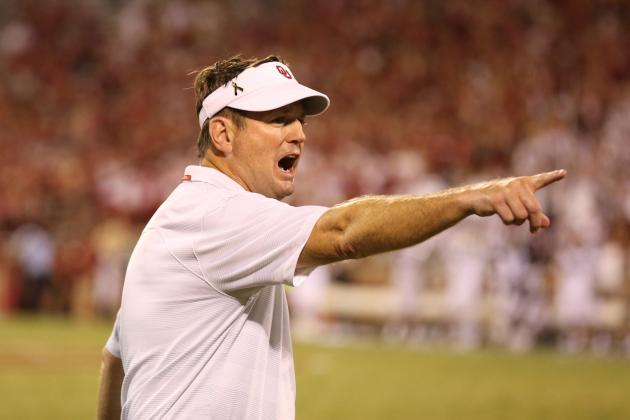 Matthew Emmons-USA TODAY Sports
Bob Stoops and the Sooners have an easier schedule than originally thought.
Remaining Schedule
Sept. 14 vs. Tulsa
Sept. 28 @ No. 21 Notre Dame
Oct. 5 vs. No. 24 TCU
Oct. 12 vs. Texas*
Oct. 19 @ Kansas
Oct. 26 vs. Texas Tech
Nov. 7 @ No. 22 Baylor
Nov. 16 vs. Iowa State
Nov. 23 @ Kansas State
Dec. 7 @ No. 12 Oklahoma State
*Game played at neutral site
The Lowdown
Coming into this season, the Sooners' three-week stretch from Sept. 28 to Oct. 12 looked to be concerning. The team was set to play Notre Dame, TCU and Texas in consecutive weeks.
That kind of gauntlet could put a wrench into any team's season.
However, all three have already fallen once and exposed several weaknesses. In fact, there's a good chance all could drop another game before their respective contests against Oklahoma.
After that, the next game of interest for the team is the Thursday night matchup at Baylor on Nov. 7.
Just two years ago, the Sooners saw their national title hopes crushed during a Week 10 matchup at Baylor. But that was when Robert Griffin III was still the Bears' quarterback.
Let's not forget, Oklahoma is 20-1 against Baylor all-time.
Finally, the team wraps things up with the Bedlam series against in-state rival Oklahoma State.
The Cowboys will certainly put up a fight, as they're arguably the most talented team in the Big 12 this season. However, one has to wonder how much of a distraction these recent allegations on the program will be for the team.
Regardless, expect Bob Stoops to deliver another 10-win season for the Sooners.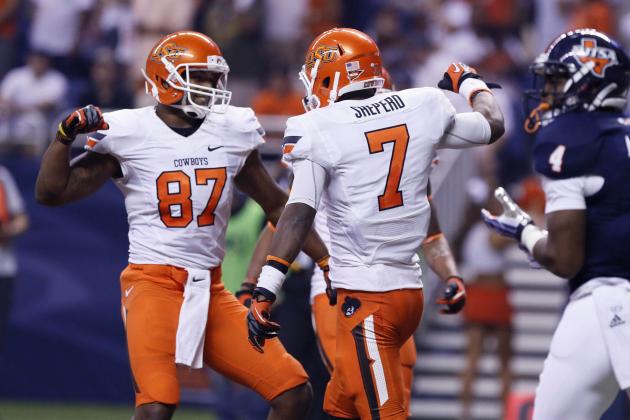 Soobum Im-USA TODAY Sports
If they remain focused, the Cowboys could push for a perfect season.
Remaining Schedule
Sept. 14 vs. Lamar
Sept. 28 @ West Virginia
Oct. 5 vs. Kansas State
Oct. 19 vs. No. 24 TCU
Oct. 26 @ Iowa State
Nov. 2 @ Texas Tech
Nov. 9 vs. Kansas
Nov. 16 @ Texas
Nov. 23 vs. No. 22 Baylor
Dec. 7 vs. No. 14 Oklahoma



The Lowdown
The Cowboys might have the easiest schedule in the Big 12.
Sure, the team plays three ranked opponents the rest of the way. However, all three matchups are at home, where Oklahoma State has won 13 of its last 14 games.
Baylor presents the team's first real test on Nov. 23. The Cowboys could come into that contest undefeated and within grasps of a BCS title game appearance. There's definitely a good chance the team could slip up against a very talented Bears squad.
Then again, Oklahoma State has won 11 straight games against Baylor at home.
Finally, bitter rival Oklahoma could stand in the way of a Big 12 title and the possibility of a perfect season. However, the last time the Sooners came into Stillwater, the Cowboys picked them apart 44-10.
Don't expect the game to be so lopsided, but Oklahoma State should be favored.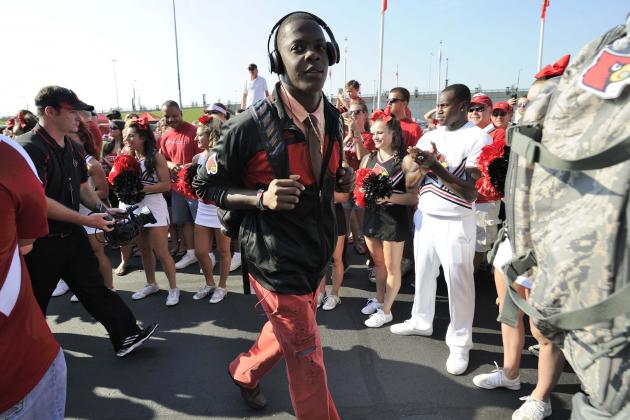 Jamie Rhodes-USA TODAY Sports
Nothing can stand in the way of Teddy Bridgewater and the Cardinals except themselves.
Remaining Schedule
Sept. 14 @ Kentucky
Sept. 21 vs. Florida International
Oct. 5 @ Temple
Oct. 10 vs. Rutgers
Oct. 18 vs. UCF
Oct. 26 @ South Florida
Nov. 8 @ Connecticut
Nov. 16 vs. Houston
Nov. 23 vs. Memphis
Dec. 5 @ Cincinnati
The Lowdown
It doesn't get easier than the Cardinals remaining schedule.
The team doesn't play a single opponent currently ranked in the Top 25 the rest of the way. In fact, Louisville's remaining opponents have a combined record of just 7-11. With Heisman-hopeful Teddy Bridgewater at quarterback and an offense that would give any ranked team issue, this schedule really doesn't seem fair.
Who's going to give the Cardinals trouble? Could it be hated-rival Kentucky? Not unless they decide to settle it on the basketball court.
What about Connecticut, the team that tripped Louisville up in triple overtime last year? Sorry, lightning doesn't strike twice.
Originally, the final week showdown at Cincinnati looked concerning. However, after the Bearcats lost starting quarterback Munchie Legaux to a gruesome leg injury—likely ending his season—the same sentiment doesn't hold true.
The only thing the Cardinals have to worry about is whether voters would hold the team's cupcake schedule against it.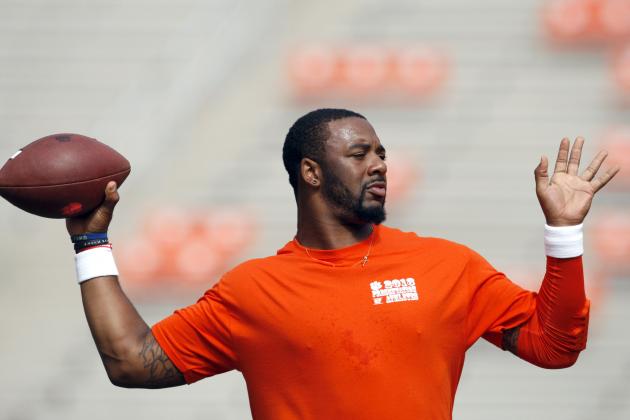 Tyler Smith/Getty Images
Tajh Boyd has the Tigers poised for a BCS title game appearance.
Remaining Schedule
Sept. 19 @ North Carolina State
Sept. 28 vs. Wake Forest
Oct. 5 @ Syracuse
Oct. 12 vs. Boston College
Oct. 19 vs. No. 10 Florida State
Oct. 26 @ Maryland
Nov. 2 @ Virginia
Nov. 14 vs. Georgia Tech
Nov. 23 vs. Citadel
Nov. 30 @ No. 13 South Carolina
The Lowdown
The Tigers have a relatively easy remaining schedule compared to the other Top Five teams.
First, the team will have to be weary of its upcoming matchup against North Carolina State. The game is played on Thursday and will be at Carter-Finley Stadium in front of a raucous crowd of Wolfpack fans. Clemson can't afford a letdown.
After that, the next big matchup comes against Florida State on Oct. 19.
Luckily, the game is played at home. The Tigers have won five straight against the Seminoles in such contests.
It all sets up for a final week showdown at South Carolina.
After a grueling SEC schedule, expect the Gamecocks to come in battered and bruised. Battling for a spot in the BCS title—and for the Heisman Trophy in quarterback Tajh Boyd's case—Clemson should show up ready to play.
After all, the team has already disposed of two straight Top-10 SEC foes in LSU and Georgia. Why not add a third to that list?
For complete coverage and everything college football, you can follow Sebastian on Facebook and on Twitter