10 College Football Teams That Are Overachieving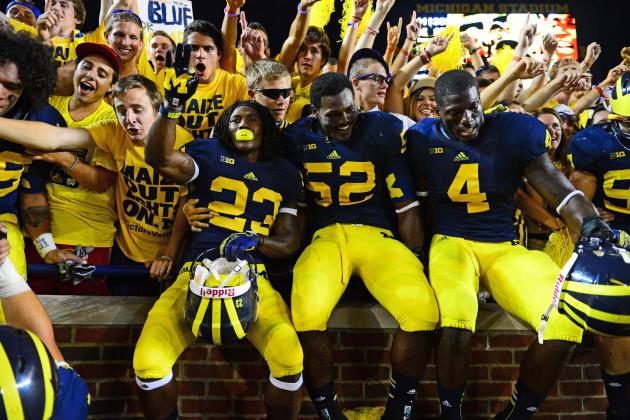 Andrew Weber-USA TODAY Sports
Surprisingly, Michigan finds itself in BCS title contention.
The preseason college football polls should be taken with a grain of salt.
Every year a school comes in highly touted, only to crash and burn within the first few weeks. But at the same time, there are schools that nobody gives a chance, yet by the end of the season, those same schools are in the thick of things.
Sometimes, it's just best to watch the games instead of the polls.
Here are 10 teams who have already overachieved expectations.
All rankings are based off the current AP Top 25
Begin Slideshow

»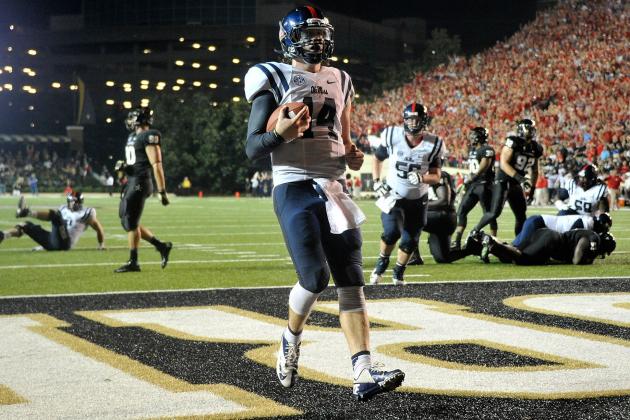 Frederick Breedon/Getty Images
Wallace has been a tremendous spark for the Rebels.
Preseason Ranking: NR
The Lowdown
In his first year as Rebels head coach last season, Hugh Freeze took a 2-10 team and transformed them into a 7-6, bowl-winning squad.
Ole Miss was expected to continue that improvement this year. But nobody expected the team to be this good.
At 2-0, the Rebels come in with victories over a better-than-advertised Vanderbilt team and Southeast Missouri State. A showdown with Texas this Saturday should mark the end of the team's run.
Except Ole Miss is actually favored to win by most.
The play of quarterback Bo Wallace is a large reason for the team's turnaround. The junior has thrown for 471 yards and two touchdowns through the air while rushing for another 63 yards and two scores.
He also has help in the backfield from playmaking seniors Jeff Scott (166 yards and a touchdown on 16 carries) and Barry Brunetti (115 yards and three touchdowns on 20 carries).
Things should get tougher for the Rebels from Sept. 28-Oct. 19 when they play three nationally ranked SEC foes in a four-week span. But after that, the team doesn't face a single ranked opponent the rest of the way.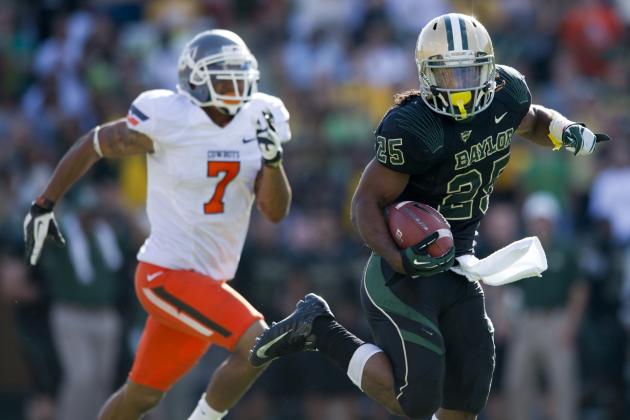 Cooper Neill/Getty Images
Seastrunk has been unstoppable in the back field.
Preseason Ranking: NR

The Lowdown
With Robert Griffin III, Nick Florence and now Bryce Petty, the Bears haven't seemed to have difficulty finding a quarterback over the years.
The results seem to back that up, as the team is off to a fantastic start this season.
Through two games, Baylor has outscored its opponents 139-16. The team's offense has been unstoppable, ranking second in points per game (69.5), fourth in passing (431.5 YPG), 14th in rushing (305 YPG) and first in total offense (736.5 YPG).
In his first year starting, Petty has been phenomenal, throwing for 650 yards and four touchdowns on 32-of-40 passing (80 percent). The junior also added another score on the ground.
Heisman-hopeful running back Lache Seastrunk has also been tremendous. The junior has rushed for 261 yards and five touchdowns on just 28 carries (9.3 YPC).
With their first ranked opponent only coming on Nov. 7 against No. 14 Oklahoma, there's a good chance we could see the Bears at 7-0 by that point.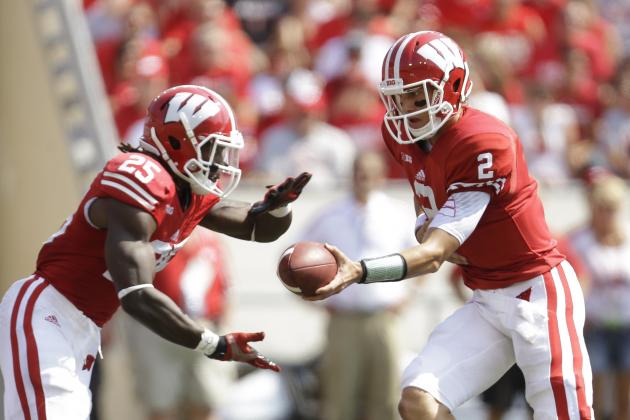 Mike McGinnis/Getty Images
The running attack has been a strength for the Badgers thus far.
Preseason Ranking: 23
The Lowdown
Sure, the Badgers won the Big 10 title last season. But after racking up 32 wins from 2009-11, an 8-6 season is nothing more than a disappointment.
After two impressive victories, Wisconsin looks set to return to their winning ways.
OK, Massachusetts and Tennessee Tech aren't the type of victories you write home about. However, the team looked pretty impressive in the victories.
In the backfield, Melvin Gordon, James White and Corey Clement have combined for 769 yards and seven touchdowns on the ground. In fact, each player has at least 250 yards of rushing.
Quarterback Joel Stave has been efficient through the air, throwing for 416 yards and five touchdowns on 33-of-46 (71.7 percent) passing. The sophomore has also added another score on the ground.
While the jury is still out on whether this Badger team is for real, there's no doubt that players will feed off the confidence that comes from outscoring your first two opponents 93-0.
With a night game at Arizona State on deck this Saturday, it's time to find out just how good Wisconsin is.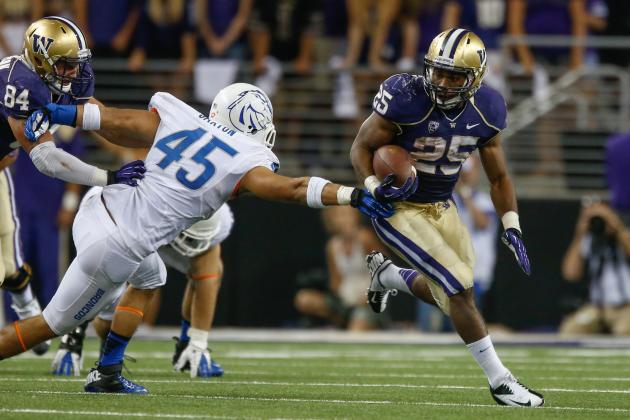 Otto Greule Jr/Getty Images
Big things are expected out of Sankey this season.
Preseason Ranking: NR
The Lowdown
Although the Huskies finished 7-6 for the third straight season, 2012 was kind of a breakthrough year for the team.
Washington recorded not one, but two victories over Top 10 opponents—a 17-13 victory over No. 8 Stanford and a 20-17 win over No. 7 Oregon State. The team also boasted an improved defense, holding opponents under 20 points in seven games.
But with a 38-6 thrashing of No. 19 Boise State in Week 1, the Huskies made it clear that they shouldn't be taken lightly.
Quarterback Keith Price was effective throwing the ball, tossing for 324 yards and two touchdowns on 23-of-31 (74.2 percent) passing. The senior looked more like the 2011 version of himself, when he racked up over 3,000 yards and 33 touchdowns through the air.
Running back Bishop Sankey also continued his sensational play, rushing for 161 yards and two touchdowns. Big things are expected out of the junior after he rushed for 1,439 yards and 16 scores in 2012.
Winning the Pac-12 is out of the question. But you can guarantee Washington will make life tough for their conference foes.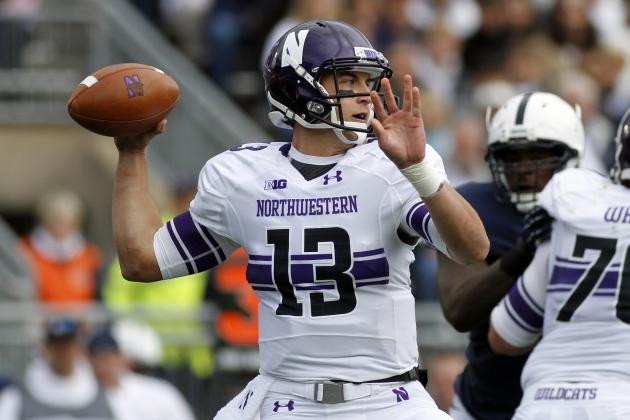 Justin K. Aller/Getty Images
Siemian's arm should carry the Wildcats this season.
Preseason Ranking: 22
The Lowdown
The Wildcats put together a surprising season last year, going 10-3 and winning the Gator Bowl. It was the team's first victory in a bowl game since 1948—Northwestern was 0-9 since.
Now, the team will try to bring even more success to the program this season.
The Wildcats got off to a good start, beating two solid teams to move to 2-0. The team topped 40 points in both games—something Northwestern accomplished just three times all year in 2012.
Quarterback Trevor Siemian has led the way. The junior has thrown for 535 yards and four touchdowns with two interceptions.
In the backfield, running back Treyvon Green has been on a roll. The junior has rushed for 195 yards and three touchdowns on 29 carries.
With four games remaining on the schedule against ranked opponents, it will be tough for the Wildcats to reach the 10-win plateau once again. But it would be foolish to think the team wouldn't give a good run at it.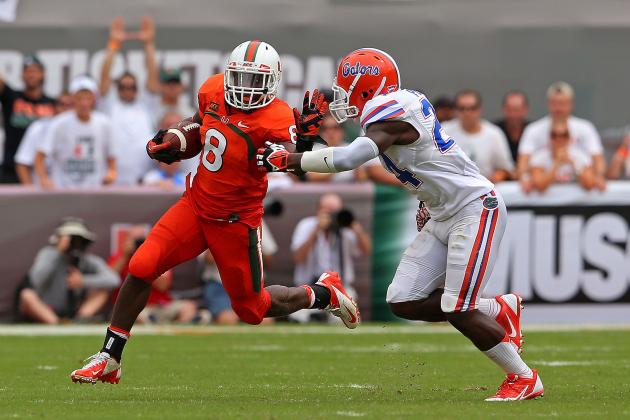 Mike Ehrmann/Getty Images
Johnson has been a bright spot for the Hurricanes.
Preseason Ranking: NR
The Lowdown
The Hurricanes made a splash in Week 2, upsetting No. 12 Florida 21-16.
With the win, not only is the program's reputation back on the right track, but the team is also set up nicely for a successful season. A visit to No. 10 Florida State is the only ranked opponent remaining on the schedule.
That certainly wasn't the expectations for a Miami team that hasn't won more than seven games in a season since 2009.
Running back Duke Johnson has been a big reason for that revitalization. The sophomore has rushed for 245 yards and two touchdowns thus far. That includes the game-clinching score against the Gators with just 3:29 remaining in the fourth.
The Hurricanes' defense also came up big in that game.
Sure, the unit was gashed for 413 yards by Florida's offense. However, when they needed to make a stop, they got it. Miami also forced five turnovers on the day—three fumble recoveries and two interceptions.
The Hurricanes won't blow anyone away by their performance, but at the end of the day, winning is all that matters.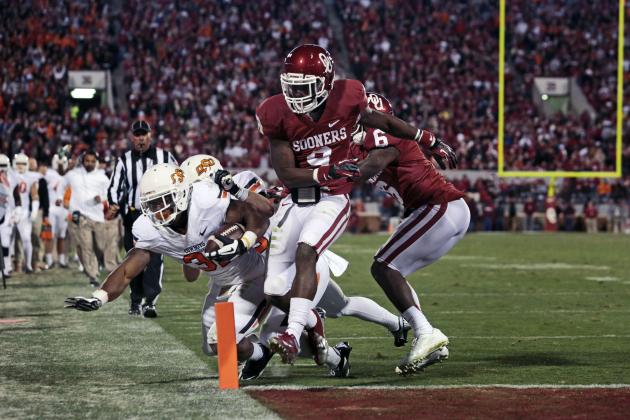 Brett Deering/Getty Images
Lynn (center) and the defense have been the bright spot for the Sooners thus far.
Preseason Ranking: 16
The Lowdown
OK, while it's true that no one doubted that the Sooners would be 2-0 at this point, it has to be said that the play of their defense has been surprising.
Through the first two games, Oklahoma has made life extremely difficult for opposing offenses.
The team ranks No. 4 in scoring defense (3.5 PPG), No. 35 in pass defense (173.3 YPG), No. 27 in rush defense (103.5 YPG) and No. 5 in total defense (276.5 YPG). Furthermore, the Sooners have also held opposing quarterbacks to an efficiency rating of 82.6, ranking No. 12 in the nation.
More impressively, the team has essentially been a brick wall on third downs, holding opponents to just 5-of-29 on third-down conversions. Oklahoma ranks No. 5 in the category.
Sure, the team's offense is a big question mark right now. But as long as the defense continues to perform at a high level, the Sooners will be just fine.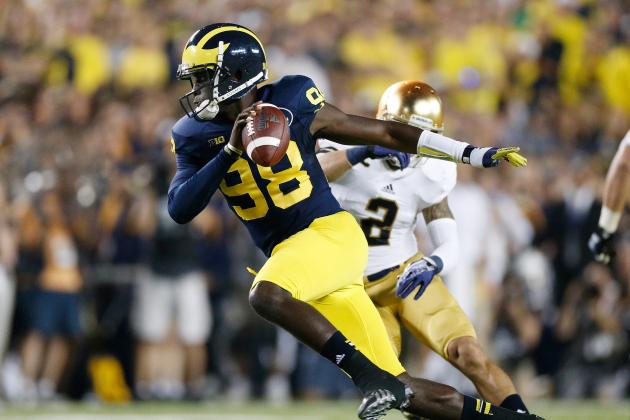 Gregory Shamus/Getty Images
Gardner has done it all for the Wolverines this season.
Preseason Ranking: 17
The Lowdown
With Devin Gardner in his first full season as the starting quarterback, the Wolverines weren't expected to come out strong.
Following a woeful performance during the team's 59-9 pummeling of Central Michigan, it looked like those assumptions would be true. Gardner threw for just 162 yards with one touchdown and two interceptions.
However, against last year's BCS runner-up Notre Dame, the junior took a massive step forward.
Gardner threw for 294 yards and four touchdowns on 21-of-33 passing. He also led the team in rushing with 82 yards and a score.
Jeremy Gallon has served as Gardner's go-to guy, catching 12 passes for 231 yards and four touchdowns. The senior has a tremendous 19.3 yards per catch average.
With the next matchup against a ranked opponent coming on Nov. 9 against No. 23 Nebraska, Michigan has a good chance to run up an 8-0 record and put itself into the running for a BCS title spot.
Who saw that coming at the beginning of season?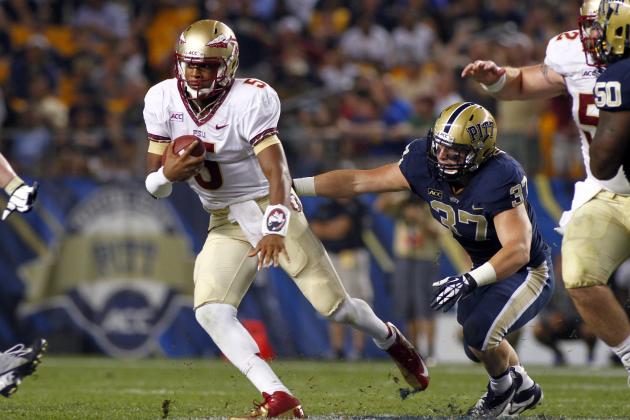 Justin K. Aller/Getty Images
Winston has a bright future with the Seminoles.
Preseason Ranking: 11
The Lowdown
Seminoles quarterback Jameis Winston was expected to be good. But nobody expected him to be this good.
In his collegiate debut against Pittsburgh, the freshman threw for 356 yards and four touchdowns on 25-of-27 passing. He also rushed for 25 yards and another score.
Winston's performance gave him a 96.3 Total QBR. That's the best mark by any QB to debut against a BCS-AQ over the past 10 seasons. It's a list that has the former 5-star recruit ahead of Jake Locker and Andrew Luck.
Furthermore, Winston became just one of eight players to complete at least 25 passes and have a completion percentage above 85 percent on a BCS team playing another BCS team in the past 10 seasons.
That kind of production already has Winston as a dark-horse candidate for the Heisman Trophy.
Not only that, it makes Florida State one heck of a tough out for any opponent.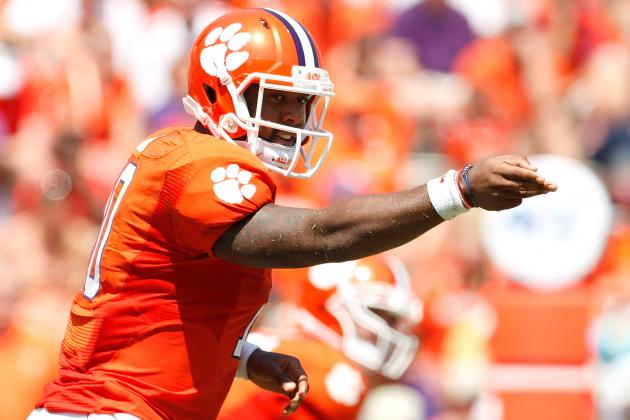 Tyler Smith/Getty Images
Could Boyd lead the Tigers to the BCS title game?
Preseason Ranking: 8
The Lowdown
After losing their top two tacklers, three of their top four receivers and their top rusher from 2012, the Tigers looked to be in a little trouble. In fact, SB Nation's Jason Kirk listed Clemson as the most overrated team in the ACC.
Two weeks into the season, maybe he'd like to reconsider that statement.
In a Week 1 showdown against No. 4 Georgia, the Tigers came away with a sensational 38-35 victory. It helped the team jump from No. 8 to No. 4 in the polls.
Heisman-hopeful quarterback Tajh Boyd was tremendous in that game. The senior threw for 270 yards and three touchdowns while rushing for 42 yards and another two scores.
Last Saturday, Clemson flexed its muscle, toppling South Carolina State 52-13.
Now, with the entire nation fixated on the team, it's up to the Tigers to prove that this start isn't a fluke. They have four games to keep the stretch going. Then it's time for the matchup against ACC foe No. 10 Florida State.
Given the recent play of both teams, it wouldn't be surprising to see both in the Top Five by that point. Not to mention, it could also possibly go a long way in determining who the front-runner for the Heisman Trophy will be.
Win that one and Clemson's fate will be entirely in its hands.
All stats and rankings used in this article are courtesy of ESPN.com and NCAA.com

For complete coverage and everything college football, you can follow Sebastian on Facebook and on Twitter