Despite a two-game losing streak, the Cleveland Indians find themselves just 1.5 games back of the fifth and final playoff spot in the American League. The Indians trail just three teams, those being the New York Yankees, Tampa Bay Rays and Texas Rangers. The problem, though, is that the Indians will need to win games while relying on others to beat either New York, Tampa Bay or Texas.
However, for the purposes of this article, we're going to assume that the Cleveland Indians make the postseason. In this case, we'll assign them the second wild-card spot, as that is the most likely scenario in which they make the playoffs.
If the Indians take the fifth spot, and the rest of the standings hold the same, here's how the American League playoff seeding would look:
Boston (East)
Oakland (West)
Detroit (Central)
Texas (WC)
Cleveland (WC)
This, being the most likely playoff scenario, would set up the Indians for an away game against the Rangers in a one-game playoff for the right to play Boston in the ALDS. The Indians would need to choose one starter to take on the Rangers, who would likely send Yu Darvish to the mound.
Runs are hard to come by against Darvish. The 27-year-old Cy Young Award candidate boasts a 12-8 record with a 2.84 ERA and a 1.05 WHIP. He also averages 11.9 K/9, 3.2 BB/9, 3.67 K/BB and 6.2 H/9.
For that reason alone, the Indians need to be careful who they select as their starter in the Wild Card Round. Beyond who the Indians will see on the hill as an offense, though, whoever they start in that game will face one of the most daunting offenses in all of baseball.
Take a look at these key offensive categories and where the Rangers rank both in the AL and baseball as a whole.
MLB Rankings for Rangers' Offense

| | | | | | | | |
| --- | --- | --- | --- | --- | --- | --- | --- |
| Stats | R | HR | TB | AVG | OBP | SLG | OPS |
| MLB Rank | 9th | 6th | 6th | 8th | 10th | 6th | 6th |
ESPN.com
In addition to the stout offense the Rangers front office has put together, the team plays in a very, very hitter-friendly ballpark. To this point, The Ballpark at Arlington has surrendered a whopping 2.01 HR/G, with an average distance of 401.1 feet—according to hittrackeronline.com.
In a perfect world, Justin Masterson would take the hill for this matchup. The Indians ace has an impressive 1.45 GB/FB ratio in 2013 with a mark of 1.31 over the course of his career, and while ground balls play well in any stadium, they play especially well in Arlington.
Unfortunately for the Indians, though, Masterson is a huge liability at this juncture. The 28-year-old was pulled from his last start on Sept. 2 with a strained oblique and has been on the mend ever since.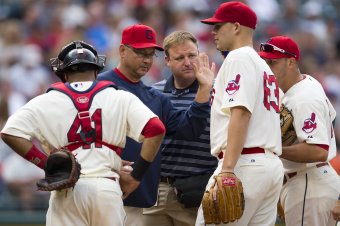 Jason Miller/Getty Images
According to MLB.com, Masterson had no hiccups in a recent throwing session—he played catch from 90 feet—but he is not yet ready to pitch in a game. The playoffs are right around the corner, and with the wild-card play-in game taking place on Oct. 2, there's very little time for Masterson to properly rehab his ailing oblique.
For this reason, the Indians need to start Ubaldo Jimenez in the one-game playoff.
This extends beyond the injury concerns surrounding Masterson, though. The playoffs are all about momentum, and at the moment there may not be a hotter pitcher in all of baseball than Jimenez.
In nine post-All-Star break starts, Jimenez owns a 1.94 ERA and a 1.20 WHIP while averaging 10.2 K/9, 3.6 BB/9, 2.86 K/BB and 7.3 H/9.
The chart below displays Jimenez splits over the first and second half of the MLB season.
Ubaldo Jimenez 1st Half vs. 2nd Half

| | | | | | | | | | |
| --- | --- | --- | --- | --- | --- | --- | --- | --- | --- |
| Splits | GS | IP | ERA | WHIP | K/9 | BB/9 | K/BB | H/9 | HR/9 |
| 1st Half | 19 | 98.2 | 4.56 | 1.49 | 8.6 | 4.8 | 1.77 | 8.6 | 1.2 |
| 2nd Half | 9 | 55.2 | 1.94 | 1.20 | 10.2 | 3.6 | 2.86 | 7.3 | 0.5 |
Baseball-Reference.com
Don't let anybody tell you that Jimenez has been lucky in the season's second half. Something has clicked for the former All-Star and it's shown in his play over the latter half of the year.
Jimenez's incredible turnaround is due largely in part to his improved ability to limit walks and miss bats. This improvement can be traced directly to an increase in velocity across all of his pitches.
This final chart shows the difference in the average velocity of Jimenez's seven pitches between June and September of 2013—according to Brooksbaseball.net.
Ubaldo Jimenez Improving Velocity (in MPH)

| | | | | | | | |
| --- | --- | --- | --- | --- | --- | --- | --- |
| Month | FB Velocity | Sinker | Change-Up | Slider | Curveball | Cutter | Splitter |
| June 2013 | 92.46 | 91.70 | 0.00 | 84.64 | 77.74 | 0.00 | 84.29 |
| September 2013 | 94.15 | 93.99 | 85.94 | 84.79 | 78.57 | 90.49 | 86.20 |
Brooksbaseball.net
Jimenez has seen a stark rise in fastball velocity; however, it's the difference in the velocity of his splitter that has been the most important.
A well-placed 92 mph fastball—Sept. 2012 velocity—is still a good pitch. However, the difference between an 83 mph splitter and an 86 mph one is the difference between that pitch breaking from mid-thigh to the knees and mid-thigh to the shins.
Jimenez finally has the out pitch he's been missing for the past two seasons with the Indians and it's shown in the uptick in his strikeout rate from 21.7 percent in the first half up to 27 percent in the second.
The Rangers are a patient team at the plate. As a team, they've struck out in just 17.1 percent of their plate appearances while walking at a 7.6 percent clip.
Who should start in the Wild Card Round for the Indians?
The Indians will need a pitcher on the mound capable of matching Darvish's strikeout potential while also being able to limit the amount of opposing baserunners.
Over his last nine starts, Jimenez has been as good as anybody. He's gotten his strikeout rate up to an impressive 27 percent, while his walk and hit percentages have dipped to 9.0 and 19.3 percent, respectively.
To put how good he's been in perspective over the second half, Darvish's percentages are as follows: 33.7 strikeout percentage, 9.8 walk percentage and 16.7 hit percentage.
Jimenez is the closest thing the Indians have to an ace right now, and they should utilize it in this one-game, winner-take-all scenario.
Stats come courtesy of Baseball-Reference.com—unless otherwise noted—and are current through play on Sept. 12, 2013.