Fantasy Football Week 2: Predicting Biggest Studs and Duds at Each Position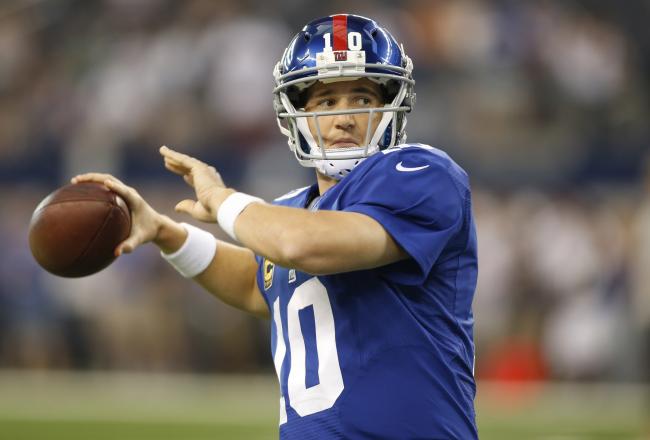 Tim Heitman-USA TODAY Sports
Which Week 1 fantasy football performers were the real deal and which were pretenders? That's the question we're faced with as we break down the matchups our players face heading into the second week of NFL football.
In the following breakdown, we'll take a look at a couple of the questionable players you might have on your roster. These aren't the Peyton Mannings or Arian Fosters—you start your high draft picks in any situation barring injury or benching.
So, with that said, here are selections for one stud and one dud at each position based on which players I expect to exceed and fail to live up to expectations.
Stud: QB Eli Manning vs. Denver Broncos
Last week, Eli Manning found himself bailing his team out once again. With David Wilson fumbling twice and Dallas keeping a steady pace on offense, Manning found all three of his receivers all game long and put up colossal fantasy points in the process. In fact, the quarterback helped the New York Giants reach a milestone, according to NFL AM:
First time since at least 1950 that the @Giants have had 3 100-yd receivers

— NFL AM (@NFL_AM) September 9, 2013
If his brother can muster even close to what he did in his record-setting season-opening performance, it will be up to the younger Manning to let it fly early and often against the Denver Broncos. That's a great thing for fantasy owners.
Dud: QB Matt Schaub vs. Tennessee Titans
With a new weapon in rookie wide receiver DeAndre Hopkins, Matt Schaub lit up fantasy scoreboards in Week 1 against the San Diego Chargers. He'll have a tougher task this week against a surprisingly improved Tennessee Titans defense.
Running the football is the bread and butter of the Houston Texans' offense. Establishing the run, something the Pittsburgh Steelers' offensive line failed to do against the Titans in Week 1, will be more of a priority this week. Don't expect Schaub to throw for three touchdowns while Arian Foster and Ben Tate are kept out of the end zone each week, either.
Stud: RB Darren McFadden vs. Jacksonville Jaguars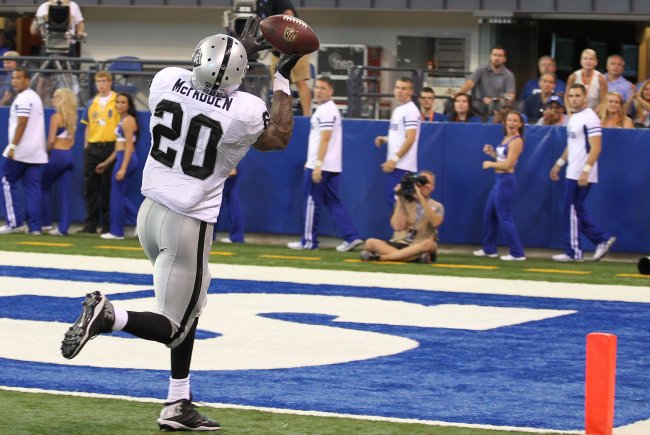 Brian Spurlock-USA TODAY Sports
Darren McFadden didn't have a great game against the Indianapolis Colts, but he's the unquestioned ball-carrier in the Oakland Raiders' game plan—17 carries and 20 total touches in Week 1. A matchup against the reeling Jacksonville Jaguars should have fantasy owners salivating.
Last week, the Kansas City Chiefs ran the ball seemingly at will against the Jags' porous defense. With the threat of Terrelle Pryor also in the backfield, Jacksonville is overmatched and will yield huge numbers to the former fantasy star.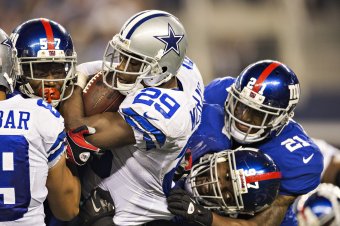 Wesley Hitt/Getty Images
Dud: RB DeMarco Murray at Kansas City Chiefs
These aren't your father's Kansas City Chiefs. Although Maurice Jones-Drew wasn't getting any help anywhere offensively from the Jaguars, the Chiefs' D looks like a more-than-competent unit, especially up front.
DeMarco Murray had a solid first game in Dallas' new offense, but that will change this week. He'll get the bulk of the workload out of the backfield, but Dallas is going to have to do something the Jags couldn't do to win this game: throw the football.
Stud: WR Eric Decker at New York Giants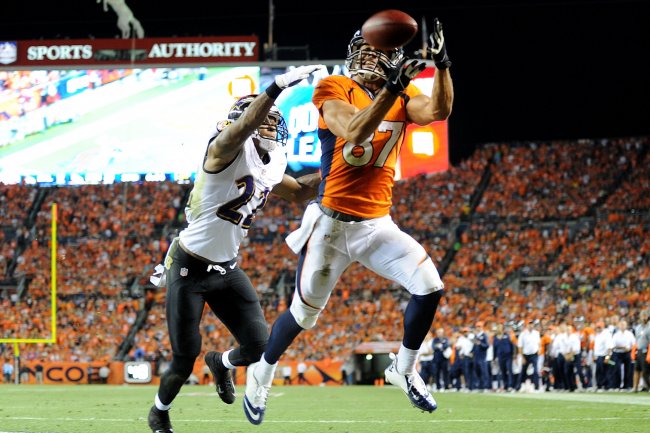 Dustin Bradford/Getty Images
It's impossible to think Peyton Manning and Eric Decker aren't going to hook up this season. Manning, even with his vast array of weapons, looked for his No. 2 receiver plenty of times, including a would-be touchdown that Decker dropped in the end zone.
With so many other viable pass-catchers deployed, Decker should be able to find favorable matchups and regain the trust of his quarterback against a less-than-stellar New York Giants secondary. Consider Decker's underwhelming Week 1 performance the anomaly and not the norm.
How many yards will Smith have in Week 2?
Dud: WR Torrey Smith vs. Cleveland Browns
Revis Island moved from New Jersey to St. Petersburg, Fla., but there's an island slowly making its way to M&T Bank Stadium in Baltimore: Joe Haden. With the Cleveland Browns' propensity to blitz under new defensive coordinator Ray Horton, Torrey Smith will likely draw the team's top cornerback for much of the afternoon.
Last week, Haden surrendered just one catch in five targets to the ever-dangerous Mike Wallace. Joe Flacco and Smith have a good rapport and he is capable of producing big plays that make up for an all-around poor showing, but there are better options out there. Smith has been wildly inconsistent and his matchup is simply not favorable this week.
Stud: TE Dwayne Allen vs. Miami Dolphins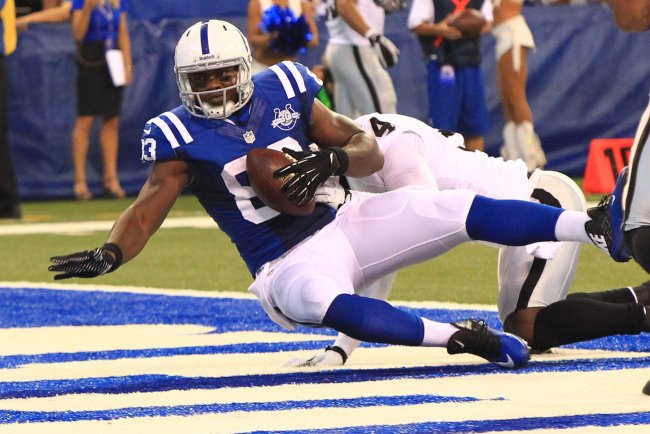 Pat Lovell-USA TODAY Sports
Jordan Cameron found creases in the Miami Dolphins' defense last week as their imposing pass rush forced Brandon Weeden to get rid of the football early. Expect Andrew Luck to respond in similar fashion, utilizing his tight ends frequently off of play-action fakes.
In Week 1, Coby Fleener saw 42 snaps to Allen's 30, but was targeted only once. Against the Dolphins, expect the Colts to run plenty of 12 personnel with both players on the field to help neutralize their pass rush, giving plenty opportunities for both players.
Dud: TE Kyle Rudolph at Chicago Bears
Kyle Rudolph caught just two passes for 27 yards and was targeted just four times by quarterback Christian Ponder against the Detroit Lions. We know he's a good weapon, but it's hard to see him being a consistent fantasy producer as long the Vikes are struggling to run the ball and Ponder is behind center.
Against the Chicago Bears this week, it's not going to get any easier to run the ball. The Bears are going to do good accounting for Ponder's safety valve, whom they held without a catch in their last meeting in 2012.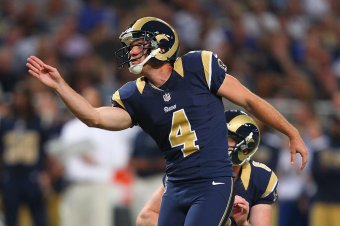 Dilip Vishwanat/Getty Images
Stud: Greg Zuerlein at Atlanta Falcons
Playing indoors is significant advantage for kickers. Give a great kicker like Greg Zuerlein a favorable matchup against the Atlanta Falcons and an offense that has trouble sustaining long drives and he's due for a big performance.
Last week, Garrett Hartley had a big day kicking against the Falcons in New Orleans. Look for the same from the sure-footed Zuerlein in Atlanta in Week 2.
Dud: Phil Dawson at Seattle Seahawks
Despite being a solid veteran kicker, Phil Dawson has a tough matchup in Seattle this weekend. You might want to roll with him anyway, but at least consider another option.
CenturyLink Field's design provides a louder-than-normal atmosphere that anyone would struggle with. The design and positioning of the stadium also create tricky winds that many kickers have struggled with in the past.
Stud: Chicago Bears D/ST vs. Minnesota Vikings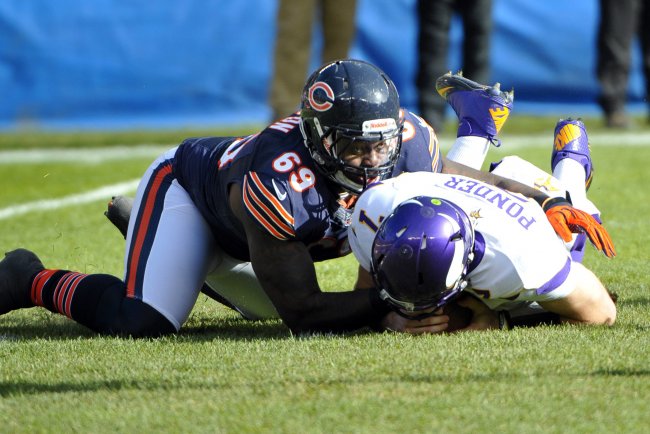 Rob Grabowski-USA TODAY Sports
Want guaranteed turnovers? Deploy the Chicago Bears defense as usual against Ponder and the Vikings in Week 2. Adrian Peterson is going to do one or two things that make you scratch your head, but the Bears will get plenty of points by sacking and intercepting Ponder while limiting points.
Dud: New York Giants D/ST vs. Denver Broncos
Peyton Manning is protected by three Pro Bowl offensive linemen and has the most capable group of weapons in the entire NFL. No matter how good New York's pass rush may be, Manning has the talent around him and ability to beat blitzes to make the Giants' defense a very unattractive option this week.
This article is
What is the duplicate article?
Why is this article offensive?
Where is this article plagiarized from?
Why is this article poorly edited?