Auburn vs. Mississippi State: Complete Game Preview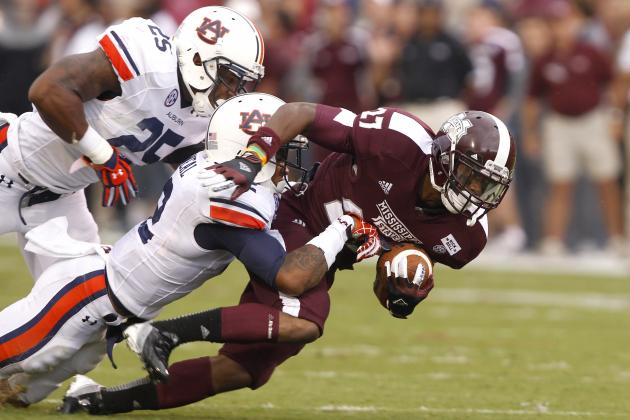 Butch Dill/Getty Images

Two gurus of the spread offense will square off Saturday night in prime time, as Dan Mullen leads his Mississippi State Bulldogs into Jordan-Hare Stadium to face first-year head coach Gus Malzahn and his Auburn Tigers.
Between them, the two coaches hold three national championship rings as offensive coordinators, with Mullen earning two at Florida in 2006 and 2008, and Malzahn winning his most recently in 2010. Saturday night, both coaches' record-breaking offense will be on display in the latest chapter of what has become a heated rivalry in recent years.
The rivalry was rekindled in 2009 when Mullen faced off against Gene Chizik and Malzahn in each of their first seasons rebuilding their respective programs, and only intensified in 2010, when allegations arose that Mississippi State alum Kenny Rogers spoke with Cam Newton's father and two Mississippi State boosters in an attempt to broker a pay-for-play deal.
Since then, there's been bad blood between these two programs, and the divisional rivalry between them has become that much more heated.
The Bulldogs captured their first win against Auburn under Mullen last season, but the Tigers were 3-0 against Mississippi State from 2009 to 2011 with Malzahn on Auburn's sideline as offensive coordinator.
With Malzahn back in the fold once again, all eyes will be on the two offensive masterminds on opposing sidelines in their first head-to-head matchup as head coaches.
First, the basics:
Time: 6 p.m. CT
Place: Jordan-Hare Stadium, Auburn, Ala.
TV: ESPN2
Radio: Auburn IMG Sports Network, Mississippi State Bulldog Sports Network
Spread: Auburn -6, via Vegas Insider consensus.
Begin Slideshow

»
Barrett Sallee and Adam Kramer break down Saturday's matchup between the Tigers and Bulldogs.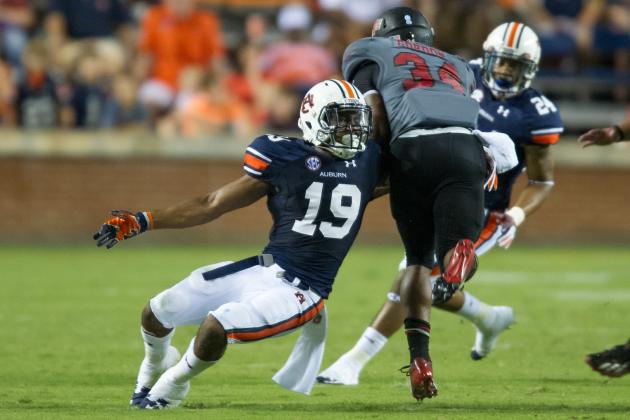 Michael Chang/Getty Images

Keep the defense off the field
For any defense playing opposite Gus Malzahn's hurry-up, no-huddle system, getting time to stay fresh on the sideline is critical. To do that, the Auburn defense needs to come up with big stops on third down and force turnovers. Conversely, the Auburn offense needs to maintain a few long, sustaining drives and avoid turning the football over to ensure the Tigers defense is rested.
Run the football
"If it isn't broke, don't fix it." That phrase holds especially true for the Auburn offense this week, coming off two big performances from the Tigers running back corps in the first two games of the season. The Tigers ran for 596 yards against Washington State and Arkansas State, accounting for 69.1 percent of Auburn's total offense through those two games. That output has been a direct result of Malzahn's play-calling, who has signaled in 95 runs in 134 plays—a near 70-30 run-pass ratio.
Find Marshall's go-to receiver
Aside from a strong running game, the best way to settle in a young quarterback is to find his go-to receiver. For Auburn quarterback Nick Marshall, who will make his third start at the Division-I level Saturday, no one has filled that role as of yet.
Through two games, Marshall's distribution has been scattered, completing passes to eight different receivers, none of whom have more than four catches. In fact, during last week's opening drive against Arkansas State, Marshall connected with four new receivers who had not caught a pass during the first game of the season against Washington State—and Saturday against Mississippi State Marshall could be throwing to an entirely new group of receivers.
To put it simply, last week against Arkansas State, fullback Jay Prosch led the team with three receptions.
Someone needs to step up as Marshall's favorite target sooner rather than later for the Tigers. It could start with a quarterback's best friend—the tight end—and Mackey Award watch-lister C.J. Uzomah, who has yet to catch a pass from Marshall this season.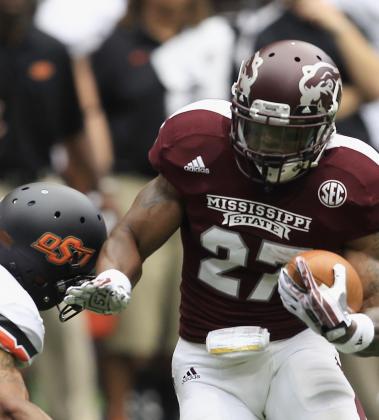 Bob Levey/Getty Images

Get healthy
Mississippi State running back LaDarius Perkins, who was named to the All-SEC Second-Team in 2012, and Bulldogs starting quarterback Tyler Russell each missed last week's game against Alcorn State due to injury. Perkins is set to play Saturday after sitting out last week with an ankle sprain, while Russell has yet to be cleared by medical personnel after the fifth-year quarterback was knocked out of the Bulldogs' season opening loss to Oklahoma State with a concussion.
Russell is expected to be cleared to play in time for kickoff Saturday, but Auburn coaches have been preparing for both Russell and Bulldogs backup quarterback Dak Prescott, just in case.
Rattle Nick Marshall
Through the first two weeks of the season, Auburn quarterback Nick Marshall has been able to play in a protective, conservative bubble, leaning on a strong running game and a narrow game plan to minimize the potential for turnovers and keep the Auburn offense running smoothly. Marshall and the Auburn offense will face their first big test of the season Saturday in the Mississippi State defense, and the Bulldogs will do everything they can to put pressure on the first-year starter.
If they can, Marshall might just crumble into the Marshall of old, who threw 20 interceptions and fumbled eight times in 11 games in community college last year.
Control tempo
So much of Gus Malzahn's spread offense is about his hurry-up, no-huddle philosophy and dictating the pace of games. If Mullen and his own spread attack can stay on the field and control the tempo of the game, that would leave Malzahn's explosive offense on the sideline and take away Malzahn's strongest weapon—pace.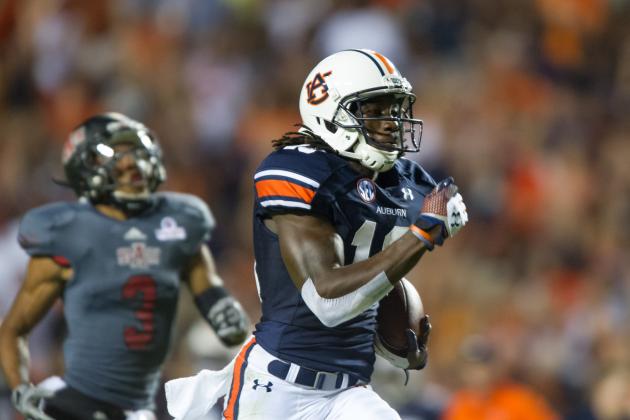 Michael Chang/Getty Images

Sammie Coates
If any Auburn receiver has shown the ability to be a go-to guy for quarterback Nick Marshall, it's sophomore Sammie Coates, who leads the Tigers with four receptions on the year. Coates' latest catch from Marshall is certainly his most memorable—a 68-yard, over-the-shoulder touchdown bomb from Marshall against Arkansas State.
Coates also pulled down a nice, 34-yard, sideline grab on a pass from Marshall during the Washington State game. Coates has already proven that he has the speed to be a big-time deep threat for the Tigers, and Marshall has certainly proven that he has a cannon of an arm. Now, the two just have to prove that they have the connection that all great quarterback-receiver tandems do.
Nick Marshall
Obviously, the quarterback position goes a long way in determining the outcome of any game in football. But Saturday's contest will be especially big for Marshall in his first game against SEC competition and a stout defense like Mississippi State's.
Moreover, Marshall could see more opportunities running the football after showing flashes of brilliance with his feet during the first two games of the season. If Malzahn does see fit to utilize Marshall on the ground even more with designed runs and in the read-option game, Auburn's three-headed rushing attack—consisting of Tre Mason, Corey Grant, and Cameron Artis-Payne—could become a four-headed hydra.
The linebackers
Backup middle linebacker Kris Frost was ejected on a targeting call in the second half of last week's game against Arkansas State, and therefore, will be suspended for the first half of Saturday's game against Mississippi State.
That leaves starting middle linebacker Jake Holland to carry the load for the Tigers in the middle of Auburn's 4-2-5 defensive scheme, without Frost there to rotate in and give him a breather until the third quarter.
Expect Mississippi State, and star running back LaDarius Perkins, to pound their way inside early and often Saturday to try and exploit a struggling Auburn linebacker corps that is even weaker in Frost's absence. Whether the Bulldogs are successful or not, will depend on Holland's effort early.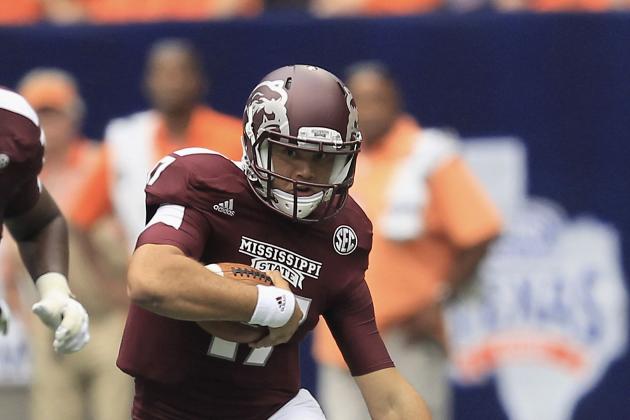 Bob Levey/Getty Images

Tyler Russell
Fifth-year quarterback Tyler Russell will be an important piece to the Bulldogs' puzzle come kickoff time on Saturday.
Whether or not Russell will be able to play is a decision that could change the entire complexion of the game for Mississippi State. If Russell isn't cleared and is still suffering the effects from a concussion two weeks ago against Oklahoma State, the Bulldogs will be forced to start sophomore Dak Prescott on the road.
When you're going on the road in the SEC to a stadium like Jordan-Hare, it would be nice to have a fifth-year senior like Russell leading the offense.
LaDarius Perkins
Perkins rushed for 1,024 yards and eight touchdowns in 2012, a performance good enough to earn him honors as an All-SEC Second Team selection. At 5-foot-10, 195 lbs., Perkins is a stout, downhill runner set to shoot for another 1,000-yard campaign in 2013.
After missing last week's game against Alcorn State, Perkins will have be motivated to make up a game's worth of yards, and a game's worth of entries on his NFL highlight tape, against the Tigers defense.
Benardrick McKinney
The sophomore middle linebacker has a bright future ahead of him—as evident from his freshman campaign a year ago, which earned him First-Team Freshman All-American honors from several media outlets in 2012.
Bulldogs fans will hope McKinney grows up a little bit faster Saturday, though, and that McKinney will be able to help slow down Mason, Grant, Artis-Payne and the Auburn rushing attack.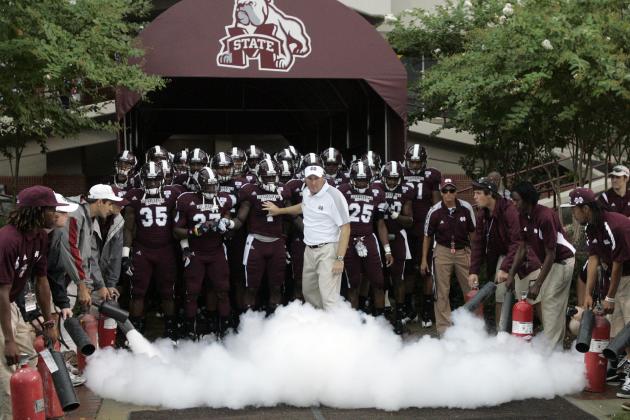 Butch Dill/Getty Images

Mississippi State head coach Dan Mullen has been very complimentary of new Auburn quarterback Nick Marshall.
While Marshall has only shown flashes of promise in his first two games as the Tigers' starting quarterback, Mullen said during the weekly SEC teleconference that Marshall may be close to reaching his full potential.
"When you look at him, you can see he's developing as a passer," Mullen said. "What I mean by that, you see he does a great job in their throws, he has talent, he hits open receivers and he creates big gains in the pass game. "Even through the first two games, you've seen him get more and more comfortable in that drop-back passing game, which makes him very lethal."

Mullen added: "The dangerous aspect of him running the ball always makes it rough, and then you see his growth and development as a drop-back passer, which gives you everything you would want in a quarterback."
Meanwhile, on the opposite sideline, the Auburn coaching staff spent this week preparing for both of Mississippi State's quarterbacks, given the situation with Russell's injury. Auburn defensive coordinator Ellis Johnson said Sunday that the Tigers defense could see both Bulldogs quarterbacks, even if Russell is completely healthy in time for the game.
"The thing that is probably most difficult is they had Tyler (Russell) hurt the first game, and when the backup quarterback (Dak Prescott) came in he's a little bit more of a runner that they like. I'm sure they have a little bit different complexion to their offense when he's back there.

"I think formation-wise we'll see the same stuff, you'll just see a little bit better ability for the quarterback to keep the ball. You've got to be prepared for both of them anyway because they played the backup quarterback even when Tyler was okay. Everything we're hearing is that Tyler is going to be fine. They were a little bit cautious with him this week, but he's going to be back."
Saturday marks the SEC opener for both teams, and that significance isn't lost on anybody, especially Auburn coach Gus Malzahn, who spoke about the difference in league play on Tuesday:
"I think each week we are going to learn more about our team. All I can tell you right now is I'm proud of our guys and the way they have responded so far. We have faced some adversity in both of these first games, and I like the way we handled it. But, now you are getting into your league, and we are playing against some of the best teams in America, and we'll face more adversity. We'll get a chance to see how we respond moving forward."
*Quotes obtained firsthand unless otherwise noted.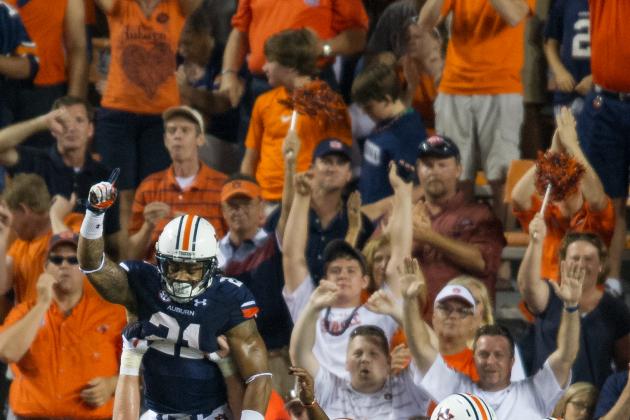 Michael Chang/Getty Images

Auburn wins, 26-22.
Mississippi State is a formidable foe, and the Bulldogs have all the tools to wreak some havoc of their own in the SEC West during the 2013 season, but playing on the road in Jordan-Hare Stadium this early in the season may just prove to be too tough of a test of the Bulldogs.
If Nick Marshall can continue to improve within the Auburn offense, and if the offense can continue to expand around him, the Tigers should be able to move the football and put points on the board against the Bulldogs defense.
Conversely, the Auburn defense won't completely shut down the Mississippi State offense, but the Tigers have shown their ability to make key stops in big situations, and they should be up to the challenge once again in certain spots on Saturday.
The Tigers won't win every SEC game they play this year—in fact, business is about to pick up, fast—but Saturday Malzahn and his Tigers should come away with a victory.
Auburn isn't a perfect team, but the Tigers have just enough pieces in place, through coaching, talent and chemistry, to walk out of Jordan-Hare 3-0 Saturday night.