Fantasy Football Advice: Red Flag Players Who Could Make or Break Your Season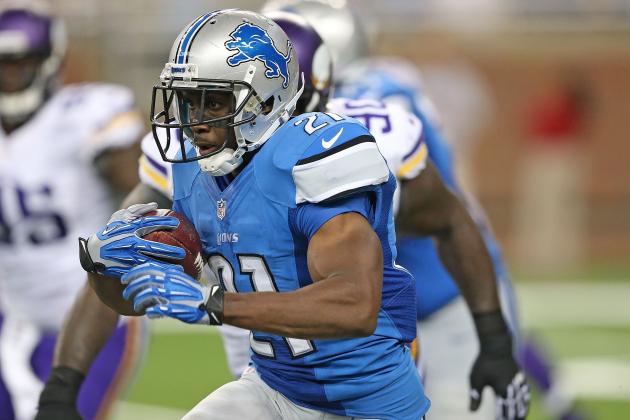 Leon Halip/Getty Images

Fantasy football is a game of risks and rewards.
To be competitive, you have to see value where others do not. You truly have to find a diamond in the rough.
Examples of high risk, high reward players from last season include Adrian Peterson coming off of a torn ACL, Dez Bryant with disciplinary problems and your pick of the three stellar rookie quarterbacks in Russell Wilson, Robert Griffin III and Andrew Luck.
All of these players have two things in common.
They are all present red flags that make them risky options on your roster, and they all helped individuals compete for their league's championship last season.
All points are based on ESPN's standard scoring system
Begin Slideshow

»
Rob Carr/Getty Images

Philadelphia's new offense runs at a break-neck pace. Running a play every 22 seconds, the Eagles have plenty of opportunities to create fantasy value.
Michael Vick, LeSean McCoy and DeSean Jackson combined for 65 fantasy points. If this scoring trend continues, owning any of Philadelphia's offensive weapons could bring you one step closer to winning you your fantasy league.
That being said, there are some concerns to note for each of these explosive fantasy players.
Michael Vick was hit several times in the win over Washington. With Vick diving for yardage instead of sliding or getting out of bounds, Washington's substandard front seven was able to get to him more than most fantasy owners would like. Vick's inability to protect himself is a concern considering his long list of past injuries.
Also concerning was the amount of work that LeSean McCoy saw. Being given 31 total carries provided McCoy with the opportunity to gain 184 rushing yards. It is tough to conceive a season where he carries the ball nearly 500 times without getting hurt.
Least risky from a health perspective is DeSean Jackson. That being said, he is one of several possible receivers in the spread formation, and his production could vary greatly week to week based on who the defense decides to try to shut down the most.
If all goes well, the Eagles could provide you with the silver bullet to win your league, but that's a big if to risk your roster on.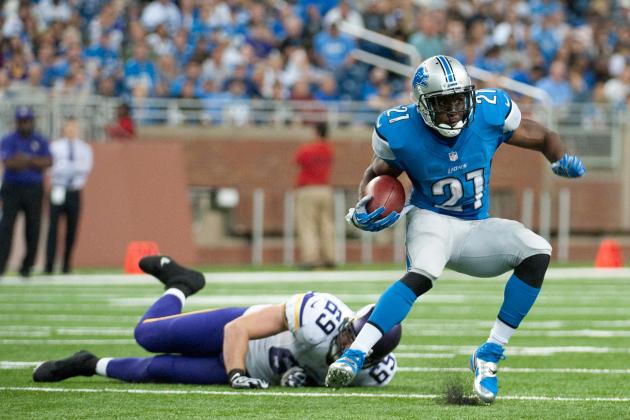 Tim Fuller-USA TODAY Sports

Reggie Bush was the best of all his former selves in Week 1.
Bush showed the ability to catch the ball out of the backfield as he did in New Orleans but also showed his ability to be an every-down back as he did in Miami.
Having scored 25 points against the Vikings, Bush is quickly becoming a sure-fire, top-tier first running back option. More than likely, fantasy owners with Bush on their team drafted him as a second running back or a flex, which is turning out to be a very valuable pick.
Better yet, Bush is a PPR beast. He caught four passes and appears to have become an integral member of the Lions' short-yardage passing attack.
Bush has proven in the past that he has the toughness to compete weekly as an every-down back, but he did leave last week's game with injuries to his thumb and groin. Owners should not worry yet, but Bush could be susceptible to injury moving forward.
The other concern for Bush is that backup running back Joique Bell appears to currently be the Lions' goal-line option, as he punched in two touchdowns. These goal-line carriers are not insignificant as far as fantasy points to lose for Bush moving forward.
Andy Lyons/Getty Images

Could Terrelle Pryor present similar fantasy value to other rushing quarterbacks in the NFL?
I would say he probably does not put up the kind of numbers we expect from the likes of Colin Kaepernick, RG3 or Russell Wilson. What elevates these other three quarterbacks is their ability to throw the ball accurately as well as rush for yardage.
However, could Pryor be this season's Tim Tebow?
Despite his utter lack of skill at the quarterback position, Tim Tebow was a fantasy player worth owning because of his ability to run the football.
One certainty that came out of Pryor's debut in Oakland was that he is going to run the ball a lot for a Raiders team with a dearth of offensive weapons.
Pryor rushed for 112 yards and threw for 217 yards in the Raiders' first week loss. That combination could see him score close to 20 fantasy points this season.
My reservation with Pryor is that he is an unproven commodity. Nobody can say with certainty if he can continue to run and throw at this rate, and therein lies the risk of playing him on your roster.
Beyond that concern, Pryor also has the proverbial almost-starter Matt Flynn looking over his shoulder. One bad game could see Flynn on the field and Pryor on the bench.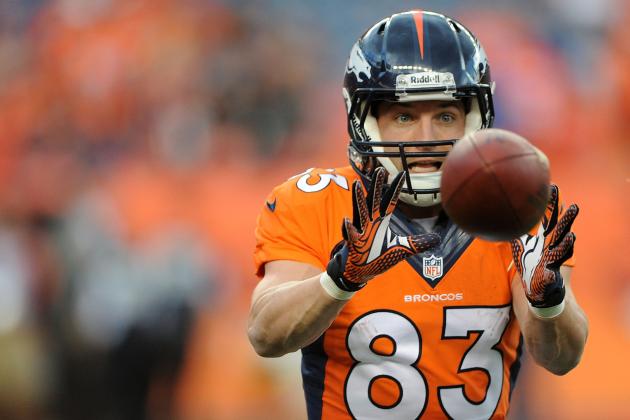 Dustin Bradford/Getty Images

Wes Welker could be the Broncos' silver bullet this season, but he could also be a roller coaster of a fantasy-scoring nightmare.
Welker had a huge game against the Ravens. He had no problem finding holes in the Ravens defense, and Peyton Manning was looking for him early and often.
Welker caught nine passes on 11 targets for 67 yards and two touchdowns.
The concern with Welker is that he could disappear in games when Manning is calling on Demaryius Thomas, Eric Decker or Julius Thomas.
While Welker is no stranger to being one of many receivers for an elite quarterback, that should still be a concern for fantasy owners, especially now that defenses will view Welker as an equal threat as Denver's other receivers.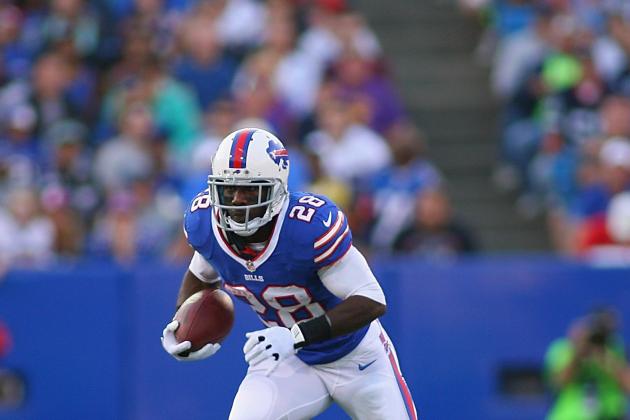 Rick Stewart/Getty Images

Spiller has the potential to be a fantasy stud, and as a proverbial first-round pick in fantasy drafts this season, owners with Spiller on their roster are relying on him to be just that.
Last season, Spiller averaged six yards per carry. With that type of production with more carries as a starter, Spiller could be a top-three back in terms of fantasy.
Spiller, however, was an under-performer in his debut as Buffalo's feature back. With just 41 rushing yards and a fumble on 17 attempts, Spiller put up just three fantasy points.
What is concerning is that he split carries with Fred Jackson. Jackson did have four less carries than Spiller, but his workload did not resemble a true backup.
If this truly is a time share in the backfield, Spiller's value would drop immensely.
If he is the starter, though, look for Spiller to break out in the coming weeks.