Who: Everton FC vs. Chelsea FC
What: English Premier League Week 4
Where: Goodison Park, Liverpool, England, UK
When: Saturday, September 14, 2013
Weather: The Weather Channel forecast
Time: 17:30 BST/12:30 p.m. EDT/9:30 a.m. PDT
TV: NBC, NBC Sports Live Extra, Mun2 (USA); Sky Sports 1/HD, Sky Sports I Ireland, Sky Go, Sky Sports 3D (UK)
Worldwide Livestreams and TV Channels: LiveSoccerTV.com
Radio: SiriusXM - Sirius Channel 94, TalkSport Radio
Referee: Howard Webb

Odds: Everton +220, Chelsea +130, Draw +225
Total: 2½u -125 (over +105)
Source: LVH SuperBook (Las Vegas, Nevada, USA)

3-Way Odds: Everton +200, Chelsea +120, Draw +200
Total: 2½u -149 (over +110)
Decimal Odds: Everton 3.00, Chelsea 2.20, Draw 3.00
Total: 2½u 1.67 (over 2.10)
Fractional Odds: Everton 2/1, Chelsea 6/5, Draw 2/1
Total: 2½u 67/100 (over 11/10)
Source: sportsbook.com (Curaçao, Netherlands Antilles)

Everton welcomes Chelsea to Merseyside and Goodison Park on Saturday following the international break for what appears to be a tough contest for both teams.
The Toffees (0-3-0) have opened the English Premier League season with three straight draws and are one of only three teams still without a win (Sunderland, West Bromwich Albion).
Besides losing manager David Moyes to Manchester United over the summer—Roberto Martinez is now in charge—Everton also saw star midfielder Marouane Fellaini reently head to Old Trafford. The club looks much different than it did a year ago.
One player still with the Toffees is American goalkeeper Tim Howard, who helped the United States qualify for the 2014 World Cup in Brazil with a 2-0 win over Mexico on Tuesday.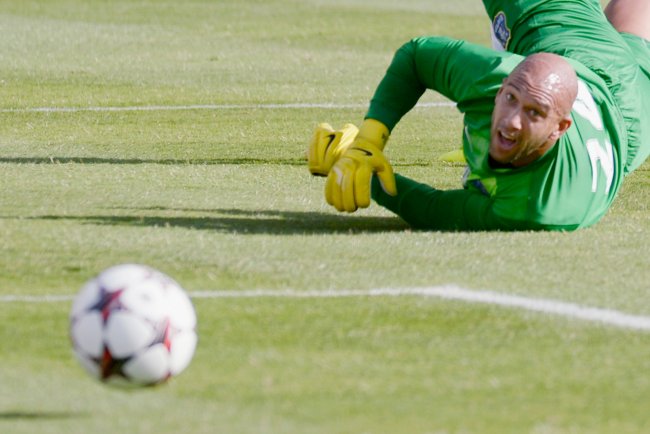 Kevork Djansezian/Getty Images
Who knows how tired Howard will be, but with Everton still winless and currently sitting 15th, expect the 34-year-old to be between the sticks for this one.
The biggest addition for Everton over the summer is a player Chelsea fans are familiar with—striker Romelu Lukaku. He has been loaned out by the Blues for a second straight year and makes no bones about the fact he is pulling for his new club in this ESPNFC story.
Lukaku can't play for Everton in this clash because he's a Chelsea loanee.
The reason the 20-year-old was loaned out again probably had to do with the signing of Samuel Eto'o (Anzhi Makhachkala), who suffered a slight injury for his native Cameroon against Libya in World Cup qualifying earlier this week.
However, Eto'o was training with Chelsea mid-week and may see his first action for the team here on Saturday.
Other Blues players notable by their absence this season are Juan Mata, David Luiz and Cesar Azpilicueta. Expect all three to get some playing time now the Premier League has revved up and the Champions League is on the not-so-distant horizon.
New signing Willian (Anzhi Makhachkala) should get some valuable minutes so don't expect any regular starting XI's from manager Jose Mourinho for the time being as he seeks chemistry from new players who have never played together.
With Lukaku now at Everton, Demba Ba shaky in his recent appearances and 32-year-old Eto'o still unfamiliar with teammates—and possibly nursing a minor injury—expect Fernando Torres to again be the preferred starter up front if Mourinho stays with a 4-2-3-1 formation.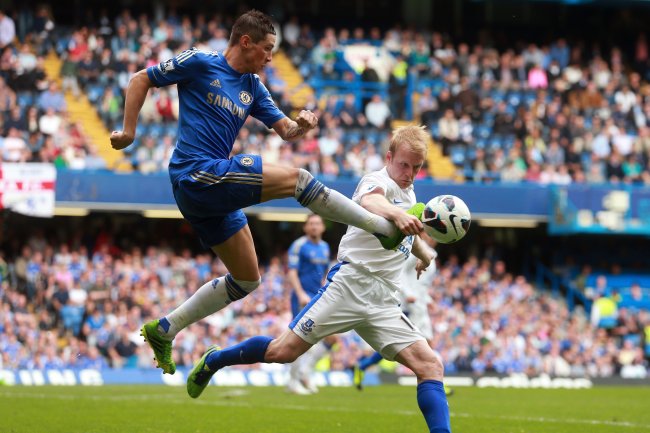 Scott Heavey/Getty Images
Another player who may start is Andre Schurrle, especially with both Lukaku and Victor Moses (Liverpool) out on loan. So far Schurrle has been impressive when used across the attack but Lukaku and Moses are two incredible talents not to have room for.
Chelsea and goalkeeper Petr Cech have allowed just one goal this season but the Blues should really have their work cut out for them on the road here against Howard and Everton.
What will the final result be on Saturday?
In their last 10 meetings, the clubs are 3-4-3, each with 14 goals. Both had 0-0 draws in their last league games so scoring could be at a premium. In this Goodison meeting last season, the Blues were 2-1 winners.
Chelsea is favorite here but this one will be too close to call so why not take a little chance wagering the draw and hope for a 0-0, 1-1 or 2-2 final score?
Makes sense as the Blues haven't exactly looked world-beaters on offense yet, and the unbeaten but winless Toffees and Leighton Baines will do everything to get their first three points— they will at least put up one helluva fight on home soil.
With both sides coming off the international break and 0-0 scores last time out in Premier League play, an equally small play on the under also makes sense.
This one should end up being tight with both sides struggling to get any consistent quality attempts, but it should end up being quite entertaining to the casual fan without any betting interests.

PREDICTION: Chelsea 1 Everton 1
BETS: Chelsea-Everton Draw +225, Under -2½ -125

>Follow me on Twitter: @KevinStott11