Oakland A's: Predicting A's Starting Rotation for the 2013 Postseason
Gray is an absolute wild card for the A's in the postseason.
Thearon W. Henderson/Getty Images
The A's are in prime position to return to the postseason—three games ahead of the second-place Texas Rangers in the American League West as of this writing. Considering the expectations for this team just one short year ago, that is nothing short of remarkable. Ask fans of the Kansas City Royals, Seattle Mariners or Miami Marlins.
But the postseason will dictate whether this season has truly been successful for the Oakland organization. Part of the reason for that stems from the Moneyball phenomenon, which continues to unfairly define what has been a successful organization over the last 12 years.
All that said, much of what has plagued the A's is the lack of elite and transcendent starting pitching. The A's had the Big Three of Tim Hudson, Mark Mulder and Barry Zito from 2000-2003 but could not get out of the first round.
In 2006, the team somehow cobbled together 93 wins and a trip to the American League Championship Series with Barry Zito (who was already less effective), Esteban Loaiza, a young Dan Haren and Joe Blanton in the rotation. Last year's miracle team was a collection of rookies.

Now, with more seasoning and the ancient but ageless Bartolo Colon, those young arms will be counted upon to help the A's get to a place they have not been in 23 seasons: The World Series. Here is how I think A's skipper Bob Melvin will run his starters out in the postseason.
Jarrod Parker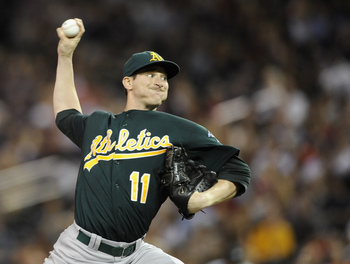 Parker has not lost since the end of May.
Hannah Foslien/Getty Images
The only real choice to start a series at this point is Jarrod Parker, who has definitely looked the part of ace over the last three-plus months. Since his last loss against the Texas Rangers on May 22nd, Parker has gone 9-0 and has lowered his ERA from 5.76 to 3.55 in 19 starts.
What is a bit disconcerting is the fact that the A's have only gone 12-7, meaning the bullpen has not held up its end of the bargain. That will be key, as Parker will likely be starting against the likes of Max Scherzer, Justin Verlander, Clay Buchholz or Yu Darvish in the postseason.
Bartolo Colon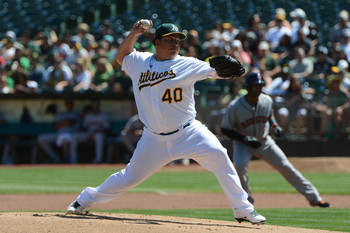 Colon's presence will be interesting come postseason.
Kyle Terada-USA TODAY Sports
One player the A's are expected to have this postseason who was absent from the 2012 ALDS is Bartolo Colon. I see him slotted as the second starter in a series for Oakland. Truthfully, this is an easy choice as well, as Colon's experience and control make him a great option in this situation.
With all due respect to A.J. Griffin, Sonny Gray and Dan Straily, this slot is pretty well taken. While you might think Colon's second half has dropped off, his ERA is 3.00 in the second half. That's very similar to his 2.74 ERA in the first half. In other words, Colon has continued to be solid when healthy.
This could be the tipping point for the A's fortunes this postseason.
Sonny Gray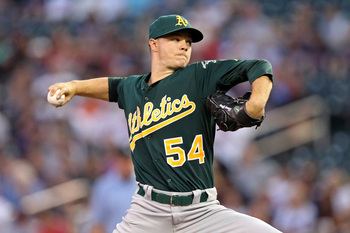 Gray may be leapfrogging the competition to start in October.
Jesse Johnson-USA TODAY Sports
Here is my wild card of the rotation. I can see Sonny Gray getting the nod over A.J. Griffin, who is the modern-day Bert Blyleven. This was not an easy call, but in a game that could mean a tremendous amount (don't they all in the playoffs, though?), Gray's potentially dominant stuff plus his ability to keep the ball in the park earn him the nod.
Until Oakland's 18-3 blowout of Minnesota on September 11th, Gray had not gotten much in the way of run support. He could easily be 5-1 instead of 3-3, and he sports a very nice 2.63 ERA. Youth really ought to be served come playoff time. I think it will here.
A.J. Griffin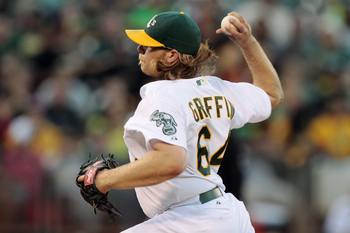 Griffin's inability to keep balls in the yard may cost him a starting spot.
Brian Bahr/Getty Images
The fourth starter is A.J. Griffin by the whiskers of his mustache. Dan Straily simply has not been consistent enough. In an elimination game, you go with the more consistent arm. And for all of his home runs allowed, that is Griffin.
I already touched upon this, but Griffin has to keep the ball in the yard. When he limits the long ball (one or less per start), he is 8-2. In starts in which he has allowed more than two home runs, he is 5-7. If he limits the long ball, Griffin could be a very surprising option at this slot.
Long Relief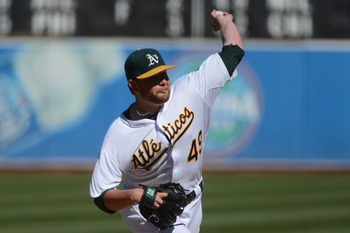 Anderson simply is not ready to start in the playoffs.
Kyle Terada-USA TODAY Sports
Those are the four starters for the playoffs. With all due respect to Dan Straily and 2013 playoff starters Brett Anderson and Tom Milone, they simply have not been consistent enough to get the ball in a postseason start.
This all boils down to whether the A's finally have enough pitching (and situational offense) to win big, and the jury is still out on that. But this rotation gives the A's the best chance to win the franchise's first world championship since George Bush was president. The other one.
Keep Reading

Oakland Athletics: Like this team?