Dolphins vs. Colts: Breaking Down Miami's Game Plan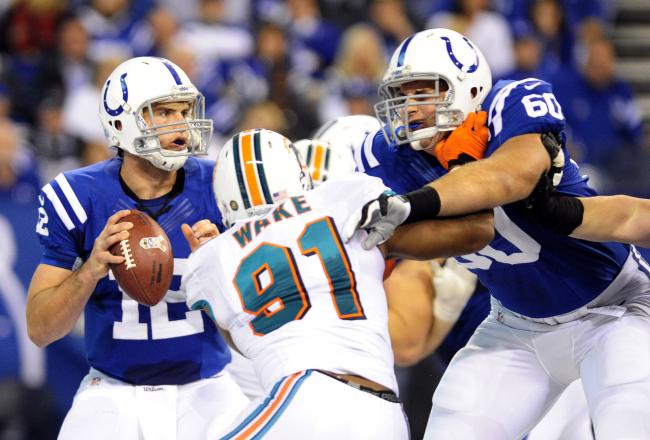 Thomas J. Russo-USA TODAY Sports
The Miami Dolphins start the season with their second consecutive road game as they travel up to Indianapolis for a rematch between quarterbacks Andrew Luck and Ryan Tannehill. The first bout ended with a 23-20 victory in favor of Indianapolis last year.
Quick Position Rundown
Position___________Advantage_____________Margin
Quarterback Colts Andrew Luck
Running Backs Colts Ahmad Bradshaw
Pass Catchers Colts Dwayne Allen
Offensive Line Tie ---
Defensive Line Dolphins Randy Starks
Linebackers Dolphins Dannell Ellerbe
Secondary Tie ---
Special Teams Dolphins Brandon Fields
Andrew Luck provides the Colts with the biggest advantage on offense versus his Miami counterpart Ryan Tannehill. The two quarterbacks are actually somewhat similar in style, but Luck is just a little bit more aware, a little bit better under pressure, and a little more elusive with the ball in his hands.
When considered on a whole along with tight ends Coby Fleener and Dwayne Allen, the Colts deserve the nod for having a better total group of receivers than the Dolphins.
Probably the most controversial designation I have is a tie between the Miami and Indianapolis defensive backfields. Reshad Jones is a Pro Bowl-caliber safety, but so too is Antoine Bethea. Based on the tape I have studied, I like the combination of Greg Toler and Vontae Davis as much as I like the combination of Brent Grimes and Dimitri Patterson.
Don't Fall in Love with the Blitz
Last week, the Dolphins faced quarterback Brandon Weeden, who notoriously falls apart when successfully pressured.
The disparity between Weeden's effectiveness when pressured versus when not pressured was immense in 2012. Sure enough, according to Pro Football Focus (subscription required), Weeden's passer rating last week against the Dolphins on plays when pressure failed to get to him was 90.2, whereas his passer rating dropped to an abysmal 5.6 when pressured.
How do you achieve pressure? Defenses can do this in a number of ways.
A week ago in my game plan I wrote that it made sense to engage in an all-out blitz attack with players crowding the line of scrimmage. In part this was because Weeden had yet to show blitz-beating tendencies in the NFL, and also because that many players crowding the gaps would hinder Cleveland's vitally important ground game.
This week, the Dolphins would be wise to reverse course.
This week's quarterback is not last week's quarterback. Indianapolis Colts quarterback Andrew Luck's passer rating against the blitz in 2012 was 77.6, according to Pro Football Focus. Last week against the Oakland Raiders, that passer rating versus the blitz spiked all the way up to 134.8 according to the same source. His passer rating against the blitz was 108.8 in the preseason.
The question Miami has to ask itself is whether blitzing carries a big reward against this offense. Even in a best-case scenario where the blitz gets in to pressure Luck, his passer rating when pressured in the preseason was a 76.6 and his passer rating when pressured by Oakland was an incredible 135.7.
The below play was not necessarily a blitz, as Oakland rushed only four players. However, it does serve as an excellent example of how this quarterback still has teeth even when pressured directly up the middle immediately after the snap.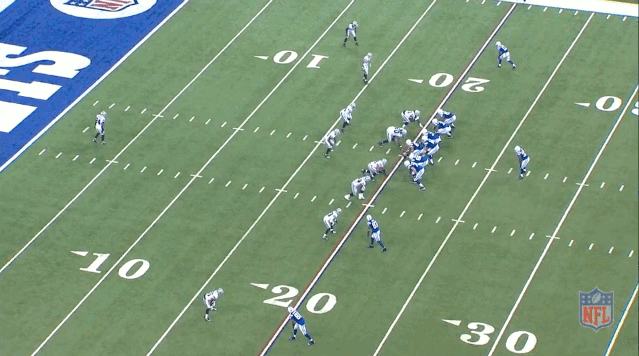 And if that is not enough to convince the Dolphins that Andrew Luck can be quite dangerous when pressured, then perhaps the result of this blitz package by the Raiders can do the trick. It just so happens that this double-barreled blitz look with both nickel linebackers rushing the A-gaps is one of the blitzes Miami defensive coordinator Kevin Coyle favors.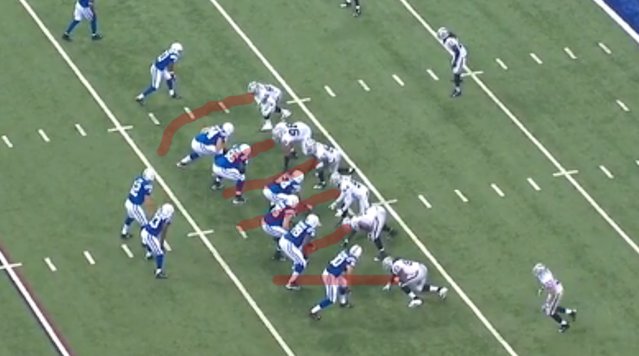 The end result of this play was a touchdown throw to wide receiver Reggie Wayne.
The bottom line is the Miami Dolphins would be wise to approach the use of their blitz packages with an abundance of caution. Andrew Luck is a smart quarterback with mobility and a lot of physical talent. He can buy just enough time to hit receivers in the soft spots of the zone vacated by blitzing players, or to take advantage of players who lack help because the coverage is shorthanded.
Tighten Up the Nickel Run Defense
Colts offensive coordinator Pep Hamilton is known for an amorphous offense that adapts to different opponents based on their strengths and weaknesses.
Facing his offense will not be like facing Norv Turner's offense in Cleveland. With Turner, you knew that he would tend toward the use of basic personnel packages such as "21" personnel (two backs, one tight end) or "12" personnel (one back, two tight ends) to run the football, sometimes even resorting to heavy run personnel such as "22" personnel (two backs, two tight ends).
He is not necessarily the type of coordinator that will bring a defense into its nickel package in order to create more lanes and space through which to run the football.
If one were to look only at the Oakland Raiders game for reference, offensive coordinator Pep Hamilton might be mistaken for showing the same tendencies. After all, the breakdown of Colts run plays during the game was as follows:
Personnel Runs Percentage
11 or 20 Personnel 3 Runs 13.6%
12 or 21 Personnel 10 Runs 45.5%
22 or 31 Personnel 9 Runs 40.9%
Looking at the above, one might have some confidence in Miami's ability to stop the run with its base 4-3 personnel package.
However, the extensive use by Pep Hamilton of heavy personnel such as "22" personnel should clue you in on his variability as a play-caller. Truthfully, he identified a weakness in the Raiders' personnel and attempted to exploit it by modifying his personnel packages accordingly.
If one were to go back to the Colts' third preseason game, which is the one preseason game for which coaches supposedly game-plan, a different pattern would emerge. Here are the run packages from the first half of that game:
Personnel Runs Percentage
11 or 20 Personnel 5 Runs 38.5%
12 or 21 Personnel 6 Runs 46.2%
22 or 31 Personnel 2 Runs 15.4%
Notice the shift from running the football a lot out of run-heavy personnel packages in the Oakland game to running the football a lot out of passing personnel. This indicates a large degree of offensive variability in the game-planning process.
How will this translate to the game this weekend?
The Indianapolis Colts coaches will be watching a lot of tape of the Miami Dolphins defense. They will know that Miami's base defensive personnel packages feature stalwart run defenders such as Olivier Vernon, Paul Soliai and Koa Misi. If they are wise, they will not run into the teeth of the strength of Miami's defense more than necessary.
If the Colts can draw Miami's nickel defensive personnel package onto the field, that will usually take linebacker Koa Misi off the field, and it may take defensive tackle Paul Soliai off as well. It could induce Miami to put unproven run-defending rookie Dion Jordan on the field.
Even if the odds of establishing the ground game remain low, the Colts have to like their odds of running the football against Miami's nickel personnel better than running against Miami's best run defenders in base personnel.
Beat the Jam
This is another instance where watching only Indianapolis' first game of the season may give you the wrong idea about how it will attack the Dolphins this weekend.
As the game against the Oakland Raiders progressed, the defense seemed to steer toward zone coverage. The Colts pulled their defenders off the line of scrimmage and had them eyeballing the quarterback because Terrelle Pryor's run tendencies were hurting the defense more than anticipated.
Normally, the Colts like to mix up their defensive coverage schemes. They will play zone as well as off-man.
However, a good amount of time they like to get their corners closer to the line of scrimmage so they can be physical with opposing receivers. This may be part of what drew them to the idea of trading with the Dolphins for corner Vontae Davis in 2012.
The Colts also picked up free agent corner Greg Toler during the offseason. The Dolphins know Toler from his time in Arizona last season, as he successfully picked off a Ryan Tannehill pass in the Dolphins-Cardinals game. Though Brian Hartline had a career day in that game, Toler managed to hold Hartline to only 5.5 yards per attempt on the six throws that went toward Hartline on Toler's direct coverage, according to Pro Football Focus (subscription required).
On film, Toler is a very physical corner who likes to be up on the line of scrimmage in bump-and-run technique. He will also sit on shorter routes from an off-cover position and be physical with receivers about five yards off the line of scrimmage.
Toler played mostly on the left side of the defensive formation against Oakland, so it is reasonable to believe he will be the primary corner covering Mike Wallace during the game. It is imperative that Wallace beats the jam from Toler and wins his routes more quickly than he did a week ago against Cleveland corner Joe Haden.
On the other side, Brian Hartline will face a familiar foe in Colts corner Vontae Davis. Hartline will need to beat the press when Davis shows it. When Davis plays off, Hartline should be ready to deal with his closing speed and physicality at the top of the route. Hartline needs to finish against Davis.
Stretch the Defense Horizontally
The Dolphins had an extraordinarily difficult time establishing the ground game against the Cleveland Browns.
The most disappointing reality that came with the team's 0.9 yards-per-carry average was the fact that the offense could not even stretch the Browns defense horizontally and find some soft edges in the Browns' base personnel packages. Outside linebacker Paul Kruger has been a liability against the run in the past, yet against Miami's front he looked like a man possessed.
The Dolphins need to do more to create horizontal spacing. As things stand, when the Dolphins try and run the stretch through normal means, they struggle.
Left tackle Jonathan Martin has never been a great athlete for the position. Right guard John Jerry is big and slow. Right tackle Tyson Clabo looks his age on tape. Thought left guard Richie Incognito tested well coming out of college, he has never shown up as among the most mobile guards on tape.
One way to create more horizontal spacing would be through the use of jet sweeps and read-option plays. By putting a potential ball-carrier in motion prior to the snap, you increase the horizontal stretch capabilities of your offense.
The other way to create some opportunities to get the football out to the perimeter would be through the read-option. Ryan Tannehill may not be the most elusive among natural ball-carriers, but Oakland quarterback Terrelle Pryor's rushing success was so significant against the Colts a week ago that it would seem silly to leave a potential opportunity unexplored, especially if your quarterback was once a highly productive college wide receiver.
Here is an example of a simplistic read-option play the Oakland Raiders used against the Colts to create spacing and opportunity to move the football around the edge of the formation.
The gain in this case was modest, a mere five yards. Based on last week's results against the Cleveland Browns, I believe the Dolphins might take a modest gain of five yards.
The Dolphins may be able to do better, though. The Dolphins possess arguably the best center in the NFL in Mike Pouncey. At the very least, he's the most mobile center in the league. On a play like above, the Dolphins could have Mike Pouncey use his mobility to knife out to the second level and make life difficult for pursuit players like LaRon Landry, who tackled Pryor for only a five-yard gain.
Team Player Practice Status
Dolphins CB Will Davis Limited
Dolphins CB Dimitri Patterson Limited
Dolphins SS Reshad Jones Limited
Dolphins CB Jamar Taylor Did Not Practice
Dolphins QB Pat Devlin Did Not Practice
Colts LB Jerrell Freeman Limited
Colts LB Kavell Conner Did Not Practice
Colts TE Dwayne Allen Did Not Practice
Colts WR David Reed Did Not Practice
This article is
What is the duplicate article?
Why is this article offensive?
Where is this article plagiarized from?
Why is this article poorly edited?

Miami Dolphins: Like this team?