The buildup between Super Bowl XLVII and Week 1 of the 2013 NFL season added an additional layer to the suspense we saw in the first 16 games of the new year.
The time frame between Week 1 and Week 2 is much shorter, but the level of intrigue surrounding the next round of games is certainly on par with its predecessor.
Starting with AFC East rivals New England and New York on Thursday night, Week 2 is chock-full of matchups with potential playoff implications. Between division rivals clashing and a battle of brothers that can't be ignored, a quick glance at the upcoming schedule will likely glue you to the couch on Sunday.
And that's not a bad thing.
We'll take a look at some predictions for every Week 2 game below, but specifically hone in on three matchups that carry the highest level of intrigue heading into the weekend.
Complete Week 2 Picks
| | |
| --- | --- |
| Date | Matchup/Prediction |
| Thursday, Sept. 12 | New England Patriots 27, New York Jets 17 |
| Sunday, Sept. 15 | Atlanta Falcons 21, St. Louis Rams 13 |
| Sunday, Sept. 15 | Philadelphia Eagles 35, San Diego Chargers 25 |
| Sunday, Sept. 15 | Dallas Cowboys 28, Kansas City Chiefs 17 |
| Sunday, Sept. 15 | Indianapolis Colts 16, Miami Dolphins 14 |
| Sunday, Sept. 15 | Houston Texans 20, Tennessee Titans 6 |
| Sunday, Sept. 15 | Green Bay Packers 35, Washington Redskins 28 |
| Sunday, Sept. 15 | Baltimore Ravens 31, Cleveland Browns 21 |
| Sunday, Sept. 15 | Buffalo Bills 17, Carolina Panthers 16 |
| Sunday, Sept. 15 | Chicago Bears 22, Minnesota Vikings 19 |
| Sunday, Sept. 15 | New Orleans Saints 30, Tampa Bay Buccaneers 10 |
| Sunday, Sept. 15 | Arizona Cardinals 28, Detroit Lions 24 |
| Sunday, Sept. 15 | Oakland Raiders 27, Jacksonville Jaguars 13 |
| Sunday, Sept. 15 | Denver Broncos 30, New York Giants 20 |
| Sunday, Sept. 15 | San Francisco 49ers 24, Seattle Seahawks 16 |
| Monday, Sept. 16 | Cincinnati Bengals 21, Pittsburgh Steelers 13 |
Matchups with Most Intrigue
San Francisco at Seattle
The last time the San Francisco 49ers visited CenturyLink Field, the Seattle Seahawks won by 29 points.
Poised to prove that loss was a fluke, quarterback Colin Kaepernick and the rest of the San Francisco roster are eager make the trip this year. Per the team's official Twitter account, you should expect a different team than the one that got spanked last December:
#49ers QB @Kaepernick7 on last year's loss in Seattle. "That's not who we are." http://t.co/KB8UKCy94w #SFvsSEA

— San Francisco 49ers (@49ers) September 12, 2013
Heck, the two starting QBs even have a little winning wager in this NFC West battle. CBS Sports' Will Brinson explains:
Russell Wilson, Colin Kaepernick bet that loser of SEA-SF has to shave an eyebrow: http://t.co/YHh76JyP7s via @cbssports

— Will Brinson (@WillBrinson) September 10, 2013
Kaepernick and Russell Wilson led their teams to decisive victories against the Green Bay Packers and Carolina Panthers, respectively, over the weekend. San Francisco's offense was on display in its win, while Seattle's defense was dominating in a 12-7 win over the Panthers.
Each time these two rivals met last year, sparks flew.
Expect more of the same in 2013. Seattle and San Francisco are each projected to contend for the division crown; the winner of the NFC West is widely considered a favorite to win the No. 1 NFC seed for the postseason.
Miami Dolphins at Indianapolis Colts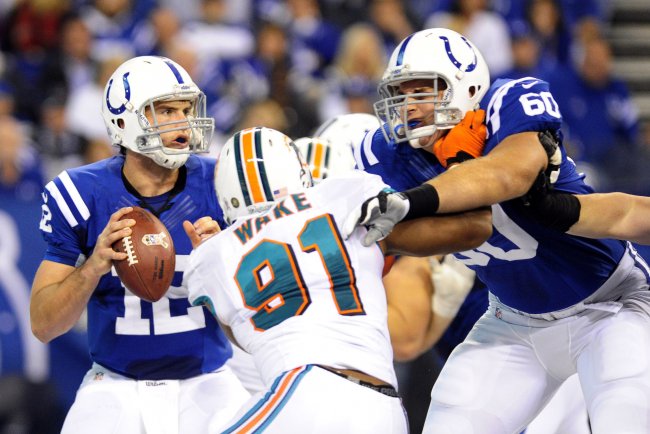 Thomas J. Russo-USA TODAY Sports
Reeling from a near-loss to the Oakland Raiders, the Indianapolis Colts enter their Week 2 tilt with the Miami Dolphins on unsure footing.
The defense surrendered 112 rushing yards to QB Terrelle Pryor, the offense stalled at times instead of closing the door and Andrew Luck's protection—as noted below by ESPN's Mike Wells—faded against the Oakland pass rush:
Top priority for Colts this week vs. Dolphins: Protect Andrew Luck. Miami had 6 sacks vs. Cleveland in Week 1.

— Mike Wells (@MikeWellsNFL) September 11, 2013
For all intents and purposes, this is either team's game to win.
Luck and the Colts have an 8-1 record since he took over at Lucas Oil Stadium, but Miami, fresh off a 7-9 season last year, have a 23-10 victory over the Cleveland Browns in the wake of Week 1. The Dolphins are a significant threat, but hardly anyone has been able to beat Indy at home.
We'll see if the upstart Dolphins can pull off the upset and take steps toward the AFC East crown with a win against a 2012 playoff team.
Denver Broncos at New York Giants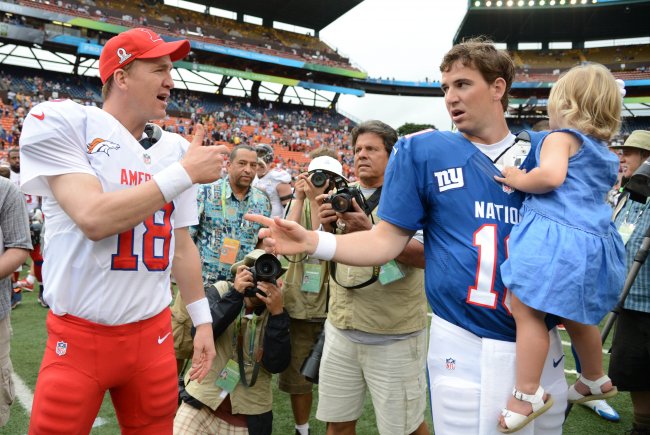 Kyle Terada-USA TODAY Sports
It's Manning Bowl, Part III in the Meadowlands, and Peyton Manning will try to teach little brother Eli a thing or two when the Denver Broncos visit the New York Giants on Sunday night.
Like they've done so many times before in their respective careers, the Mannings will be making NFL history again after kickoff on Sunday. ESPN The Magazine reported the news on Twitter:
Yet another reason to be hyped for the Manning Bowl: @eliassports says it's the first game ever between two QBs coming off 400-yard games.

— ESPN The Magazine (@ESPNMag) September 12, 2013
Peyton and Eli are brothers by blood. They are rivals by trade; each has a Super Bowl ring and have different things on the line heading into Week 2.
Denver, which spanked the Baltimore Ravens in Week 1, comes into a tough road game on a high note. Peyton tied an NFL record with seven touchdowns against the reigning champs, lending to the idea that he has plenty left in the tank as he approaches the age of 40.
Conversely, Eli Manning struggled in Week 1. His Giants gave the ball away six times against the Dallas Cowboys, and a late deficit was simply too steep for Eli and Co. to overcome the rest of the way.
If the idea of the Manning Bowl doesn't do it for you, take a look at the talent on each roster. Heck, take a look at the storylines.
Which game will be the best of Week 2?
From Denver's three-headed monster at wide receiver to the ways the Giants have worked on ball security in practice to avoid another Dallas disaster, these two potential playoff teams can break things open at any time on offense.
The beauty of the NFL allows us to find a worthwhile storyline in every game on the schedule. Even Jacksonville-Oakland, where Pryor is starting for a second straight week, you don't have to look far to find something worth talking about.
These three games are just the tip of the iceberg. Week 2 is here, and it should be kind to NFL fans everywhere.
Follow B/R's Ethan Grant on Twitter.