Dallas Cowboys Playmakers Who Must Shine Against the Kansas City Chiefs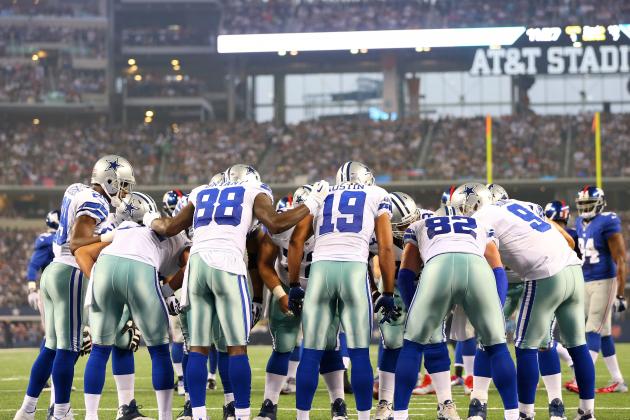 Ronald Martinez/Getty Images

The Dallas Cowboys began the 2013 season in the same manner they opened 2012 by beating the New York Giants. The question now becomes whether or not they can avoid what transpired in Week 2 last season in Seattle.
Ah, yes, the game in which Sean Lee was absolutely leveled by Golden Tate on a block, the game in which the Cowboys were owned by tight end Anthony McCoy, and the first glimpse at the talented Russell Wilson. But a Cowboys victory against the Chiefs Sunday would really put them in a nice situation in the NFC.
The Cowboys were the beneficiary of six turnovers against New York, but the likelihood of that being an every week occurrence is slim. Beyond the turnovers, the Cowboys played well enough to win despite giving up 450 yards passing and needing to recover an onside kick to seal the deal.
They will have to find a way to get Dez Bryant the football, the running game needs to continue to improve and the secondary must play better. After finally ending the home field drought against the Giants, it was nice to get the divisional win and move on to cleaning things up.
Any NFL season for any team is a journey, a work in progress and a marathon, not a sprint. Dallas is in prime position for a 2-0 start and a sense of urgency is what's needed to be created by Jason Garrett.
So what will the formula be for this week?
More balance? Run the football? Tony Romo making plays in the passing game? Creating turnovers? The answer is a combination of all of those elements and it will come down to certain players being able to execute and perform at the precise moment that is necessary.
Those performances need to come from the usual suspects and also players that need to become dependable contributors. Let's take a look.
Begin Slideshow

»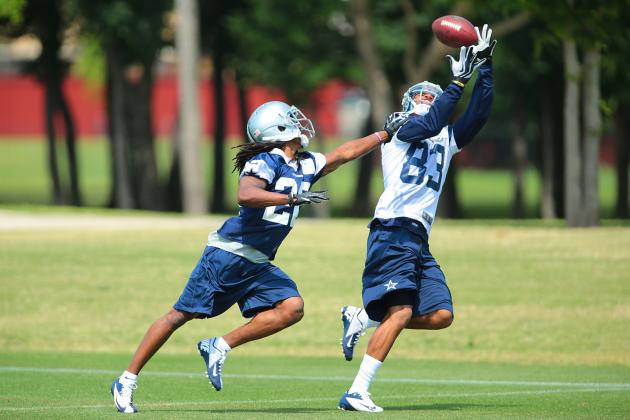 Rick Yeatts/Getty Images

It's no surprise that the Cowboys are evaluating the third receiver position after multiple mistakes by rookie Terrance Williams against the Giants. It was probably a case of nerves or jitters, but if Dez Bryant is less than 100 percent in this game, the third receiver spot will have an opportunity to help this team.
And it's not a matter of can they contribute, they must contribute. As the week unfolds, the situation should gain some clarity, but the Cowboys must establish a receiver behind Bryant and Miles Austin not only for this week, but for the remainder of the season.
Bryant will be facing double teams all season and the only way to alleviate that is to make teams pay for that type of attention. Part of that is by establishing a solid running game, but part of that is also establishing a consistent, legitimate target that defenses need to account for.
Harris is an interesting player for this team because of his performance at the end of the 2012 season. He was solid in the return game and he was also starting to develop a nice chemistry with Tony Romo particularly in the Steelers game.
Harris is a tough, gritty player who plays physical, but plays with balance and could develop into a solid possession receiver. Williams is dripping with talent and he is more of the home run threat that he showed while at Baylor, but he needs time.
Both individually and collectively, this duo needs to play a key role on Sunday in Arrowhead Stadium.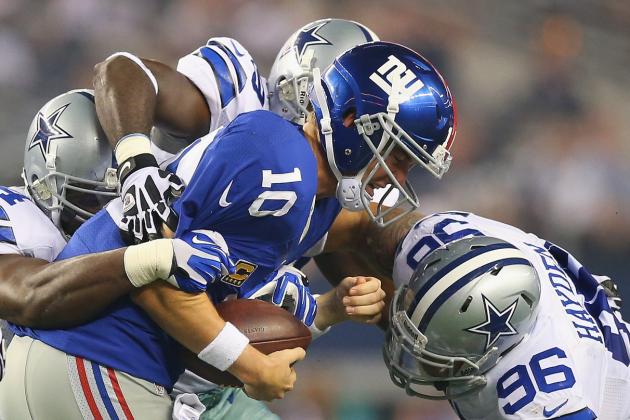 Ronald Martinez/Getty Images

Jamaal Charles is coming off a 16 carry, 77 yard, one touchdown performance in Week 1 despite injuring his quadriceps. Early indications are that he will play against the Cowboys, and that means that Bruce Carter, and Sean Lee for that matter, will need to account for him at all times.
Whether it be running, catching the ball in the flat or lining up as a wide receiver, Charles is multi-talented, versatile and has speed kills. But this is why the Cowboys have Carter on this football team, and that is to be a sideline-to-sideline player who can hunt down running backs.
The ability to stop, or at least minimize Charles, will force the Chiefs into being one-dimensional and putting the game more into Alex Smith's hands. If Charles is able to gash this defense and open up more play-action passing for the Chiefs, then the secondary will have its hands full.
The Chiefs also like to use running back Anthony Sherman as a receiver in the flat, so that is something Carter needs to be aware of as well. It was nice to see Carter active against the Giants and record his first sack.
Now it's time for more.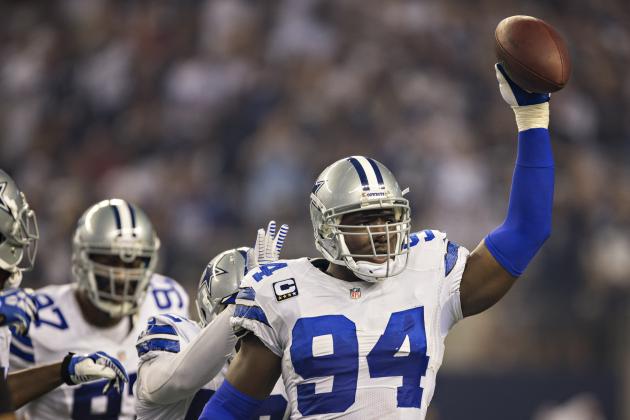 Wesley Hitt/Getty Images

DeMarcus Ware could not have picked a better way to start the 2013 season than with an interception to setup a scoring opportunity. All offseason the talk had been about creating more turnovers and the Cowboys backed that up emphatically.
Ware will be matched up against Chiefs left tackle Branden Albert on Sunday and he will need to make life uncomfortable for Alex Smith. Ware did not record a sack against the Giants, but he faced a barrage of different protections and still managed to produce pressure.
But those pressures need to be turned into sacks, loss of yardage and difficult passing situations for Kansas City. If the Cowboys are going to be able to produce turnovers, it still needs to start from pressure. Anthony Spencer's potential return will be a nice boost, but he may be limited to a certain number of plays.
And that is why Ware's leadership and his ability to make plays will need to be a catalyst for a victory on Sunday.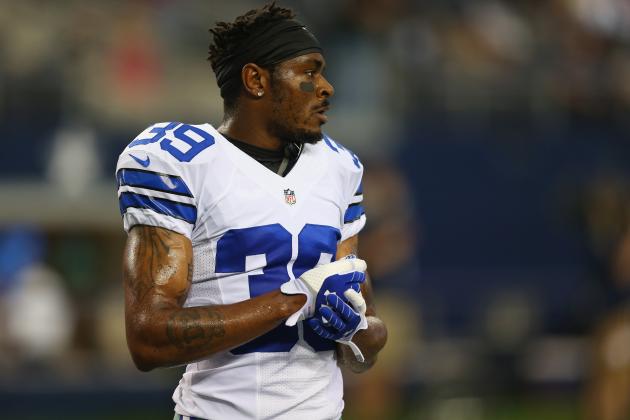 Ronald Martinez/Getty Images

Not only will this be a homecoming for Brandon Carr, but this also might be an opportunity for him to make another game-changing play. The Cowboys' prized free agent from a year ago took an Eli Manning interception for a touchdown in Week 1, which proved to be the difference in the ball game.
He will probably be matched up with Dwayne Bowe based on size alone, but the Chiefs will most certainly want to attack Morris Claiborne and test his shoulder injury. Carr could also see his share of covering Donnie Avery, who poses a speed threat, but this will be a big game for the Cowboys secondary.
Carr was brought in to make big plays, provide this team with the ability to act as a lock-down corner and cover the opponents' top receiver. A big, physical receiver like Bowe will be a test for this team and Carr in particular.
Regardless of the amount of turnovers and the outcome of the Giants game, the secondary needs to show that giving up huge yardage won't be a regular occurrence.
It all starts with Carr.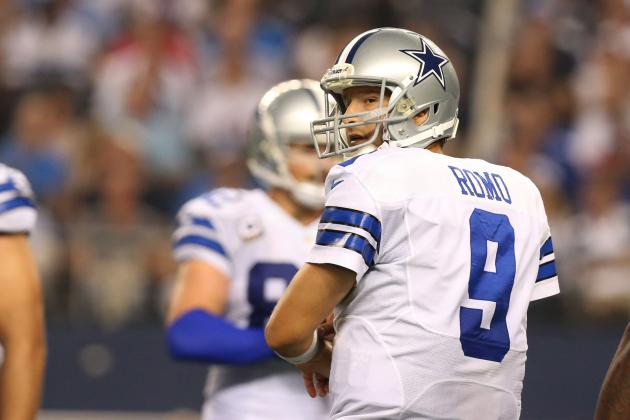 Matthew Emmons-USA TODAY Sports

The Cowboys can't put every ounce of how this season will play out on Tony Romo's shoulders. So far, the defense proved that point by helping out with six turnovers and Murray also showed promising signs for the running game.
But this is Romo's team, and it not only showed in the financial commitment they made to him, it also showed in management allowing him to have greater input into the offense. Romo did suffer some bruised ribs at the hands of the Giants, but he returned to the game and showed little ill effects.
That's not to say he is completely healthy, but he has showed a high tolerance for pain and an uncanny ability to still be effective. The Cowboys will need him to make plays in the passing game on Sunday, and this could be the difference in the game.
Against the Giants this offense did show some of the inconsistencies from last season and there were some stalled and unproductive drives. The offense needs to be more fluid and the Cowboys need to move Bryant around in order to open up the offense.
But the key with Romo has always been his ability to improvise, get creative and play on feel and instinct. Those happen to be some of his key attributes and those will certainly be needed on Sunday.
The Chiefs produced six sacks in Week 1, and players such as Justin Houston and Tamba Hali will be looking to do the same against Romo.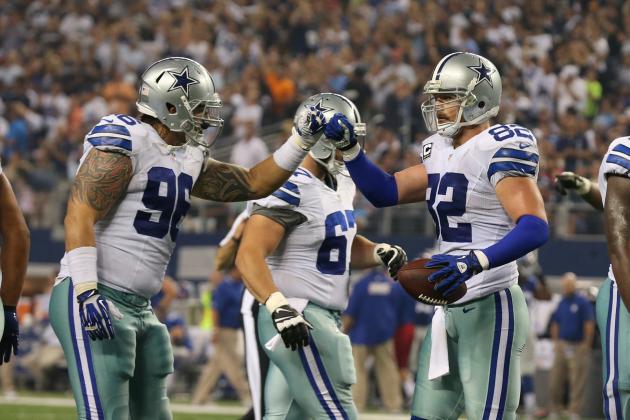 Matthew Emmons-USA TODAY Sports

If Tony Romo is going to evade a Kansas City Chiefs pass rush that generated six sacks last week, there is no better safety valve to have than Jason Witten. Witten continued his mastery of the Giants with eight catches, 70 yards and two touchdowns.
The Cowboys will need to win the game within the hash marks to open up plays outside. And this is where Witten flourishes because he presents such a tough matchup and always manages to get open. He will need to make plays in this game for the Cowboys to have a chance.
The Chiefs boast a solid 3-4 line-backing corps of Houston, Hali, Akeem Jordan and Derrick Johnson. They have size, speed and the ability to rush the passer. Witten will have to win the matchup battle and cause the Chiefs to counter with a safety.
The more effective Witten can be the more effective the passing game becomes. Expect Witten to bring his A-game as he usually does.