New York Jets vs. New England Patriots: Live Grades and Analysis for New York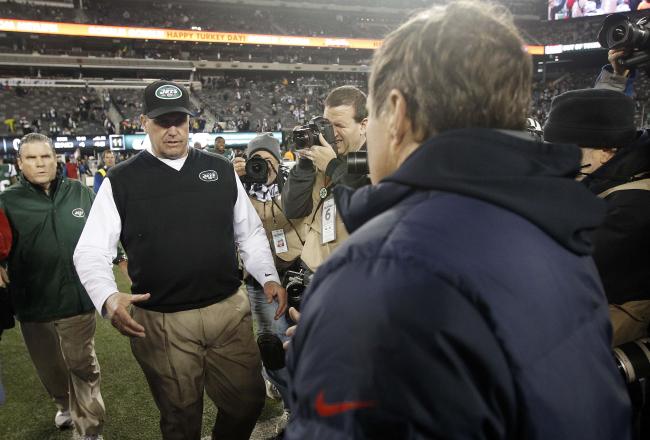 The Star-Ledger-USA TODAY Sports
The New York Jets suffered a tough loss in their first road game of the season, as they were defeated by division rival New England Patriots 13-10 in an ugly, ugly contest. Blame the loss on numerous turnovers and the receivers' inability to hold on to the football.
Check below for full grades and analysis for each of New York's positional units in the Jets' first loss of the season.
Final
New York Jets - 10
New England Patriots - 13
New York Jets Game Grades

| | | | | |
| --- | --- | --- | --- | --- |
| Positional Unit | First-Half Grade | Final Grade | | |
| Pass Offense | C+ | C- | | |
| Run Offense | B+ | B+ | | |
| Pass Defense | C | B | | |
| Run Defense | B+ | A- | | |
| Special Teams | B- | C | | |
| Coaching | B | C+ | | |
vs. Patriots Week 2
First-Half Analysis for the New York Jets
Pass Offense: Geno Smith was much better in the first half tonight than he was against the Bucs on Sunday. He missed a couple of open receivers, but he also showed poise and confidence in the pocket, as well as the ability to escape pass-rushers when necessary. However, after a strong start, the offensive line struggled, and Stephen Hill's fumble was a killer.
Run Offense: After struggling to run the ball last week, the Jets were effective on the ground in the first half of this one. The offensive line got pushy, and Chris Ivory and Bilal Powell did a fine job of lowering their heads and bowling forward for extra yardage. The pair combined for 53 yards on 11 carries.
Pass Defense: Limiting Tom Brady to just 136 yards and a completion percentage under 50 percent may sound spectacular, but the Jets secondary was nothing but lucky in the first half. Aaron Dobson and Kenbrell Thompkins snuck behind the defense several times, but misthrows and drops limited the damage. The secondary needs to stick to its men, and the front seven needs to get some pressure on Brady before the future Hall of Famer burns them.
Run Defense: The Jets' rush defense was once again the strength of the team in the first half. The front seven of Sheldon Richardson, Muhammad Wilkerson, and David Harris didn't let Stevan Ridley find room to move, limiting the sophomore runner to just 27 yards on eight carries.
Special Teams: New York got nothing out of its return game, and Robert Malone wasn't as spectacular as he was last week. Julian Edelman also picked up too much yardage on Patriot returns. Nick Folk did nail a 37-yard field goal for New York's only points, though.
Coaching: After getting dominated on the first drive of the game, Rex Ryan's defense was mostly solid. Ryan has to game plan for Brady's short throws, as yards after the catch could decide the game. Marty Mornhinweg called a pretty even game through two quarters, but he needs to call more draws and screen passes to neutralize the Patriots' pass rush.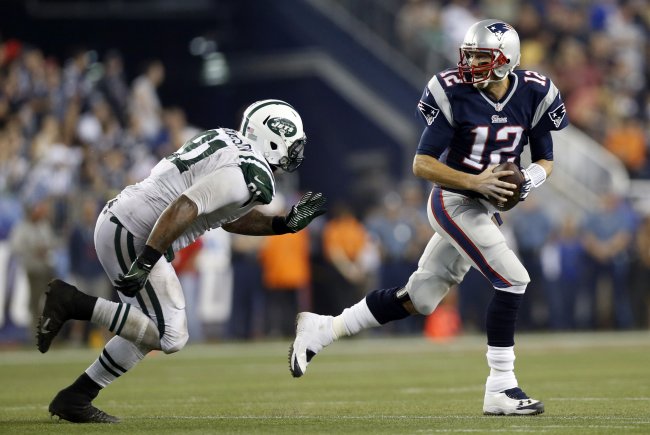 Greg M. Cooper-USA TODAY Sports
Final Analysis for the New York Jets
Pass Offense: Geno Smith struggled in the second half despite good protection from his offensive line, but most of Smith's struggles can be credited to his receiving corps. Clyde Gates, Stephen Hill and Bilal Powell all had critical drops. However, Smith was responsible for missing two open receivers and throwing a pair of critical picks inside field-goal range, as well as throwing a bad interception on the final drive.
Run Offense: The Jets ran the ball well again in the second half. The offensive line, specifically Vladimir Ducasse, did a great job of opening up holes, and Bilal Powell and Chris Ivory fought hard for extra yardage. After struggling to run the ball last week, it's good to see New York have success on the ground against a stout front seven in the Patriots.
Pass Defense: The Jets once again benefited from a number of drops from rookie wideouts Kenbrell Thompkins and Aaron Dobson in the second half, but they were better at not allowing the youngsters to get behind the defense. The unit should have double-teamed Julian Edelman more after it became evident he was the Patriots' only legitimate offensive weapon.
Run Defense: New England couldn't do anything on the ground against an increasingly impressive New York front seven. Stevan Ridley was unable to find any room to run throughout the game and finished with just 40 yards on 16 carries. The Jets' run defense could be one of the best in the league when it's all said and done.
Special Teams: Special teams may have been the Jets' ugliest unit on Thursday. Kyle Wilson was futile as a return man in the absence of Jeremy Kerley, while opposing returner Julian Edelman picked up big yardage on a consistent basis. And why were the Jets without a return man on half of the New England punts? Blocking a punt is a rarity even with pressure.
Coaching: The results may not say it, but Marty Mornhinweg called a nice game. He did a good job of spreading the receivers out wide and allowing his runners to have space up the middle. Rex Ryan's defense also adjusted nicely after a bad start. However, the team wasted two timeouts early in the second half that would have come in handy late, and losing the turnover battle by four is unacceptable.
This article is
What is the duplicate article?
Why is this article offensive?
Where is this article plagiarized from?
Why is this article poorly edited?

New York Jets: Like this team?