Joey Logano, Penske Racing Reportedly Cut Deal to Enter Chase For the Cup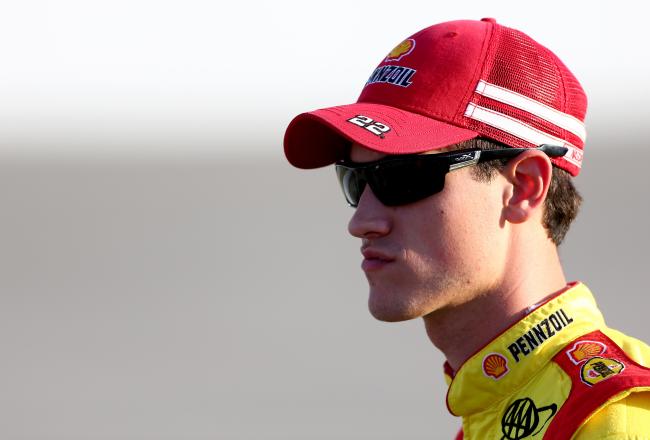 Todd Warshaw/Getty Images
Joey Logano may have had help qualifying for the NASCAR Sprint Cup Series' Chase for the Cup this past weekend at Richmond, Va.
According to an ESPN report, it's quite possible that Penske Racing made a deal with Front Row Motorsports late in Saturday night's race in an effort to help Logano gain track position and survive the cut for the Chase.
UPDATE: Thursday, Sept. 12
Dale Earnhardt Jr commented on the situation, calling it "impressive" that the fans were able to realize what Michael Waltrip Racing and possibly Front Row Motorsports were doing according to Jeff Gluck of USA Today. Earnhardt added:
"I think those spotters and crew chiefs and some drivers don't realize in the heat of the moment how accessible all this information is," Earnhardt said Thursday during Chase Media Day in Chicago. "No matter how much you think you can camouflage this — (all) smoke and mirrors — the media or fans can connect the dots."

"I need to sit down and really think of why (NASCAR) chose to do it that way and see the logic behind it."
UPDATE: Thursday, Sept. 12
Motor Sports Talk's Tony DiZinno has the latest:
The radio chatter was solely issued by Front Row, not Penske, and Logano hadn't even heard anything about the situation until he landed at a NASCAR Chase for the Sprint Cup pre-advance in New Hampshire.

"I landed there and my phone started blowing up," Logano said Thursday. "I was like, 'What's going on?' It was all new stuff to me. There was no transcript on our radio."

Logano said communications between spotters happens all the time, and he didn't think much of the situation.

"That stuff happens week-in and week-out with spotters," Logano said. "If we didn't pass the 38 car, we were still 10th in points, so it had no change in the outcome. I don't look at it as that big a deal at all, to be honest."
Original Text
The Associated Press reportedly reviewed some of Front Row driver David Gilliland's radio communications from Saturday's race and found that at one point Gilliland's spotter mentions a request to let Logano pass in the waning moments.
Logano wound up finishing 22nd, one spot ahead of Gilliland after passing him on a restart in the late stages of the race. The finish was enough to put the 23-year-old driver into the Chase for the Cup.
According to the report, the exchange over Gilliland's radio went as follows after crew chief Frank Kerr asked the spotter where the request to let Logano pass had come from:
Spotter: We've got the big dog and all his cronies.

Frank Kerr: Travis [Penske Racing competition director Travis Geisler] knows what I've been asking for.

Logano passes Gilliland on the restart.

Spotter: Good job, good job, man. Hopefully we'll get something out of that.
Penske and Front Row are both Ford racing teams and therefore partners.
NASCAR is reportedly looking into the report, but has yet to find anything requiring them to take action against either team.
At the moment, Logano is currently sixth in the 12-driver Chase, 12 points back of leader Matt Kenseth.
This troubling report comes in the wake of NASCAR punishing Michael Waltrip Racing for manipulating the end of Saturday's race in an effort to help Martin Truex Jr. qualify for the Chase, which begins Sunday afternoon at Chicagoland Speedway in Joilet, Ill. Truex was forced to vacate his wild card spot in the Chase and Ryan Newman was awarded the spot after NASCAR's ruling on the cheating scandal earlier this week.
This article is
What is the duplicate article?
Why is this article offensive?
Where is this article plagiarized from?
Why is this article poorly edited?