CM Punk Must Finally Triumph Over Paul Heyman at Night of Champions
Use your ← → (arrow) keys to browse more stories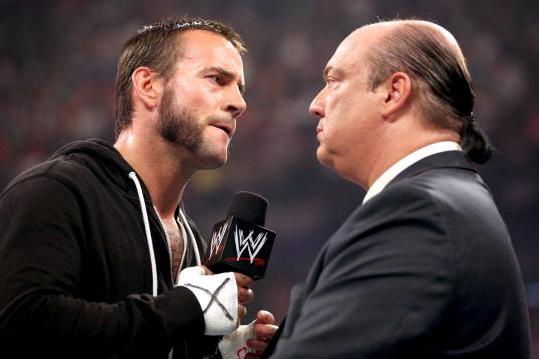 (photo courtesy of reviewstl.com)
The ongoing saga between CM Punk and Paul Heyman must end this Sunday at Night of Champions 2013.
Ever since Punk returned to WWE at the June Payback 2013 pay-per-view event, he has been engaged in a psychological war with Heyman. Furthermore, the struggle between Punk and Heyman is as complex as the relationship between any father and son.
When Punk returned at Payback 2013 to face Chris Jericho, Heyman was thrilled. It was Heyman on behalf of Punk who accepted Jericho's challenge in the first place.
The relationship between Heyman and Punk started to slowly fracture at Payback 2013, though. This happened when Heyman tried to help Punk in the match. Although Punk defeated Jericho, the relationship started to show signs of strain.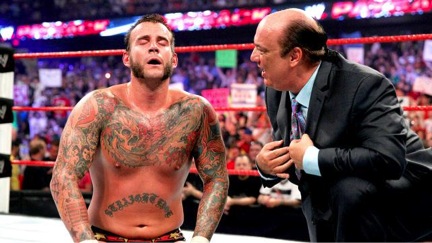 Punk further distanced himself from Heyman leading up to the Money in the Bank 2013 PPV event. As a participant in the Money in the Bank WWE Championship contract match, Punk looked to once again gain a chance at the championship.
Heyman's newest client, Curtis Axel, attempted to interfere in the match on Punk's behalf by attacking Daniel Bryan. Not wanting any help, Punk delivered a Go To Sleep on Axel, which brought out Heyman.
A confused Punk climbed a ladder to retrieve the briefcase only to have Heyman hit him with another ladder. Heyman's action resulted in Punk not winning the match.
The split between Punk and Heyman was finally official. The next evening on the July 15, 2013 edition of Monday Night Raw, Heyman brought Brock Lesnar back to WWE.
In a vicious attack, Lesnar violently made Punk pay for his treatment of Heyman. This attack led to the eventual match between Punk and Lesnar at SummerSlam 2013.
During the match, Heyman cheered on Lesnar and taunted Punk. Heyman once again became involved in the match after Punk hit a Go To Sleep on Lesnar by breaking up Punk's pinfall.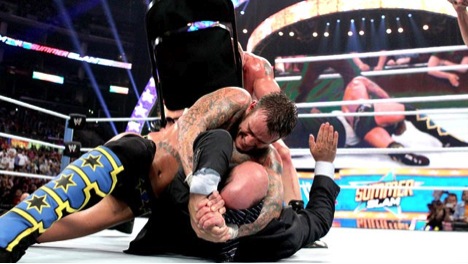 An irate Punk caught Heyman in an Anaconda Vise and momentarily forgot about Lesnar. A recovered Lesnar nailed Punk with multiple chair shots and hit him with a devastating F-5 onto the chair.
Punk again fell victim to Heyman's psychological manipulation. With a win over Punk, Lesnar once again faded away from WWE.
Feeling like he proved Punk wrong, Heyman reached out to him the next night on Monday Night Raw. In giving Punk a chance to apologize, Heyman stated that he would take Punk back as a client. Punk emphatically refused and took on Axel in an unsanctioned fight.
Since the night after SummerSlam 2013, Punk has been locked in a feud with Heyman and his newest client, Axel. While the battle between Punk and Axel has lasted a short time, the war between Punk and Heyman has lasted since Money in the Bank 2013.
The agonizing emotion behind the Heyman and Punk split has gone beyond being about business and into the personal realm. Trying to explain Punk's actions on the August 23, 2013 episode of Smackdown, Heyman said that Punk was "off the rails."
Heyman's explanations about Punk's behavior have been coupled with more violent encounters between Axel and Punk.
Trying to get his revenge directly on Heyman, Punk has continually taken on Axel as a way to get to Heyman. On the August 26, 2013 edition of Monday Night Raw, the WWE Universe voted that if Punk defeated Axel, Punk would get time alone in the ring with Heyman. Again, Punk's attempt at getting to Heyman was thwarted.
Each time that Punk has tried to exact his revenge on Heyman, he has failed.
This past Monday on Raw, an unshaven and bewildered Heyman tried to wiggle his way out of confronting Punk at Night of Champions 2013. Claiming to have an injured leg, Heyman brought his own doctor to the ring to declare him medically unfit for his match at Night of Champions 2013.
Subsequently, Heyman was forced to be evaluated by a WWE doctor. When Heyman was ruled medically capable of competing, Punk's music hit, causing Heyman to run away. Punk took out his frustrations on Heyman's doctor with a kendo stick. With Punk's most recent failed attempt to get at Heyman, the anticipation has only continued to build for Night of Champions 2013.
Punk, who has attempted to gain revenge on Heyman numerous times, should defeat Axel and Heyman at Night of Champions 2013 in the handicap elimination match, finally putting an end to this feud. With a decisive victory over Axel, Punk should finally get to face his former manager and deliver on his promise to get his hands on him.
If Punk fails and Heyman once again slithers away, it will take away from Punk's momentum. Again, Punk has promised to take out Heyman. By officially ending this feud at Night of Champions 2013, Punk will be able to start a new chapter in his WWE career.
After numerous encounters with both Heyman and Axel, it is time for Punk to move on to feuding with someone else.
Should Punk finally get his revenge on Heyman at Night of Champions?
Read more from Sean McCallon on the Double Axe Handle Blog.
Follow Sean McCallon on Twitter @TheBlueMask246.