SF Giants: Their Biggest Regrets and Missed Opportunities of the 2013 Season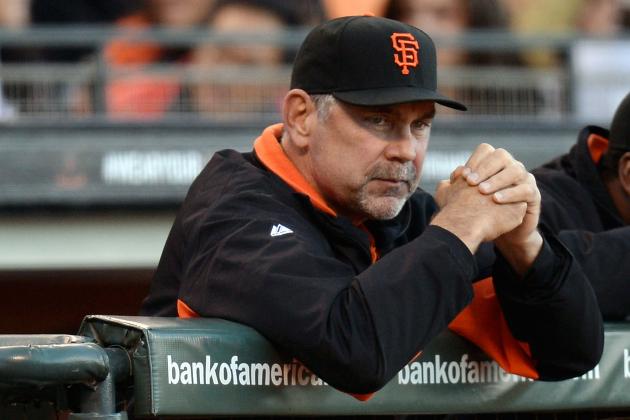 Thearon W. Henderson/Getty Images
This has been a tough year for Bruce Bochy and the Giants.
The San Francisco Giants entered the 2013 season with high hopes of making a strong run at another World Series title.
Unfortunately, their soaring hopes were shot down as injuries and poor performances sent the Giants to the bottom of the NL West.
Many of the problems the Giants faced this year can be traced to the decisions made over the winter months. In looking at the Giants' roster, nearly everything would have had to fall right for the Giants to contend.
The Giants' starting pitchers all made over 30 starts in 2012. They stayed healthy and their reliability helped lead the team to the promised land.
They also received outstanding performances from Buster Posey, Matt Cain, Marco Scutaro and Angel Pagan, all of whom fell off this year. Players had career-years and the Giants got hot at just the right time, which led to their magical 2012 season.
It was unrealistic for the Giants' management and ownership group to expect the positives that occurred last year to continue throughout 2013. This false sense of security came back to haunt the Giants.
If the Giants and GM Brian Sabean had it to do all over again, they would most certainly have made other decisions. Let's take a closer look at the biggest regrets and missed opportunities of the 2013 season.
All stats courtesy of baseball-reference.com.
All contractual data is courtesy of baseball prospectus.,com.
Begin Slideshow

»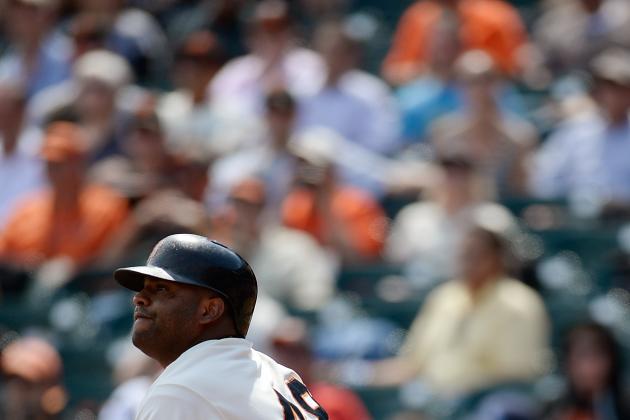 Thearon W. Henderson/Getty Images
Pablo Sandoval has struggled with his weight throughout his career.
The San Francisco Giants dropped the ball this winter when they did not closely monitor the physical condition of Pablo Sandoval and Hector Sanchez. Both players reported to spring training woefully out of shape and it has adversely affected their respective seasons.
Sandoval's batting average, OBP and OPS are all below his career averages. In addition, Sandoval's excess weight leads to injuries and his defense suffers. For a significant portion of the year, Sandoval's weight was higher than his batting average.
In 2014, Sandoval will be entering the final year of his contract. He needs to have a good season in order to get a big deal.
Although Sandoval is a fan favorite, it will be tough for Giants' GM Brian Sabean to offer him a substantial, long-term contract. There is always the fear that Sandoval will allow his weight to get out of control again.
To his credit, Sandoval has recently lost between 20-25 lbs., and his play has improved. Sandoval hired his brother Luis, a recent graduate from culinary school, to cook meals for him. This has coincided with Sandoval's improved physical condition.
The key for Sandoval's success is plate discipline. This is true when he's batting and also at the dinner table.
Hector Sanchez was one of the Giants' most pleasant surprises of the 2012 season. He emerged as a reliable backup to Buster Posey and appeared in 74 regular season games.
However, Sanchez reported to camp severely overweight and he incurred the wrath of manager Bruce Bochy. Sanchez proceeded to have throwing problems due to a bad shoulder and also problems with his knees which were accentuated by his excess weight.
The Giants broke camp and Sanchez was not on the Opening Day roster. He spent a significant part of the season at the Giants' Triple-A affiliate in Fresno.
The message was made clear that he needed to get in shape and produce or he would be out of a big league job.
Sanchez has played only 51 games for the Giants this year. He has finally gotten into decent shape and is playing much better. In addition, with his weight under control, the injury issues have subsided.
As the Giants look forward to the 2014 season, they must be more diligent in making sure Sandoval and Sanchez stay in shape this winter. Failure to do this will lead to more regrets from both the players and the team.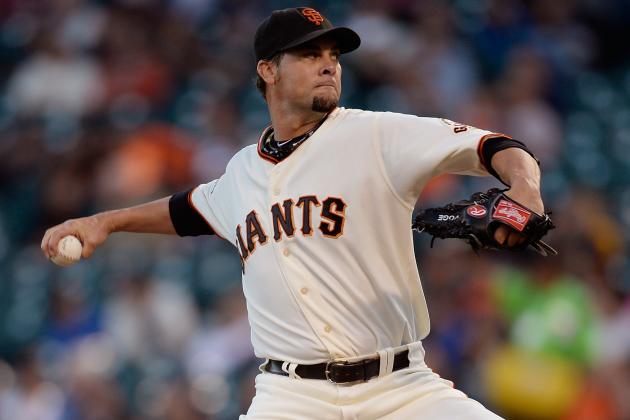 Thearon W. Henderson/Getty Images
The Giants must decide if they want to keep Ryan Vogelsong.
The Giants played intense baseball until the end of October, when they defeated the Detroit Tigers to win their second World Series title in three years.
After the long grind of a 162-game regular season, followed by the playoffs and World Series, the body needs time to rest and rejuvenate. Unfortunately for the Giants, the World Baseball Classic, (WBC), was to be played this year.
The Giants had eight players participate in the WBC, all of whom played major roles in their championship season. Whether is was a pure coincidence or not, the fact is that seven of the eight players that played in the WBC struggled with injuries and performed below expectations.
Marco Scutaro has dealt with a bad back for the majority of the year. He also suffered a finger injury when he was hit by a pitch, while batting. Scutaro is currently hitting .297, with 30 RBI in 475 at-bats. In 2012, as a Giant, Scutaro hit .362, with 44 RBI in only 243 at-bats.
Scutaro was also the MVP of the 2012 NLCS against the Cardinals.
I interviewed Ryan Vogelsong prior to the start of the 2013 season and asked him if he thought his participation in the WBC might make it tougher on him this year. He assured me that it wouldn't, but looking back objectively, it almost certainly did.
Prior to his finger injury in May, Vogelsong was struggling mightily. He just returned and after a few decent starts has failed to get out of the fifth inning in each of his last two outings.
Vogelsong, who is 36 years of age has also seen his velocity go way down. He may be fighting a tired arm or his mechanics are out of whack, which are concerns for the Giants. They must decide whether to exercise their $6.5 million club-option to retain him, or let him go.
Vogelsong is now also questioning the impact of the WBC on his performance. In a recent interview, he told Andrew Baggarly of CSNBayArea.com:
"The WBC … it's a valid question. I'm just not sure. The only way we'll have an answer is to have an offseason of rest and come back next year. I plan on coming back strong and having a great year, and then we can blame this on the WBC if you want.

I definitely have some questions whether the WBC hurt me or no. But I doubt myself more for swinging at that pitch, because that's something I could have controlled. It's just been hard for me to explain to you what it's like when you're rehabbing in the middle of a season. It's not easy to do."
Other key players and WBC participants also suffered injuries.
Angel Pagan injured his hamstring in late May and is just now getting back into the lineup.
Pablo Sandoval battled injuries this year. In addition, his performance has been below expectations. Sandoval is below his career averages for OBP, OPS and batting average.
Three relievers, Santiago Casilla, Jeremy Affeldt and Jose Mijares. all of whom played in the WBC, have had injury issues. Affeldt and Mijares have not pitched well this year and Mijares is likely pitching himself out of a 2014 job.
The only San Francisco player who participated in the WBC and has not struggled this year is Sergio Romo.
When seven out of eight players who were in the WBC have been hurt and played poorly, it is not a coincidence.
The Giants obviously do not want to mandate that their players cannot participate, but a strong suggestion against it might be in order. For each of these seven players, one must wonder whether it was worth it.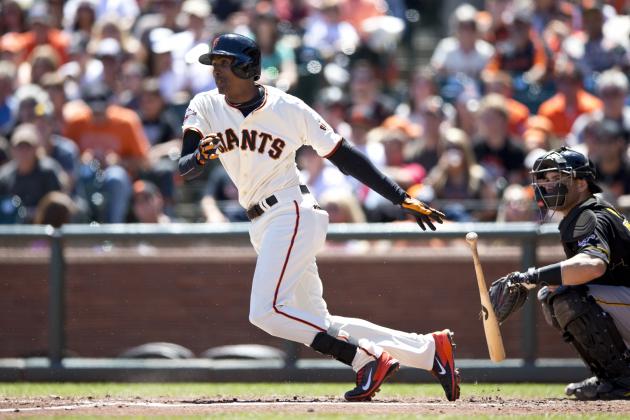 Jason O. Watson/Getty Images
Joaquin Arias provides the only proven depth the Giants have in the field.
The San Francisco Giants' ownership group kept the bank vault under close scrutiny this past winter. In 2012, the Giants' Opening Day payroll was just over $131 million. They also added to that with the deals that brought in Hunter Pence and Marco Scutaro at the trade deadline.
In 2013, the Giants opened the year with a payroll of just under $137 million. This was essentially the same as they ended 2012 with, when you factor in the additions of Scutaro and Pence.
The lack of any real increase in the Giants' salary structure forced GM Brian Sabean to be very cost-conscious, especially when putting together his bench.
Only Joaquin Arias has been a solid bench performer for the Giants this year, as they have tried several young and inexpensive players without a lot of success.
Since the Giants typically carry 12 pitchers, that leaves them with five bench spots. Arias fills one of those spots, but the other four have been an array of players, none of whom seized the opportunity.
In these reserve roles, we have seen Nick Noonan, Tony Abreu, Jeff Francouer, Andres Torres, Roger Kieschnick, Brett Pill, Guillermo Quiroz, Francisco Peguero, Juan Perez and Hector Sanchez.
If his knee is healthy, Abreu could be a decent bench player and Sanchez will likely have the backup catcher job, if he stays in shape.
Sabean will need to add more quality depth in 2014. Manager Bruce Bochy is a master at utilizing his bench, but only if he trusts those players to perform.
Going cheap hurt the Giants this year, especially as the injuries started to pile up.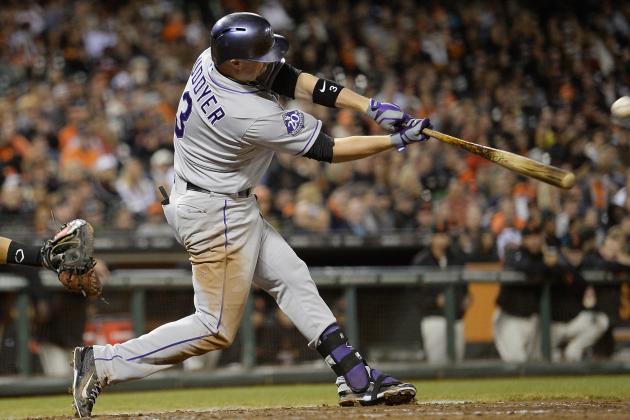 Thearon W. Henderson/Getty Images
Michael Cuddyer would have been a great fit in left field for the Giants.
The Giants made no major additions to their roster heading into the 2013 season and that came back to haunt them.
The Giants' ownership group did not want to significantly increase the payroll and that limited the flexibility of GM Brian Sabean. Looking ahead to the 2014 season, although the Giants cannot compete financially with the Dodgers, they will need to increase their payroll if they hope to contend for a playoff berth.
The ideal solution would be to add a solid hitting left fielder. This is the biggest void in the Giants' lineup.
The Giants went the inexpensive route this winter when they opted to utilize a platoon situation with Gregor Blanco and Andres Torres. Needless to say, this has not turned out well.
Blanco is a fourth outfielder and Torres a fifth, but they were forced to play two notches above that when Angel Pagan got hurt.
If a left fielder is not available, the Giants could also consider a center fielder and move Pagan to left. He would likely be upset about this move, but it would be in the best interest of the team.
A few of the top outfielders that will be free agents this winter include Jacoby Ellsbury, Shin-Soo Choo, Jason Kubel and Curtis Granderson. None of these players would be cheap, but the Giants must do something to fill their outfield void.
This also assumes that the Giants will be able to retain Hunter Pence. If Pence departs, the Giants would need two quality starting outfielders.
If all else fails, the other option, though not ideal, would be to move Brandon Belt to left field and acquire a first baseman. Belt will likely play some winter ball and work in left field, which would also help to keep him in the lineup when Buster Posey plays first base.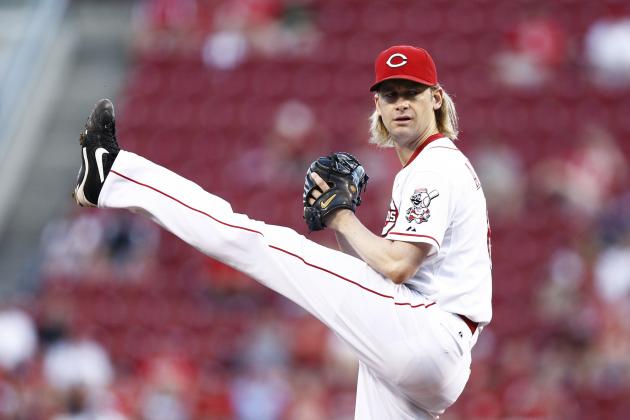 Joe Robbins/Getty Images
Bronson Arroyo is a free-agent pitcher worthy of consideration.
The San Francisco Giants have been a team built on pitching and defense. Add in just enough offense and you have the formula for winning the world championship in two of the past three seasons.
The Giants made no measurable changes to the pitching staff, heading into 2013. The starting rotation of Matt Cain, Madison Bumgarner, Tim Lincecum, Barry Zito and Ryan Vogelsong remained intact.
The Giants also stuck with their core group of relievers, Sergio Romo, Santiago Casilla, Jeremy Affeldt, Javier Lopez, Jose Mijares and George Kontos. The only pitcher they added was journeyman Chad Gaudin, who would replace Guillermo Mota.
The Giants hoped that this group of pitchers would once again lead them to the promised land. It didn't happen.
Unfortunately, the Giants' pitching staff fell apart. The only starting pitcher who has consistently pitched well was Madison Bumgarner. In the bullpen, Sergio Romo and Javier Lopez have had good seasons, but the rest of the relief corps has fought injuries or ineffectiveness.
Looking ahead to 2014, the Giants only have two starting pitchers that will be returning, for sure. Cain and Bumgarner are under contract, The Giants will pay Zito $7 million to go away. They will most likely exercise their option to retain Vogelsong, so the only real wild card is Lincecum.
The Giants would like to sign Lincecum, if the price is not excessive. A two-year deal in the $28 million range is plausible, but don't look for the Giants to go much more than that.
At a minimum the Giants will need one additional starting pitcher. Some of the names floating around include Bronson Arroyo, Matt Garza, Josh Johnson, Ricky Nolasco and Jon Lester.
The Giants will also attempt to retain Gaudin, who pitched well until a carpal tunnel ailment sidelined him. In addition, Yusmeiro Petit, who came within one strike of a perfect game only one start ago, deserves a serious look next spring.
The Giants can go into the season with six starting pitchers and allow someone like Vogelsong or Petit to pitch out of the bullpen.
The Giants kept the same cast of characters heading into this season, but that approach proved to be quite flawed. Injuries to Affeldt and Casilla hampered the bullpen. In addition Mijares has lost velocity and command as the season has progressed. Kontos has also been ineffective.
In addition to signing Javier Lopez, the Giants need someone else to step up. Heath Hembree will likely be one of the new additions to the bullpen, when the 2014 season begins.
This leaves two or three open jobs. It would be wise for the Giants to acquire additional bullpen depth this winter, as they attempt to build a top caliber roster. In addition to Hembree, one more youngster would be okay, but the remaining spots need to go to a proven veteran.
The biggest regret the Giants had in 2013 revolves around their lack of quality depth in the pitching staff. It will be up the Giants' ownership group just how aggressive they want to be.
Giants' GM Brian Sabean is tasked with upgrading the roster. In order for him to do that, the ownership group must go into their wallets and be willing to increase payroll.