WWE Night of Champions: Grading the Build for Every Match on the Card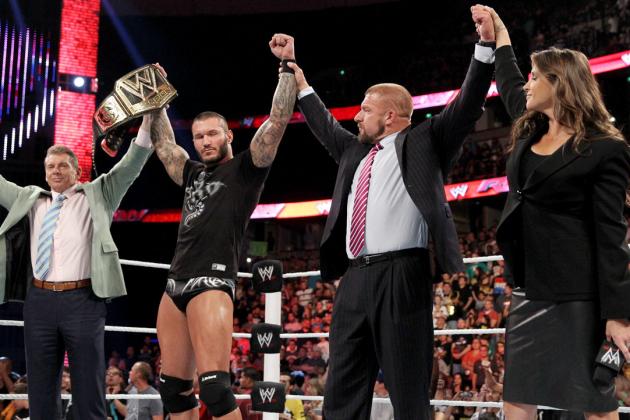 photo by wwe.com
WWE's Night of Champions pay-per-view will go down on Sunday, September 15, live from Detroit, Michigan. The company has put on one successful event after another this year, with the most recent being SummerSlam.
It was on that night of course that the biggest storyline in WWE began when Triple H gave Randy Orton the assist in defeating Daniel Bryan. The unexpected swerve took place mere moments after Bryan had pinned John Cena to become the new WWE champion.
But Orton decided to cash in his Money in the Bank contract on Daniel after he took a shocking pedigree from Triple H. From that point on, the core of WWE's programming has centered on this angle, and it has lead us to this.
Night of Champions has a lot to live up to, next to WWE's other pay-per-views this year. But as we head to the eve of N.O.C., the night does not appear to be primed for greatness.
As of this writing, there are four additional matches on the Night of Champions card. Two involve storylines that developed since SummerSlam, one has its roots back at Money in the Bank and one is a match that could take place anytime on TV.
Five matches, folks. That's what we're looking at, and unless more is announced at the last minute, this is what we can expect to see at Night of Champions.
So, how has the company done in terms of match buildup for the bouts booked? I'm very glad you asked.
Begin Slideshow

»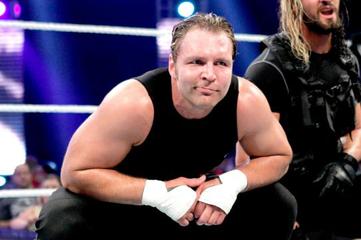 photo by wwe.com
Dean Ambrose is the United States champion. Night of Champions has traditionally featured every title on the card. This one seems like a slam dunk, right?
But so far, Dean is not booked to defend the belt. Truth be told I really have no idea why he is not in a match, especially since the Shield have been used so much on TV lately. Considering we have seen so much of him, I expect that most fans are pretty surprised at his non-involvement at N.O.C.
Fans have often debated the merits of WWE's secondary championships and longed to see them return to a respectable level. With Ambrose as one of the possible future leaders of the company, I believe that a lot of us thought the U.S. Championship would climb back to legitimacy very quickly indeed.
But so far, Dean has not exactly been what you might call a fighting champion.
WWE seems much more focused on using the Shield as Triple H's muscle against the rest of the locker room. This is actually not a bad thing, as all three Shield members are getting on camera very often and are very heavily connected to WWE's top storyline.
But in terms of the group's championships being given spotlight along with their talents, that is another story altogether.
The fact is that Dolph Ziggler could very easily have been put into a match against Dean. The two men have had heat recently and it only makes sense that they should work a pay-per-view match for the United States Championship.
But so far, that is just not the case.
***UPDATE: AS OF THE SEPTEMBER 13 EDITION OF FRIDAY NIGHT SMACKDOWN, DEAN AMBROSE VS. DOLPH ZIGGLER FOR THE UNITED STATES CHAMPIONSHIP WILL HAPPEN AT NIGHT OF CHAMPIONS***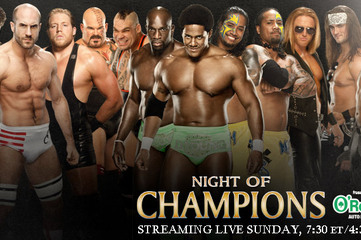 photo by wwe.com
This is the match that will determine who will face Seth Rollins and Roman Reigns later in the event for the WWE tag team titles.
Jack Swagger and Antonio Cesaro are the Real Americans, two Superstars who have been tagging together for a while and who are looking pretty good as a team. Led by Zeb Colter, Swagger and Cesaro are a well oiled machine when it comes to being cohesive in the ring.
Sweet T and Brodus Clay of Tons of Funk may not be the popular choice to go over in this match but they are an established tag team. And with the Funkadactyls by their side it's not impossible that they could win, especially considering the attention the Divas are receiving now.
3MB is a unit that seemed to be on the tag team title path when they first formed, but since then they have been used to get everyone else over. At this point, Heath Slater, Jinder Mahal and Drew McIntyre are just not expected to do anything but lose.
Jimmy and Jey Uso were the best bet to become the new tag team champions during their feud with the Shield, but they did not come through. If they do go over at Night of Champions, could we expect the outcome of yet another match to be any different?
The best bet for victory in this one has to be the Prime Time Players. Titus O'Neil and Darren Young have been on a serious roll lately and they could be headed for a victory over the Shield at Night of Champions.
As far as the buildup for this one is concerned, we have seen all four teams face off in different matchups for quite some time now. Fans are very familiar with these teams and WWE has done a good job of pairing them up from week to week on TV.
When it comes to just how interested fans are in this match is another matter altogether.
GRADE: B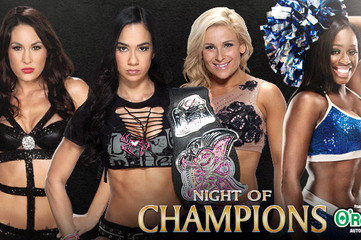 photo by wwe.com
The Divas have been enjoying a significant amount of spotlight in WWE over the past several weeks, thanks to their new reality show.
Total Divas on E! has given fans a look behind the scenes of WWE's female performers and has been a hit for the company. Every week, the WWE faithful get the opportunity to see the Divas in their everyday life as they deal with some of the drama that goes along with working for Vince McMahon.
But while the Divas have been enjoying this new attention, their champion has been on the mic and in the ring.
AJ Lee holds the belt that represents the women in WWE, and for me this is key to the buildup for this match. Because, while AJ has been representing the Divas, the Divas seem to be very preoccupied with being stars outside the ring.
It is this separation of the division that is currently being used to define this bout. The promo that AJ cut on Raw was just what many fans had already been thinking and was a great way to set up this championship match.
But I have to wonder just how much fans will care about the outcome of this one. Natalya is highly respected for her ability, Naomi is very good and full of promise and Brie is a top Diva heel. However, if anyone other than AJ wins, what does that say about the Divas division?
Could an AJ loss mean a more focused shift away from active competition to the red carpet for the Divas? Could the new champion be featured more on Total Divas rather than in the ring on live WWE events?
The buildup for this match is what we expected, and the outcome poses some pretty interesting questions for fans. But again, how much are we all really looking forward to this one?
GRADE: C
photo by wwe.com
Rob Van Dam is a true fan favorite, a Superstar who is over basically every time he steps into the ring despite what angle he's involved in. When he came back to WWE, undoubtedly many fans were hoping that he would get a title shot at some point.
But they may not have expected that shot to be this shot.
The World Championship is WWE's second major title and Alberto Del Rio is the man holding it. Alberto is a very good heel, a guy whose character literally has no redeeming qualities whatsoever. He gets good heat with the crowd and is respected by many fans for his ability in the ring.
But the starting point for this match is Ricardo Rodriguez, and I for one am not entirely convinced that will be enough to deliver at Night of Champions.
For me, this all comes down to the fact that Del Rio needed a challenger and WWE wanted to make Del Rio a super heel. So, they decided to have Alberto turn on his supposed best friend and then put that man with Rob Van Dam.
Next thing you know, we have a world title match at Night of Champions.
I have to say that of all the matches on the card I am a bit more disappointed with the buildup for this one than the others. For me, it truly does feel very random. And even though I believe both men will put in a top-notch performance at Night of Champions, I question if the rivalry will make it past the pay-per-view.
It's not that WWE has not tried to make this match feel important, the truth is that Alberto and Van Dam have worked before and had some confrontations since the bout was announced. And Ricardo is a great way to tie the two men together, despite not being the perfect fit for RVD.
But at the end of the day, I do question if this will all be enough to make this match as important to fans as the World Championship certainly deserves to be.
GRADE: C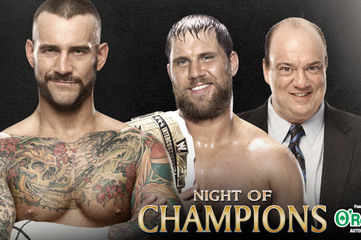 photo by wwe.com
And so we come to what will most likely be the semi-main event of the evening. It also happens to be one of the most perfectly set up matches on the card.
This bout all comes down to one thing: revenge. CM Punk is bloodthirsty at this point, as he is definitely looking for payback against his former best friend Paul Heyman. Obviously, if Punk wins this 2-on-1 match, then payback is exactly what he will get.
Heyman of course has to do everything in his power to ensure that does not happen. This includes counting on his client Curtis Axel, who will surely do all he can to fight back the Best in the World from the moment the bell rings.
This match has all the drama that we have come to expect from WWE at its best. And it is further proof that there is no replacing true chemistry in a rivalry.
But the chemistry does not necessarily lie with Punk and Axel. While Curtis is a very solid worker and only getting better, the truth is that the main focus of this feud has been between Punk and Heyman. The intensity between the two men has been truly off the charts as week in and week out, each man takes his turn cutting promos against the other.
This war of words has by far been one of the best that WWE fans have ever heard, performed by two masters at work. Both Heyman and Punk have brought their best in these promos and that is only the start.
Paul's vicious caning of Punk on Raw is one of those moments that fans will likely always remember. It was cold, it was merciless and it fit perfectly into their feud. And when Heyman stopped swinging to scream things like, "I loved you, I martyred myself for you," fans felt the drama of the moment.
My only complaint with this match is that the Intercontinental Championship is not on the line. Again, this is Night of Champions; all belts should be defended at this event. But that will certainly not take away from the match itself. This should be a good one.
I, for one, believe this has to be one of the best storylines that WWE has featured in quite some time and should produce a very dramatic payoff.
GRADE: A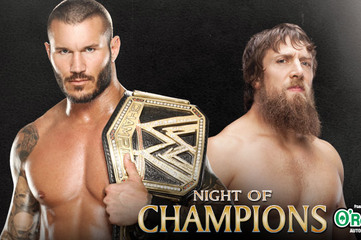 photo by wwe.com
This is it, the main event of Night of Champions. The McMahon family-endorsed WWE champion Randy Orton defends against the company's most popular underdog Daniel Bryan.
And this one should steal the show.
From the moment that Randy took Daniel's WWE title victory away from him at SummerSlam, the company has been building toward this rematch. Bryan is a man looking for the championship win he feels he has earned, and Orton is the man telling him that he does not stand a chance.
Meanwhile, Triple H stands by in full agreement with Randy. The Game is doing everything he can to beat Bryan down, to take away his heart. For Triple H, this is all about stopping an unwelcome challenger dead in his tracks so he can be the one to decide what's best for business.
Every week on TV, Bryan has fought the good fight and every week he ends up flat on his back. It seems as though he cannot catch a break.
In addition to chasing Randy Orton, Daniel has had to deal with a litany of obstacles thrown in his way by Triple H. The Shield are the ones that Hunter has used the most against Bryan and have been very effective at keeping him down.
Triple H is also using the Big Show to fight against Bryan, and even though the Giant tries to fight it, he just does not have a choice.
Basically, Hunter orders him to pounce and Big Show reluctantly does just that.
But despite the number of times Hunter's new administration has knocked him down, Daniel Bryan keeps getting back up. He will not stop and he will not quit. Bryan has literally no chance of walking away from Night of Champions as WWE champion but that will not stop him from fighting with everything he has to try.
And fans love every minute of it. The setup for this main event match is perfect because fans cannot wait to see it. WWE has built the hype and crafted the story. Now all that's left is to put it in the ring.
GRADE: A+