On Wednesday, Sept. 11, Bobby Valentine made comments on WFAN radio that took shots at the New York Yankees and crossed the line at precisely the wrong moment.
Twelve years removed from an unspeakable American tragedy, the former New York Mets manager reflected on its horrific aftermath in New York City. He spoke on the Mets' role in coming to the aid of New Yorkers in the days following 9/11 and of the difficult decision on whether to take the field at Shea Stadium.
But Valentine also expressed jealousy and dismay toward his former crosstown, pinstriped rivals. He argued, essentially in a manner of setting the record straight, that the Yankees had been unjustly portrayed as bigger heroes than the Mets in 2001.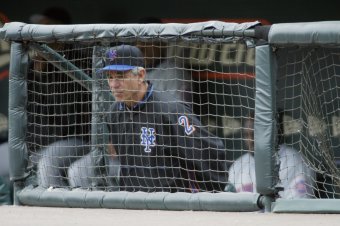 Jed Jacobsohn/Getty Images
According to Mark Feinsand of the Daily News, Valentine opined, "Let it be said that during the time from 9/11 to 9/21, the Yankees were (not around)...You couldn't find a Yankee on the streets of New York City. You couldn't find a Yankee down at Ground Zero, talking to the guys who were working 24/7."

Valentine also recalled a game-sealing Mike Piazza home run that still stands as a defining image. It took place in the first Mets game to be played in New York on the heels of the events, on Sept. 21. It is truly one of the most iconic memories of Shea Stadium history.
But Valentine appears to be mentioning it to the effect that it trumps any Yankees moment from the same era (via Feinsand): "But nothing could have set the tone more properly than Mike's [Piazza] line drive over the left-field fence that I think really began to allow people to return to normalcy."

Obviously, the Yankees' dramatic road to the 2001 World Series also brought a lot of positive energy to a city reeling from the events. Many remember the comeback wins and Derek Jeter's emergence as "Mr. November" as legendary moments that inspired and revitalized New Yorkers.
But that is not to take anything away from the Mets, or to say one baseball event meant more for the city of New York. As history is always the best indicator, the emphasis on the Yankees (if there is any) results from the fact that they played deep into the postseason, while the Mets finished third in the NL East that season and missed the playoffs.
The truth of the matter is that New Yorkers probably remember both the Yankees and Mets as providing much-needed hope in the days and weeks following 9/11. It doesn't stand as a necessary, or appropriate, point of contention.
The events and the tragedy were bigger than baseball, and the Queens ballplayers undoubtedly had terrific moments of their own.
But the problem with Valentine, as has maligned him for much of his career, is his insensitivity at times in drawing attention to himself.
He disrespectfully—and condescendingly—expanded on his first remarks against the Yankees (via Feinsand):
Many of (the Yankees) didn't live here, and so it wasn't their fault. And many of them did not partake in all that, so there was some of that jealousy going around. Like, 'Why are we so tired? Why are we wasted? Why have we been to the funerals and the firehouses, and the Yankees are getting all the credit for bringing baseball back?' And I said 'This isn't about credit, guys. This is about doing the right thing.'
Ezra Shaw/Getty Images
So on a day that should be reserved for remembrance, sadness, anguish and also reverence and respect for our heroes, Bobby V shamelessly made what appears to be a bitter argument out of 9/11.
New York Yankees front office members were disgusted with Valentine's public comments, especially given the day. According to Andrew Marchand of ESPNNewYork, team president Randy Levine clarified the Yankees' role in 2001 and said the following of the former manager's choice of words:
Bobby Valentine should know better than to be pointing fingers on a day like today. Today is a day of reflection and prayer. The Yankees, as has been well documented, visited Ground Zero, the Armory, the Javits Center, St. Vincent's Hospital and many other places during that time. We continue to honor the 9/11 victims and responders.

On this day, he would have been better to have kept his thoughts to himself rather than seeking credit, which is very sad to me.
Valentine managed the New York Mets from 1996-2002. He brought success, controversy and utter oddity to any situation. His peculiar energy and positivity made front offices and fans optimistic about his leadership.
Then one offensive comment, awkward self-deflection and lackluster apology later, he became hated, mistrusted and misunderstood. A team knew it would be taking a risk with the Bobby V show. It was all about him (see: Boston Red Sox).
He once wore a fake mustache and sunglasses to disguise himself in the dugout post-ejection; he also once led the Mets to a National League championship (2000). It's likely there are countless more who are fed up with the whacky skipper than there are who feel warmly towards him.
But most feel on Wednesday that he has now definitively crossed the line. And he did so in typical Valentine manner—foolishly, questionably and carelessly.
Sports are often the best reflection of the society in which they are played. Every four years, for example, the Olympics—and their controversies and triumphs—serves as a glimpse into a changing world.
Recently, the coming-out of former NBA player Jason Collins reflected the double-edged sword of our society in 2013; open enough to accept but not fully ready to commit (the center is still unsigned by an NBA team).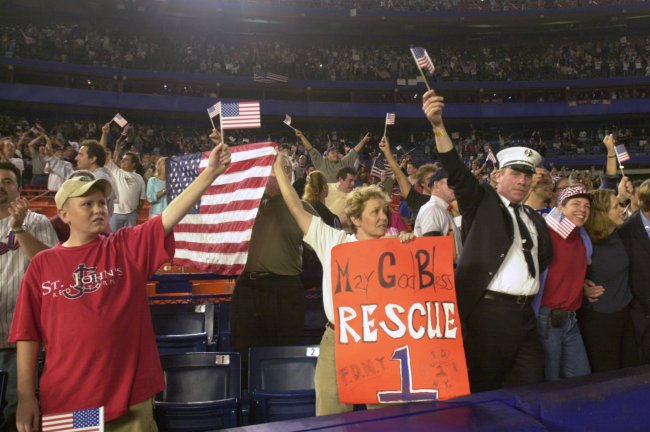 Ezra Shaw/Getty Images
Likewise, Major League Baseball games transpired at that pivotal, heart-wrenching moment in the fall of 2001.
The way in which the games were dramatically played, emotionally celebrated and bravely attended are what we will remember for years to come.
Valentine's statements are out of place on Wednesday and they are out of line with what New Yorkers care about, whether they are fans of the Mets or the Yankees.