WWE Night of Champions 2013: Predictions for Each Match on PPV Card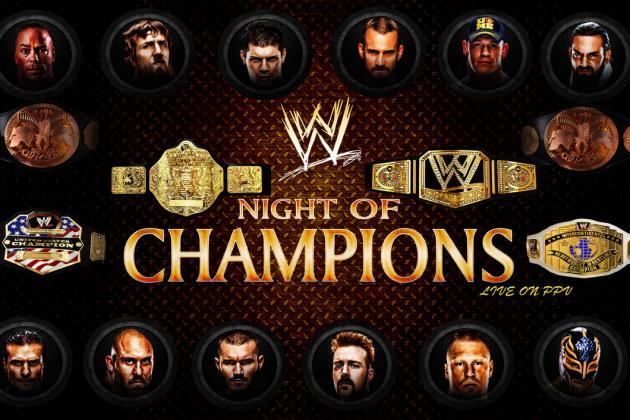 deviantart.com
WWE Night of Champions is Sunday, but you might not know it by the number of matches already set for the pay-per-view. Here is a rundown of the card as it stands.
Pre-show five-way No. 1 contender tag team match
The Shield vs. The winners of the pre-show match
CM Punk vs. Paul Heyman and Curtis Axel
AJ vs. Natalya vs. Brie Bella vs. Naomi Divas Championship match
Alberto Del Rio vs. RVD World Heavyweight Championship match
Randy Orton vs. Daniel Bryan WWE Championship match
WWE has yet to make a US title match official, and it looks like the intercontinental title won't be defended due to Axel being in a match with CM Punk, so WWE has apparently done away with the concept of every title being defended on this PPV.
The card as it stands looks like it has the potential to be a great show, with more possible matches being added on the fly.
This slideshow will look at each feud and offer some predictions for the outcomes.
Begin Slideshow

»
The five teams fighting for a title match on the main show will be The Prime Time Players, Real Americans, Tons of Funk, The Usos and 3MB.
Since The Shield are heels it makes more sense for the winners of this match to be babyfaces, so that eliminates The Real Americans and 3MB from the mix.
Tons of Funk aren't even close to being pushed, so they are also an unlikely candidate to win this one. That leaves The Usos and PTP.
Both teams have picked up wins recently, and both of them have the right attributes to be champions, but I am gong to go out on a limb on this one.
I say none of the teams announced win and Los Matadores come out as a surprise sixth team and win the whole thing.
Ridiculous? Probably, but it would be the absolute best way to get these guys over right off the bat. Not only would their debut with the new gimmick be at a PPV, but they would be in two matches if they won.
This gimmick does not seem like one that will carry the team into the Hall of Fame, so they need to get as much momentum as fast as they can so when they do drop the bull-fighter look they will be over with the crowd.
Predicted Winners: Los Matadores
This prediction is going to rely on my earlier ridiculous prediction panning out. I have to go with Los Matadores, again.
I still think WWE wants this gimmick to get over, and debuting at a PPV and beating a tag team who have been able to beat most of the top WWE stars would make the bull-fighters into instant stars.
In case you didn't know, and I would find it hard to believe you didn't already know this, Los Matadores is the new gimmick for Primo and Epico.
The real-life cousins have held the tag titles before, but to many fans this would be a brand new team.
I don't even really think this is a good idea for a gimmick, but I do think Epico and Primo have more talent than anyone really realizes, and I still think this is the best way to debut the new gimmick.
Predicted Winners: Los Matadores
Finally, FINALLY, AJ will be in a title match that doesn't involve Kaitlyn. She will be taking on three of the Total Divas this time.
After the scathing promo AJ delivered to the cast of Total Divas, you can expect this to start as a three-on-one handicap match.
Even with the odds against her, AJ seems like the one who will come away with the win and the title.
After the three Divas dispose of AJ, they will have to deal with each other. That means they will be distracted for a long time while trying to get the win, giving AJ the chance to recover and steal the win when nobody is looking.
It is a formula that has happened in many triple threat and Fatal-4-Way matches, and it is one that we will probably see repeated again on Sunday.
Predicted Winner: AJ Lee
Night of Champions will be the night when CM Punk finally gets his hands on Paul Heyman, but more importantly it will give everyone a chance to move on.
Punk has been fighting with Heyman since Heyman turned on him at Money in the Bank, and while the feud has been great so far, it's time for everyone to focus on something or someone else.
Axel has been Punk's resident punching bag for several weeks, and it is not doing him or the IC title any good not being defended on a PPV where every title is supposed to be defended.
Axel and Heyman need to focus on Axel's career, and Punk needs to find a new rival. I see Punk winning this match, giving Heyman the beating of his life and then moving on to the next challenge.
Predicted Winner: CM Punk
It's hard to tell if this feud is supposed to matter anymore. Alberto Del Rio has had an average run with the title at best, and this whole angle revolves around his ring announcer. Are we supposed to believe RVD and Ricardo will have some long relationship like Ricardo and ADR did?
RVD winning the title would only put him in the position of being a transitional champion, especially if Damien Sandow cashes in on him right away.
Del Rio winning only keeps the world title from being interesting, so it's hard to tell who should win and who's win would be best for SmackDown and the world title scene.
Just because Del Rio has been so lackluster as a champion I am going to go with RVD on this one, but this match could really go either way, and an RVD win doesn't guarantee him the title. He might win by count out or DQ.
Predicted Winner: RVD
This is the match that will have everyone talking the next day. No matter what the outcome is, there will be some people who did not see it coming.
WWE really has an opportunity to do whatever they want and have it make sense. Bryan could win the title, triumph over his tormentors and make the entire arena erupt in cheers to end the show on a positive note.
Or Bryan could lose, and Orton, Triple H and The Shield could get the best of him once again. This would make Bryan look even more like the underdog than he does, and it would push the feud through to October.
Either way, WWE wins. Bryan as champion will make the crowd happy and Bryan as challenger will keep the crowd interested. That is what makes this match a bit harder to predict.
However, it would make sense to keep this feud going into October by having Bryan lose and then challenge for the title again at the Battleground PPV.
Bryan and Orton will have a great match, but they have the capacity for a great feud, which is why I think the best option is to have Bryan lose at NOC, win at Battleground and then defend against Orton at Hell in a Cell, which is also in October.
Bryan and Orton are a fresh feud, and WWE would be wise to get as much life out of it as they can, especially with John Cena and Sheamus on the shelf for the time being.
Predicted Winner: Randy Orton
Night of Champions is one of those events where some of the matches are a bit harder to predict, and that can make things more interesting.
Every champion is a heel right now, which means almost any title change is likely to pop the crowd. WWE has the chance to either make a lot of people very happy or very angry with this PPV.
The show is just days away, and WWE might need to add a few matches on the fly to fill up the card. As of right now there are only five matches set for the main show, none of which have major stipulations.
We could see a US or IC title match added at the last minute, or we could see Kane return to take his revenge against Bray Wyatt. Miz might get to face Fandango, or we could see Big Show placed into a match by Triple H to further their storyline.
One last little tidbit: This will be the first time since CM Punk beat ADR for the WWE title on November 20, 2011 where we do not have The Rock, John Cena or CM Punk in the WWE title match. This means we have a fresh pair in the title scene, and that is bound to make a lot of fans happy.
What are your predictions for Night of Champions?
Thanks for reading, and follow me on Twitter @BR_Doctor.