Updated Outlook for Entire Philadelphia Eagles Schedule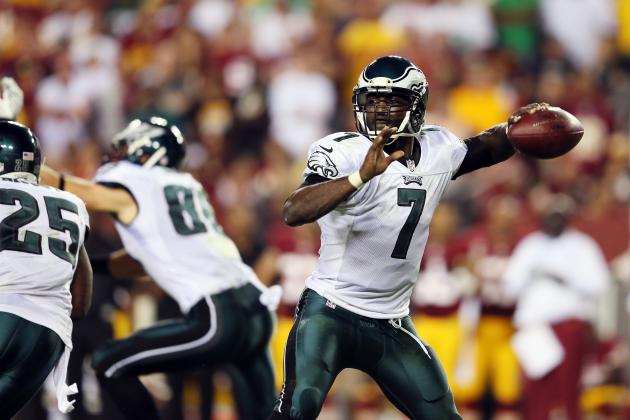 Rob Carr/Getty Images

Wow. The Philadelphia Eagles kicked off their 2013 season against the Washington Redskins on Monday Night Football and what a game it was.
Behind an offensive explosion, the Eagles jumped out to a 33-7 lead by early in the third quarter. The Redskins cut the final score to 33-27, but Advanced NFL Stats will show that the Eagles were never in serious danger of losing the game.
The offensive success was expected, although not quite to that extent, but four turnovers by the defense and noticeable improvement from the special teams was a very pleasant surprise.
It's obvious that this Eagles team is better than many expected. At least that's what most are saying. I'll agree that the Eagles are better than my preseason expectations, perhaps by multiple games, but that doesn't mean I have them in the postseason.
The following 15 slides will highlight my predictions for each Eagles game for the remainder of the season.
Begin Slideshow

»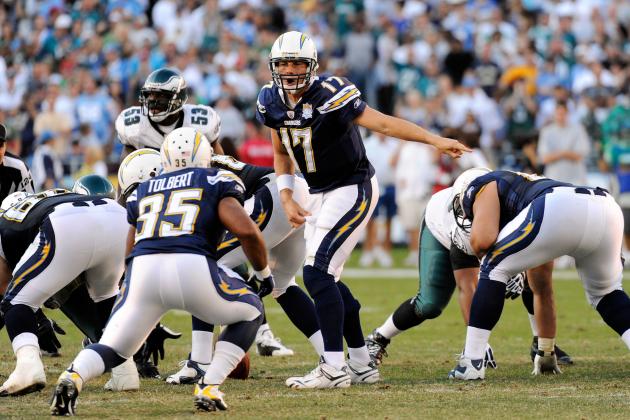 Kevork Djansezian/Getty Images

The team that has played the Eagles in Philadelphia's home opener has won the past four Super Bowls. That's an incredible streak. It's going to end this season.
The San Diego Chargers are not a very good football team. They blew a 21-point lead in their home opener against the Houston Texans. New head coach Mike McCoy worked wonders on veteran quarterback Philip Rivers, who tossed four touchdowns. But old Rivers returned late in the game, and an interception touchdown tied the game.
Expect the Eagles' strong defensive line to take advantage of the Chargers' weak links on their O-line, which includes King Dunlap and D.J. Fluker at tackles. A home crowd for Chip Kelly's first game should be fully riled up.
The Eagles will win this game.
Prediction: Eagles 34, Chargers 28
Season Record: 2-0
Scoring: 67-55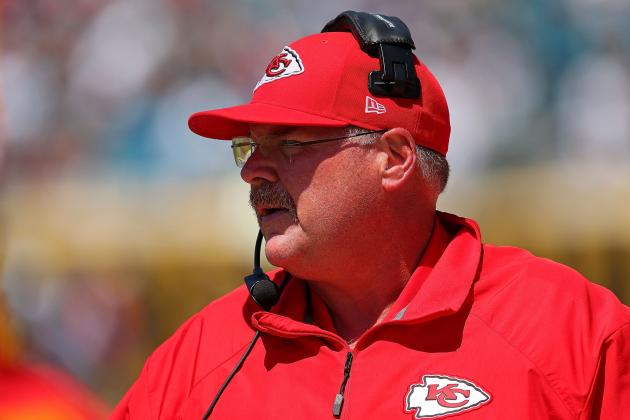 Mike Ehrmann/Getty Images

Ah, the return of Andy Reid to Philadelphia. The Eagles play the Kansas City Chiefs every four years. They're home every eight years. Of course, it happens in Week 3 of Reid's first year away from Philly.
I'm not buying the Chiefs as a playoff team this season. I think they'll clearly be much improved (how can't they improve from 2-14 after a coaching and quarterback change?), but I think they'll still struggle.
In particular, I don't see Alex Smith winning a shootout. At this point, it's safe to say that the majority, if not all, of Eagles games will involve high-scoring affairs.
Look for Kelly and an Eagles crowd that will be as loud as any you've ever heard to pull away with a close victory. But I wouldn't be surprised to see this be the game where Vick goes down with a concussion from one too many hits.
(Because I'm predicting all 16 games and I don't think Vick makes it through the year without an injury, I have no choice but to do something I hate and that's predict an injury.)
Prediction: 23-20 Eagles
Season Record: 3-0
Scoring: 90-78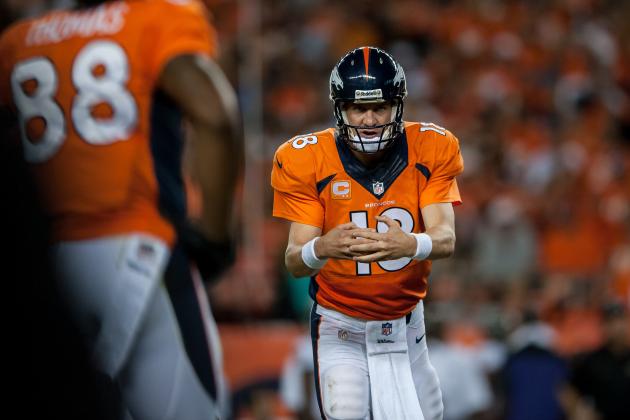 Dustin Bradford/Getty Images

This is where the magic runs out. Vick or Nick Foles, the Eagles are not beating Peyton Manning on the road. I don't care how well they're playing.
Peyton Manning threw seven touchdowns against the defending Super Bowl champions in the first game of the season. What will he do against an Eagles secondary that, despite playing well against a hobbled RGIII in Week 1, isn't very good?
Manning has a 104.5 career passer rating against the Eagles. He's led the Colts to 44, 35, 45 and 24 points in four meetings. Expect similar production in Week 4. The Eagles just don't stand a chance against Manning and Demaryius Thomas, Eric Decker and Wes Welker.
Prediction: 41-27 Broncos
Season Record: 3-1
Scoring: 117-119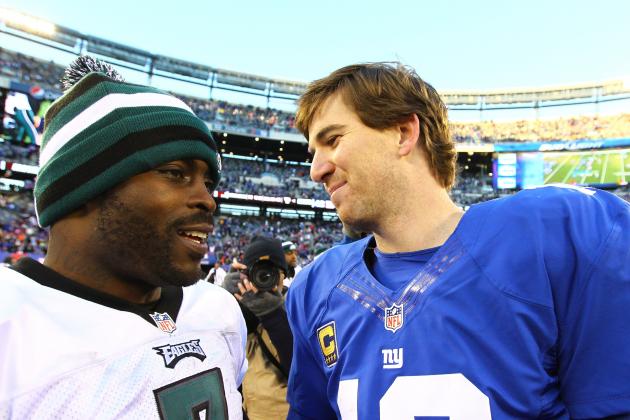 Al Bello/Getty Images

I'll say Vick is still out from a Week 3 concussion, giving Foles a start against the New York Giants. Unfortunately, this isn't the kind of game I'd pick the Eagles to win regardless of who was starting.
The Giants aren't as bad as the team that committed six turnovers in a Week 1 loss to the Dallas Cowboys. The Eagles aren't as good as the team that shocked the Redskins on Monday Night Football.
In the end, Kelly's boys won't be able to handle Eli Manning, Victor Cruz and Hakeem Nicks. Tom Coughlin is an experienced coach who will have four games to prepare for Kelly's dynamic offense. He'll win this one.
Prediction: 27-17 Giants
Season Record: 3-2
Scoring: 134-146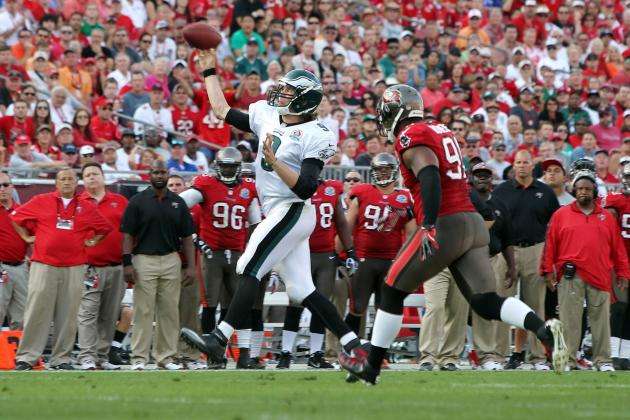 Kim Klement-USA TODAY Sports

This will be the third straight game that Vick misses with a concussion, meaning Foles makes the start against the only team he managed to defeat in his rookie season.
He'll work his magic again following a pair of frustrating losses.
I had originally predicted Josh Freeman to save his job with a big 2013 season. I'm not so sure that's the case anymore. He was awful in Week 1 against the New York Jets. In fact, Pro Football Focus rated him as the worst quarterback in the league in Week 1 (subscription required).
The Eagles' stellar pass rush should be able to get in Freeman's face and pressure him into making some mistakes. On offense, Kelly will be smart enough to avoid throwing at Darrelle Revis at all, which will likely make DeSean Jackson a nonfactor. Instead, he'll make players like Jason Avant and Zach Ertz the featured weapons throughout the game.
Prediction: 20-13 Eagles
Season Record: 4-2
Scoring: 154-159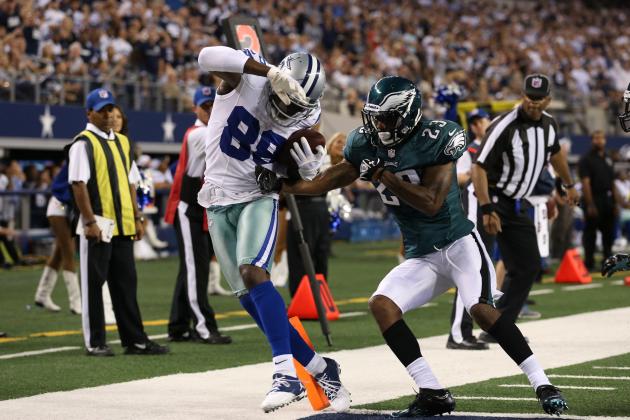 Matthew Emmons-USA TODAY Sports

Here's a virtual must-win for the Eagles if they want to establish themselves as a legitimate contender in the weak NFC East. It's not going to happen.
The combination of Tony Romo and Dez Bryant should torch the Eagles for up to 200 yards and a couple of touchdowns. Add in Miles Austin and Jason Witten and you can understand why Philadelphia's pass defense will have no chance.
On offense, the Eagles should be able to rack up points, especially with the return of Vick from his concussion. But the pass-rushing duo of DeMarcus Ware and Anthony Spencer should be able to take down Vick a few times.
This one won't be as close as the score indicates.
Prediction: 38-28 Cowboys
Season Record: 4-3
Scoring: 182-197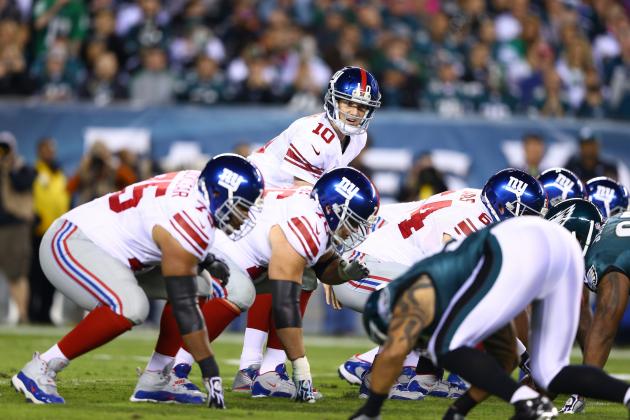 Al Bello/Getty Images

Another game against the Giants, same result.
A fierce Giants pass rush led by rookie Damontre Moore sacks Vick four times and forces a pair of interceptions. Cruz and Nicks go wild again, as Eli torches Billy Davis' defense for the second time in a month.
Prediction: 28-20 Giants
Season Record: 4-4
Scoring: 202-225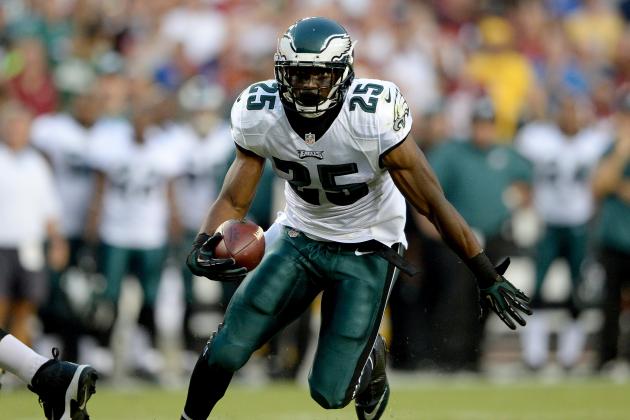 Patrick Smith/Getty Images

This is a dangerous game for the Eagles, as they travel to the West Coast to play one of the worst teams in the league. In fact, Oakland beat the Eagles 13-9 in 2009 with JaMarcus Russell at quarterback.
But that won't be the case this time.
Whoever is playing quarterback for the Raiders at this time won't be as good as the Philly defense. And there's no way the Raiders defense can stop LeSean McCoy.
Prediction: 34-10 Eagles
Season Record: 5-4
Scoring: 236-235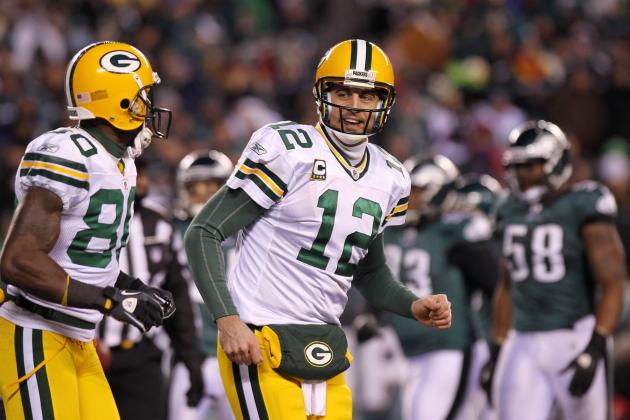 Nick Laham/Getty Images

Aaron Rodgers and company will have their way with the Eagles. Sure, the Eagles may put up the points, and they likely will. But they won't be able to stop Jordy Nelson, Randall Cobb and James Jones, not to mention the 2011 league MVP and my pick to win Super Bowl MVP this season.
A win here would be huge for the Eagles in the competitive NFC playoff race, but it's not going to happen. I think the Eagles might keep it close (might), but they won't collect a victory on the road against a true powerhouse.
Prediction: 38-28 Packers
Season Record: 5-5
Scoring: 264-273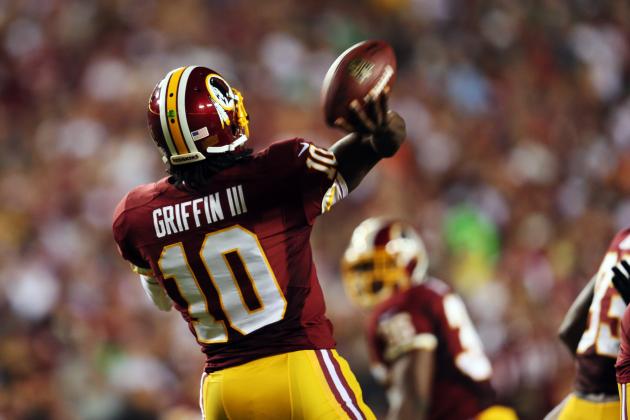 Rob Carr/Getty Images

This game will likely have a different outcome from the Week 1 outcome. RGIII should be fully healthy with the Redskins likely in the mix for a division title. Alfred Morris had a fluke bad game on Monday night, but he can't be counted on for two fumbles every time, just like the Eagles won't force four turnovers again.
It won't be as bad of a blowout as last year's 31-6 dominance, but I wouldn't be surprised to see RGIII toss four touchdowns again.
Prediction: 28-20 Redskins
Season Record: 5-6
Scoring: 284-301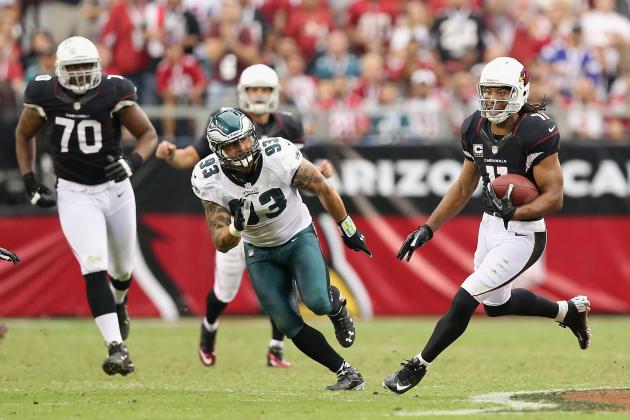 Christian Petersen/Getty Images

The Arizona Cardinals have given the Eagles a lot of trouble over the past two years, but don't expect the Eagles to lose in a must-win game at home coming out of the bye week.
Larry Fitzgerald will likely have a big game, as he always does against the Eagles, but the offensive line for Arizona will be its weakness against an underrated Philly pass rush.
Without Ray Horton as their defensive coordinator, the Cardinals won't be able to make the adjustments necessary to keep pace with Kelly's offense.
Prediction: 28-17 Eagles
Season Record: 6-6
Scoring: 312-318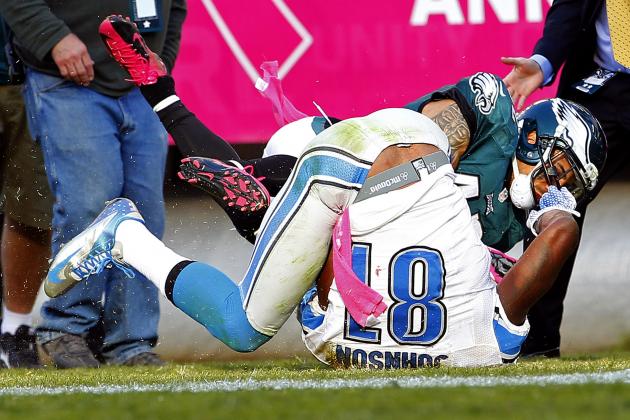 Rich Schultz/Getty Images

This game will be a shootout, and quite frankly, I'm only going with the Eagles because they're the home team.
The Eagles will have their hands full with Matthew Stafford and the league's best receiver, Calvin Johnson. Throw in Reggie Bush out of the backfield and you have a Detroit Lions team that could score 35 to 40 points.
Prediction: 42-38 Eagles
Season Record: 7-6
Scoring: 354-356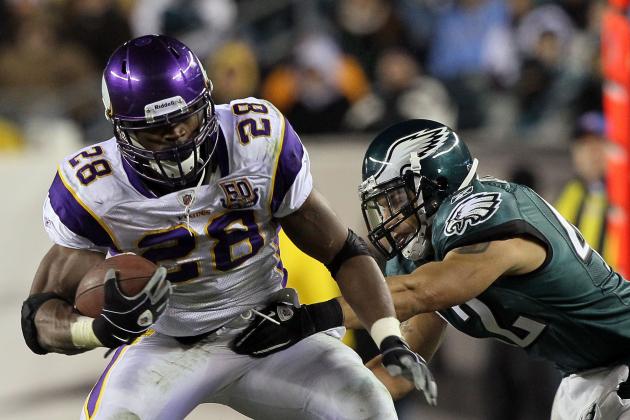 Jim McIsaac/Getty Images

Adrian Peterson is the best running back in the National Football League, but he's not going to beat the Eagles without help at the quarterback position. I don't think Christian Ponder is the answer, and I wouldn't be surprised to see Matt Cassel as the starter by this point in the season.
A fired-up Philly squad fresh off two straight victories collects its third straight win to stay right in the thick of things in the NFC playoff race.
Prediction: 20-16 Eagles
Season Record: 8-6
Scoring: 374-372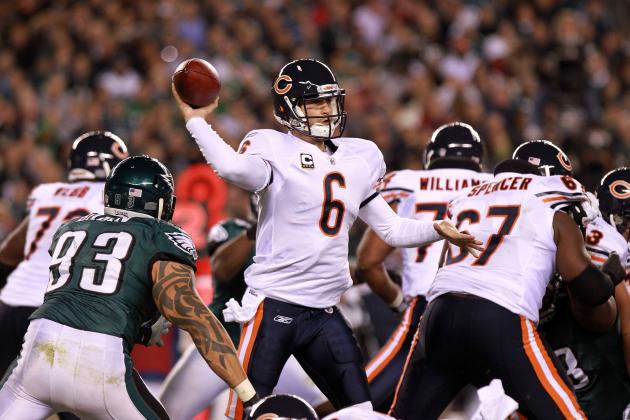 Nick Laham/Getty Images

This is going to be a heated matchup between a pair of teams fighting for a postseason berth. Each team has a rookie head coach and a veteran quarterback who is a free agent after the season.
The difference in the game will be the Chicago Bears defense, specifically defensive end Julius Peppers and cornerback Charles Tillman.
The lowest-scoring game of the season for the Eagles ends in a crushing loss, putting a serious blow in the team's postseason hopes.
Prediction: 16-13 Bears
Season Record: 8-7
Scoring: 387-388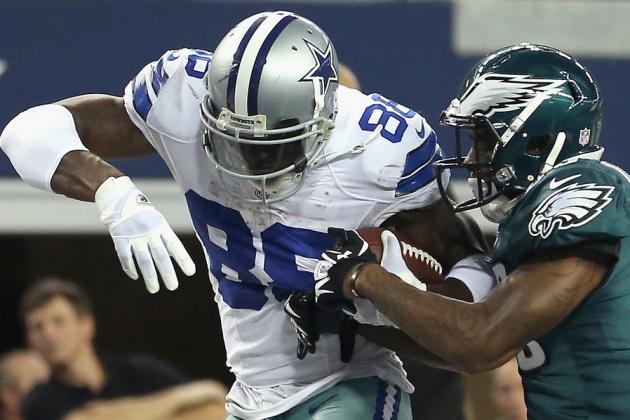 Ronald Martinez/Getty Images

Both teams will enter the game with an 8-7 record and a slim chance at a postseason berth. Both teams will have been eliminated by the time the game ends.
Kelly's first year as head coach ends in overtime following a Dez Bryant touchdown, giving the fourth-year receiver almost 400 yards in a pair of games against the Eagles this season.
At 8-8, the season is considered a success, but questions remain, most notably at quarterback, where the Eagles will have to decide whether they want to re-sign Vick for the 2014 season (and beyond).
Prediction: 44-38 Cowboys, Overtime
Season Record: 8-8
Scoring: 425-432