Why No One Will Win the Daniel Cleary Sweepstakes
Bruce Bennett/Getty Images
Nobody seems to know where Dan Cleary is going to play this season. Early in July, it was reported that he'd signed a three-year, $2.6 million contract with his former team, the Detroit Red Wings. There were reports that Florida and Dallas were interested. Then came word that he had in fact signed with the Philadelphia Flyers for three years at $2.75 million per season.
But wait! There's more! Now it seems reports of Cleary's signing may have been greatly exaggerated!
Here's reputable CBC reporter Elliotte Friedman:
Not exactly sure why, but it appears as if there is some complication between Daniel Cleary and PHI. Told he will not be joining Flyers.

— Elliotte Friedman (@FriedgeHNIC) September 11, 2013
And, because this sort of thing deserves a good dose of intrigue, TSN's connected Aaron Ward passes this along:
Hearing a meeting took place today between Dan Cleary,Mike Babcock,and Ken Holland in Traverse City,MI. #TSN #DetroitRedWings

— Aaron Ward (@aaronward_nhl) September 11, 2013
All this situation needs to be really interesting is an Ottawa Senators connection so that Eugene Melnyk can order a forensic investigation into where Dan Cleary is really headed.
In all seriousness, the strangest thing about this summer's Dan Cleary storyline may be the fact that there is a Dan Cleary storyline at all. Cleary is a 34-year-old with a history of serious knee injury coming off of his worst season since 2005-06. The two teams most hoping to land him are both struggling to stay under the NHL salary cap. It might be safe to say that the real loser in these sweepstakes will be the club that gets the veteran forward under contract.
Detroit's interest is difficult to explain because they have a logjam of forwards. Even excepting Darren Helm, who seems a good bet to miss time with injury, the club has 15 different NHL-caliber players up front. General manager Ken Holland admitted that to sign Cleary, the Red Wings would need to dump somebody off the current roster:
We're comfortable where we're at right now. Before we do anything we'd have to move somebody… We'd like to do a move or two, but I'm not sure we can. If we can't make a move I'm OK with our team and we'll go to camp. If we can make a move and free up some money then certainly re-signing Dan Cleary is a possibility. But, unless we move somebody, we aren't signing anybody.
In the same story, MLive's Ansar Khan noted that the Red Wings were looking at carrying 25 NHL players in training camp—meaning that if everyone was healthy, two would need to be traded or waived to comply with the roster limit.
Then there's Philadelphia. Unlike Detroit, the Flyers aren't struggling to find space for all of their forwards; and they actually do need a third-line left wing. Their problems have more to do with the NHL salary cap in general. According to Helene St. James of the Detroit Free Press, the reported deal with Cleary wasn't made official because Philadelphia was already over the cap and needed to make some moves. Chris Pronger going on injured reserve will help, but until the Flyers can move one of the other six highly paid defensemen on the roster (Nicklas Grossman, with three years left at $3.5 million, is the cheapest of that bunch), they simply don't have the room.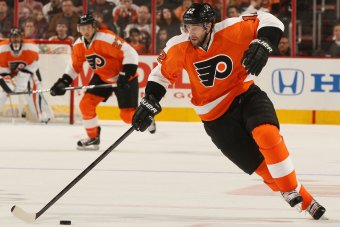 Elsa/Getty Images
And, as Broad Street Hockey points out, they have cheaper options: Fan favorite Simon Gagne can likely be signed on a one-year deal for less money than Cleary will command over three and can fill the same role.
It isn't that Cleary is a bad player. Given age and injury history, he's just a risk—and for the two teams involved, he doesn't look like a risk that makes a lot of sense.
This article is
What is the duplicate article?
Why is this article offensive?
Where is this article plagiarized from?
Why is this article poorly edited?