Ranking the Montreal Canadiens' 5 Greatest Strengths for the 2013-14 Season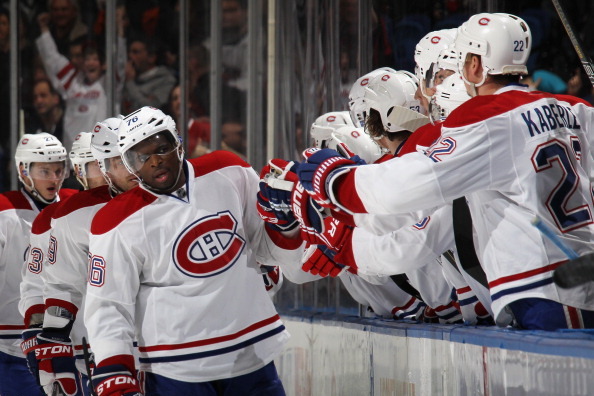 Bruce Bennett/Getty Images
Montreal Canadiens defenseman P.K. Subban celebrates a goal.
While the Montreal Canadiens were far from perfect in 2013, they definitely did a lot right. A 4-6 regular-season finish may have overshadowed a great season, but a team just doesn't go 25-8-5 into April on luck alone.
Last year, for example, the team enjoyed the fifth-best power play in the league at 20.7 percent, got lots of goals—3.10 per game to be exact—and was even able to limit ones scored by opponents (26.9 shots per game).
With much the same roster as last year, the status quo seems to be maintained for all intents and purposes, with a few key exceptions of course. Here are the Habs five greatest strengths for the 2013-14 season:
Begin Slideshow

»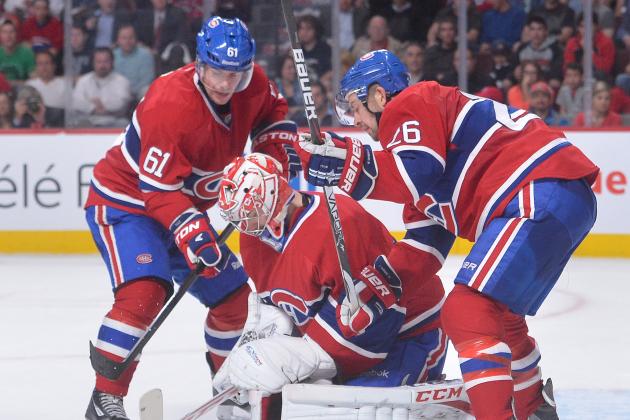 Francois Laplante/FreestylePhoto/Getty Images
Montreal Canadiens goalie Carey Price makes a save.
Admittedly, listing goaltending is a bit of a leap of faith following the free fall that constituted the second half of Carey Price's 2013 season.
After allowing just 14 goals in his first eight games of the season, Price (and the rest of the team) collapsed down the stretch. In his last eight games he allowed 27, nearly double the amount, and that's not even in eight full games, as he was notably pulled in favor of backup Peter Budaj on several occasions.
After a horrible first-round series against the Ottawa Senators (13 goals allowed in four games), there is little doubt that Price has to be better. The good news is he can be.
In 2010-11, he proved all his critics wrong by posting a 38-28-6 record, eight shutouts, a 2.35 goals-against average and .923 save percentage. Admittedly he laid relative eggs this past year and last season that might have made a two-day-old, moldy omelet look good by comparison, but Price is just 26 and entering his prime now.
If Price can find his game again, Montreal's goaltending, which was very much a weakness in 2013, will be one of the team's greatest strengths in 2013-14.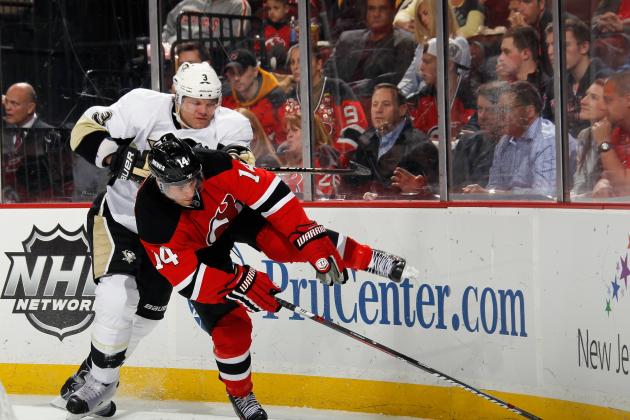 Bruce Bennett/Getty Images
Then-Pittsburgh Penguins defenseman Douglas Murray hits New Jersey Devils forward Adam Henrique.
Finally gone are the days when the 6'3" Price had to be relied upon to intimidate the opposition as the Habs' biggest player.
Pulling double duty, he must have been stretching himself too thin in an obvious attempt to stare down both opponents and the puck at once. That's the only logical explanation.
Thankfully, the additions of George Parros (6'5", 228 lbs) and Douglas Murray (6'3", 245 lbs) provide instant relief on that front as well as credibility to a lineup justifiably mocked for bearing the same colors and size of a bunch of Smurfs.
Now, neither of the two will likely be getting all that much ice time as Murray projects as a third-pairing defenseman and Parros a regular fourth-liner if not a glorified benchwarmer. However, it's important to realize that several other, actually key players on the team are not totally devoid of size.
For example, leading scorer Max Pacioretty is 6'2", 219 pounds (even though he doesn't use it as often as he should). Defenseman P.K. Subban is 6'0", 216 pounds. Meanwhile, future top centers Lars Eller (6'2", 209 lbs) and Alex Galchenyuk (6'1", 196) will be filling out some in the years and even months to come.
The bottom line is if Montreal's first-round loss to the Senators—during which six different Habs got injured—indeed served as a case study as to just how to beat the Habs into submission, teams all over the league will now need to re-hit the books instead.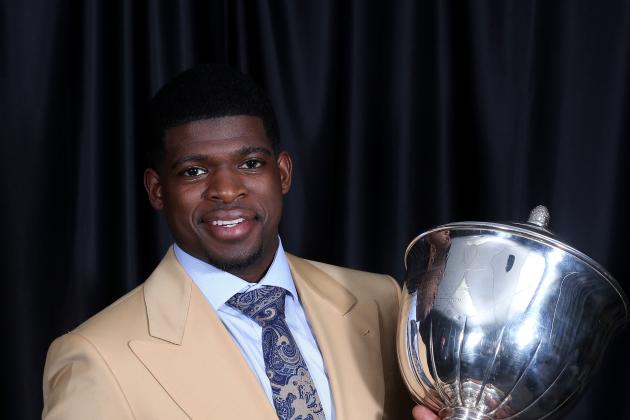 Tasos Katopodis/Getty Images
Norris Memorial Trophy-winning defenseman P.K. Subban.
As mentioned previously, in 2013 the Habs enjoyed a 20.7 percent success rate on the power play. Heading into 2013-14, that success seems destined to remain intact if not eclipsed.
A defensive tandem of Andrei Markov (whose offensive production, at least, isn't slowing down) and Norris Memorial Trophy winner P.K. Subban should be enough to convince most skeptics to that effect.
The two led the team in power-play scoring with 23 and 26 points respectively, with Subban trailing only Washington Capitals teammates Alexander Ovechkin and Mike Ribeiro (27 points each) league-wide in that category.
While Michael Ryder's six goals and 11 points on the power play will be missed, Daniel Briere, a pure offensive threat if there ever was one, looks to be an outright superior replacement.
Having scored 102 career goals on the power play, he's no stranger to banging home rebounds off shots from the point and would theoretically fit right in by the side of the net. Of course, his 5'10", 179-pound frame could theoretically fit just about anywhere, but he knows what to do with the puck, is what I'm saying.
In 2013, Montreal got flak for enjoying a league-high 329:15 in total power-play time (just less than half a game more than the second-place Detroit Red Wings). However, one must not forget that the Habs play a puck-possession game and are bound to get their fair share of calls as a result.
As such, look for the Habs to draw a lot of chances once again, and, more importantly, make good on a great deal of them.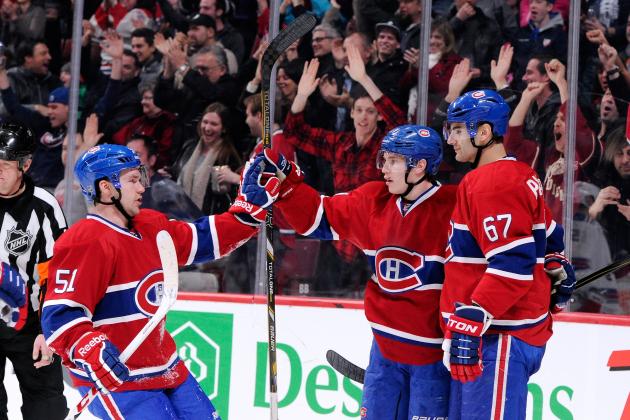 Richard Wolowicz/Getty Images
Montreal Canadiens (from left) David Desharnais, Brendan Gallagher and Max Pacioretty celebrating a goal.
It's admittedly a pretty big assumption to make, but if the Habs are able to stay healthy, they should be able to roll three lines like last year and score on average three goals per game once again.
The fourth-ranked offense from last year may continue to lack a true No. 1 center (with Eller and Galchenyuk still developing), but the Habs still have two arguably decent options in Tomas Plekanec and David Desharnais to help fill that role.
In all, actually, the Habs boast nine different top-six forwards in Pacioretty, Desharnais, Brendan Gallagher, Rene Bourque, Plekanec, Briere, Galchenyuk, Eller and Gionta.
Granted, it remains to be seen what the likes of 36-year-old Briere and 34-year-old Gionta can bring to the table (and if, at 179 and 174 pounds, they can be prodded into eating it). No matter what, though, even if they can't be relied upon as much as in previous years, Montreal still has an undeniably very well-rounded crop of forwards.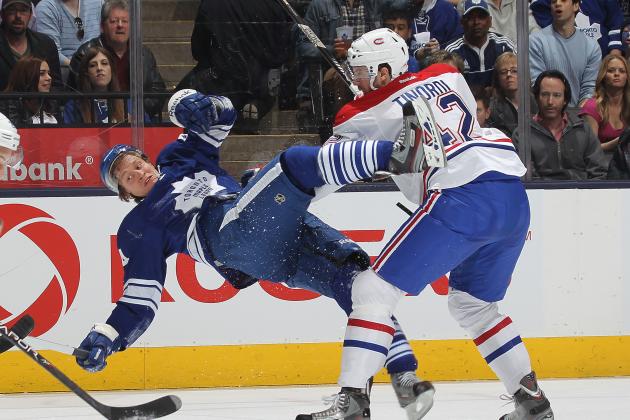 Claus Andersen/Getty Images
Montreal Canadiens defenseman Jarred Tinordi checks former-Toronto Maple Leafs forward Mikhail Grabovski.
Expanding upon the previous point, what the Habs lack in star power, with possible exception to Subban, they more than make up for in players willing and able to step up and make a difference on any given night.
There admittedly might be a few more question marks in regard to the team's defensive ability relative to its offensive makeup. Even so, the predominant one has to be not "who will make up the top six," but, rather, "just who will fit in the top six?"
Currently, the Habs have seven NHL-caliber defensemen on the roster, and that's not including the injured Alexei Emelin, who's due back by December.
Add into the equation Jarred Tinordi, whom by most accounts was ready to make the team by the end of last season, and Nathan Beaulieu as "worst-case scenario" call-ups in case of injury and the Habs are in pretty good shape.
That isn't to say fans should be hoping for trouble on the injury front, but it must be a relief to know the Habs are well-covered in such an instance and stacked overall.