Cincinnati Bengals Playmakers Who Must Shine Against Pittsburgh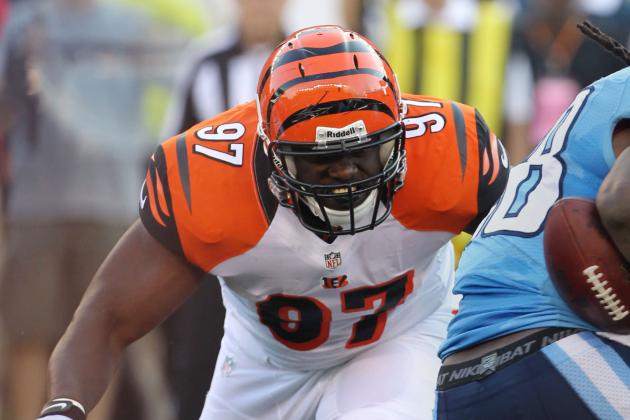 Brian Spurlock-USA TODAY Sports

Week 1, as a whole, was a pretty good showing by the Cincinnati Bengals. For three and a half quarters, it seemed that the team was clicking well and all signs pointed to a "W."
And just like that, the whole thing unraveled. After being up 21-10, the Bengals allowed the Chicago Bears to score 14 unanswered points, and they continued to drive the football down the Bengals' throats until the very end of the game. It's ultimately very disappointing that such a solid showing ended so badly.
While most of the team played valiantly, there were some guys on the field who were visibly absent. With the Pittsburgh Steelers rolling into town, another loss and an 0-2 start is unacceptable, so these men must show up to play.
Begin Slideshow

»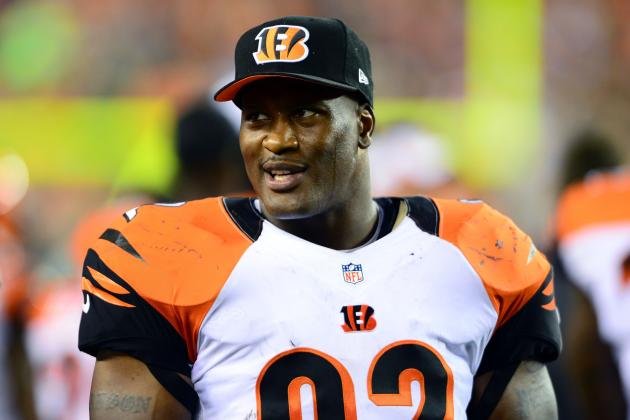 Andrew Weber-USA TODAY Sports

Well isn't this ironic?
As the Bengals prepare for the Steelers, one man who needs to center his focus is the former Steeler himself, James Harrison. Sunday against the Bears, he mustered only one tackle.
He was largely a non-factor in the game. No one expects for Harrison to re-live his glory years, which took place from 2007-2010, but what defensive coordinator Mike Zimmer does need is for him to make some sort of an impact.
For his entire career, Harrison has been one of the league's best pass-rushers, and that's something this Bengals' defense lacks. Vontaze Burfict is coming along, but he's not there yet, so Harrison has to apply some pressure to quarterbacks—he did no such thing against Jay Cutler.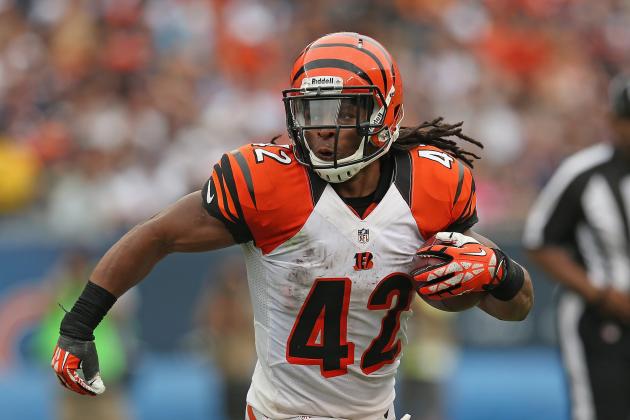 Jonathan Daniel/Getty Images

This slide has more to do with BenJarvus Green-Ellis, but I include Giovani Bernard simply because of how underused he was against the Bears. He ran the ball only four times, but picked up 22 yards, and I remember those runs—Bernard hit the holes like a bullet.
As for Green-Ellis—the team's starter—he carried the ball 14 times, and had only 25 yards. His touchdown score? That's great, but it came from five yards out, and pounding the ball into the endzone inside the 10-yard line is what he's always done.
No one is asking Green-Ellis to run for 100 yards a game, or even 80, but 25? That is unacceptable. With Bernard being a rookie, offensive coordinator Jay Gruden is not going to thrust him into a massive role.
That is why the veteran, Green-Ellis, must pick up the slack. He proved in 2012 that he is capable of making good runs, and Andy Dalton needs a good complement to the passing attack.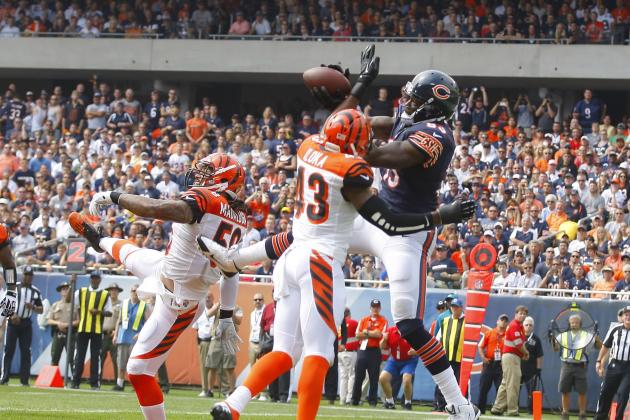 Dennis Wierzbicki-USA TODAY Spor

George Iloka, the Bengals' new starting strong safety, is at a bit of a disadvantage. He'll be under quite the scrutiny all year, simply given how bad the position has been for years.
Now, Iloka wasn't bad. He just wasn't all that effective either, and that is exactly what the problem has been for years. Iloka's highlight statistic against the Bears was three tackles.
It seems that he can tackle, but he did have some trouble in coverage—I don't count Martellus Bennett's touchdown grab because that was amazing. In any sense, this Bengals' defense is very good and Iloka can undoubtedly contribute.
He needs to add solid coverage to his arsenal and he could end up being a decent safety. I'm one of those who think he can be a pretty darn good one, given his speed and will to learn the game.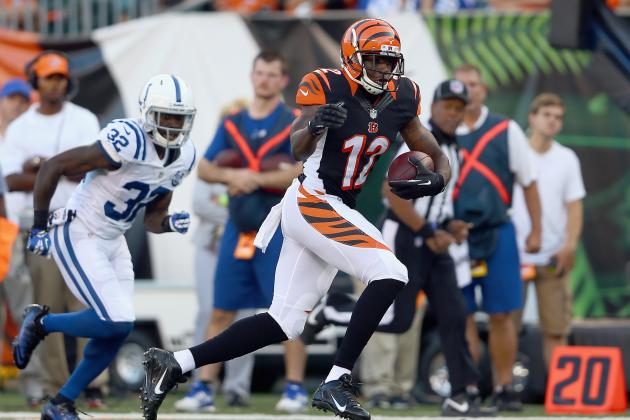 Andy Lyons/Getty Images

It's a cryin' shame that Mo Sanu fumbled the ball late in the game on Sunday. Mostly because he's on my fantasy team, but also because it ultimately led to the game-winning drive for Chicago.
As a whole, Sanu's performance was rather underwhelming to begin with. He had four catches for 19 yards—disappointing in and of itself, but the fumble (especially the timing) capped it off.
It is even more disappointing to me as I think Sanu is the real deal. He and A.J. Green could form another receiving duo like the Bengals used to have with Chad Johnson and T.J. Houshmandzadeh.
Sanu is a physical receiver with a lot of strength and great size. He can catch the ball, but his ability to hold the football clearly needs work. If he can take some attention away from Green, this offense will become unstoppable.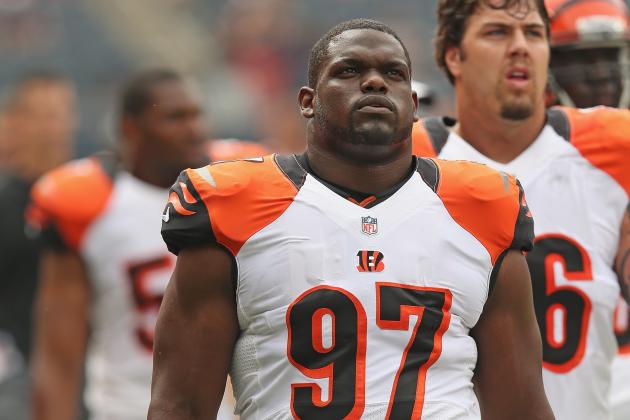 Jonathan Daniel/Getty Images

If you were looking for any sort of stats for Geno Atkins from the game against the Bears, you won't find any—the only number that isn't "0" is the "1" in the games played column.
The Bengals' defensive lineman has been ranked as a top guy in the league all offseason, but he disappeared in Week 1. It seems that the Bears' offensive line must have been playing against him something fierce.
There's no doubt that Atkins is capable of tearing into any backfield and stopping the run or getting at the quarterback. However, he can't be completely absent, especially against a division foe. He's too important to Mike Zimmer's defense and they need him to make an impact.