DJ Fluker, Tyler Bray and Fletcher Cox Reportedly Given Benefits While in SEC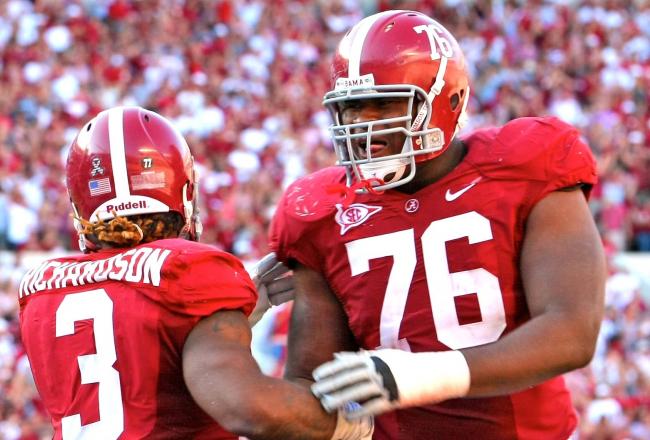 Another day, another NCAA scandal.
According to an investigative report from Yahoo! Sports' Rand Getlin and Charles Robinson, five former and current football players from the Southeastern Conference received improper benefits while playing for their respective schools.
The five players in question are former Alabama offensive tackle D.J. Fluker, former Mississippi State defensive tackle Fletcher Cox, former Mississippi State wide receiver Chad Bumphis, former Tennessee quarterback Tyler Bray and Tennessee defensive end Maurice Couch.
UPDATE: Friday, Nov. 1
From Couch's official Twitter feed:
At the end of the day, what's most important is I have my family, my degree, and love n support from the Volnation!# salute

— maurice couch (@MoTrilla44) November 1, 2013
And thanks to UT, coaches, teammates, Volnation, and everyone else involved sincerely appreciate everything you done for me. #salute

— maurice couch (@MoTrilla44) November 1, 2013
UPDATE: Friday, Nov. 1
From Tennessee's official Twitter feed:
The NCAA has declared Maurice Couch permanently ineligible. UT will appeal.

— Tennessee Football (@Vol_Football) November 1, 2013
UPDATE: Friday, Sept. 13
Maurice Couch released an apology, via Twitter:
I want to apologize to everyone from my family,teammates, n the Volnation. Im sorry I let u guys down. #orangeswarm #beattheducks #117

— maurice couch (@MoTrilla44) September 13, 2013
UPDATE: Thursday, Sept. 12
AL.com's Andrew Gribble has the latest on Couch's eligibility:
Tennessee defensive tackle Maurice Couch, the lone active player named in Wednesday's Yahoo! report detailing improper benefits provided to five SEC players, has been declared ineligible by UT for Saturday's game at Oregon.

"We have declared him ineligible for this game," Tennessee coach Butch Jones said on Nashville's 104.5 FM The Zone. "Our compliance office is looking into the logistics of the situation."
UPDATE: Thursday, Sept. 12
From CBS' Jeremy Fowler:
Fletcher Cox and Chad Bumphis cooperating with Mississippi State in internal investigation re: Yahoo! report, according to sources

— Jeremy Fowler (@JFowlerCBS) September 12, 2013
UPDATE: Wednesday, Sept. 11
Tommy Deas and Aaron Suttles of TideSports.com give us the latest updates on how Alabama has responded to the allegations brought forth in Yahoo! Sports' report:
Former University of Alabama lineman D.J. Fluker has been interviewed by UA compliance officers and is cooperating with the school's investigation into allegations that he received improper benefits while playing for the Crimson Tide, TideSports.com has learned.

TideSports.com has also learned that Luther Davis, the former player cited in a Yahoo Sports report as the conduit for the money and benefits, has been informed that he is not welcome around the UA football facility and UA officials have warned him to stay away from players.

UA was already looking into the matter before the Yahoo Sports report was published Wednesday, and has worked with the Southeastern Conference in investigating the charges.
UPDATE: Wednesday, Sept. 11
Here is coach Nick Saban's press conference responding to the allegations on Fluker (via UStream):
UPDATE: Wednesday, Sept. 11
From Bleacher Report's Marc Torrence:
Saban: Situation will be handled "appropriately." Doesn't know anything about current players.

— Marc Torrence (@marctorrence) September 11, 2013
Saban: For as high profile players as we've had around here, I'm happy with how *most* of them have handled circumstances.

— Marc Torrence (@marctorrence) September 11, 2013
Saban: [this week] hasn't been distracting, because I don't even read about it.

— Marc Torrence (@marctorrence) September 11, 2013
Saban and an SID both shut down a question about how the timing will affect the game.

— Marc Torrence (@marctorrence) September 11, 2013
Original Text
Couch is the only player on the list still playing in the SEC. Fluker (San Diego Chargers), Cox (Philadelphia Eagles) and Bray (Kansas City Chiefs) are all currently in the NFL. Bumphis made it to the final round of cuts with the Miami Dolphins but did not make the regular-season roster.
Per Getlin and Robinson, "The identities of these players were revealed in a web of financial and text message records belonging to former Crimson Tide defensive end Luther Davis."

Davis was reportedly acting as a middle man between the college stars mentioned in the report and a string of NFL agents and financial advisors. According to this tweet from Robinson, Davis was well equipped with financial ammunition from the men he answered to:
From @Rand_Getlin and myself: Agents & financial advisers provided $45,550 to the man giving benefits to 5 SEC players.

— Charles Robinson (@CharlesRobinson) September 11, 2013
The full Yahoo! Sports report has an audit of bank statements, text messages, Twitter connections and additional information that incriminate each of the players in question. Fluker's mother, Annice, comes up quite frequently in the investigation's findings, as does the Davis connection to each player.
As NFL Network's Albert Breer noted on Twitter, the next step in the process could have far-reaching effects for the programs tied to the report:
If Fluker is found to have been ineligible, NCAA could go back strip Alabama of wins, titles, etc. http://t.co/dDsTNY8LKE

— Albert Breer (@AlbertBreer) September 11, 2013
Fluker started every game for the Crimson Tide in each of the last two seasons, both of which culminated in a BCS National Championship. Clearly, any potential repercussions against Alabama resulting from this story would have a significant impact.

Of course, the shocking revelations found in Getlin and Robinson's report aren't the first to make waves this year, as other scandals regarding improper benefits have hit news stands.
SEC and Texas A&M QB Johnny Manziel was given a half-game suspension from the NCAA on the heels of an investigation into whether or not he took money from autograph brokers for his signature.
According to a Sports Illustrated report from George Dohrmann and Thayer Evans that was released on Tuesday, former Oklahoma State players received benefits during a period spanning from 2001 to as recently as 2011.
The news about Fluker, Bray, Cox, Bumphis and Couch is just the latest to surface in what has become an unfortunate trend in the NCAA.
This article is
What is the duplicate article?
Why is this article offensive?
Where is this article plagiarized from?
Why is this article poorly edited?