NFL Week 2 Injury Report: Fantasy Advice Heading into the Weekend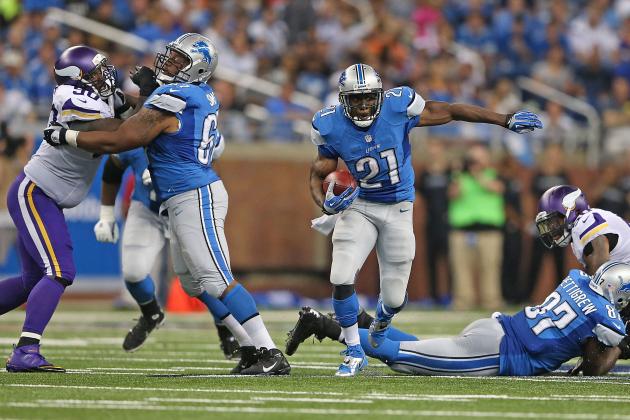 Leon Halip/Getty Images

Chicago listed no one on last week's Official Injury Report. While I'm sure that's happened before, it's still quite unusual, but it might be telling. While no one keeps official stats on this, the OIR this week is as short as I can remember it, even with several teams listing as many as 20 players on it.
There was a slight increase in the actual numbers of camp injuries but a giant increase in the perception of injuries. An "epidemic" of ACL injuries got a lot of attention, but as we settle into the season, even with the small sample of two weeks, it appears that we're seeing a bit less in the way of listed injuries. I won't pretend to have an answer, though the NFL would surely point to the new practice rules.
I'll be very interested to revisit this in a couple weeks, especially in terms of concussions and traumatic knee injuries. From my standpoint, watching all the games this week through the lens of sports medicine, we are seeing signs of a culture change. Players were pulling off hits that I think they would have taken last year, mostly for fear of penalties and fines. There were a lot of nice, hard-form tackles, showing that it can be done.
We also saw a lot of low tackles, part of the unintended consequence. We'll have that as long as we have undersized players and powerful backs, though backs also seemed to change their tactic of bull rushing, head down as well. I like to see progress and I like to see reductions in injuries. There are enough positive signs that we're dealing with a revolution, not the evolution most expected.
Now, let's look around the league...
Begin Slideshow

»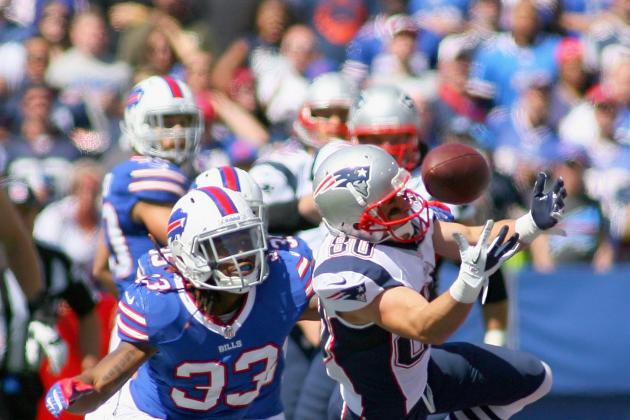 Rick Stewart/Getty Images

UPGRADE: Julian Edelman, LaGarrette Blount
DOWNGRADE: Geno Smith, Stevan Ridley, Danny Amendola
Danny Amendola is the big worry for the Pats. His groin strain and the short week aren't helping, but there's still a chance he plays tonight. That said, this is looking like more than a one-week injury and even with the long week coming up, Mike Reiss of ESPN is saying that Amendola could miss more time.
Shane Vereen is out, as is Rob Gronkowski. Zach Sudfeld is also out, leaving a real TE gap. Brady's targets seem to all be falling by the wayside, so Kenbrell Thompkins gets another big chance, though Julian Edelman is the smart play as he continues to get looks in the red zone.
Look for Stevan Ridley to get more touches, but watch out for his minor shoulder injury, meaning LaGarrette Blount is likely to get more work, especially in the red zone. Overall, there are a lot of targets that only Tom Brady knows where they'll go.
For the Jets, Mark Sanchez is out, but that shouldn't affect much. The rest of their extensive injury list is more of an issue. They have 20 players on the list. The biggest issue is at WR, where Jeremy Kerley is out with a concussion, Santonio Holmes isn't 100 percent, and even Stephen Hill is banged up. Both tight ends and both running backs are probable, but that means they're less than 100 percent as well. Add in a bad matchup and there's no one on the Jets offense that I could recommend.
INJURY: strained ribs
OUTLOOK: will play in Week 2
Here's how the magic trick works. The Cowboys are saying that Tony Romo does not have fractured ribs, such as in this Dallas Morning News notes column. The X-rays were negative. There's no planned equipment change. While they're getting most people to look over there, they're hiding that Romo does have an injury. He strained the cartilage in between the ribs, which can be even more painful and linger more than a fracture.
Of course, it only hurts when Romo breathes or moves his arms, so I guess they could limit those, but that's tough for a quarterback. The best solution would be to keep Romo upright, but that's not always possible. Kansas City's defense will definitely try to touch Romo on as many occasions as possible to test those ribs. That's not targeting as much as it is a standard strategy.
Romo and Jason Garrett will have to figure out how to limit those touches. His mobility shouldn't be affected and could be a solution to the issue. I'm also watching to see if Romo switches back to his advanced protection, as he wore after he fractured his ribs in 2011. (See the video above for what those pads are like.)
You should watch to see if painkillers are helping, with a decrease in effectiveness the further into the half they get. Unfortunately, fantasy works on a game-by-game basis, but if there were a way to pull a guy halfway into a quarter, this might be it. I don't think Romo will be too limited, but he could be tested, especially in terms of pain tolerance.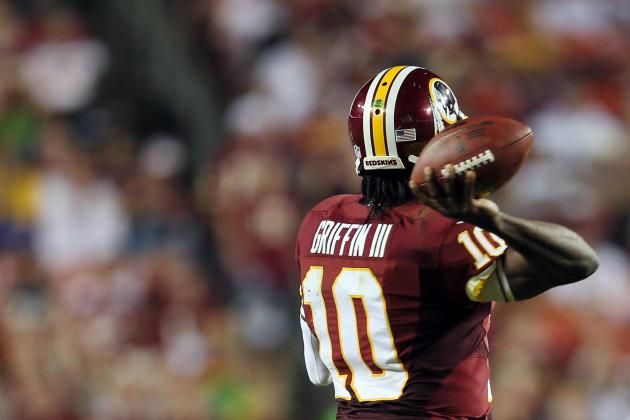 Rob Carr/Getty Images

INJURY: post-ACL reconstruction
OUTLOOK: no deficits
Robert Griffin isn't the Tin Man. He isn't rusty. Even the screws that hold his repaired ACL in place don't rust. Then again, maybe "rusty" is the best word for how he looked in Week 1, or at least the first half of the game.
Jon Gruden did a great job of breaking down how Griffin wasn't stepping into his throws. That could be confidence or sync or we could just call it rust. In his movements and his running, he didn't show any deficits, though he did seem a bit uncomfortable with the brace. That's par for the course.
Griffin didn't do as much running, though he looked fine when he did. He showed good cuts and good stopping ability, very positive signs. He seemed more willing to slide and run out of bounds, which seems smart, rather than tether himself to the pocket.
I expect to see more of the Griffin we're used to in Week 2 and some gradual improvement as he gets more comfortable with what he can and can't (or at least shouldn't) do. There's no physical reason to not use Griffin if he's your best QB. Honestly, I think this will be the last time we talk about Griffin in this space for this issue and hopefully for a while.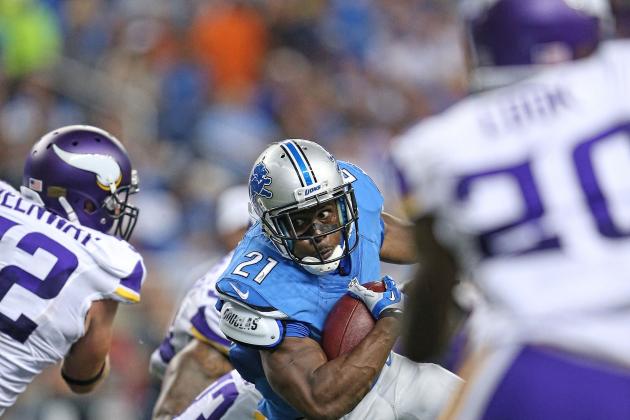 Leon Halip/Getty Images

INJURY: strained groin, dislocated thumb
OUTLOOK: expected to play Week 2
Reggie Bush is many things, but not durable. He was great in Week 1, but he didn't come out unscathed. The dislocated thumb can be ignored. Bush will adjust easily, and it's not something that often lingers. The groin strain is more worrisome.
Bush will still have his quickness, but he might not have all his lateral motion. That's going to make him less shifty and could cause him to take more hits. That sets up a vicious cycle for a player who already has durability questions.
Bush can't succeed as a power runner or a one-cut runner, so there will need to be some game-planning. The Lions have carefully not said which side the injury is on, so they can run him to limit that. Look to see if the playcalling leans to one side to see which is affecting Bush. The downside there is the Cardinals will likely figure it out as quickly as you will.
The Lions are saying they're going to use Bush normally, but I think Jim Schwartz is smarter than that. Picking and choosing where Bush can best be used is that smarter play, with a bit of an increase in touches for Joique Bell, who's red-zone work makes him a decent flex play.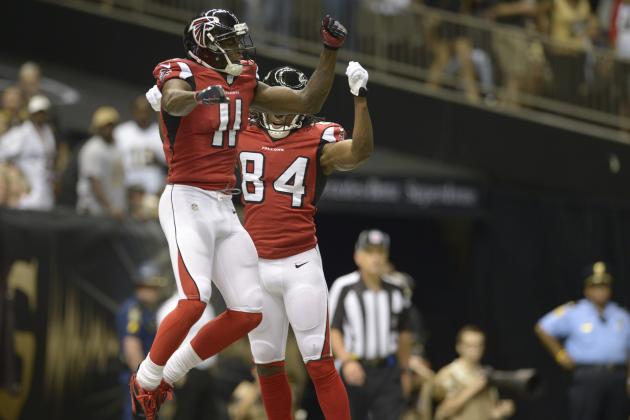 John David Mercer-USA TODAY Spor

INJURY: high ankle sprain (White); unknown knee (Jones)
OUTLOOK: will play Week 2 but limited (White); unknown (Jones)
Matt Ryan is great at finding the open receiver, maybe the best in the game. Having three great receivers makes that skill key, but it's a negative for a receiver that's a bit off his game. Ryan can switch the targets, quickly and easily. There's no No. 1 or even a 1A. If you're open, you get the ball.
We saw that last week as Roddy White was able to play despite an ankle injury, but he wasn't able to play well. His targets were way down, largely because he wasn't getting any separation or making any hard cuts. He was rounding off patterns and acting as a decoy at times. That helps the team to some extent, but not fantasy owners.
White takes his durability as a point of pride, but the Falcons medical staff is going to have to put an end to the consecutive games streak if taking a game off will help heal things up. It's hard to imagine he'll be much better if he is in the lineup this week.
The complicating factor is the new knee injury to Julio Jones, as detailed here by the Atlanta Journal-Constitution. There's almost no information on this and sources are not talking. Mike Smith refused to give any more details and as usual, the OIR doesn't give any real details. This one bears watching to see if Jones is limited on Sunday or if this was merely a precautionary move. If both WRs are hurting, Tony Gonzalez becomes a must-start, while Harry Douglas becomes an "if you must" play.
Just a reminder: I'll be watching these very closely and hope to have a better read on these Sunday morning during the Med Check and #FantasyLive.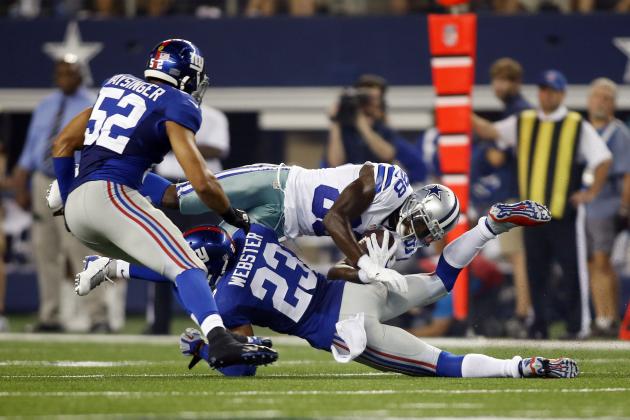 Tim Heitman-USA TODAY Sports

INJURY: sprained foot
OUTLOOK: will play Week 2
Dez Bryant had quite the reaction on the sidelines, almost going the full cooler over what many think was something the medical staff said about his foot. That remains unclear, but with Bryant back at practice on Thursday, what ESPN calls a "little bit of a foot injury" appears to have the emphasis on the little.
The injury is described as a very mild sprain, enough to be annoying and necessitate some treatment, but not enough to really affect him. Sources tell me that the medical staff is taking a look at whether some sort of shoe insert may help, but that's a very minor change that shouldn't have any affect on how or whether he plays.
Expect Bryant to play normally on Sunday. The Chiefs will try to jam him and force hard cuts on the foot, shading him away from the injury. From what observers have seen of him in practice, that won't last long as Bryant is too physical to play that way when he's healthy. He's close enough to be dangerous, and that means he should be in your lineup in all formats.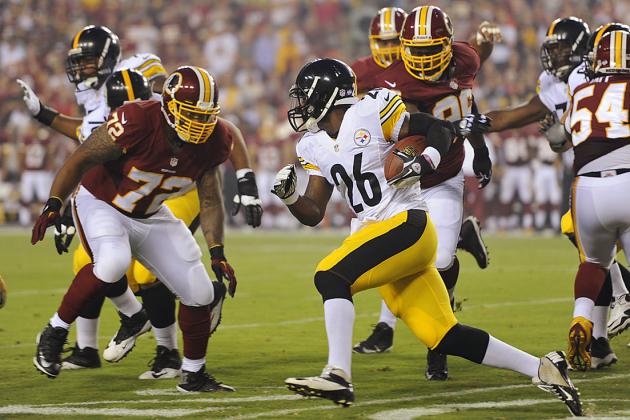 Geoff Burke-USA TODAY Sports

INJURY: Lisfranc injury, right foot
OUTLOOK: will not play Week 2. possible return Week 6.
I like an optimistic athlete. When they're going through a grueling rehab, I want them working hard and believing that they'll be back quicker than ever. That said, I barely listen anytime an athlete says something like that, though the team's actions in the Le'Veon Bell situation led me to believe there might be something there.
Bell's Lisfranc injury is not going to be a four-week injury and he's not going to be back this week. In fact, it's looking like he won't be back until next month, perhaps longer, according to Dejan Kovacevic. This shouldn't be unexpected. Bottom line: No player has come back as quickly as the Steelers were suggesting from this kind of injury.
While Bell has a Lisfranc injury, there's still some question about just how serious it is. There's a lot of bones and ligaments that can be involved. How many and the severity factor into how long a player is out and how well they come back, but those kind of specifics aren't available out here. Thinking of the Lisfranc as one injury is a bad way of looking at it, but it's the best we have. Understanding that helps us understand why there's such a broad range of return time frames.
I'm still concerned by this on the heels of Bell's collegiate workload. Yes, I'm a believer in the concept of the "Curse of 370" if not locked into any one number. Given this injury, I'm not entirely convinced it's a coincidence that Bell is having physical issues, though I'm not ready to say it's causation either.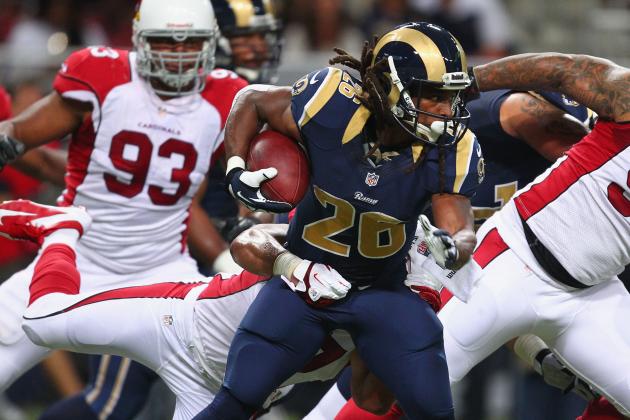 Dilip Vishwanat/Getty Images

Jamaal Charles: Charles has a thigh bruise, but it doesn't appear to be anything significant. A little ice and a week of healing should have him near normal in function and usage.
Daryl Richardson: Across Missouri, the Rams RB1 is dealing with a bit of a foot issue. The Rams medical staff could be seen checking it at one point during the game and now Richardson missed practice on Wednesday. I'll be keeping an eye on whether he's going to be ready to go Sunday or if the returning Isaiah Pead will take some of the touches.
Wes Welker: Welker missed practice on Wednesday, along with Eric Decker. The Broncos aren't going to wear down their WRs this early in the season, so expect them to often be held out to buy them some rest and healing time when there's even minor issues, like Welker's ankle. Welker should play normally this week.
Jermichael Finley: Finley went to Minnesota for treatment on a toe injury. Finley was stepped on, a mechanism that leaves open several possibilities including turf toe. That wouldn't be the usual way of getting the painful injury, but it's definitely a concern for the Packers. Watch to see how Finley practices on Friday for early signs he will be limited against Washington.
Mark Sanchez: Sanchez visited Dr. James Andrews and got confirmation on his shoulder injury. He has a torn labrum (a SLAP tear, to be specific), but at this stage, has decided to rehab it instead of undergoing surgery. The Jets will assist him for the next few weeks, meaning he will be inactive at the very least. The Jets haven't yet moved towards the IR or IR-R, but it's very possible. Sanchez may yet need surgery to repair it, as this tear is unlikely to heal without it. On a fantasy level, it's time to dump him in that one percent of leagues where he's owned.
Owen Daniels: Daniels had a big game for the Texans in their comeback, single-handedly killing one of my fantasy teams. I'm not bitter. He did take a beating, coming out with a mild groin strain and a sore back. He should be fine by Sunday, though watch to make sure he ups his practice activity by Friday.