Seeing Edgbaston cricket ground through the window of Sky Sports' studio with covers all over the square and the pitch is an image seen all too often this summer.
Indeed the Birmingham ground has hosted six international matches and two have been abandoned and two others significantly curtailed by rain.
Bidding for and hosting international fixtures is enormously expensive and wet summers can cause huge damage to counties' finances.
Edgbaston can count itself enormously lucky, however, that they hosted the Champions Trophy Final and India versus Pakistan in the same tournament; two of the most profitable matches of the year in terms of gate receipts.
Both these matches were hit hard by the weather which, while at first glance seems like a curse, can be a blessing.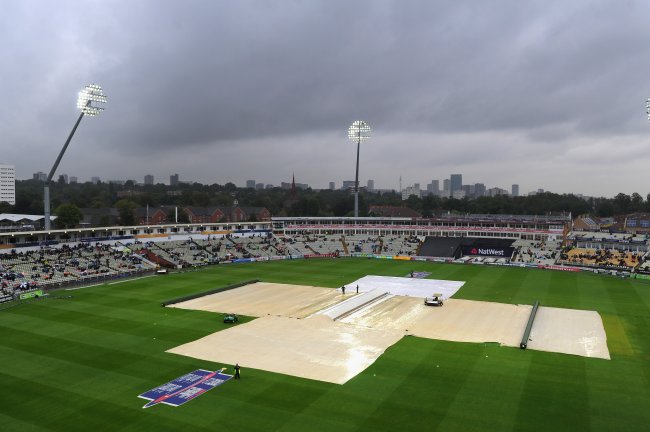 Stu Forster/Getty Images
Rain forces the paying punters away from their seats into the bars and food courts where more money is spent than if the weather is fair.
Thus the two highly-attended clashes of India-Pakistan and India-England in the final could well have made Edgbaston big money.
The daft thing isn't scheduling cricket matches in September; the daft thing is scheduling them in England.

— Dave Tickner (@tickerscricket) September 11, 2013
Of course, the two washouts will hurt. Most notably England-Australia today, but Australia-New Zealand was a match that would have been relatively poorly attended—especially in comparison to matches involving Asian teams that were boosted by Birmingham's large Asian population.
Edgbaston has recently undergone a massive restructuring, which involved a new drainage system being installed.
Without this drainage system, the India-Pakistan match and the final would probably have been washed out and that really would have cause enormous financial difficulties for the club.
STAT: There have been 54 ODIs played in England in September. Of those 3 have had no result due to rain.

— The Cricket Geek (@TheCricketGeek) September 11, 2013
During both those matches, the ground staff worked tirelessly and, for the final, the cut-off time was pushed back to ensure a result. At both fixtures, there was palpable surprise that each match went ahead.
It's not pushing the realms of logic, therefore, to say they were literally minutes away from not even happening.
Not sure why they didn't play today tbh. This match was played in far worse conditions...#EngvAus pic.twitter.com/et4zPzSbrn

— Freddie Wilde (@fwildecricket) September 11, 2013
Of course, until the official figures are released, it's very difficult to estimate the kind of summer Edgbaston has had. It sure won't be pretty, but it's a damn sight better than it could have been had they had a few more seconds of rain here and there.
This summer has demonstrated both the need for a quality drainage system and the danger of hosting international cricket matches in England.