Man Buys $300 Storage Unit and Unearths Dikembe Mutombo Memorabilia Collection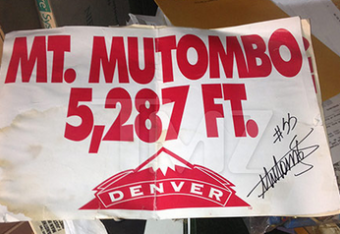 Via TMZ

As my grandfather used to say, "You should always blindly bid on storage units because you never know when you're going to get one that houses a bunch of valuable memorabilia that belonged to Dikembe Mutombo."
In hindsight, that advice was oddly specific. But it worked out nicely for one intrepid bidder.
According to TMZ.com, Adrian Petrus paid $300 for access to a storage unit that turned out to contain heaps of Mutombo mementos. Fortunately, the shot-swatting big man didn't appear out of thin air to reject Petrus' attempts to handle and photograph some of the choicest pieces.
So we've got some amazing evidence of the contents.
There were major blasts from the past, including Mutombo's Georgetown Hoyas practice jersey.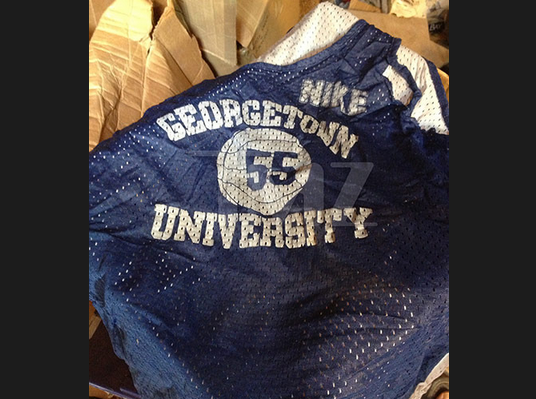 Here's hoping that thing saw the inside of a washing machine before it went into storage for 30 years. Based on the fact that the photographer was able to stay in the room long enough to snap a picture, we're assuming the smell wasn't too overwhelming.
Moving ahead chronologically, the unit also contained a Denver Nuggets basketball signed by such luminaries as Robert Pack and Rodney Rogers. And those are just the signatures we can make out from the pictures.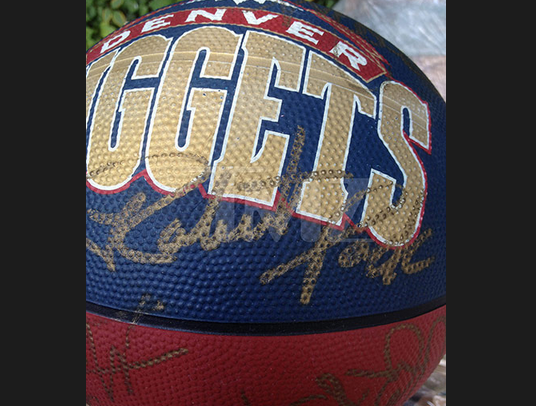 Who knows? There could be an authentic Bryant Stith autograph on that thing. Imagine what that would fetch at auction.
Also: shoes!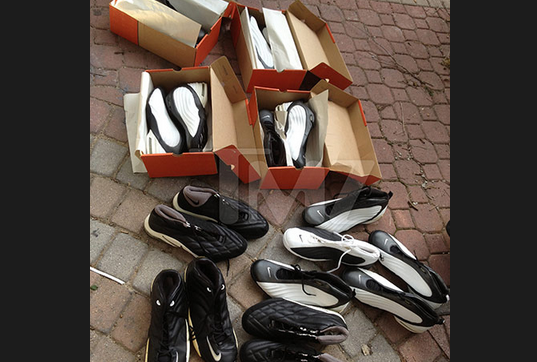 Even though they're still brand new, these probably won't be of much use to anybody. Mutombo wore size 17 kicks.
We've saved the best for last, though: a pair of photos with two guys who couldn't possibly be situated further apart on the pop culture spectrum.
First, there's a picture of Mutombo shaking hands with former South African president and iconic anti-apartheid revolutionary Nelson Mandela.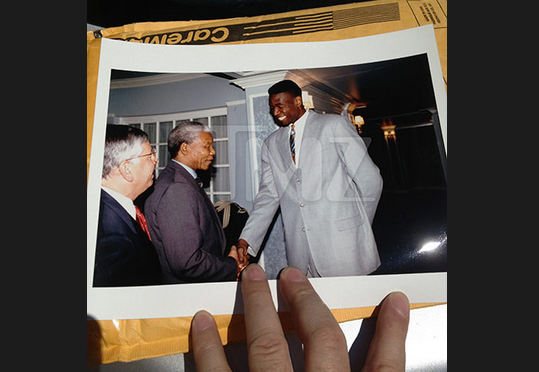 Amazing, right? Mutombo's humanitarian work clearly helped him meet some incredible people.
And then there's this one: a photo of Mutombo eating sandwiches with Michael Jackson (or at least somebody with enough of a resemblance to still make this picture sufficiently weird).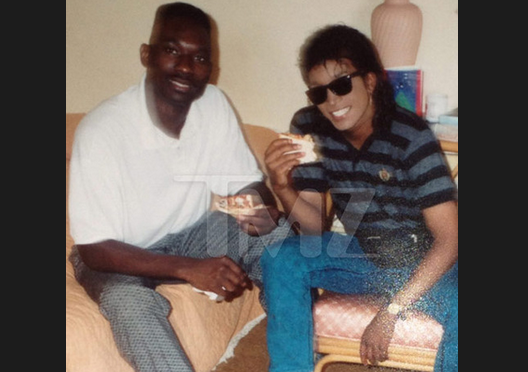 I don't even have a joke for this. Its utter strangeness renders attempts at humor useless.
Now if you'll excuse me, I'm going to go listen to Thriller while I enjoy a Reuben.
This article is
What is the duplicate article?
Why is this article offensive?
Where is this article plagiarized from?
Why is this article poorly edited?