The Ultimate Fighter 18: Team Rousey vs. Team Tate, Episode 2 Live Results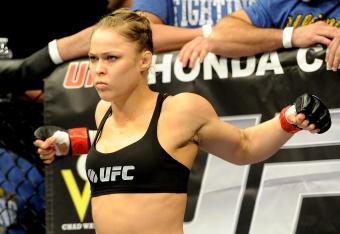 Jayne Kamin-Oncea-USA TODAY Sports
The Ultimate Fighter settles in for its 18th season with new coaches Ronda Rousey and Miesha Tate on Wednesday evening at 10 p.m. ET.
The first matchup will see vastly experienced Team Rousey member Shayna Baszler take on Team Tate rep Julianna Pena. Baszler comes in the heavy favorite, so we will see how things play out.
Stay tuned for live updates and coverage from the second episode.
Well folks, that's a wrap. Jessamyn Duke's blog of episode two is out now, so give it a read. It's very interesting. http://bleacherreport.com/articles/1770075-tuf-18s-jessamyn-duke-episode-2-blog
In all fairness Baszler said Pena "doesn't belong in the same ring as her". They were fighting in an octagon #TUF

— Derek Brunson (@DerekBrunsonMMA) September 12, 2013
That's a different way to look at it.
Fight announcement is now. Chris Holdsworth of Team Tate will take on Chris Beal of Team Rousey. Remember, Beal has a hand injury, so that's why they picked him. Ronda is not happy, she thinks it's a weak pick. She then talks some smack at Miesha about "smiling at Shayna's pain" and storms off.
Rousey consoles Shayna and gives her words of encouragement, saying it's not always the person who wins that is most successful in the UFC. That is true actually.
Ronda Rousey is very emotional. She is actually crying for Shayna in the confessional. That shows how passionate she is here. I actually respect her for that.
They scramble off the cage and Julianna ends up on top. Shayna's nose is bloodied. Julianna gets her back and throws some punches. She sinks in a rear-naked choke and it's all over! What an upset! Never would have called that.
Official result: Julianna Pena (Tate) def. Shayna Baszler (Rousey) via rear-naked choke in round two
Julianna comes out throwing leather. Shayna tries to get her down, but is struggling. They clinch against the cage.
In between rounds, Shayna looks a little tired. Julianna looks to be gaining confidence.
Did you seriously just let go of a spladel? @QoSBaszler

— Tara LaRosa (@TaraLaRosa) September 12, 2013
I also saw that. Shayna had a spladel (split inside cradle), a wrestling move. She could have possibly finished her from there, but that's a big if. That would have been tough, but she is very experienced in wrestling, submissions and all-around ground work.
Julianna searches for a takedown, but is struggling to complete it. They scramble to their feet, but Baszler throws her. She's in side control before getting reversed. Julianna lands some great ground strikes, but gets reversed on the ground. Shayna ends the round on top, taking it 10-9 on my scorecard.
Shayna gets Julianna's back, but can't get her second hook in, so she bails. Julianna fishes for an armbar, but eats some nasty punches. Shayna is clearly superior on the ground.
Julianna comes out and hits Shayna a few times. They clinch against the fence, but Shayna quickly throws her down.
"She should be coming to my seminars" - Baszler . Definitely some Rousey swag #TUF

— Derek Brunson (@DerekBrunsonMMA) September 12, 2013
D-Brunson knows what's up. By the way, follow him on Twitter, I owe him from a bet stemming from Carlos Condit-Nick Diaz.
Cleaning and eating broccoli. I think that's a good combo

— Felice Herrig (@feliceherrig) September 12, 2013
Why is Felice not watching this show?!
The way Ronda talks before a fight, I think I would be pumped up to scrap too. She talks like my high school hockey coach used to.
Wow, Shayna says Julianna doesn't deserve to be in the same ring as her. She also says Julianna should be coming to her seminars. That's swagger and great confidence there.
Wow, Sarah Moras (Julianna's teammate) says Shanya is going to win. Good to see some team support there, haha.
Shayna says the worst part of fighting is getting her corn rows put in. I'd imagine it doesn't feel great, but hey if you're a fighter, you should be used to getting punched in the head...but I digress.
The death card muahahaha #TUF

— Kaitlin Young (@kaitlin_young) September 12, 2013
I guess I wasn't the only person who thought that was awesome...
It broke my heart to see @TimmyGormanMMA sent home. Think what you want but he's all heart!! Can't wait to see him in the @ufc

— Jessamyn Duke (@jessamynduke) September 12, 2013
I can agree with this. I really think Gorman would have been the most entertaining guy in the house.
Here we go for the weigh ins. Shayna steps up first and tips the scales at 134. Julianna steps up and weighs in at 135. They square off and Shayna puts a queen of spades card in Julianna's sports bra. Team Tate members are a little ticked off, while Team Rousey members think it's to get in her head. I thought it was boss.
Dana White calls in Tim Gorman and Miesha Tate to talk in his office. A doctor is there talking to them about his hamstring and the MRI they took. He tells him he has a serious hamstring tear and likely out four-to-six months. He isn't having it and says he will compete on it, but Dana is sending him home. In his place, Dana is bringing back Louis Fissette, who was tapped out by Chris Holdsworth in the elimination round. Now they are teammates.
Julianna thinks she has more pressure than anybody being the top pick and just how she personally is about herself. She says just because you're a fighter doesn't mean you aren't feminine. She got in the sport after doing cardio kickboxing and staying for the MMA class. She has trained with Miesha Tate before, and Tate compliments her by saying she has great heart, which is something you cannot teach.
Shayna is talking herself up. She has fought some of the best in the world and Julianna doesn't hold a candle to them. She grew up in a family of wrestlers, which explains her background. She went to college, but this came up and she fell in love with it. The beginning of her career had fights in warehouses for $300. She truly is one of the pioneers and vets of the sport.
This article is
What is the duplicate article?
Why is this article offensive?
Where is this article plagiarized from?
Why is this article poorly edited?