Each MLB Team's Biggest Emerging Star of the 2013 Season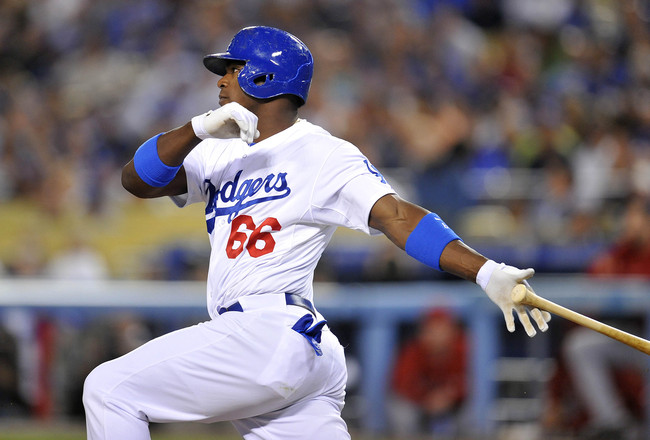 Gary A. Vasquez-USA TODAY Sports
Every season there is at least one player on every team who surprises both the fans and the franchise with his performance. Players who were once thought of as league average or as organizational filler are all of a sudden thought of as rising stars thanks to a strong season.
These rising stars can be either in the major leagues or the minors. Prospects who had previously not made a name for themselves could break out in big ways.
Here is a look at some players who have earned the attention of many thanks to their strong performances this season.
Note: Statistics as of games entering September 12
Arizona Diamondbacks: Patrick Corbin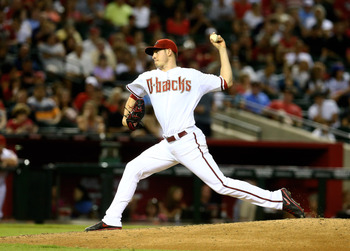 Mark J. Rebilas-USA TODAY Sports
2013 Stats: 14-6, 2.92 ERA, 167 K
Expectations for Patrick Corbin have been high since he was drafted in the second round of the 2009 MLB draft and as he continually demonstrated he could handle the minor leagues.
Corbin was given a role in the Arizona Diamondbacks' rotation in 2012, and he went through some rookie struggles. He finished the year with a 4.54 ERA.
In his second season in the MLB, Corbin has lived up to and possibly exceeded the expectations. Corbin ranks in the top 10 in the National League in categories such as ERA, wins, H/9 and innings pitched. It is clear Corbin could be the ace of Arizona's staff for years to come.
Atlanta Braves: Julio Teheran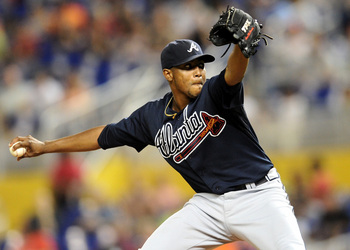 Steve Mitchell-USA TODAY Sports
2013 Stats: 12-7, 3.05 ERA, 154 K
There is no denying Julio Teheran is a talented pitcher. The fact that he was ranked in the top 50 of Baseball America's prospect rankings for the past three years demonstrates that.
However, Teheran's struggles in his few big league starts in 2011 and 2012 as well as his poor performance when repeating Triple-A last season led to some questions.
It seems as if Teheran has answered all of them this year with his brilliant performance. Despite being only 22 years old, Teheran has shown he can be a leader for one of the top teams in baseball.
Baltimore Orioles: Manny Machado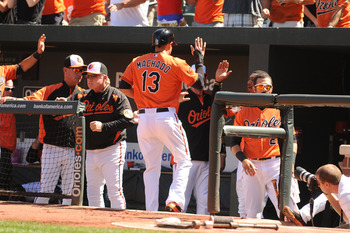 Mitchell Layton/Getty Images
2013 Stats: .292/.321/.445, 13 HR, 69 RBI, 6 SB
As one of the elite young players in baseball, there were big expectations for Manny Machado as he entered his first full season in the major leagues.
Throughout the course of the year, he has proved he has the talent to be a star in the league for years to come. He has managed to hit close to .300 in his age-21 season, so it will interesting to see what he can do when he has a bit more experience under his belt.
Boston Red Sox: Xander Bogaerts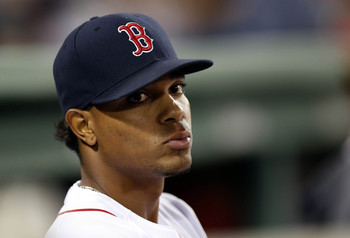 Greg M. Cooper-USA TODAY Sports
2013 Stats: .333/.360/.500, 1 HR, 4 RBI (MLB), .297/.388/.477, 15 HR, 67 RBI, 7 SB (MiLB)
Although he is just 20 years old, Xander Bogaerts proved to the Boston Red Sox with his performances in both Double-A and Triple-A this season that he was ready for the big leagues.
Boston decided to give him a late season call-up, and in this small sample size, things have gone well. The young infielder is trying to put himself in a position to win a starting role in Boston next season.
Chicago Cubs: Junior Lake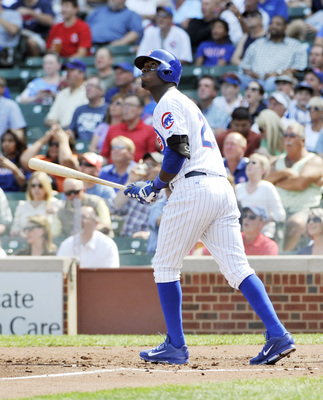 David Banks-USA TODAY Sports
2013 Stats: .313/.356/.474, 6 HR, 16 RBI, 4 SB (MLB), .295/.341/.462, 4 HR, 18 RBI, 14 SB (MiLB)
In yet another down year for the Chicago Cubs, there has been at least one bright spot for the future. Junior Lake has made a name for himself as someone who could be a fixture in the Cubs' lineup for years to come.
Lake began the season at Triple-A, and the Cubs decided to call up the third baseman to give him a shot to play in their outfield. The move has worked out for Chicago thus far, as Lake has been very productive offensively to the tune of a 124 OPS+.
Chicago White Sox: Avisail Garcia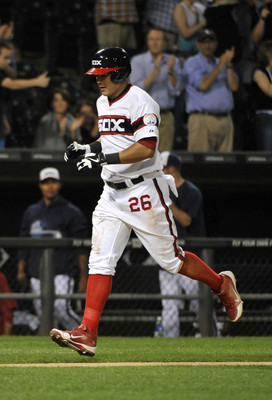 David Banks-USA TODAY Sports
2013 Stats: .277/.312/.398, 4 HR, 23 RBI, 2 SB (MLB), .379/.431/.561, 7 HR, 36 RBI, 6 SB (MiLB)
Despite having limited major league experience, Avisail Garcia made a name for himself with his strong performance in the 2012 ALCS by hitting .455 against the New York Yankees.
When the Chicago White Sox dealt Jake Peavy in a three-team deal this winter, they targeted Garcia as the centerpiece of their return. The move has worked out for Chicago, as Garcia has shown a lot of promise since joining the team by hitting .317 in his first 28 games.
Cincinnati Reds: Tony Cingrani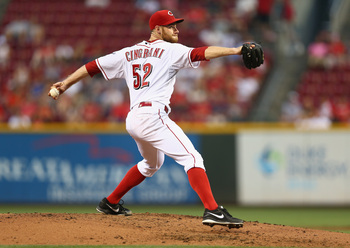 Andy Lyons/Getty Images
2013 Stats: 7-4, 2.92 ERA, 120 K (MLB), 3-0, 1.15 ERA, 49 K (MiLB)
The minor leagues have been no match for Tony Cingrani as he posted a combined 1.65 ERA in four levels over three years since being drafted. He has been able to continue his success once reaching the majors.
Cingrani has the lowest ERA in a good Cincinnati Reds' starting rotation, and he has a very impressive 10.3 K/9 rate. He is certainly a player who has drawn much more attention in 2013 based on his performance.
Cleveland Indians: Danny Salazar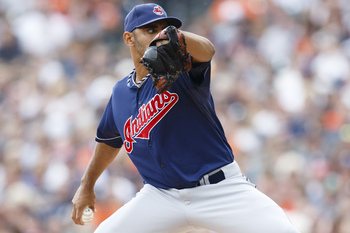 Rick Osentoski-USA TODAY Sports
2013 Stats: 1-2, 2.92 ERA, 45 K (MLB), 6-5, 2.71 ERA, 129 K (MiLB)
Few players have had a more impressive major league debut this season than Danny Salazar. In his first major league start, Salazar took a no-hitter into the sixth inning against the mighty Detroit Tigers and ended the game with seven strikeouts, one earned run and a win.
Cleveland has continued to turn to Salazar as they try to grab one of the wild-card spots, and for the most part, it has led to very positive results.
Colorado Rockies: Rex Brothers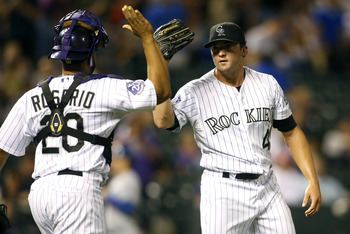 Chris Humphreys-USA TODAY Sports
2013 Stats: 2-1, 16 SV, 1.78 ERA, 66 K
Pitching at Coors Field is never an easy task, but Rex Brothers has not had much of a problem with it this season. He has looked like one of the better relievers in the league so far.
The Colorado Rockies handed him the closer's role this year, and he has been dominant in that position. Now, the Rockies just need to find more ways to hand him a lead in the ninth inning so that he can wrap things up.
Detroit Tigers: Nick Castellanos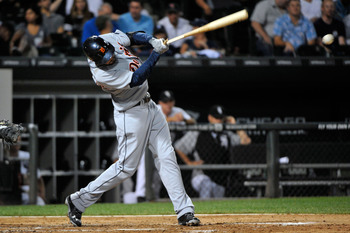 Rob Grabowski-USA TODAY Sports
2013 Stats: .273/.273/.273, 0 HR, 0 RBI (MLB), .276/.343/.450, 18 HR, 76 RBI, 4 SB (MiLB)
As a top prospect in the Detroit Tigers' organization, the spotlight has always been on Nick Castellanos. Over the course of the year, he has shown significant improvement in the power department, and he has demonstrated the ability to transition to the outfield.
Castellanos earned a call-up to the Tigers based on his minor league performance this season, and the team is hoping he can help them down the stretch.
Houston Astros: George Springer
Derick Hingle-USA TODAY Sports
2013 Stats: .303/.411/.600, 37 HR, 108 RBI, 45 SB (MiLB)
Houston Astros fans knew it was going to be a long year and that the team would be on the way to a 100-loss season. That does not mean the team is without hope, however.
George Springer absolutely dominated the minor leagues this season, and those who saw him play caught a glimpse of a player who could be a perennial All-Star in Houston. It should be interested to see what Springer can do during his rookie year in the big leagues next season.
Kansas City Royals: Greg Holland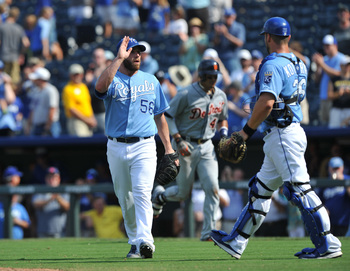 Peter G. Aiken-USA TODAY Sports
2013 Stats: 2-1, 42 SV, 1.35 ERA, 93 K
While the Kansas City Royals have had their fair share of struggles this season, they are still in playoff contention. One of the reasons for that is the performance of closer Greg Holland.
Opposing teams have struggled mightily against Holland this season and have just a .171 batting average against him. He is currently ranked third in the American League in saves and sports an impressive 13.7 K/9 rate.
Los Angeles Angels: Kole Calhoun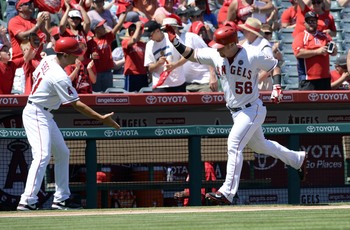 Richard Mackson-USA TODAY Sports
2013 Stats: .295/.362/.496, 6 HR, 25 RBI, 1 SB (MLB), .354/.431/.617, 12 HR, 49 RBI, 10 SB (MiLB)
Even with all of the big names on their roster, the Los Angeles Angels are on pace for a losing season. The team needs some players to step up next year if they are going to turn things around.
One of those players may be Kole Calhoun. The 25-year-old has seen some playing time in the Angels' outfield this season, and his performance has certainly earned him the right to play every day.
Los Angeles Dodgers: Yasiel Puig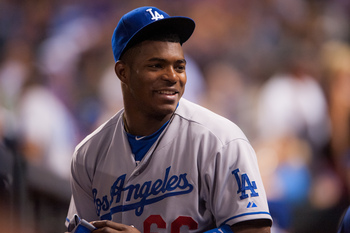 Dustin Bradford/Getty Images
2013 Stats: .340/.404/.556, 16 HR, 36 RBI, 11 SB (MLB), .313/.383/.599, 8 HR, 37 RBI, 13 SB (MiLB)
It could be argued that no rookie has had a bigger impact on his team's playoff chances this season than Yasiel Puig. Prior to Puig's first game with the Los Angeles Dodgers this season, the team was 23-32 and in fifth place in the National League West.
Puig's performance and attitude have served as a spark plug for the Dodgers, and they have been absolutely dominant since he was called up. Puig might not win the National League Rookie of the Year award, but he is an emerging superstar.
Miami Marlins: Jose Fernandez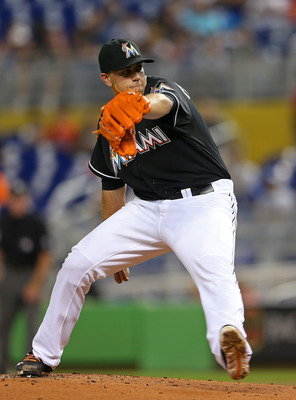 Mike Ehrmann/Getty Images
2013 Stats: 12-6, 2.19 ERA, 187 K
The reason Yasiel Puig will not win the Rookie of the Year award this season is because of the performance of Miami Marlins phenom Jose Fernandez.
Miami's 2011 first-round pick has stunned the baseball world with the performance he has been able to put up before his 22nd birthday. Fernandez has been one of the major league's best pitchers this season, and he has led the National League by allowing only 5.75 H/9 this season and also striking out 9.9 hitters per nine innings.
Milwaukee Brewers: Jean Segura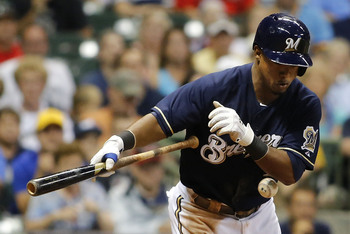 Mark Hirsch/Getty Images
2013 Stats: .298/.332/.428, 12 HR, 46 RBI, 40 SB
Although Jean Segura has cooled down from his scorching hot start, he demonstrated that he is the Milwaukee Brewers' shortstop of the future. He has also made the Zack Greinke deal look much better for the Brewers.
Segura has shown the ability to hit for good power for a shortstop, and he has also displayed impressive speed, which is evident from his National League-leading 40 stolen bases.
Minnesota Twins: Oswaldo Arcia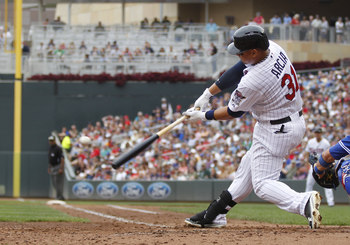 Andy King/Getty Images
2013 Stats: .252/.311/.426, 11 HR, 34 RBI, 1 SB (MLB), .313/.426/.594, 10 HR, 30 RBI, 2 SB (MiLB)
The Minnesota Twins have used a number of young players in their lineup this season, and the one who has stood out the most is Oswaldo Arcia.
Arcia has arguably been the Twins' best outfielder this season. As he gets more exposure to major league pitching, his numbers should continue to improve.
New York Mets: Zack Wheeler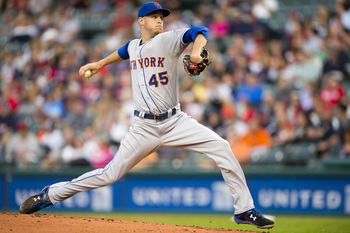 Jason Miller/Getty Images
2013 Stats: 7-5, 3.22 ERA, 81 K (MLB), 4-2, 3.93 ERA, 73 K (MiLB)
Although Juan Lagares has shown he could be one of the solutions to the New York Mets' outfield problems, he is not the biggest emerging star on the team's roster.
Zack Wheeler has lived up to the hype and has demonstrated he can be part of a formidable one-two punch with ace Matt Harvey. As the Mets look to contend moving forward, Wheeler will be an important part of their team.
New York Yankees: Rafael De Paula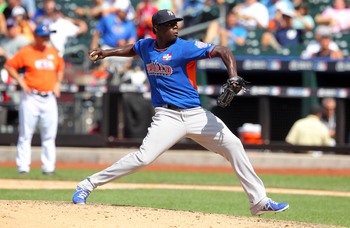 Brad Penner-USA TODAY Sports
2013 Stats: 7-5, 4.29 ERA, 146 K (MiLB)
The New York Yankees did not have any young players on their major league roster who really broke out in a big way this season. Many of their top prospects struggled as well.
Rafael De Paula may have had his share of struggles when he was promoted to High-A, but he demonstrated that he was ready for full-season ball when he posted a 2.94 ERA in 13 starts at Single-A.
Oakland Athletics: Josh Donaldson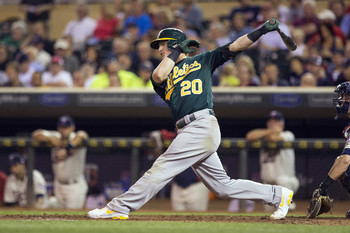 Jesse Johnson-USA TODAY Sports
2013 Stats: .299/.374/.495, 21 HR, 83 RBI, 4 SB
Josh Donaldson was entering his prime at age 27 this season, but it is hard to believe many people expected him to perform as well as he has this season. Donaldson's performance is one of the reasons why the Oakland Athletics lead the American League West.
His performance has been so good this season that Jeff Sullivan of FanGraphs, wrote a piece suggesting there is an argument to be made that Donaldson deserves the MVP award this year.
Philadelphia Phillies: Domonic Brown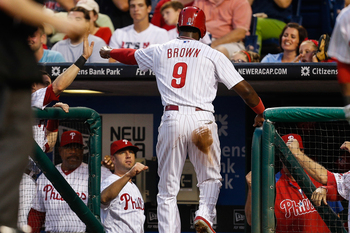 Brian Garfinkel/Getty Images
2013 Stats: .274/.320/.513, 27 HR, 81 RBI, 8 SB
Following his poor showings in his first three shots at the major leagues, there were questions as to if Domonic Brown was every going to live up to the potential that made him one of the game's top prospects.
Brown has seemingly answered those questions this season and has demonstrated he can hit for power at the major league level.
Pittsburgh Pirates: Gerrit Cole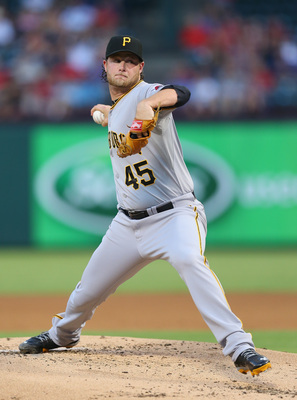 Ronald Martinez/Getty Images
2013 Stats: 7-7, 3.48 ERA, 75 K (MLB), 5-3, 2.91 ERA, 47 K (MiLB)
There were a number of reasons the Pittsburgh Pirates chose to make Gerrit Cole the first overall pick in the 2011 MLB draft, and they are now seeing that selection pay dividends.
Cole was on the fast track to the MLB, and he has not really slowed down since he reached the bigs. He is looking like a future top-of-the-rotation starter for the Pirates.
San Diego Padres: Will Venable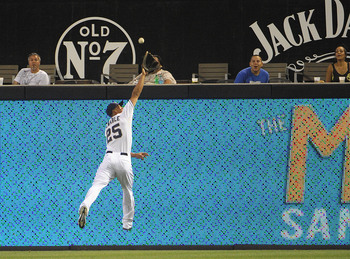 Denis Poroy/Getty Images
2013 Stats: .271/.315/.498, 21 HR, 51 RBI, 17 SB
Will Venable has shown promise in the past, but he has never been able to live up to his full potential. It appears he has finally done it this year.
Venable has a chance at a 20/20 season for the San Diego Padres this year. If Venable can continue to put up these numbers for the next few seasons, he will be the reason for a number of Padres' wins during that time frame.
San Francisco Giants: Kyle Crick
Elsa/Getty Images
2013 Stats: 3-1, 1.57 ERA, 95 K (MiLB)
It can safely be said that this was a very disappointing season for the San Francisco Giants. They have gone from World Series champions last season to basement dwellers this year.
There has been some promise for the team on the farm. Kyle Crick has been dominant in the minors, and considering how the Giants develop pitchers, he is a name to keep an eye on for the future.
Seattle Mariners: Taijuan Walker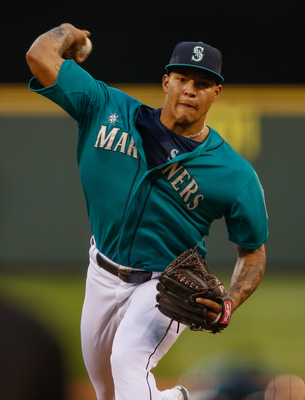 Otto Greule Jr/Getty Images
2013 Stats: 1-0, 3.60 ERA, 12 K (MLB), 9-10, 2.93 ERA, 160 K (MiLB)
Although Hisashi Iwakuma deserves consideration for this spot as well, he gets edged out by 20-year-old phenom Taijuan Walker. Iwakuma established himself last year and has grown on his success, while Walker has demonstrated he has the potential to be an ace.
Walker has breezed through the minor leagues and earned himself a late-season promotion for the Seattle Mariners. There could be a good chance he finds himself in the team's Opening Day starting rotation next season.
St. Louis Cardinals: Shelby Miller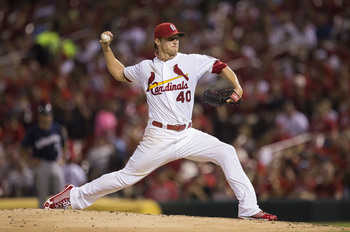 David Welker/Getty Images
2013 Stats: 13-9, 3.05 ERA, 161 K
The St. Louis Cardinals gave Shelby Miller a taste of the MLB last season, and that decision had paid off. Miller has looked very comfortable in the majors this year.
St. Louis has a strong rotation, and Miller was able to establish himself as one of their better pitchers during his first full season. Things will continue to look up for him from here.
Tampa Bay Rays: Wil Myers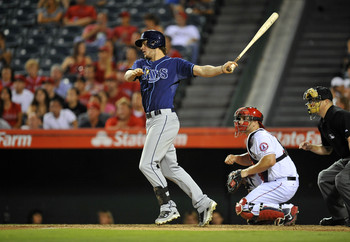 Gary A. Vasquez-USA TODAY Sports
2013 Stats: .288/.349/.462, 11 HR, 42 RBI, 5 SB (MLB), .286/.356/.520, 14 HR, 57 RBI, 7 SB (MiLB)
The choice for the biggest emerging star on the Tampa Bay Rays is an easy selection. Tampa knew the caliber of player they were getting when they decided to trade James Shields in order to bring back Wil Myers.
Even though Myers has averaged more than a strikeout per game in the majors this season, he has demonstrated he has the potential to be an elite hitter for years to come.
Texas Rangers: Martin Perez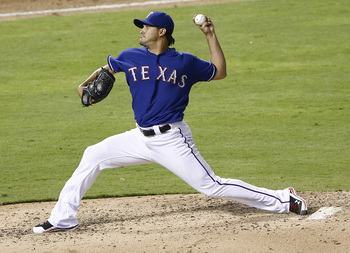 Jim Cowsert-USA TODAY Sports
2013 Stats: 9-4, 3.60 ERA, 65 K (MLB), 5-2, 3.32 ERA, 30 K (MiLB)
While Jurickson Profar may have entered the season as the top prospect in baseball according to both Baseball America and MLB.com, he was not the top performing young talent on the Texas Rangers' roster this year.
Martin Perez has struggled with inconsistency during his time in the minor leagues, but he has seemingly resolved that issue this year. Perez has played a key role for the Rangers' starting rotation this season.
Toronto Blue Jays: Marcus Stroman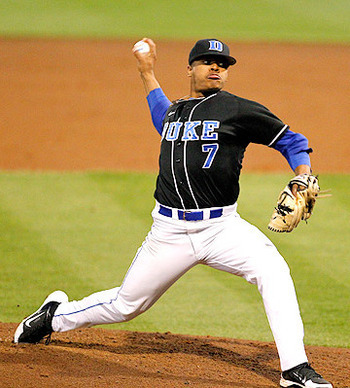 Photo Credit: WEEI
2013 Stats: 9-5, 3.30 ERA, 129 K (MiLB)
Following their busy offseason, the Toronto Blue Jays had big expectations for the 2013 season. However, injuries and key players struggling have led them to a disappointing season.
Toronto has a number of young pitching prospects, and help could be on the way next season in the form of Marcus Stroman. If not for a failed drug test, the righty might already be in the majors. Stroman has spent the year at Double-A proving he can be a successful starter.
Washington Nationals: Taylor Jordan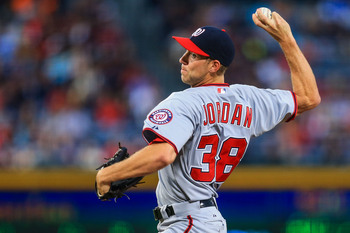 Daniel Shirey-USA TODAY Sports
2013 Stats: 1-3, 3.66 ERA, 29 K (MLB), 9-1, 1.00 ERA, 72 K (MiLB)
Prior to this season, Taylor Jordan was not on the radar for many, if any, prospect watchers. He changed that after absolutely dominating High-A and Double-A in 14 starts.
The Washington Nationals certainly took notice as well, and they promoted Jordan to the big leagues. He has proven he is more than able to hold his own despite having jumped from High-A to the majors in one year.
Keep Reading