Week 2 Start Em Sit Em: Analyzing Best Decisions for Your Fantasy Lineup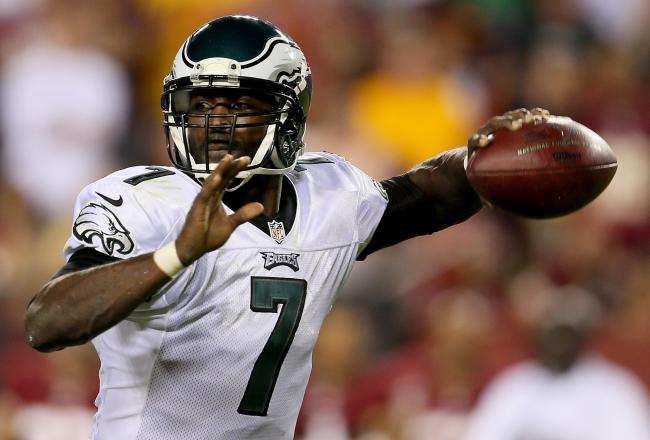 Rob Carr/Getty Images
With Week 1 of the NFL season now in the books, it almost seems as though there are more questions than answers in terms of fantasy value. A number of unheralded players stepped up and announced themselves as possible factors moving forward, but some highly drafted players struggled as well.
It isn't yet known which players are for real and which were one-week wonders, so Week 2 is huge in determining that. It also remains to be seen how good or bad certain offenses and defenses are, so playing matchups isn't even a foolproof plan at this point.
Despite all of that uncertainty, here is a full slate of start 'em and sit 'ems for Week 2 of the fantasy football season that you can take to the bank.
Quarterback
Start: Michael Vick (PHI)
Vick was viewed as a potential fantasy sleeper heading into the season due to the arrival of head coach Chip Kelly, and if Week 1 is any indication, then Vick was an absolute steal in your fantasy draft. Vick racked up over 250 total yards and three touchdowns against the Washington Redskins on Monday night, which was one of his best performances in recent memory, according to ESPN Stats & Info.
Michael Vick: accounted for 3 TD, had 0 INT in Eagles win (2 passing, 1 rushing) ... last time he did that-- 2010 vs Redskins (on #MNF )

— ESPN Stats & Info (@ESPNStatsInfo) September 10, 2013
He also has an advantageous matchup in Week 2 against the San Diego Chargers. The Bolts were picked apart by Houston Texans quarterback Matt Schaub in Week 2 to the tune of 346 yards and three touchdowns. It's difficult to imagine San Diego being able to handle Philly's up-tempo pace.
Projection: 270 passing yards, three passing touchdowns, 75 rushing yards, one rushing touchdown
Sit: Joe Flacco (BAL)
Despite Flacco's magical run in the playoffs last season, he wasn't considered anything more than a marginal fantasy starting quarterback this year. While Flacco did manage to throw for 362 yards and two touchdowns in Week 1, those were empty statistics as the Ravens were playing from behind, and he threw the ball more than 60 times.
Sunday's game against the Cleveland Browns promises to be much closer, and with Joe Haden patrolling the secondary, the turnover-prone Flacco could make some mistakes. Flacco had mixed results when Baltimore played Cleveland last season, but this one seems like it's going to be a low-scoring affair.
Projection: 238 passing yards, one passing touchdown, two interceptions
Running Back
Start: Eddie Lacy (GB)
Lacy was hit and miss in Green Bay's Week 1 game against the San Francisco 49ers, but there was still plenty to like. While 14 carries for 41 yards and a touchdown don't seem like much, very few backs are capable of running on the Niners. Lacy got better as the game wore on, according to ESPN Stats & Info, and that is encouraging for his prospects moving forward.
Eddie Lacy with 5 rushes for 26 yards on the Packers go-ahead TD drive (9 rushes, 15 yards prior to that).

— ESPN Stats & Info (@ESPNStatsInfo) September 8, 2013
He has an ideal matchup against the Redskins this week as Washington allowed Eagles running back LeSean McCoy to pick up 184 yards on 31 carries on Monday night. Lacy is highly unlikely to get that many rushing opportunities, but there will be running lanes available to him provided Aaron Rodgers is able to move the ball through the air.
Projection: 91 rushing yards, one rushing touchdown, two receptions for 15 yards
Sit: Giovani Bernard (CIN)
It can be argued that Bernard is the most-talented rookie running back in the league this year, but his potential is limited due to the presence of BenJarvus Green-Ellis. While Bernard was far more effective than "Law Firm" in Week 1, head coach Marvin Lewis seems perfectly content with a timeshare among his running backs that favors Green-Ellis slightly.
Bernard picked up 22 yards on just four carries Sunday, and he also caught one pass for eight yards. Running room won't be quite as easy to come by in Week 2 against the Pittsburgh Steelers, though. The Steelers held Tennessee Titans running back Chris Johnson in check on Sunday, and they should be able to do the same against Bernard.
Projection: 34 rushing yards, three receptions for 25 yards, no touchdowns
Wide Receiver
Start: Cecil Shorts (JAC)
The Jacksonville Jaguars may seem like a hopeless abyss when it comes to fantasy value, but the Jags' offense actually boasts a few talented players. Wide receiver Cecil Shorts is chief among them as he nearly broke the 1,000-yard barrier last season despite having an awful quarterback situation around him. That situation remains in place, but Shorts will be much better off with Chad Henne under center this week than Blaine Gabbert, according to Adam Levitan of Rotoworld.
Cecil Shorts played in five games with Henne last year. Averaged 5.2 catches for 83.6 yards with three TDs. Gabbert injury big for Cecil.

— Adam Levitan (@adamlevitan) September 9, 2013
Henne is no great shakes, but he is capable of getting the ball down the field with accuracy, which bodes well for a big-play guy like Shorts. Also, the Jaguars are facing an Oakland Raiders defense that was destroyed by Reggie Wayne and the Indianapolis Colts through the air last week, so Shorts looks like a great option.
Projection: Six receptions for 112 yards and one touchdown
Sit: Roddy White (ATL)
When healthy, Roddy White is one of the best wide receivers in the NFL, but he is currently compromised by an ankle injury that could nag him moving forward. White had just two catches for 19 yards in Week 1 as he noticeably lacked his trademark explosion. White even took to Twitter with a word of advice for his fantasy owners.
As far as fantasy if I don't participate in practice than don't start me it's a red flag

— Roddy White (@roddywhiteTV) September 9, 2013
If White himself is saying that it isn't a good idea to start him in fantasy when he doesn't practice, that doesn't bode well for his production in the near future. White will have to contend with a solid defense in the form of the St. Louis Rams in Week 2, and coupling that with his injury woes makes him a guy who is best left on the bench.
Projection: Four receptions for 38 yards and no touchdowns
Tight End
Start: Brent Celek (PHI)
Now that the Eagles' offense appears to be as good as advertised, every player involved in it has the potential to reach fantasy stardom. That includes Celek, who made the most of his chances on Monday night as he caught two passes for 56 yards and a touchdown. Celek didn't get a lot of looks, but the Eagles run so many plays that he'll get even more involved. Celek also happens to be one of the best big-play tight ends in the league, according to Eagles public relations manager Ryan Nissan.
What TE has the most yards after catch in the @NFL since 2009? #Eagles TE @BrentCelek with 1561, ahead of Witten (1530) and V.Davis (1339)

— Ryan Nissan (@nissaneagles) September 11, 2013
Since Kelly's offense is predicated on big plays, that bodes well for Celek. Also, the Eagles are facing the Chargers in Week 2, who were absolutely destroyed by Houston's tight ends in Week 1. If Owen Daniels can rack up 67 yards and two scores against the Bolts, then Celek can certainly have a solid game as well.
Projection: Five receptions for 74 yards and one touchdown
Sit: Zach Miller (SEA)
With so much uncertainty at the tight end position this year, a large number of players could potentially be fantasy starters. Miller is in the mix, but he isn't an advisable start in Week 2. Quarterback Russell Wilson looked for him in Week 1 as he had three catches for 42 yards, and he became a favorite target of Wilson's in the playoffs last season as well, however, he has an extremely tough matchup this week that will limit him.
The Seahawks are set to face the San Francisco 49ers in a game that will feature arguably the two best defenses in the league. Packers tight end Jermichael Finley had some success against the Niners in Week 1 with more than 50 yards and a score, but San Fran generally holds tight ends in check. There's likely a better option on the waiver wire than Miller for this week at least.
Projection: Three receptions for 36 yards and no touchdowns
Defense/Special Teams
Start: Oakland Raiders
Which "Start 'Em" will have the best Week 2 performance?
It isn't easy to endorse the Oakland Raiders' defense as there seems to be very little talent there, but if you're one of those fantasy owners who likes to stream defenses, the Raiders are a decent option this week. Oakland did surprisingly well against the Indianapolis Colts last week as it allowed just 21 points, and it has a much easier opponent in the Jaguars this week.
Jacksonville scored just two points in Week 1, and the offense appears to be in disarray. Since neither offense in this game is particularly proficient, it is likely to be a low-scoring affair by default. Even if the Raiders don't do a ton in terms of forcing turnovers, they won't give up a lot of points either.
Projection: 13 points allowed, two sacks and one interception
Sit: Tampa Bay Buccaneers
The Tampa Bay Buccaneers had the best rushing defense in the NFL last season, and they were a fairly popular pick in fantasy drafts this year, but Week 2 simply isn't the week to start them. Tampa will face a motivated New Orleans Saints team this week with head coach Sean Payton back at the helm. Even without Payton last year, Saints quarterback Drew Brees picked apart the Bucs to the tune of nearly 700 yards and eight touchdowns.
Tampa performed fairly well against the New York Jets last week with five sacks, an interception and a fumble recovery, but the Bucs did still allow 18 points to an offense that was supposed to be inept. The Saints are far from inept, and they're going to have a field day.
Projection: 27 points allowed, one sack
Follow @MikeChiari on Twitter
This article is
What is the duplicate article?
Why is this article offensive?
Where is this article plagiarized from?
Why is this article poorly edited?