UCLA Bruins vs. Nebraska Complete Game Preview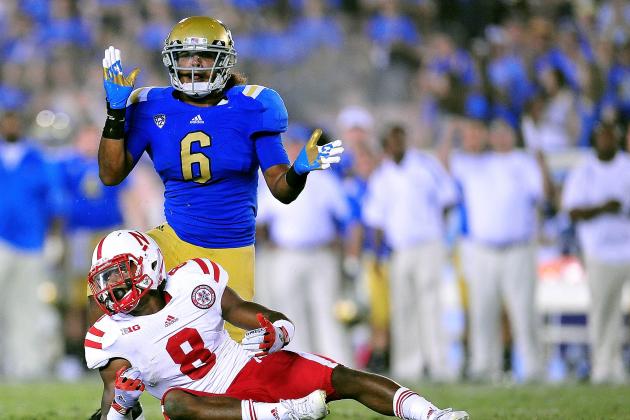 Gary A. Vasquez-USA TODAY Sports
Eric Kendricks figures to be a challenge for Nebraska on the defensive side of the ball.
The nonconference contest between the No. 16 UCLA Bruins and the No. 23 Nebraska Cornhuskers should provide an indicator in determining how good each football team truly is.
Bo Pelini's bunch is currently 2-0 on the season. Wins against Wyoming and Southern Miss did showcase Nebraska's offense in a positive light; however, the defensive efforts offer some major questions.
After dismantling Nevada 58-20 in the opener, Jim Mora's team had a bye week. Conventional wisdom would suggest that an extra week of preparation for Nebraska could give UCLA an advantage.
Unfortunately, tragedy has befallen upon the UCLA football team. Wide receiver Nick Pasquale passed away this past Sunday. There's no telling how the death of a teammate will affect the team this Saturday in Lincoln.
Both UCLA and Nebraska will honor Pasquale by wearing patches and decals sporting his No. 36.
Here's everything you need to know:
Time: 12:00 p.m. ET
Place: Memorial Stadium, Lincoln, Ne.
TV: ABC
Radio: Sirius XM Radio
Spread: Nebraska -4, per VEGAS.com.
Begin Slideshow

»
Kirby Lee-USA TODAY Sports
UCLA QB Brett Hundley.
Contain QB Taylor Martinez
It's imperative that the Bruins keep containment out on the edge. Martinez will look to exploit the defense with his legs at any opportunity. Having the ability to keep gap integrity up front will be UCLA's biggest test in this contest.
In last year's game, Martinez ran for 112 yards—92 of which came on one carry. Martinez will undoubtedly get yards on the ground. UCLA cannot completely compensate for his ability to improvise when the play breaks down.
However, the Bruins can hope to minimize the chance for a big play.
Win the special teams battle
Against a ranked opponent on the road in a hostile environment, any sort of mistake is often magnified. All three phases of the game have to be played at a satisfactory level in order to snag a victory away from home.
UCLA's special teams unit is somewhat of an unknown at this point.
Sophomore kicker Ka'imi Fairbairn had a rocky season as a true freshman last year. Fairbairn went 16-22 last year. In the opener against Rice in 2012, he had three extra points blocked. Against Nebraska, he missed two of his four field-goal attempts.
This season, he has missed one of his two field-goal attempts. UCLA's starting punter is true freshman Sean Covington. Covington did not register a punt in the opener due to the Bruins' offensive prowess.
Any game can be decided on special teams. For UCLA's young unit, Mora will hope that there won't be any errors.
Keep emotions in check
No one truly knows how UCLA will perform on Saturday. The team is reeling from the death of teammate Nick Pasquale.
In a sense, the Bruins could use Pasquale's death as a galvanizing force. The team could go out and dedicate the game—and season—to the fallen teammate. The team could also just not perform well due to the circumstance.
The atmosphere in the stadium will be raucous and chaotic. With a young roster, UCLA has to avoid becoming overwhelmed by the moment. It'll be easier said than done, but the grieving process could be helped by simply getting out on the football field and competing.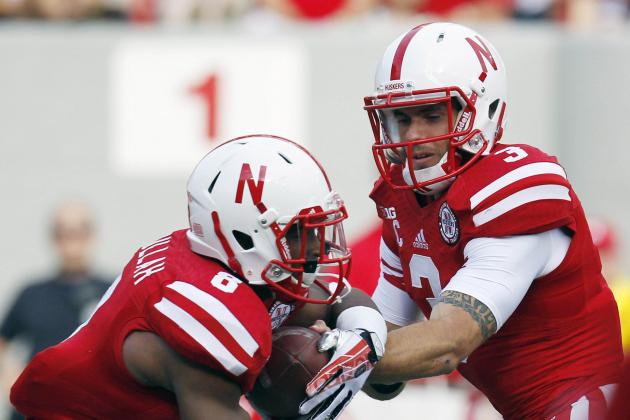 Bruce Thorson-USA TODAY Sports
Abdullah and Martinez need to keep UCLA off balance with the rush game.
Key in on Brett Hundley
Hundley is the fulcrum of UCLA's offense. As the talented signal-caller goes, the Bruins' offense will go. The Cornhuskers have to do anything and everything to make Hundley uncomfortable. Should Hundley escape the pocket, his running ability could hurt Nebraska.
In order to prevent that from happening, the Cornhuskers could opt to spy Hundley with a linebacker.
Make UCLA one-dimensional
It is easier than done, but it'd behoove Nebraska to take away UCLA's running attack. Jordon James rushed for 155 yards on 21 carries against Nevada. His quickness and agility were very apparent, as was his willingness to put his foot in the ground and push upfield.
Wyoming rushed for 219 yards against the Cornhuskers in the first week of the season. The same lack of a rush defense cannot continue if Nebraska has any chance of beating the Bruins.
Test UCLA's young secondary
Nebraska's receiver trio of Quincy Enunwa, Kenny Bell and Jamal Turner will be a formidable group to defend against. UCLA is breaking in a completely new secondary from a season ago.
Against Nevada, the Bruins' secondary wasn't really tested. Nebraska should test the green defensive backs group of UCLA early and often. The Cornhuskers could have success vertically stretching the field, with Bell in particular.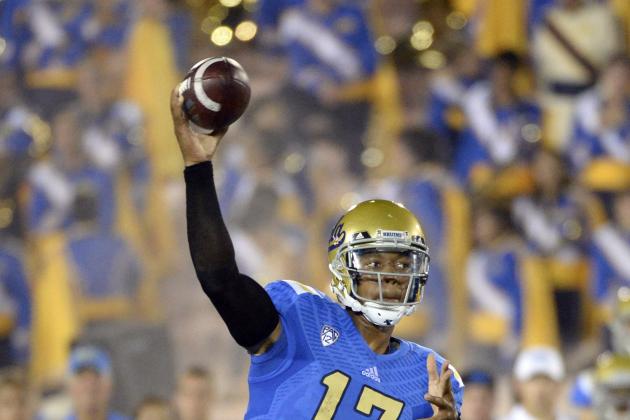 Richard Mackson-USA TODAY Sports
Hundley needs to have a great game against Nebraska.
Brett Hundley
Surprise, surprise.
UCLA's leader needs to have a good game in order for the Bruins to get a big win on the road. In the opener against Nevada, Hundley was in full control of the offense. He went 22-33 for 274 yards and two touchdowns. He also rushed the ball seven times for 63 yards.
As one of the prominent leaders of the football, he'll have to lead the troops into a vast sea of red on Saturday afternoon.
Myles Jack
It isn't often that a reserve player would be signified as a "player to watch." In Jack's case, he's too talented not to be mentioned.
The true freshman from Bellevue, Wash. was second on the team with eight tackles in the opener. He literally was all over the field. His athleticism and speed are ridiculous, as is his versatility. Although a linebacker, Jack was lined up in the slot against tight ends and wide receivers. There was a segment from the opening game in which Jack made the tackle on five consecutive plays.
His athleticism could prove useful against the likes of Martinez and Turner in space.
Bruce Thorson-USA TODAY Sports
Newby has played quite well thus far in the season.
Ameer Abdullah/Terrell Newby/Imani Cross
The three-headed monster of Abdullah, Newby and Cross could help Nebraska out considerably in this contest.
Last year in Pasadena, Abdullah slashed the Bruins for 119 yards on the ground. His quickness and pure speed gave the Bruins fits. He's been aided on the ground by both Newby and Cross. Cross is the biggest and most physical back of the trio. He rushed for 105 yards against Wyoming in the opener.
Newby, a native of Los Angeles, has rushed for 136 yards combined in the two games this season. His agility rivals that of Abdullah's.
Should Nebraska be able to run the ball effectively, it'll help to take pressure off of Martinez. It should also open up the passing game—namely in regards to play action.
Randy Gregory/Jason Ankrah
Nebraska ranks 91st in total defense. The unit allowed 35 first downs to Wyoming, which is the most allowed ever for a Nebraska defense in one game.
Up front, the defensive line has only gotten one sack in two games. Pressuring of the quarterback just hasn't been there for the most part. It's incumbent upon defensive ends Randy Gregory and Jason Ankrah to get after Hundley.
By making life difficult for Hundley in the pocket, it should in theory upset the fast rhythm that UCLA likes to operate with on offense.
If not, it will be another long day for the Cornhuskers' defense.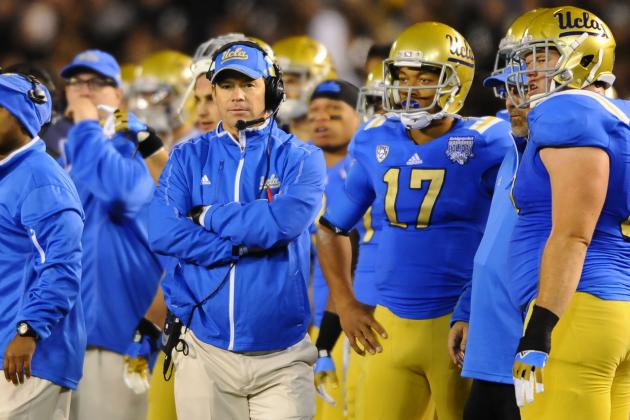 Christopher Hanewinckel-USA TODAY Sports
Jim Mora expects a victory on Saturday.
Wednesday on College Football Daily, ESPN host Dari Nowkhah had this to say about the game: "I think [Nebraska] will lose to UCLA, but potentially get hammered in their own stadium. While they'll score some points, their defense is awful. What can Brett Hundley and a good ground game do to them?"
Due to the circumstances surrounding the football team, Mora has closed all practices this week to the media, and none of the UCLA players were made available for comments of any kind.
Mora did have this to say about the death of Nick Pasquale (per the Los Angeles Times): "You don't move on from moments like this. You can move through them. I can never forget this kid. I can never forget that there is a family out there that lost a son."
Nebraska, on the other hand, is using the loss from last year as motivation. Per ESPN, Pelini told this to his players, "They're coming into our house, and we owe them."
Defensive end Jason Ankrah also mentioned in a press conference that "It was our first loss and it was a loss that we feel we shouldn't have had. It's one of those losses we took into our offseason program, and it provided motivation."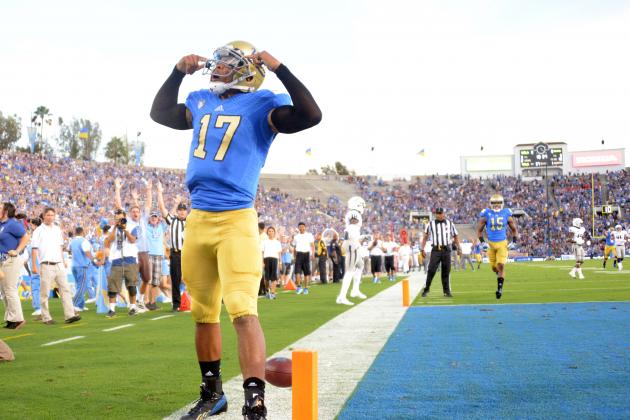 Kirby Lee-USA TODAY Sports
Hundley could be celebrating in Lincoln.
UCLA 38, Nebraska 35
UCLA has the upper hand based on overall talent and depth. Nebraska's defense has continued to be a problem this season, and there's no reason to think that the Bruins won't be able to put up big numbers.
Nebraska's wide receiver corps should have a big day in the contest. However, UCLA's defensive line might prevent Martinez from setting his feet and finding targets down the field. In particular, Cassius Marsh and Anthony Barr could trouble the Cornhuskers' offensive line.
The big question will ultimately be how the Bruins deal with the passing of Pasquale. This factor, plus the expected atmosphere in Lincoln will keep the game closer than it should be.