Who's Hot, Who's Not in UEFA World Cup Qualifying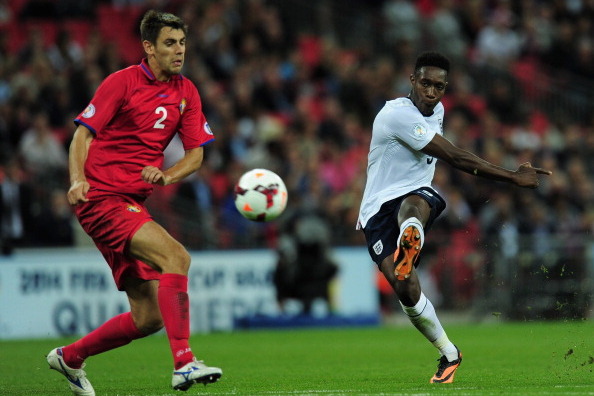 Shaun Botterill/Getty Images

Over the last 10 days or so, we've witnessed the penultimate set of World Cup 2014 qualifying fixtures from the UEFA section. Those fixtures have thrown up some impressive performances, incredible results and, of course, disappointment for some nations and players, too.
We've discovered who the first two UEFA nations to qualify for next summer's World Cup tournament are, a manager has lost his job and some of the English Premier League's top players have come to the fore, like Manchester United forward Danny Welbeck (pictured).
Over the course of the next 8 slides, I'll run through a list of who's hot and who's not from the latest set of UEFA qualifying fixtures for the 2014 World Cup. The rules for this article are simple:
The slides are in no particular order
The managers/players/countries included are here because they stood out to me.
A player's inclusion will relate to his own individual performance, or lack thereof. The same can be said for any managers/countries that will be discussed as we go forward.
Now that that has been taken care of, without further ado, let's take a look at who's been hot and who has not during the latest set of UEFA qualifying fixtures for next year's World Cup in Brazil.
Begin Slideshow

»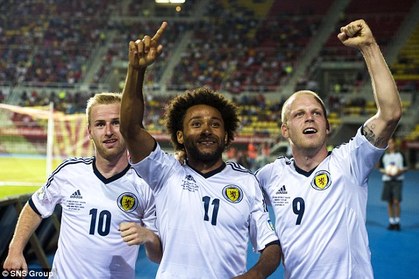 Courtesy of dailymail.co.uk/SNS Group
Most of you probably don't have a clue who Ikechi Anya is. And to be honest, most Scotland fans had no clue who he was when manager Gordon Strachan called him up to the squad for the qualifiers against Belgium and Croatia. But now that the qualifiers are out of the way, the Scotland fans have a new hero.
The pacey winger is on the books at Watford and can count the likes of Cadiz, Celta Vigo and Granada as his former clubs.
He made his international debut as a second-half substitute in Scotland's 2-0 defeat to Belgium last Friday and impressed with his pace, skill and ability to whip crosses in from the left-hand side.
His performance was good enough to earn him a start against Macedonia last night, and he repaid his manager's faith in him almost immediately with a terrific goal on the counterattack, beating the right-back to the ball and slotting past the goalkeeper from an acute angle.
Scottish fans might not have known who he was before last weekend, but they do now. The winger was an integral part of the Scotland side who performed terrifically well against a strong Belgian team before winning in Macedonia to secure just the Scots' second win of this qualifying campaign.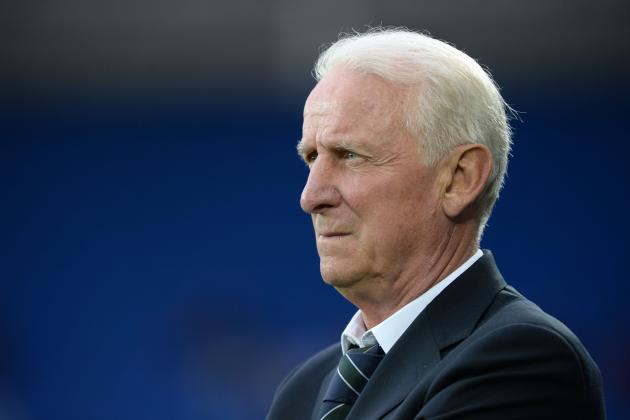 Matthew Horwood/Getty Images

Earlier today, various media outlets, including the BBC Sport website, reported that Giovanni Trapattoni had left his job as Republic of Ireland head coach by mutual consent. The wily Italian has paid the price for two lackluster performances in the last set of qualifiers with his job.
That might seem a little harsh when you consider that the Republic of Ireland are in a qualifying group that includes the strongest German side in a decade and a very decent Swedish team.
Let's not forget that this is the same man who has won countless trophies at club level (he has won almost every title there is to win, including numerous Serie A titles, the European Cup and UEFA Cup) and who guided the Republic of Ireland to last summer's UEFA European Championships.
Sometimes, it would be nice for Football Associations, players, media pundits and fans to have a sense of realism. Ireland aren't the biggest nation and they certainly don't have a talent pool as large as the Germans or Spanish to call upon, so realistically, they'll find it hard to qualify for major tournaments.
The Ireland captain, Robbie Keane, even said as much during a post-match interview last night after their 1-0 loss to Austria. The BBC Sport website quoted Keane as saying:
We're a small nation and I think people get carried away sometimes and expect us to qualify all the time
For my money, Robbie Keane has hit the nail on the head there, but at the end of the day, football is a results-based business, and it's a case of what have you done for me lately.
Lately, Trapattoni's side haven't had a "Plan B," and that's what has ultimately cost arguably one of the most successful managers of all time his job.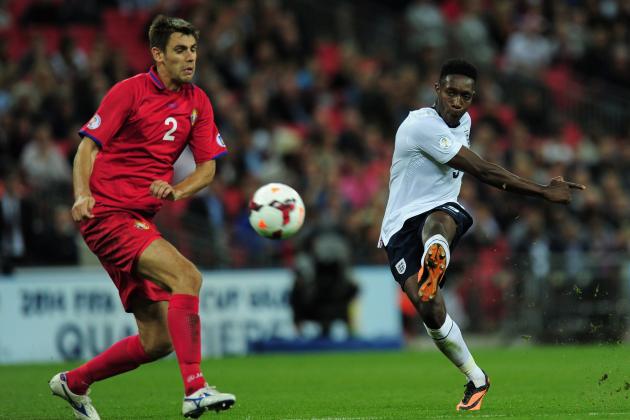 Shaun Botterill/Getty Images

Danny Welbeck has had an impressive start to the season for both club, and country. After a barren season in front of goal in the 2012-13 campaign, Welbeck has started the season in fine scoring form.
The forward scored twice in Manchester United's opening game of the season (away to Swansea), followed that up with a goal for England in their friendly with Scotland last month and added two more goals to his name in England's World Cup qualifier against Moldova last Friday.
If there's one thing that he'll be disappointed with, it'll be the cheap yellow card he picked up against Moldova for kicking the ball away. As difficult as it can be to hear the referee's whistle in a crowd of 70,000 people, players know that referees have a directive to book any player who kicks the ball away.
Whatever the rights and wrongs of that directive, the players are aware of it, so Welbeck only has himself to blame.
And who knows? Maybe he could have been the difference between England and Ukraine on Tuesday nigh—the game finished goalless—if he hadn't have been suspended.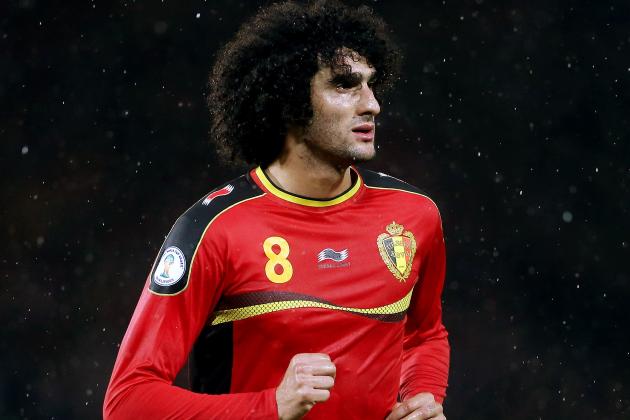 Scott Heavey/Getty Images

Manchester United's newest recruit, Marouane Fellaini, didn't have the best of international breaks. The elegant midfielder looked out of sorts and sluggish against Scotland last Friday, and he was certainly nothing like the player Manchester United paid £27.5 million for on transfer deadline day.
Maybe now that his future has been sorted out, the big fella can get back to doing what he does best—dominating games from midfield—and show the United fans just why Manchester United manager David Moyes was so determined to have Fellaini join him at Old Trafford.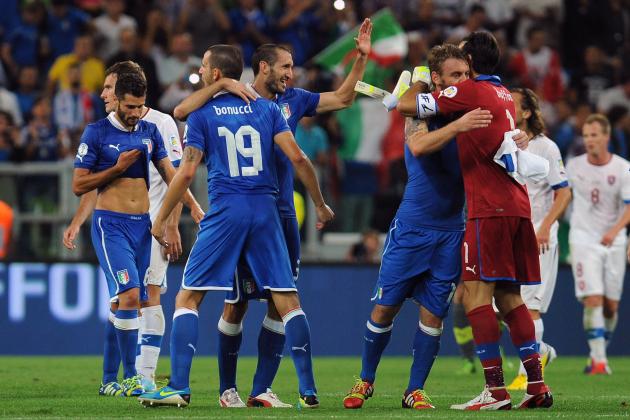 Valerio Pennicino/Getty Images

A 2-1 win against the Czech Republic last night was enough to see Italy become one of two teams from UEFA to guarantee their place at next year's summer spectacular in Brazil.
After the disappointment of last summer's UEFA European Championship Final, where they lost 4-0 to Spain, the Italians (as you can see from the picture at the top of the slide) were delighted to confirm their place at the World Cup.
It was also fitting that the Italians secured their place at next year's finals on the night that Gianluigi Buffon equalled Fabio Cannavaro's record as Italy's most capped player, with 136 caps.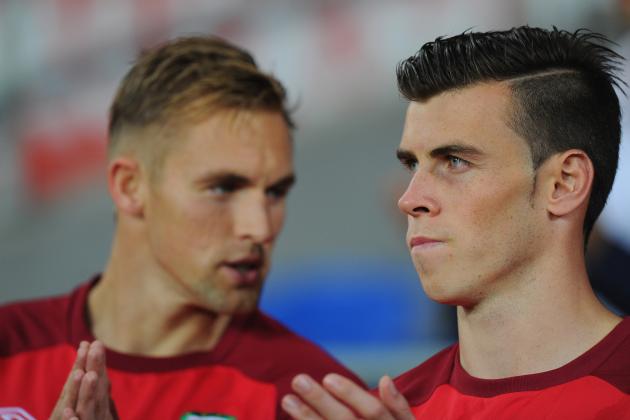 Stu Forster/Getty Images

How does the world's most expensive player spend the week after securing a dream move to Real Madrid? Well, he warms the bench.
Bale's foot injury meant he played no part in Wales' 2-1 defeat to Macedonia in Skopje last Friday, but he came off the bench Tuesday night to play a part in their 3-0 loss to Serbia. Even with Bale struggling for fitness, Wales looked completely reliant on him—but even he isn't a miracle worker.
The Welsh only have two victories from eight games in their qualifying section, both of which came against Scotland. In their two games against Serbia in this campaign, they've conceded nine goals.
Their loss against Serbia last night, combined with Scotland's late win against Macedonia, was enough to see the Welsh slump to the bottom of Group A, and with games to come against the Macedonians and Belgians next month, the Welsh could end up finishing bottom of their group.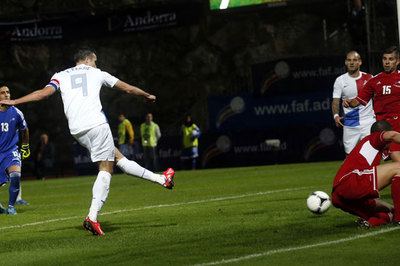 Courtesy of indianexpress.com
Holland joined Italy in qualifying for next year's World Cup courtesy of a 2-0 win against minnows Andorra, with Manchester United's Robin Van Persie scoring both goals. In fact, Van Persie was also responsible for Holland's late equaliser against Estonia last Friday in their 2-2 draw, so the frontman once again proved his worth over the latest international break.
Van Persie has scored eight goals in this campaign so far, and the way he's going, it'll take a tremendous effort to stop him.
Apart from the fact that Holland and Italy have both qualified for next year's World Cup, they also have something else in common—they are the last two teams to have been beaten by Spain in major tournament finals. Italy lost 4-0 in last summer's UEFA European Championship Final, and the Dutch lost 1-0 to the Spanish in the 2010 World Cup Final.
Holland will want to give a better account of themselves at next year's World Cup than they did in last year's European Championships, where they were knocked out at the group stage, and I think they will.
Why, you ask? Well, one reason. Robin Van Persie. He scores vital goals at vital times and that might be enough to see Holland not only make the latter stages of the tournament, but he could even fire them to victory.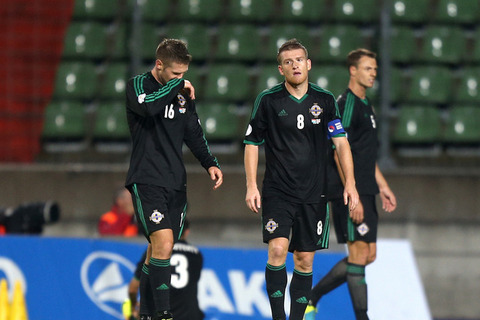 Courtesy of football365.com
This picture really says it all. Northern Ireland captain Steven Davis, along with Manchester United's Jonny Evans in the background, just looks shell-shocked by what's happened in Luxembourg.
While Northern Ireland aren't exactly a world-beating side, they must have travelled to Luxembourg last night with hopes of not only a win, but of getting a few goals.
On the plus side, they did get a couple of goals. But unfortunately, they ended up on the wrong end of a 3-2 scoreline and became the first side to lose a World Cup qualifier to Luxembourg in over 40 years. In the space of a month, they've gone from the high of beating group favourites Russia 1-0 in a rescheduled fixture to losing 3-2 to one of world football's true minnows.
There's really not much else to say, is there?