WWE Night of Champions 2013 Predictions: Projecting Biggest Shockers of Card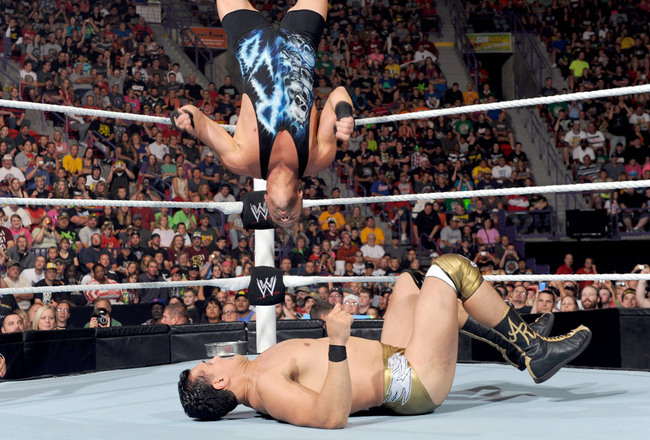 Photo: WWE.com

The pre-Night of Champions 2013 roller coaster sits at his highest point and WWE will send it barreling downward on Sept. 15.
In between the expected outcomes and predictable scenarios, expect some big surprises. From the quality of the Fatal 4-Way match to a major title changing hands, the pay-per-view will offer some huge talking points following the event so warm up your tweeting fingers.
The inaugural Battleground will quickly follow Night of Champions so fans will have little time to make sense of the most shocking events of the night.
The Divas Title Match Will Be Good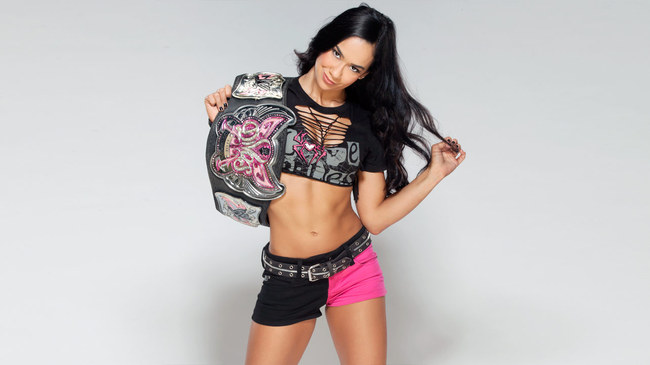 Photo: WWE.com

Often an afterthought and filler, female wrestlers' matches don't often impress in today's WWE.
When AJ Lee defends her Divas Championship against Natalya, Brie Bella and Naomi, fans are going to be surprised at how good the action is. The fact that the Night of Champions card isn't crowded at the moment will give the women more time to operate.
They will be given more time to tell a story—a story that will center around rage aimed at AJ.
With as angry as AJ has made her challengers by trashing them over the last few weeks, there's bound to be emotion, fury and intensity that we don't often see in Divas matches. Kaitlyn and AJ's battle at Payback wasn't a wrestling clinic, but the animosity between challenger and champion elevated it.
That's what will happen on Sept. 15.
The three challengers will have to fight each other to get at AJ and chaos is bound to ensue. With the Fatal 4-Way stipulation neither Brie or Naomi have to be the foundation of the match which allows AJ and Natalya to carry the match.
Don't expect Dave Meltzer to hand out five stars, but expect to be pleasantly surprised.
Wyatt Family Will Force Its Way into Turmoil Match
As of now, 3MB, The Prime Time Players, Tons of Funk, The Real Americans and The Usos are all gunning for Roman Reigns and Seth Rollins' titles.
The smart money is on Titus O'Neil and Darren Young to continue their recent roll and end up winning that Tag Team Turmoil match, but their competition is going to get a lot tougher come Sunday.
Neither 3MB nor Tons of Funk offer a real threat as primarily comic relief teams. Expect one of those duos to end up laid out backstage somewhere, unable to compete via a beating from Erick Rowan and Luke Harper.
To fill that void, Brad Maddox is going to have no choice but to insert Bray Wyatt's "brothers" into the fray.
Suddenly The Prime Time Players and The Usos will have a lot more to worry about in terms of villainous competition. The jobber team will do its jobbing early and the Wyatt Family gets a chance to brutalize foes in the spotlight.
Paul Heyman Will Have One Last Trick
The audience may see the ending coming, but getting to the climax of CM Punk getting his long-awaited revenge on Paul Heyman will have its share of surprises.
Heyman tried to weasel his way out of the match by faking an injury on Monday's Raw.
As wily as Heyman has proved to be and as terrified as he is of Punk's wrath, expect him to find a way to turn his match at Night of Champions in his favor. Bribing the referee, a pre-match ambush or sending out a fake Heyman are all on the table.
Desperation will lead to creativity and one last surprise in this feud.
Big Show Will Turn on Daniel Bryan
Big Show's inner struggle over the last few weeks as Triple H has made him his reluctant lackey has all the makings of typical WWE misdirection.
"Smarks" may see the angle coming, but a good chunk of fans will be shocked when the giant makes his umpteenth turn.
Maybe it's fear or maybe it's money that drives Big Show to the dark side once more, but once he comes stomping down the aisle, it's all over for Daniel Bryan. The big man is one more obstacle Bryan has to contend with in his WWE title match against Randy Orton.
Triple H is forming a corporate stable; Big Show is the next man to join.
This is a move that will have Big Show going back to being a fist-swinging monster and stay away from crying while adding to Bryan's list of enemies.
Rob Van Dam Will Win World Heavyweight Championship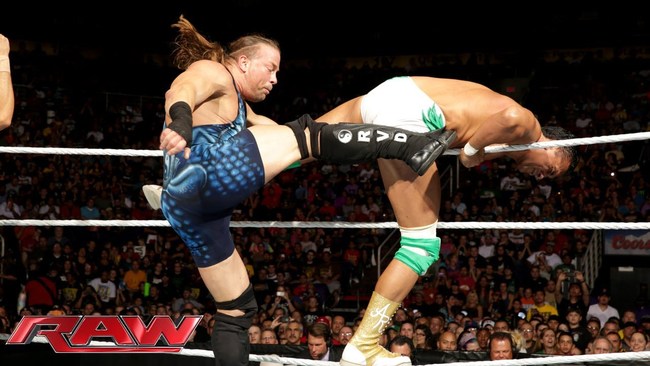 Photo: WWE

Rob Van Dam won't be some holdover challenger. He enters Night of Champions with a real shot of dethroning Alberto Del Rio.
Since returning to WWE, Van Dam has been on fire in the ring and the fan response has been tremendous. Don't think WWE hasn't noticed how loud the "R-V-D!'" chants have been. He'll get the last huge moment of his career—a run with the World Heavyweight Championship.
The recent history of the world title shows that of the last 10 reigns, eight of them have lasted around three months or less. Del Rio is approaching the 90-day mark.
Not a single current champion in the company is a face. Expect that to change on Sunday.
While the other champions hold on to their titles, Van Dam will defy his age and celebrate with Ricardo Rodriguez by his side.
Keep Reading