Lionel Messi's Strong Showing Proves Argentina Are World Cup Favorites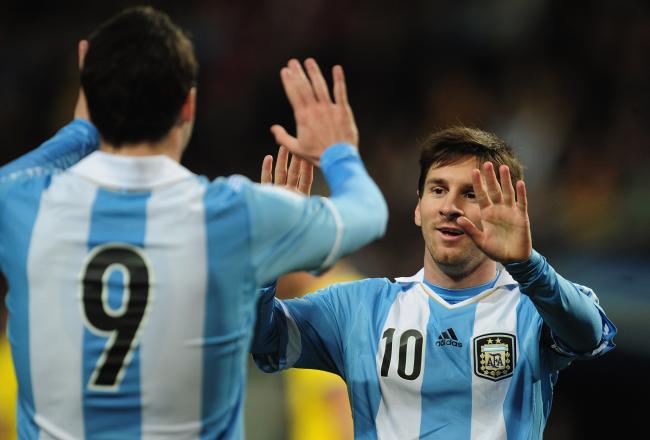 Jamie McDonald/Getty Images
Argentina have qualified for next year's World Cup with two games to spare thanks to a Lionel Messi brace from the spot against Paraguay.
The match finished 5-2, with the extra goals for La Albiceleste supplied by Sergio Aguero, Angel di Maria and Maxi Rodriguez. With Brazil 2014 now firmly in their sights, Argentina can begin dreaming of spoiling the host nation's big party come the summer, with Messi looking potent for his country as well as his club.
Manuel Queimadelos Alonso/Getty Images
With the Barcelona forward now unopposed as the main protagonist in the final third, orchestrating the movement of his fellow forwards and smoothing over the transitions between defence and attack, Alejandro Sabella's decision to drop fan favourite Carlos Tevez appears to have been justified.
The manager has also been able to find a workable successor to Juan Sebastian Veron, with whom Messi combined so well back in 2010. And Fernando Gago, now playing for Boca Juniors, looks likelier to become his country's creative hub in midfield, supported by the likes of Javier Mascherano and Lucas Biglia.
Having a stable foundation behind him to play off and receive service has enabled Messi to relax into his strengths rather than give chase about the pitch attempting to solve every problem that comes Argentina's way, as was the issue once Diego Maradona's thin tactical veneer fell into meltdown in South Africa in 2010.
However, considering the wealth of attacking talent and options that have long led to Messi and co. being marked out for international tournament success, it is the defence on which World Cup glory in 2014 hinges.
The defence looks lacklustre in comparison with Argentina's attacking lineup, with quality full-backs in short supply. Pablo Zabaleta sometimes appears to lack the pace to keep up with the ideas of the newly inspired national side, and much will depend on how the situation develops before next year.
Sabella must not resort to futile attempts to enforce order on the back line by playing without proper full-backs, as Maradona did with the four-centre-back defence of Gabriel Heinze, Martin Demichelis, Nicolas Otamendi and Nicolas Burdisso which plodded out to face Germany in the 2010 quarter-final to predictable results.
Can Argentina win the 2014 World Cup in Brazil?
Having said that, central defence seems in good health with plenty of depth, although Argentina perhaps lack one or two elite-level players to marshal and lead from the back. This role can of course be handled by Mascherano as he screens and sweeps ahead of the defence, but it never hurts to have an experienced organiser in your back line.
With Messi contented and playing well, however, perhaps Argentina need to find the sort of defensive formula to hold onto games rather than utterly lock down the rear of their formation. The strength of the team is obviously front-loaded, and so ultimately attempting to out-score opponents isn't as reckless as it sounds.
Brazil 2014 will see Spain, Germany and Italy touted as the main favourites. So long as Argentina's rearguard can learn to duck and weave rather than dominate these teams, Messi and his cohorts have a serious chance of upsetting their neighbours and the historically focused Spanish.
Scolari's Brazil look unbalanced and dysfunctional with too little thought to defending the flanks. Argentina will find space behind their wing-backs through their midfield's passing abilities and Aguero's and Messi's movement.
The more composed European teams won't be so impulsive, but with the majority of Sabella's first-choice players being regulars of the Champions League, they'll know what to expect and how to spring back against familiar systems and styles of play.
Though they have moved on from Maradona's ill-fated managerial reign, pretending that Argentina will be able to magically find the sort of defensive cohesion able to weather any storm is perhaps a bigger risk than accepting that attack, in this case, may be the best form of defence.
This article is
What is the duplicate article?
Why is this article offensive?
Where is this article plagiarized from?
Why is this article poorly edited?