The Top 10 College Basketball Players Since 2000
Since 2000, we have seen so many talented young basketball stars come through the college ranks.
We have had many amazing performances, we have seen many of kids put teams on their backs and take them as far as Cinderella would take them.
We have had many great teams, and many great NCAA tournaments, and games in general.
From high scoring performances, to guys pulling down over 20 rebounds in a single game. We have had a lot of great basketball memories since 2000.
It's not easy picking just 10 guys since that year, but I figured I would give it a shot.
10. Blake Griffin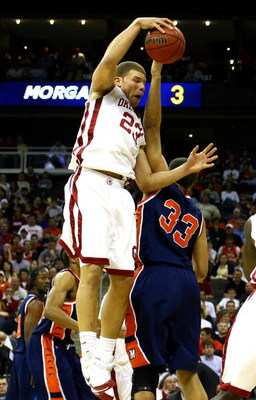 Blake Griffin played just two seasons at Oklahoma, but the kid has to be on this list somewhere.
He really has to be on this list after his 2008-2009 performance, and helping Oklahoma to the Elite 8.
His freshman season wasn't great, but it also wasn't bad.
As a true freshman, Blake averaged over 14 points and close to 10 rebounds a game for a pretty solid Oklahoma team. Griffin's numbers as a freshman earned him honors on the All Rookie First Team.
His freshman season would lead up to one of the best all-around college basketball seasons of any player in history.
Griffin averaged close to 23 points and over 14 rebounds a game for the Sooners as a sophomore.
He had many huge scoring and rebounding games, but none were bigger than his dominating performance against Texas Tech.
He put up 40 points and 23 rebounds.
Blake had an amazing season in '08-'09. His performance helped him to be named the player of the year by both Sports Illustrated and Sporting News. He also was a unanimous AP All American.
Griffin had a solid career at OU, even if it was for just two short seasons.
Like I said earlier, this freak of nature deserves to be on this list somewhere.
9. Chris Paul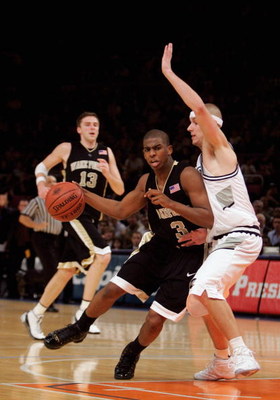 Come on, you know CP3 had to find a spot somewhere on here.
Paul deserves to be on this list because of his excellent play at Wake Forest.
In his two seasons as a Demon Deacon, Paul averaged close to 15 points, 6 assists, and 4 rebounds a game.
Not amazing, eye-popping, best point guard since Jerry West numbers, but pretty solid. Paul wasn't the amazing scoring point guard, but he did what was needed to be done; he helped his team win. Wake went 48-16 with Paul running the point.
Paul was a solid ACC point guard, which is in pretty good company. Look at some of the point guards who have played in the ACC from the 1960's, until now.
Paul helped the Demon Deacons the most in his final year there.
He helped them to a 27-6 record, and an overtime away from the Sweet 16.
Paul isn't the greatest point guard since 2000, he isn't the most talented player on this list, but I liked him, and I still do.
I enjoyed seeing him play, and I always will. He deserves to be on this list, no doubt about it.
8. Carmelo Anthony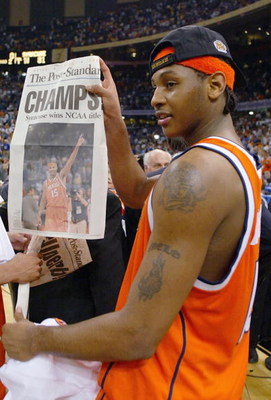 Just one year in the college ranks, and Carmelo Anthony was a superstar.
His biggest accomplishment wasn't his 22 and 10 average, or his predictions of being a lottery pick in the upcoming NBA Draft.
It was leading Syracuse from pre-season out of nowhere, to the National title game, and an upset win over No. 1-seeded Kansas.
Melo's two biggest games from that lone season, both came in the NCAA tournament.
In the Final Four against favored Texas, Anthony put up 33 points and silenced his doubters. He then went on in the title game to put up 20 points and 10 rebounds. He would receive the championship game's MVP award for his outstanding play.
Carmelo was a man among boys in his quick college go around. The funny thing is, he was still pretty much a teen-ager.
Anthony deserves to be on this list. He carried the Orangemen to a national championship as a true freshman.
Even though he was one and done, he was still one of the most exciting college basketball players I have ever seen...or ever will see.
7. Kevin Durant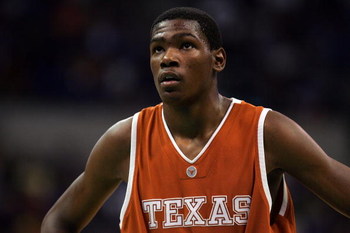 Durant, another one and done stud, is another guy who absolutely has to be on here somewhere.
In his lone freshman season, much like the No. 8 selection Carmelo Anthony, Durant spent it torching teams from the 3-point line, driving to the basket and finishing with electric dunks, and putting on shows for Texas fans night in and night out.
Coming into Texas, Durant was as highly touted a recruit as they come. He decided to go with Texas for his college choice, something that worked out just fine.
In his freshman season, Durant averaged close to 26 points and over 11 rebounds a game. Those numbers went up during Big 12 play, reaching close to 29 and 12.
His best performance came against Texas Tech. Durant recorded 37 points and 23 rebounds in the game.
His career at Texas, even if it was for one year, was one of the greatest of all time in Longhorns, and college history.
Durant won the 2007 AP National Player of the Year award, along with many other great accolades. Durant was told he would have to come back to Texas just a week after being drafted into the NBA.
The reason wasn't because of his grade, or forgetting to clean out his locker. The Longhorns told the young star that his No. 35 jersey would be retired into the rafters alongside other Texas greats T.J. Ford, and Frank Erwin Center.
Durant's time at Texas was very exciting, and fun to watch. It's not everyday, or every year you get to see a guy like Durant come through the college game. Heck, it's not every decade you do.
6. Dwayne Wade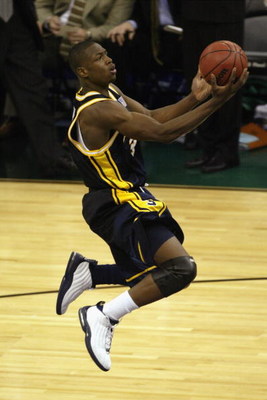 The No. 6 selection on my list didn't even play a second in his freshman season.
And he wasn't a red-shirt, and he didn't get hurt.
He failed to play in 2000-2001 because of academic problems. But once Wade was eligible for his sophomore season in 2001-2002, he set the college basketball world ablaze.
As a sophomore, in his first true season in college, Wade averaged 18 points, 7 rebounds, and 3 assists.
He also averaged over 2 steals a game, which was tops in the Conference USA. Wade would help the Golden Eagles to a 27-6 record, the schools best since 1993-1994.
His best season, and his last, came in 2002-2003. As a junior Wade averaged 21 points a game, and helped Marquette back to the Final Four, it's first appearance since winning it all back in 1977.
His most memorable moment from that season, and in his college career, came in the Midwest region final game against heavy favored and top seeded Kentucky.
Wade recorded a triple double. He had 29 points, 11 rebounds, and 11 assists for the game. Wade's efforts helped him win the Midwest regional MVP.
Wade's career at Marquette will always be remembered as a great one. Fans of the Golden Eagles, and college basketball in general, will never forget his amazing night against the Kentucky Wildcats.
Wade was one of the more exciting players I got the chance to watch on this list. I would have loved to seen him return for his senior season.
But I guess going fifth overall in the NBA draft, playing alongside Shaq, and winning an NBA title were all worth forgoing that senior season.
5. Jay Williams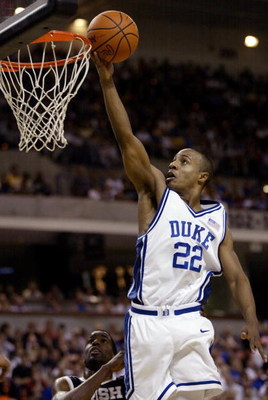 Williams was a flashy, strong, and, very solid point guard while he was a Duke Blue Devil.
As a true freshman, Williams put up very good numbers for coach K, and Duke.
Williams averaged over 14 points, 6 assists, and 4 rebounds per game. Williams was named to many magazine All-Freshman Teams.
Jay's best season as a Blue Devil came as a sophomore. Williams played and started in all 39 of Duke's games, helping Duke to a 35-4 record and the school's third national title, and averaged over 21 points a game.
He also put up over 6 assists a contest. His NCAA tournament was one of the best in Duke history. Williams averaged over 25 points a game for the tournament, leading all scorers.
Williams earned the Naismith and Wooden Awards in 2002 for being college basketball's best player.
His career at Duke was very solid, to say the least. Williams was the cream of the crop of the point guards since 2000. His No. 22 jersey is hanging in the rafters at Cameron Indoor, where it belongs.
Williams is a guy who can't be ignored on this list. Even though I hate Duke, and I always will, I enjoyed seeing him play.
4. Adam Morrison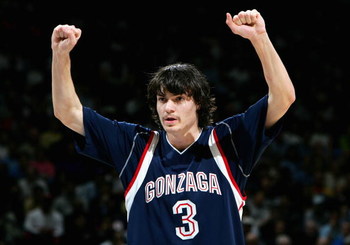 Adam Morrison is, and always will be one of my favorite basketball players. It's hard not to like the guy.
His long, flashy hair, the mustache, and the sweet stroke. What's not to like?
Morrison arrived at Gonzaga as a scorer; everyone knew that of him coming out of high school. Many didn't really see Morrison being a 20- to 24-point scorer. Well they were right, for one year.
As a true freshman, Morrison averaged over 11 points per game and 4 rebounds. He had a pretty solid season. He was also named to the WCC All Freshman team.
Morrison turned things on as a sophomore. His points per game average jumped to 19, and he put up over five rebounds and three assists a game.
Morrison helped the Zags to a 26-5 record, and came up two points short of making it to the Sweet 16.
Gonzaga fans were very excited to get Morrison back for his junior season, but they had no clue what was in store for him, and for their team.
Morrison put together an amazing junior season. His averages, 28.1 points, and 5.5 rebounds per game.
He scored 30 plus points in 13 games, and 40 points or more on five occasions. Morrison helped Gonzaga to a 29-4 record in his final season as a Bulldog.
His career was a very good one at Gonzaga. He will always be remembered for his great junior campaign, especially the race he and then Duke star JJ Redick had for the National Player of the Year award, which Redick would win.
Morrison is a Gonzaga great who was truly a treat to watch in the college game.
3. Shane Battier
The No. 3 selection is the 2nd Dukie to make this list.
As much as I hate to see that, it's hard to ignore what Shane Battier accomplished during his very productive college career.
Battier's career at Duke were highlighted by his two Final Four appearances, and the 2001 title. Well he did also win the National Player of the Year award in 2001.
Battier's best season as a Dukie came in his player of the year season. He put up over 19 points and 7 rebounds per game.
His play, alongside the No. 5 selection Jay Williams, helped the Blue Devils to 35 wins and a national title. Battier won the ACC Male Athlete of the Year Award, along with the NCAA Tournament's Most Valuable Player.
Battier averaged over 13 points and 6 rebounds per game over his career at Duke. His No. 31 jersey is now retired, and shortly after his graduation he was named to the 50th Anniversary ACC Team.
His career was very solid, and his play was very smooth. He has to be on this list.
2. J.J. Redick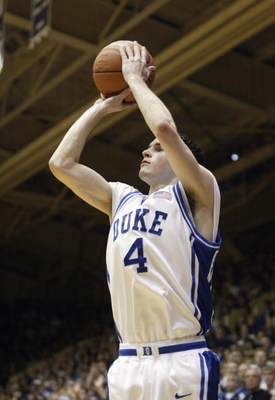 This man, as much as I hate to say it, has to be the No. 2 selection on this list from 2000 until now.
Redick scored in bunches, played in big games, and he also won a few of those big games. He was the go-to guy for coach K and his Duke Blue Devils for four straight seasons.
He was known as a shooter, probably the greatest that will ever play the college game, but he could do more. Much more.
As a freshman, Redick put up 15 points a game. His best game came against North Carolina State in the ACC championship game; he led the Blue Devils with 30 points.
Redick's worst game of the season was against the Kansas Jayhawks in the Sweet 16 of the NCAA tournament, he went 2 for 16.
As a sophomore nothing changed much for J.J. He still put up 15 points per contest, and he had some pretty nice games. He showed signs of being a star, and in the following season he became just that.
As a junior, Redick put up over 21 points per game, and a little over three rebounds.
Those numbers were good enough to earn him the ACC Player of the Year Award, and the John Wooden Award, which made him a player of the year winner.
The shooting guru saved his best season for last. In 2005-2006 as a senior, Redick averaged over 26 points a game.
He had a season long race with other sharp shooter, and slasher, Adam Morrison for the player of the year award. Redick would ultimately win the battle, edging out the No. 4 selection on my list.
Redick put together not only one of the greatest college basketball careers in Duke history, not only in ACC history, but in college basketball history. He served as a leader on and off the floor.
His attitude and commitment were greater than any other player I have ever had the chance to watch.
I loved to hate the guy, and he killed me when he would hit big three pointers against North Carolina, but you have to respect his game.
J.J. left Duke as it's all time leading scorer, with 2,769 points. He also left as the ACC's all-time leading scorer.
Redick was a special talent to watch, whether you liked the kid or not.
1. Tyler Hansbrough
To me, the No. 1 selection was a no brainer.
And no, It's not because I'm a die-hard Tar Heels fan.
The same as Redick, love or hate Hansbrough, you have to respect the way he played the game of basketball.
I have never seen, or ever will I see, a player have as much heart and desire for this game than Psycho T.
Hansbrough showed signs of greatness right off the bat as a true freshman. He came to UNC as a highly-touted recruit, and everyone knew how he could play.
He started for coach Roy Williams, something that alarmed a select few Carolina fans. Hansbrough didn't let down his head coach, averaging close to 19 points a game, and eight rebounds.
He was named the ACC freshman of the year, unanimously. He also finished second in the voting for the ACC Player of the Year award.
Hansbrough followed up his freshman season, like many Tar Heel fans hoped, the same the year before.
He put up identical numbers, 18 and 8, and helped Carolina to an Elite 8 performance, that resulted in a huge loss to Georgetown after being outscored by 10 points in the overtime period.
As a junior, Hansbrough really would silence his doubters. Psycho T put up 22 points and 10 rebounds per game, which would lead the ACC. Hansbrough became the highest scoring junior in Tar Heel history.
His numbers earned him the National Player of the Year award. His big play also helped Carolina to a Final Four appearance. The Heels' were favored to win the entire big dance all season long, but floundered against the Kansas Jayhawks.
As a senior, his numbers went down from the previous year, but Hansbrough finally got the one thing his college career needed to be complete.
He, along with other Tar Heel studs Danny Green, Ty Lawson, and Wayne Ellington, all decided to return back to Carolina for one more year.
Joining them would be a stellar recruiting class, and a nucleus that was the best ole' Roy had seen since his 2005 championship team.
Hansbrough averaged over 20 points and eight rebounds a game in 2008-2009. He helped the Heels' to a 35-4 record, and it's fifth national title in school history.
Psycho T would leave Carolina as it's greatest player in school history. He left the Heels' with 2,789 points, and 1,177 rebounds.
Both are first all-time in school history. He also left as the ACC's all time leading scorer, passing the No. 2 selection on the list, J.J. Redick.
His career at Carolina was an amazing one, that nobody should forget. His heart, his hardcore play, and his toughness were among the best I have ever, and will ever see.
I will truly miss No. 50 soaring for rebounds, taking hard hits, and helping the Tar Heels pick up win after win.
Hansbrough was the runaway No. 1 selection; like I said, it was a no-brainer.
Keep Reading