Fantasy Football Week 2: Early Advice for Your Roster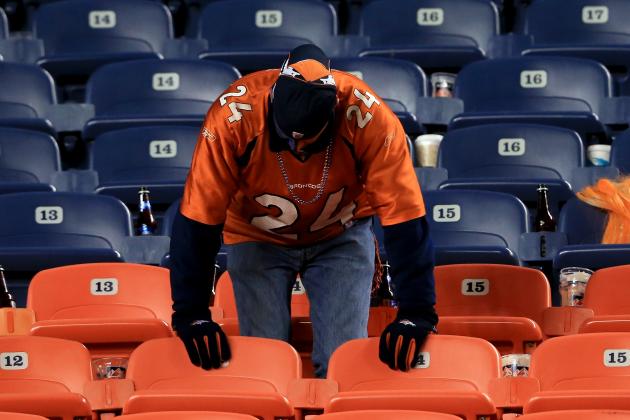 Doug Pensinger/Getty Images

The first week of fantasy football is in the books.
For some, it was a great week. Others, perhaps including that gentleman in the picture above?
Whether you had a great weekend, poor weekend or a middle-of-the-road one (I myself went 8-2), there are a lot of things to process and keep in mind as we head towards the second week.
There are, of course, few absolutes. Each team you have will require some handling which is subtly different depending on rules, set-up and roster.
So the following may apply to some of your teams more than others.
Begin Slideshow

»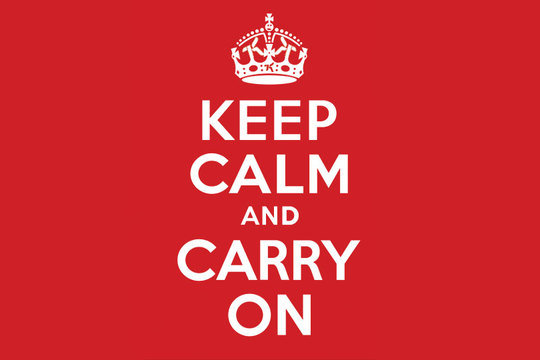 This also applies to you big winners as some of you won despite horrible performances by the likes of C.J. Spiller (55 yards total), Trent Richardson (77 yards total), Calvin Johnson (37 yards total) and Roddy White (19 yards total).
It's a slap in the face whether you win or lose, but the important thing is to not panic or do something rash.
While I wouldn't play Spiller this week if I had a hotter player or better matchup (and accept your feeling that I am delusional), I also wouldn't trade him.
Nor should you trade any of the above. For that matter, some lower-tier players like Stevan Ridley or David Wilson got off to pretty bad starts. You won't trade them, either, and you sure as heck shouldn't cut them. Don't make huge moves, make adjustments. Don't react to one bad (or good) week. Take a deep breath, and don't start abandoning your roster after a week.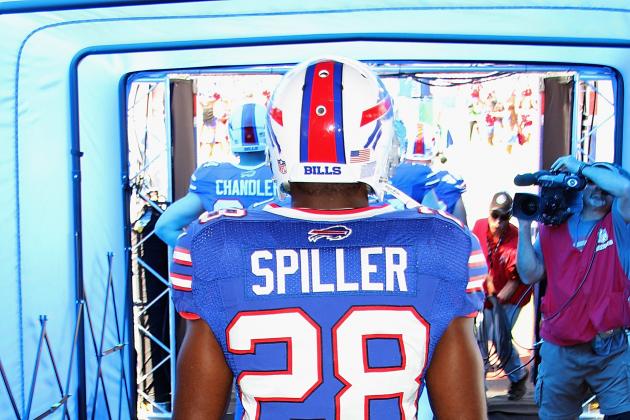 Rick Stewart/Getty Images

Take this as a slight addendum to the previous slide.
You want to make changes. You don't want to make huge ones after one week.
As said previously, you shouldn't be dumping underwhelming studs based off of one week in a fire sale. What you should be doing is looking for value on the waiver wire to improve your bench.
I always check out fellow Bleacher Report writer and Footballguys staff writer/part-owner Sigmund Bloom's Upgrades, Downgrades and Waiver Wire Wonders article every Monday night (subscriber link).
If you aren't a subscriber to a place like Footballguys, there are plenty of places you can pick up some info on who is worth grabbing and who isn't. Bleacher Report, ESPN, CBS, Yahoo!—all have their experts, and their experts have lists.
Speaking of which, here are a few guys who should be on your radar—they're definitely on the minds of fellow GMs in your league:
Joique Bell, RB, Lions: Bell appears to be the second back in the Lions backfield over Mikel Leshoure, who wasn't even active for the game against the Vikings, according to the Detroit Free Press. Bell was targeted and got plenty of carries to work as a solid flex option.
Doug Baldwin, WR, Seahawks: With no Percy Harvin and Sidney Rice still returning from missing the preseason, Baldwin got more targets than anyone else on the team and caught seven of the eight targets thrown his way. Golden Tate was right there with him (seven targets to Baldwin's eight), but while Tate isn't on most waiver wires, Baldwin is.
Julian Edelman, WR, Patriots: With Danny Amendola most likely out, tight end Zach Sudfeld hurt and limited in practice and Rob Gronkowski still not ready to play according to the Boston Herald, Edelman seems like a great play against a suspect Jets secondary.
Jordan Cameron, TE, Browns: He is an athletic, powerful tight end who is a former basketball player and led the team in receiving last week against the Miami Dolphins. This is a guy who has a great matchup this week against the Baltimore Ravens team that Denver's Julius Thomas beat up in Week 1. The Ravens will go after Brandon Weeden hard, so Cameron should also see plenty of dump-offs.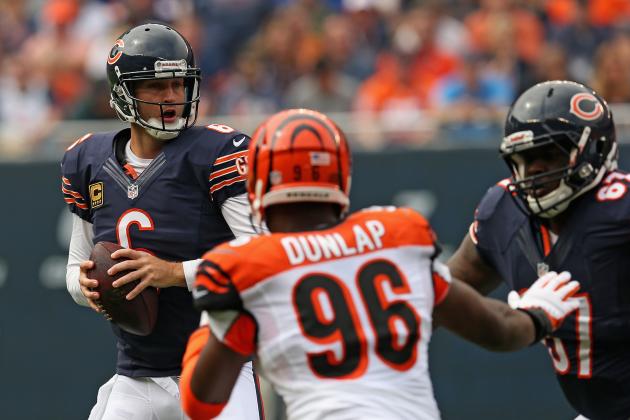 Jonathan Daniel/Getty Images

Last week was basically what I call a "fire and forget" week.
You set your lineup, plug in your studs, and unless some massive news breaks, you let it ride.
This week you should start paying attention to your matchups.
99 times out of 100 you'll leave your studs in, and again, if they failed you last week, that doesn't mean you should panic (see slide No. 1).
Still, there are some matchups you won't like (the aforementioned Spiller vs. the Carolina Panthers' 11th-ranked run defense and stout front seven) and some that will look really good to you (Jay Cutler vs. the Minnesota Vikings' No. 29-ranked shaky passing defense).
Of course, one week of stats isn't the end all, be all, but we can see trends. We saw an offensive line in Buffalo which couldn't block for Spiller and the subsequent struggles on that back, while we watched the Vikings have a hard time slowing down the Lions' pass game.
Consider who is going up against who and why teams succeeded or failed last week at defending an aspect of the opponent's offense. Use that to inform what you do.
Most of your studs will stay where they are, but it's time to start looking more closely at what they face.
Did you win? Fantastic.
You've still got a long way to go.
Don't get overconfident. Your team is probably not perfect.
As much as the losers of the weekend's games might be looking to scour the waiver wire, the winners should be doing the same.
The reasons are obvious—you never know when injury, a tough slate of games or anything else will change what your team looks like.
There's so much about fantasy football which is out of your control that you should never remain idle.
You can't afford to get cocky or lazy, because your dominant team may not look as dominant three weeks from now.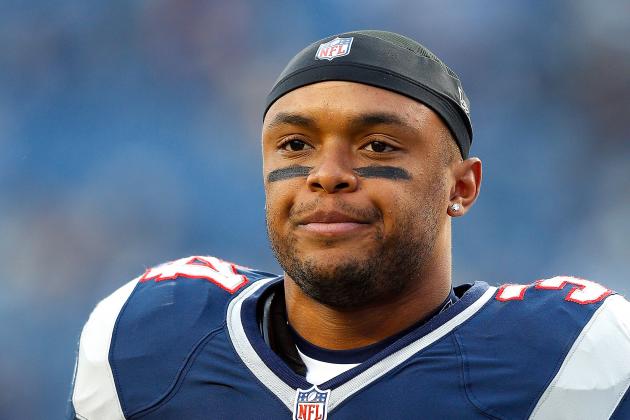 Jim Rogash/Getty Images

It sucks that Shane Vereen had a huge game last week and is now on the injured reserve/designated to returns list according to USA Today.
What doesn't suck is that for Dynasty owners, his trade value might just be plummeting.
Give it a week or two at the most, but see if you can snag him. Not just because you can use him next year but because he showed enough that when he returns he may still be a big part of the offense.
It's also worth seeing if any owner who did pick him in redraft leagues is looking to get something for him. Lots of owners may hold him, but 10 weeks is a long time, and they may not be willing to wait.
If you can get him on a redraft league for a reasonable price, buy.
Over the next few weeks you might see several people complain about various players not performing up to expectations as well. Vikings rookie receiver Cordarrelle Patterson is a guy to keep an eye on.
His snaps were severely limited, and as ESPN reporter Ben Goessling wrote yesterday, head coach Leslie Frazier had his reasons. It's also likely, while the team denies it, that Patterson's back issues from last week impacted things a little.
Christian Ponder still looks like a guy who prefers to throw short and let his receivers add yards. Nobody on that team (aside from Adrian Peterson) can do that like Patterson. I fully expect him to have a very solid year and start performing by the second half of the fantasy season at the very latest.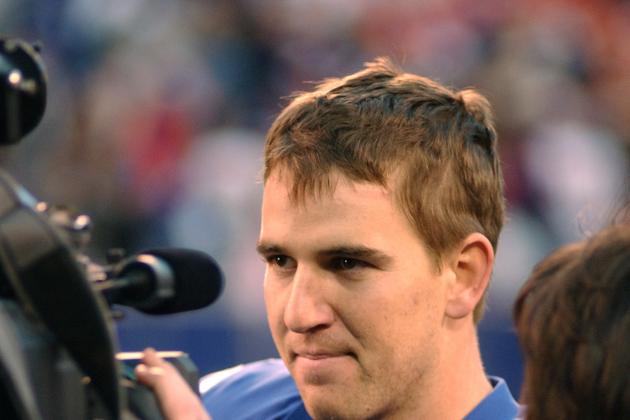 Brian Killian/Getty Images

You don't have a ton of time. Most people don't. So you don't want to spend endless hours reading every report, and you go to any number of fantasy sites.
We all do it. Heck, some of us make our livings because of it.
And trust me, we thank you.
That said, you need to do a little research on your own each week.
You don't have to read every report on every team. Heck, you don't have to read about every team.
You should pick out players who—for good or ill—stood out to you last week and do some research as to why they did (or didn't do) well.
Don't take the expert's word for it. Find out for yourself why Kenbrell Thompkins struggled. Or why Lamar Miller was a no-show Sunday. Or if Jerome Simpson really could repeat his big game.
The beat writers and local guys will tell you not just that they performed well but why they did, and you'll then be able to start making a logical, reality-based decision on whether their success is a one-time thing or a long-term proposal.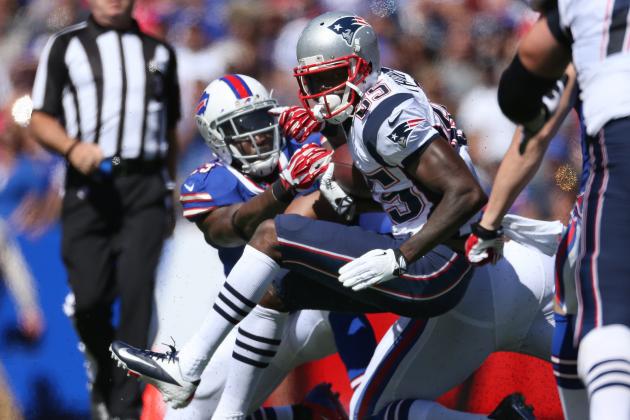 Tom Szczerbowski/Getty Images

A few slides ago we talked about doing small moves and adjustments rather than blowing your team up after one loss.
Well, some people won't see that slide, or they'll skip it, or maybe they'll miss the whole article (shocking!).
Whatever the reason, people in your leagues will overreact.
Which is good for you.
There are players—most of them will be fringe guys and bench depth—who were hot coming out of preseason games and misfired in Week 1. People will drop these guys because people tend to lack patience in fantasy football.
A great example is a guy like Kenbrell Thompkins. I'm not his biggest believer, but dumping him after one week? Too quick.
Especially given the high amount of targets he had, as pointed out in fellow Bleacher Report writer Gary Davenport's piece telling you not to give up on the New England rookie.
There are plenty of guys like this—Giovani Bernard, Cordarrelle Patterson, Greg Little—all are guys who may have started slow but very well can rebound in short order.
Know what's worse than missing out on a hot waiver wire property?
Dropping a guy who becomes one because you were too impatient.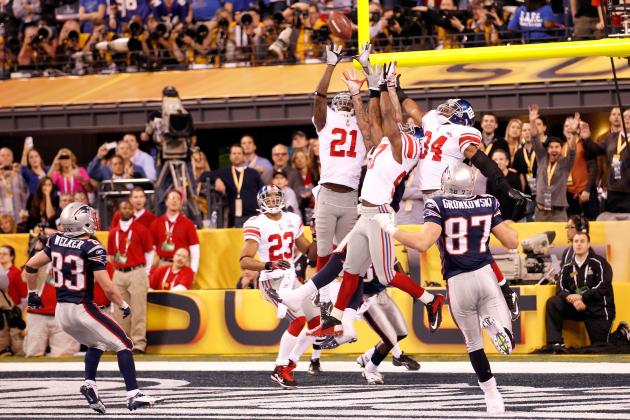 Rob Carr/Getty Images

Sometimes you need to throw a Hail Mary.
It's early, and as we've preached in this piece, you need to keep your head about you and not panic.
That said, you can take some chances without panicking.
Play matchups with your flex spot. Look for a high-upside or high-ceiling guy to play in a spot this week. Take a chance on a running back with a good matchup who might normally fall short of cracking your lineup.
Don't take dumb chances—Andy Dalton's matchup against the Pittsburgh Steelers looks better than Colin Kaepernick's with the Seattle Seahawks, but you're not rolling the Red Menace out there over the Tattooed Titan.
But take a few chances with your lineup. Be smart about it, but don't be afraid to line up a guy you might normally not use.
You never know where that extra game-winning point will come from.
Andrew Garda is a member of the Pro Football Writers Association. He is also a member of the fantasy football staff at Footballguys.com and the NFL writer at CheeseheadTV.com. You can follow him at @andrew_garda on Twitter.