NHL Prospects Whose Stock Is on the Rise in 2013 Offseason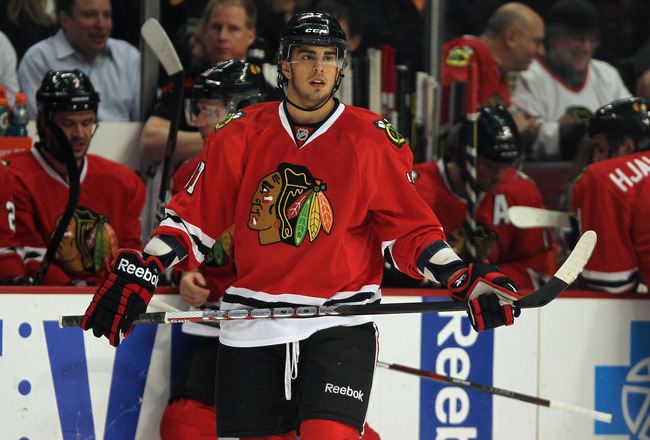 Jonathan Daniel/Getty Images
Training camps have begun around the NHL, and the most intriguing position battles involve some of the game's top prospects.
The sport is fortunate to have a strong group of future stars who are looking to earn a permanent spot on various NHL rosters over the next few weeks.
While many of these players are likely to spend most of this year in the AHL or return to junior hockey, earning some experience and learning about life as an NHLer will be benefical to these prospects' development.
With the 2013-14 season only a few weeks away, let's take a look at the top prospects whose stock rose this offseason.
Mathew Dumba, Minnesota Wild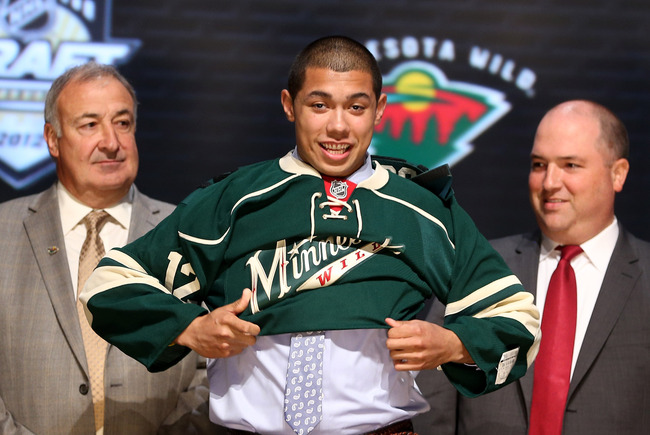 Bruce Bennett/Getty Images
Mathew Dumba has been invited to the Minnesota Wild's training camp and will have a good chance to make the NHL roster. Aside from superstar Ryan Suter and last year's rookie sensation Jonas Brodin, the Wild don't have many top-tier defensemen on their roster.
The addition of Dumba would give Minnesota additional offensive skill and truculence on the blue line. He plays a physical game, has polished defensive skills and brings a high amount of energy to the ice. His speed and skating ability also makes him an exciting player for fans to watch each night.
Dumba has impressed Wild management with his performance in this year's Traverse City Prospects Tournament. The team's top defensive prospect had a tremendous game on Friday.
Per the team's website:
Despite the loss, Flahr did note that 2012 first round draft pick Matt Dumba played a solid game and as he picked up an assist on Bussieres' goal, he was Flahr's star of the game.

"Dumba was the best player on the ice tonight," Flahr said. "He had some offense in the backend and played very solid defensively. … [He] had a lot of ice time and played physical so he kind of did it all for us. It was pretty impressive."
If the young defenseman has a strong training camp, it would be surprising if he didn't earn a spot on the Wild's regular-season roster. This team needs more depth and skill on the blue line, and Dumba is one player who can satisfy both issues.
Brandon Pirri, Chicago Blackhawks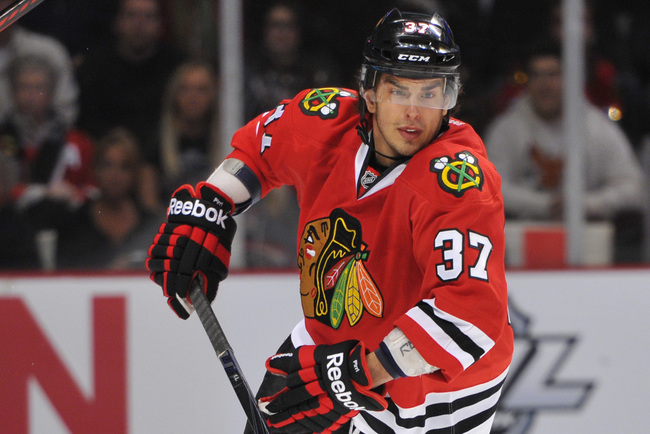 Rob Grabowski-USA TODAY Sports
How highly do the Chicago Blackhawks think of top forward prospect Brandon Pirri?
According to Mark Lazerus of the Chicago Sun-Times, the AHL's leading scorer from last season will get an opportunity to compete for the second-line center role.
"Joel Quenneville says Handzus will not start the season as Blackhawks' second-line center. Sure seems like Pirri will get the first shot."
There's no question that Pirri is ready for an important role at the NHL level. His poise with the puck is tremendous, he's responsible defensively and his playmaking skills are polished enough to create quality scoring chances for top-tier wingers such as Marian Hossa and Patrick Sharp (likely second-line players next season).
Pirri's scoring totals have improved in each of his three AHL seasons, and to take the next step in his development, more experience against NHL competition must be earned.
Even if Pirri doesn't win the second-line center job, he should still be on the NHL roster as Dave Bolland's replacement on the third line. He's capable of playing a physical game and has the puck-handling skills required for a top-nine center role.
Expect the former second-round draft pick to make a strong impact for the Blackhawks this season as the team attempts to defend its Stanley Cup title.
Ryan Murray, Columbus Blue Jackets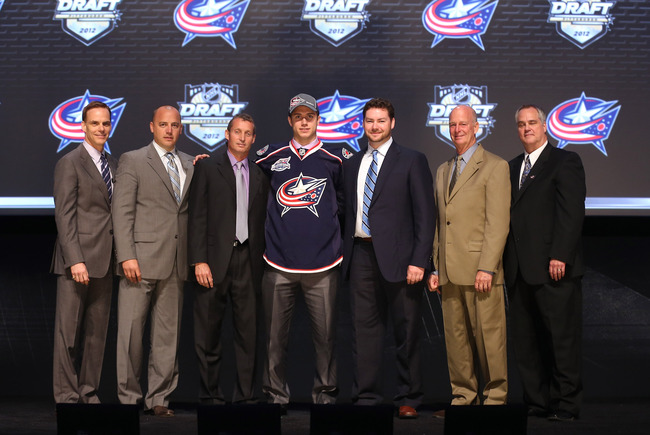 Bruce Bennett/Getty Images
A number of quality performances at the Traverse City Prospects Tournament has Columbus Blue Jackets fans excited for Ryan Murray's future with the club.
After missing most of last year with an injury, a healthy and motivated Murray will compete for a spot on a rapidly improving Blue Jackets blue line at training camp this month.
The 19-year-old defenseman was among the most NHL-ready players in his draft class and possesses a polished defensive game that features good positioning, physical play, a willingness to block shots and a high hockey IQ.
He has all the talent of a top-pairing NHL defenseman, and the next step in his development is to gain experience against top competition. Murray's ability to excel on special teams and play a responsible game with few mistakes gives him a strong chance to make the regular season roster for Columbus.
Valeri Nichushkin, Dallas Stars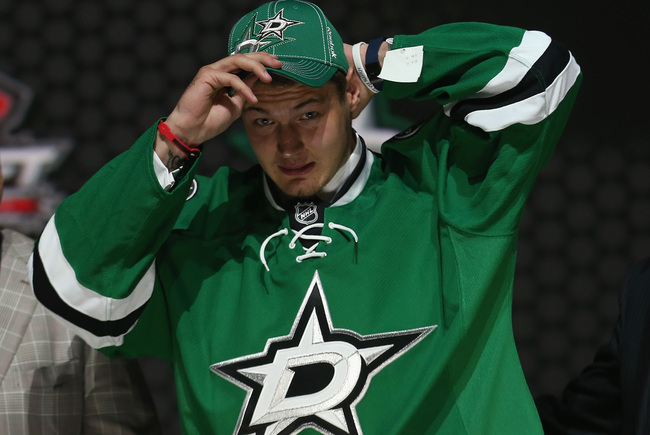 Bruce Bennett/Getty Images
The offseason departure of first-line right winger Loui Eriksson has opened up a top-six role in the Dallas Stars' offense, one that would be best filled by 2013 first-round pick Valeri Nichushkin.
As a power forward who brings an impressive combination of speed, truculence and offensive skill to the ice, the Russian winger is an ideal fit for Dallas' top line alongside talented stars Jamie Benn and Tyler Seguin. In fact, the NHL player he best compares to is fellow Russian winger Alexander Ovechkin. No one should expect Nichushkin to make an Ovechkin-like impact in 2013-14, but he does play the same kind of energetic game.
Speaking with Mark Stepneski of the team's official website, new Stars head coach Lindy Ruff commented on Nichushkin's performance at the recent Traverse City Prospects Tournament.
I've liked a lot from the first game. He's had the puck a lot and he's made a lot of great plays. He skated well in a lot of the tight areas and he's competed well. I think when you see somebody that has the puck most of the time, or comes up with the puck most of the time, it tells you that he is in on a lot of the action.
As a player with a polished, NHL-ready skill set, don't be surprised if Nichushkin plays an important role in the Stars offense this year.
Torey Krug, Boston Bruins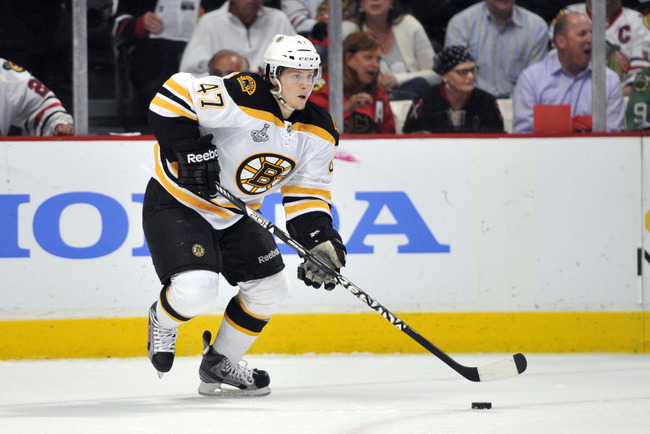 Rob Grabowski-USA TODAY Sports
Torey Krug comes into the Boston Bruins' training camp with a much better chance to make the regular-season roster than he did at this time last year.
The undrafted defenseman from Michigan State made his playoff debut in Game 1 of Boston's second-round playoff series against the New York Rangers last season and scored four goals in five games. It was the first time since the 1967 expansion that a rookie defenseman had scored four goals in his first five playoff games.
During the entire 2013 postseason, Krug showed why he belongs at the NHL level on a permanent basis. He's a fantastic skater, an accurate passer and makes smart decisions with the puck. His powerful and accurate slap shot from the point is a real weapon on the power play, and his ability to make a good first pass out of the defensive zone to evade the forecheck is impressive.
"It's unbelievable, the poise [Krug] has with the puck," said Bruins defenseman Dennis Seidenberg during last year's Rangers series. "He's got great skating legs and he jumps into the open areas. And you saw those one-timers he had the last couple of games. They're very nice shots. They're perfect shots. It's nice to see a guy like Torey to play so well."
Boston has three or four defensemen competing for one or two open spots on the blue line during training camp, but at this point, Krug should have the best chance to remain with the NHL club at the start of the 2013-14 season.
Nicholas Goss is an NHL columnist at Bleacher Report. He was a credentialed writer at the 2011 and 2013 Stanley Cup Final, the 2012 NHL playoffs and the 2013 NHL draft. All quotes obtained first hand unless otherwise noted.
Keep Reading