Start Em Sit Em Week 2: Breaking Down Wide Receivers with Toughest Matchups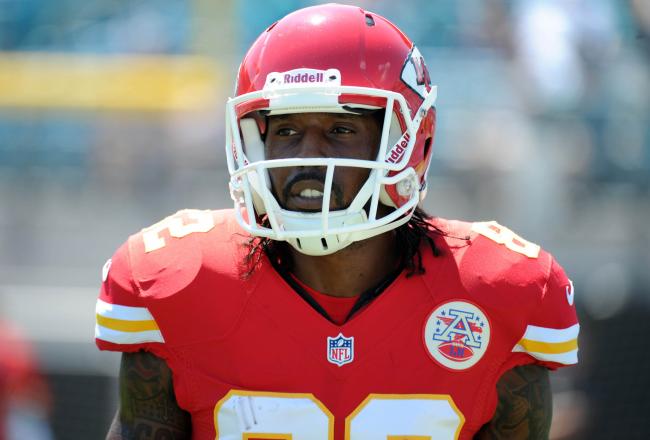 Melina Vastola-USA TODAY Sports
The best receivers are must-starts in most fantasy football formats every week, but don't be afraid to sit your No. 2 or 3 targets when the matchups just don't favor success.
I'm not talking about sitting Dez Bryant, A.J. Green or Calvin Johnson—you play those guys even if they're playing with broken bones in both their hands.
What I am talking about is using your draft skills and your expertise on the waiver wire to create some better odds at your second or third receiver positions.
Revis Island is still a thing, rest assured. While scrambling quarterbacks certainly make things harder on defenses attempting to stick with receivers, there's something to be said about the truly dynamic pass defenders in the league.
Start 'Em: Doug Baldwin vs. San Francisco 49ers
Steven Bisig-USA TODAY Sports
A lot of buzz was generated in the offseason when the Seattle Seahawks traded for dynamic wide receiver Percy Harvin. But the 'Hawks already have a competent slot man on their roster, and he showed up in a big way in Week 1.
Doug Baldwin received a team-high eight targets from Russell Wilson and converted on nearly all of them, grabbing seven for a team-high 91 yards against Carolina. The last time San Francisco came to CenturyLink Field, Baldwin went off with 53 yards and two scores in a rout of the defending NFC champs.
Sit 'Em: Marques Colston at Tampa Bay Buccaneers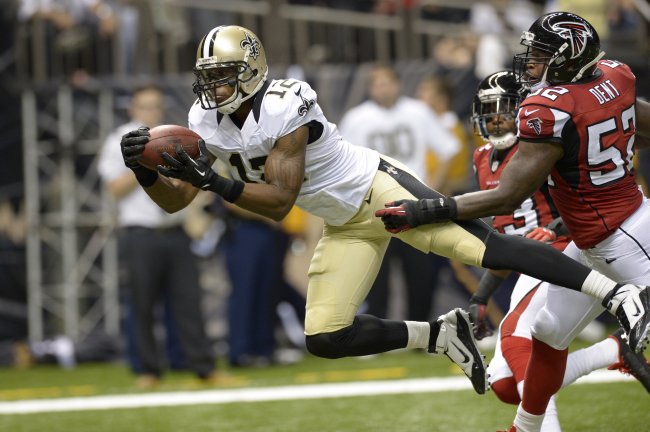 John David Mercer-USA TODAY Sports
Marques Colston had two solid fantasy games against the Tampa Bay Buccaneers in 2012. In fact, nearly every wide receiver in the NFL had big days when matched up against the team's porous pass defense a season ago. My oh my, how the times have changed.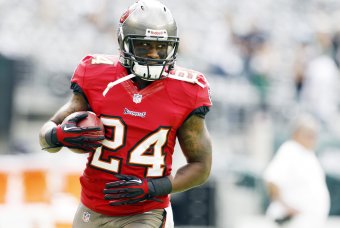 The Star-Ledger-USA TODAY Sports
The Bucs revamped their secondary to help them stay alive in the high-flying NFC South by adding Darrelle Revis, Dashon Goldson and rookie Johnthan Banks during the offseason. While Drew Brees will look to factor in his top target, it's more likely he'll exploit other matchups. There are plenty of mouths to feed on that offense, and Colston may be stranded on Revis Island all afternoon.
Start 'Em: Rueben Randle vs. Denver Broncos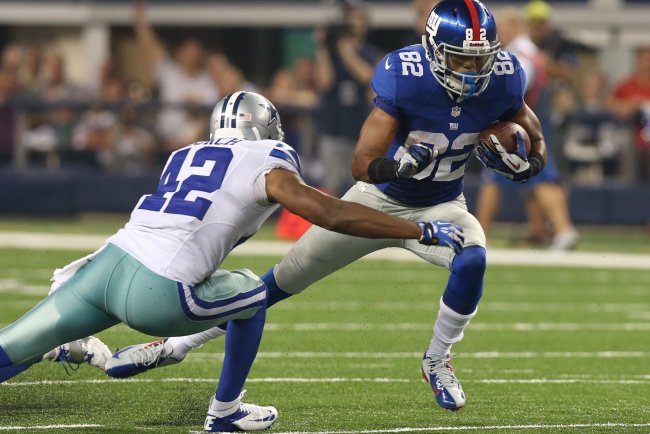 Matthew Emmons-USA TODAY Sports
Running the ball wasn't going to be easy for the New York Giants against the Denver Broncos in Week 2. That was before David Wilson's two-fumble performance drew the ire of Tom Coughlin in Week 1, prompting a benching by the fiery head coach. This week, even with Wilson, the Giants won't get a reprieve against a team that shut down Ray Rice on the ground in the season opener.
Luckily they now have three more-than-competent receivers to attempt to aid Eli Manning in his sibling rivalry against red-hot Peyton Manning. Randle recorded his first 100-yard game last week against Dallas and should factor heavily into the Giants' approach this weekend.
Sit 'Em: Dwayne Bowe vs. Dallas Cowboys
Predict Dwayne Bowe's Week 2 yardage total:
Alex Smith is not Eli Manning. With that said, Dwayne Bowe isn't Hakeem Nicks or Victor Cruz, either. Last week that pair helped the New York Giants put up over 400 yards of passing offense against a pretty good Dallas Cowboys defense.
While talented, Bowe's matchup doesn't bode well for his fantasy prospects. Smith should be pressured consistently by DeMarcus Ware and company and Bowe will have a tough challenge getting open quickly against their Tampa 2 scheme.
If Smith can consistently hit deep throws to beat the zone, he could have a good showing, but I'd rather wait to see the quarterback look in Bowe's direction more (six targets in Week 1), especially in the red zone, before feeling confident deploying him against a tough defense.
Start 'Em: DeSean Jackson vs. San Diego Chargers
Chip Kelly, wow. We knew coming into the season we should get ready for a Mike Vick resurgence, but we didn't know how fun it would be. One of the biggest benefactors of the coaching change has to be speedster DeSean Jackson. He received—by far—a team-high nine of Vick's 25 passes, catching seven for 104 yards and one score.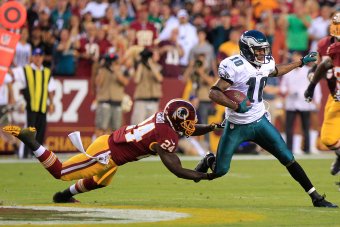 Geoff Burke-USA TODAY Sports
For the second year in a row, the Chargers proved to have a competent front seven but were very beatable in their secondary. They might not have the same luck against the Philadelphia Eagles' quick-strike rushing offense, but they'll have even less trying to stop Jackson from streaking down the field for big gains.
Sit 'Em: Greg Jennings at Chicago Bears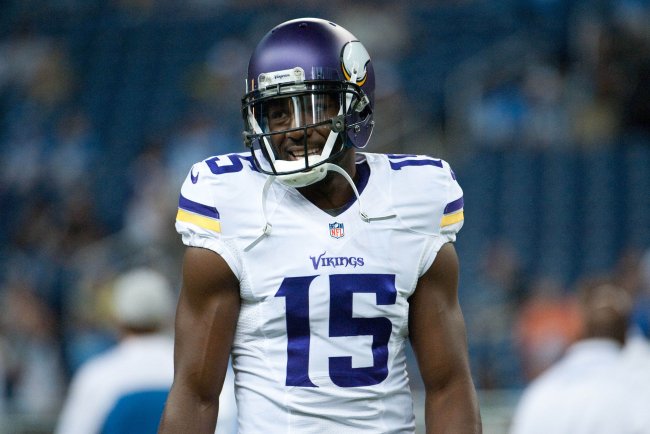 Tim Fuller-USA TODAY Sports
It's not that I don't like Greg Jennings as a player, but rather how I feel about quarterback Christian Ponder. It's no secret that Ponder is struggling still in his third season in Minnesota; it's also no secret how poorly he played against the stingy Chicago Bears defense over the past two years.
In Chicago last year, Ponder was just 11-of-17 passing for 91 yards and an interception in a lopsided Vikings defeat. The Bears' secondary should have no problems continuing to confuse Ponder and pressuring him enough to make Jennings a fantasy afterthought again in Week 2.
This article is
What is the duplicate article?
Why is this article offensive?
Where is this article plagiarized from?
Why is this article poorly edited?