Picks, Predictions and Prognosis for Every Week 3 SEC Football Game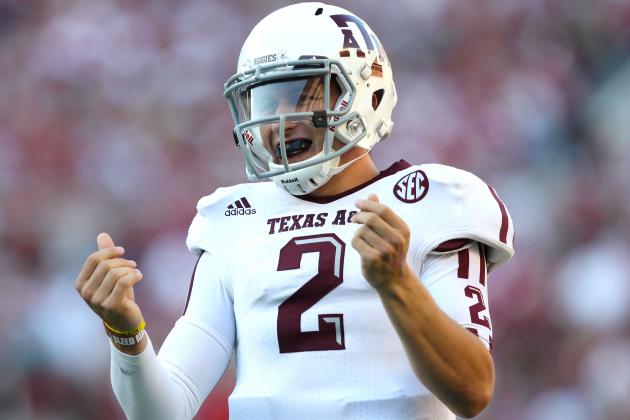 Mike Zarrilli/Getty Images
Texas A&M QB Johnny Manziel
Now, things get really interesting.
Alabama travels to College Station on Saturday afternoon for a rematch of one of the most thrilling games of the 2012 regular season.
Will Aggies quarterback Johnny Manziel topple the Crimson Tide again? Will Alabama head coach Nick Saban get his revenge? Who will move to the front of the pack in the rough and tumble SEC West?
Our picks, predictions and prognostications for the game of the year and the rest of the Week 3 SEC slate are in this slideshow.
2013 Record: 22-2 (16-7 ATS)
All Lines Courtesy: VegasInsider.com
Begin Slideshow

»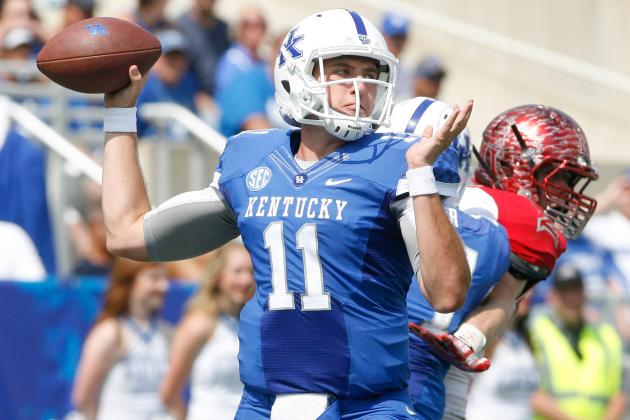 Mark Zerof-USA TODAY Sports
Kentucky QB Maxwell Smith
Saturday, Sept. 14 at noon ET
Despite Louisville being ranked No. 7 in both major polls and Kentucky sitting at 1-1 with a loss to Western Kentucky, the Wildcats are only getting 13.5 points in this rivalry matchup.
Talk about a gift from Las Vegas.
There aren't many statement games available on Louisville's schedule, but this is one. It's a rivalry game with an SEC power—albeit a bottom-feeder—that head coach Charlie Strong knows his Cardinals not only need to win but also need to look impressive in doing so. Anything less than a decisive win over Kentucky will hurt Louisville's chances to move into the BCS National Championship discussion, if and when the Cardinals run the table.
Cardinals quarterback Teddy Bridgewater has been on fire, completing 76.7 percent of his passes for 752 yards, nine touchdowns and only one pick in Louisville's 2-0 start.
Meanwhile, Kentucky gave up 271 yards in the air to Western Kentucky in the opener.
Bridgewater will throw for four more touchdowns, Kentucky's offense will make key turnovers, and this one will get ugly in a hurry.
Prediction: Louisville 45, Kentucky 16
Nelson Chenault-USA TODAY Sports
Arkansas RB Alex Collins
Saturday, Sept. 14 at 12:21 p.m. ET
Has there been a more overlooked debut than Arkansas' Alex Collins?
The true freshman running back has rushed for 303 yards and a touchdown in just two games, taking home SEC Freshman of the Week honors following his 24-carry, 172-yard performance last week in a 31-21 win over Samford.
He gets another chance to show his ability this weekend, with Southern Misss—ninth in C-USA in rush defense ( 179 yards per game) headed to town.
It's a big game for Arkansas. The Hogs desperately need to gain momentum this week before heading into a brutal five-game stretch at Rutgers, vs. Texas A&M, at Florida, vs. South Carolina and at Alabama.
Expect the Hogs to come out angry after getting tested a little too much by Samford last week, focus on the ground game behind Collins and sophomore Jonathan Williams and cruise to an easy victory.
Prediction: Arkansas 41, Southern Miss 18
Saturday, Sept. 14 at 3:30 p.m. ET
Now, things get interesting for the Vols.
Head coach Butch Jones takes his program across the country to take on No. 2-ranked Oregon in the back half of a home-and-home series that started in 2010.
Is Tennessee back? Can the defense play disciplined football? How much offense does Tennessee really have?
We are going to find out this weekend, and Vol fans probably won't like any of the answers.
Tennessee's defense isn't deep enough or fast enough to slow down this vaunted Ducks offense led by quarterback Marcus Mariota and running back/wide receiver De'Anthony Thomas. The best defense is a good offense, so expect Tennessee to try to make this a smashmouth game with its solid offensive line and rely on running back Rajion Neal to carry the load.
It will work for a while, but if there's one thing we know about Oregon, it's that time of possession means little to it.
Tennessee hangs for a half, but then Mariota and Thomas kick it into high gear in the second half and sprint to a big, big win.
Prediction: Oregon 49 , Tennessee 20
6'3"Saturday, Sept. 14 at 3:30 p.m. ET
The game of the year will come down to one simple question: "Will Alabama shut down Johnny Manziel?"
The answer is "yes, sort of."
Alabama won't lose the same way it did last season. The Crimson Tide won't let Manziel become "Johnny Football" and break the game open with his legs. Expect head coach Nick Saban and defensive coordinator Kirby Smart to emphasize to their front seven to play contain and force the reigning Heisman Trophy winner to beat them with his arm.
There's only one problem, though. He will.
Manziel tossed for 403 yards against Sam Houston State for two reasons. First, he wanted to get acquainted with some new or inexperienced receivers like freshman Ja'Quay Williams and sophomore Saban Holmes. Second, he wanted to plant a seed of doubt in Alabama's game preparation.
Mission accomplished.
Williams (6'3"), Mike Evans (6'5") and Ricky Seals-Jones (6'5") create matchup nightmares for Alabama's relatively inexperienced cornerbacks. That trio, along with Holmes, Malcome Kennedy and the Aggies' tight ends—who have been noticeably absent from the game plan in A&M's first two games—will force Alabama's safeties to help out in coverage, which will open up running lanes for Manziel later in the game.
With the exception of safety Floyd Raven's injury, this is the first time all season that we will see the real A&M defense. Considering Alabama's offensive line woes, it will do enough to force a mistake or two.
Prediction: Texas A&M 28, Alabama 24
Saturday, Sept. 14 at 7 p.m. ET
For LSU, this is all about keeping the momentum going in the right direction.
Quarterback Zach Mettenberger was on fire last week, completing 16-of-19 passes for 282 yards and a single-game, school-record five touchdowns in a 56-17 win over UAB. He looks like the downfield weapon he was touted to be prior to last year, and he has offensive coordinator Cam Cameron to thank for that transformation.
The marriage of Cameron and Mettenberger is a perfect fit for this LSU offense, which is loaded with talent at the skill position and is built to stretch the field. Now that the Tigers are finally doing it and look like a national title contender again.
For the defense, it's just about consistency. It gave up 17 points in the second quarter to the Blazers last week, and those lulls will come back to haunt it in conference play.
The defense will play consistently, Mettenberger will pick up where he left off with more than 250 passing yards and—most importantly—the Tigers will keep the momentum going heading into conference play next week.
Prediction: LSU 45, Kent State 7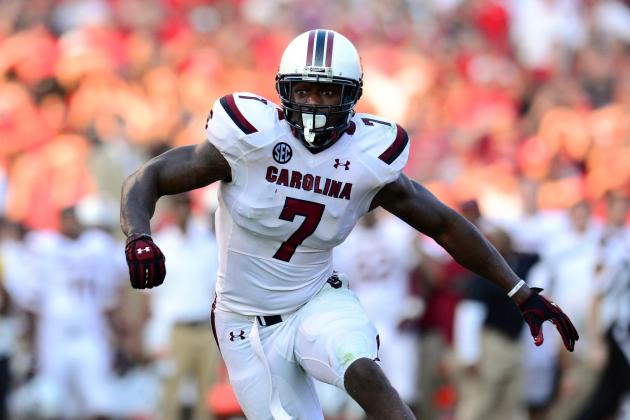 Dale Zanine-USA TODAY Sports
South Carolina DE Jadeveon Clowney
Saturday, Sept. 14 at 7 p.m. ET
Should South Carolina be on upset alert this week versus Vanderbilt?
You bet it should.
Defensive end Jadeveon Clowney is frustrated, coaches are fighting on the sidelines and the Gamecocks' margin of error has been erased, following a 41-30 loss to intra-division rival Georgia last week.
Despite that, South Carolina isn't broken. In fact, it proved last week that the offense is on point, racking up 454 yards and 30 points on the road. The one weak point is the secondary, which was torched by Bulldogs quarterback Aaron Murray.
That's where the opening is for Vanderbilt.
You saw on opening night how dangerous the combination of quarterback Austyn Carta-Samuels and wide receiver Jordan Matthews can be. If the 'Dores can get those two on the same page for a long gain or two, it will put a ton of pressure on the South Carolina offense.
That's the trick, though. Just where will Clowney line up, and can Vandy combat it? That's the wild card in this matchup. Gut feeling: This will be Clowney's coming-out party for the 2013 campaign.
Prediction: South Carolina 24, Vanderbilt 16
Saturday, Sept. 14 at 7 p.m ET
Just how "back" is Auburn?
We'll find out on Saturday, when Mississippi State rolls into the Plains in what will be one of the most intriguing games of the season.
Auburn is fresh off a 38-9 win over Arkansas State in which the defense looked stout, the offense was punishing and quarterback Nick Marshall looked solid in the pocket, putting much more touch on his passes than he did in his first outing versus Washington State.
Meanwhile, the Bulldogs expect to get quarterback Tyler Russell back after he missed last week with a head injury. Dak Prescott filled in admirably in his stead in an easy win over Alcorn State last week, and as has been the case in the past, will be a big part of the offense.
The question is, can Auburn stop the Bulldogs?
Auburn bent but didn't break last week, and the last time we saw the Bulldogs play a halfway decent team, it was held out of the end zone by Oklahoma State.
The Tigers will pull away in the second half as Marshall has a big day through the air and on the ground.
Prediction: Auburn 31, Mississippi State 21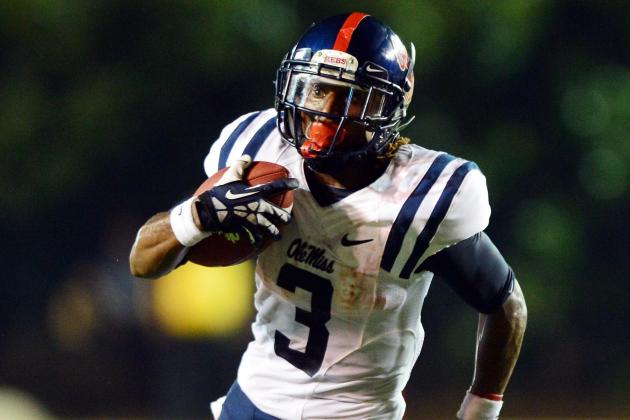 Don McPeak-USA TODAY Sports
Ole Miss RB Jeff Scott
Saturday, Sept. 14 at 8 p.m. ET
Get ready, because Ole Miss is going to be a trend-setter on Saturday. It'll be the first college football team in history to have its total offense calculated in mileage instead of yards.
Against this Texas defense, it's just going to be easier that way.
Greg Robinson—hold your laughter—will be coordinating the Longhorns' defense after former defensive coordinator Manny Diaz was let go after his defense gave up a whopping 550 rushing yards in a loss to BYU last week. Not total yards, rushing yards.
Robinson's defenses at his last two college stops ranked 110th (Michigan, 2010), 82nd (Michigan, 2009), 102nd (Syracuse, 2008), 111th (Syracuse, 2007), 107th (Syracuse, 2006) and 57th (Syracuse, 2005) nationally.
Yikes.
Running back Jeff Scott will run wild, the world will remember wide receiver Donte Moncrief, and Longhorns head coach Mack Brown's seat becomes hotter than Lane Kiffin's.
Prediction: Ole Miss 49, Texas 33