Texas A&M Aggies vs. Alabama Crimson Tide Complete Game Preview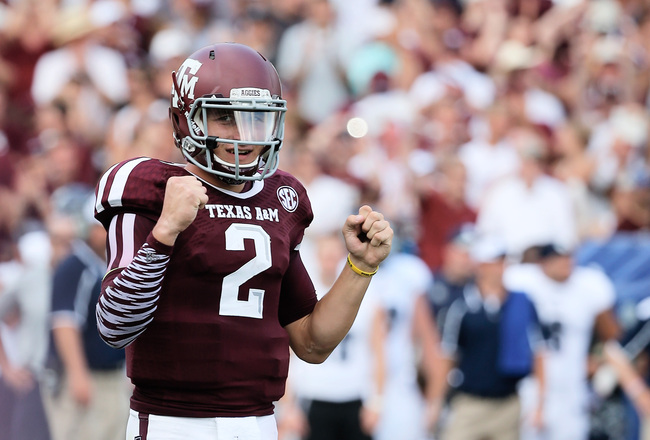 Scott Halleran/Getty Images
The Saturday college football fans have been waiting for is finally within our reach. Top-ranked Alabama faces off against No. 6 Texas A&M in "The Rematch" at Kyle Field this Saturday, each team with national title hopes and one opportunity to gain the upper hand on its SEC West rival down the stretch.
Following the Aggies' 29-24 upset of the Crimson Tide last season, the Sept. 14 matchup has been circled on most everyone's calendar. ESPN College GameDay will be in College Station. CBS will broadcast the game live. The national spotlight shines on central Texas like it never has before.
As for the game itself, though, below is all the info you need to know:
Time: 3:40 ET, Saturday, Sept. 14
Place: Kyle Field, College Station, Texas
TV: CBS
Radio: Compass Media (national); Texas A&M Sports Network
Spread: Entering Saturday's game, the Crimson Tide are a seven-point favorite over A&M, per vegasinsider.com
*Unless otherwise noted, all quotes obtained firsthand
Video Preview
Check out Bleacher Report's Texas A&M-Alabama breakdown video for storylines, highlights and analysis.
Texas A&M Keys to Victory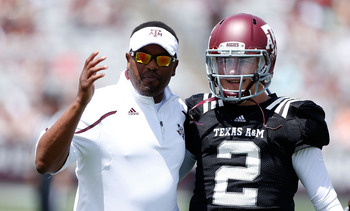 Scott Halleran/Getty Images
Offensive Consistency
With the Texas A&M defense at full strength for the first time all season, the Aggies' high-octane offense will be forced to handle most of the load as veteran defensive starters who have yet to play a minute shake off some rust against the best team in the country.
Fortunately for the defensive unit, A&M's offense—headed by Heisman Trophy-winning quarterback Johnny Manziel—can handle the extra pressure, and will need to sustain drives and create scoring opportunities throughout the game on a consistent basis, rather than during just the first and fourth quarters as it did during last season's matchup.
Turnovers
Turnovers played a key factor in last season's upset, as A&M intercepted AJ McCarron twice and forced a T.J. Yeldon fumble. An opportunistic defense will be the difference this time around, as one extra possession for the offense might allow A&M to gain separation from the Crimson Tide early.
Solid Special Teams
With Alabama's Christion Jones showing off his finesse against Virginia Tech in both the punt and kickoff return games, the A&M specials teams will be forced to "win" the field position battle throughout the game in order to contain the Crimson Tide offense.
Behind punter Drew Kaser, who knocked off a 70-yard punt against Rice, distance will not be a problem, but rather coverage down the field for such long punts.
Alabama Keys to Victory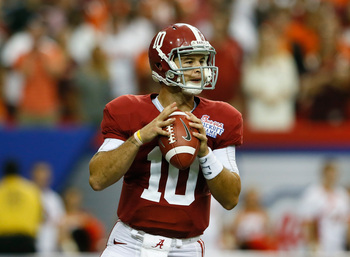 Kevin C. Cox/Getty Images
Rushing Attack
Alabama's offense must sustain drives against the Aggie defense down the stretch if it hopes to stay within striking distance of pulling off the road victory. Running back T.J. Yeldon and an offensive line loaded with tons of talents, albeit some questions, will need to create a consistent rushing attack in order to give quarterback AJ McCarron the flexibility to run a pass play without constant threat of blitz
Contain Manziel
Obvious, sure, but when it comes down to it, slowing the reigning Heisman Trophy winner is the key to keeping A&M from lighting up the scoreboard early and often throughout the game. Putting pressure and spying on Manziel allowed the LSU Tigers defense last season to create turnovers and make the quarterback uncomfortable lounging in the pocket.
If Manziel breaks off big chunks of yards early on through either the air or on the ground, expect the sophomore's motor to stay on for the remainder of the game, a consequence the Alabama defense will not be able to handle.
Big Plays
Again, obvious, but the key to knocking off A&M's talented defense starts with big plays, which are still relatively possible due to the mental mistakes made consistently throughout the first two weeks. After establishing the run game (see above), McCarron's arm will be vital to creating big plays down the field to star wide receiver Amari Cooper, who generated problems for A&M's defense last season.
Texas A&M Players to Watch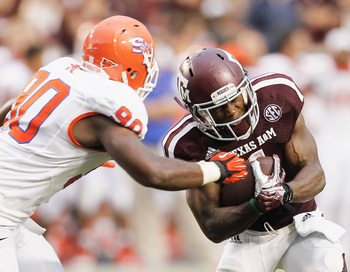 Bob Levey/Getty Images
Johnny Manziel
The sophomore quarterback stands as one of the nation's best for one reason: He'll kill you with his legs, but he'll destroy you with his arm. You can't defend both. You can only contain one to an extent, and the choice is yours.
Manziel will make many plays for the Aggies throughout the game, guaranteed. The question remains, though, will it be enough? With the offensive weapons head coach Kevin Sumlin has strategically placed around his young quarterback sensation, though, Manziel owns all the tools to skyrocket his squad past the Crimson Tide.
Running Backs
With a returning Trey Williams, who sat out against Sam Houston State due to a minor ankle sprain, the A&M running back corps will be back at full strength for the first time all season. Senior Ben Malena and sophomores Tra Carson, Brandon Williams and Trey Williams all have their specialties, and all can create problems for the Alabama front seven.
With such a high-powered run game, A&M plans on "keeping the defense honest," according to Malena during the Aggies' Tuesday morning news conference. Behind Malena's durability, Carson's power, Brandon Williams' speed and Trey Williams' versatility, this unit may do more than keep the Crimson Tide honest...it may break them altogether.
Returning Defenders
Senior linebacker Steven Jenkins, junior defensive tackle Gavin Stansbury and sophomore cornerback De'Vante Harris will bring the A&M defense back to full strength Saturday, and each will have some rust to shave off as the game progresses. Additionally, junior cornerback Deshazor Everett, who made last season's game-saving interception on Alabama's 4th-and-goal, will have the opportunity to play in his first full game this season after retaining half-game suspensions the first two weeks.
Keep an eye out on these returners, as their ability to acclimate to the game environment quickly will prove key for the A&M defense down the stretch.
Alabama Players to Watch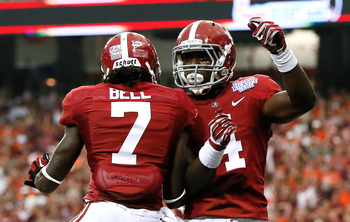 Kevin C. Cox/Getty Images
T.J. Yeldon
The superstar running back has made some serious waves since his arrival last season at Alabama, adding another running dimension to a program loaded with historically great tailbacks. Yeldon's sheer speed and size allow him advantages over most defenders around the country, not to mention his matchup problems out of the backfield when on short passing routes.
AJ McCarron
The stud quarterback returns for his senior season with one goal in mind: another national championship. The road to Pasadena runs through College Station, and the face of the Alabama program hopes to knock off rival (and friend) Manziel in a similar way to how the Aggies did last season.
McCarron's strong arm and pocket presence make him one of the best in the sport, as his deep-threat ability will allow big plays possible throughout the game.
C.J. Mosley
As the one defender A&M's Manziel will be forced to deal with throughout the matchup, the big-time linebacker will look to spy the young quarterback in order to keep him from finding space down the field to scramble. Cutting off Manziel's legs will provide a substantial blow to his potential, but only if Mosley is successful.
What Are They Saying?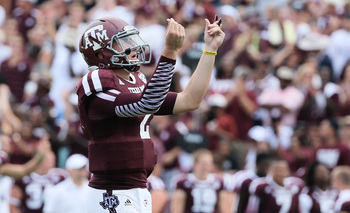 Scott Halleran/Getty Images
Texas A&M kicked off "BamaWeek" festivities with its weekly Tuesday news conference, with head coach Kevin Sumlin, both coordinators and five players taking the podium for the Aggies.
During the conference, Sumlin broke down the importance of recruiting in the SEC and how the game has impacted his program since he first arrived in December 2012.



I wouldn't have come to Texas A&M if I didn't believe we had the ability to be one of the top programs in the country. I think the combination of a lot of things have led to our success between seasons. We talked about recruiting and being able to recruit at a high level. We give players in this state, even in this region a choice of a different league, arguably the best league in the country to play in games like this Saturday. There's an appeal to young players for that and it should be.



As for Ben Malena, the senior running back said correcting mistakes and maintaining discipline will be key against a opportunistic defense like Alabama.



I think we're doing a very good job of taking strides to get to Atlanta. We corrected some mistakes we made from Week 1 to Week 2 but we're going to need to correct some more stuff, especially going into this game because Alabama can take advantage of a single mistake.



Despite the defensive questions surrounding A&M's unit, Alabama head coach Nick Saban believes the Aggies are solid but need minor corrections to cut down on big plays.



Defensively, I know some people have questions. To me, they played well defensively. They're physical, they're tough, they play hard. They've given up a few big plays early in the season probably due to mental errors or whatever.



Lastly, Crimson Tide wide receiver Amari Cooper said specifically the A&M game wasn't about revenge, as the source for Alabama's desire to win spawned from competitiveness rather than vengeance.



It's not a revenge thing because if we wanted to get revenge, we'd have to play that same team last year with the same team we had last year. It's really not a revenge thing. If you lose a fight with someone, you don't get revenge from fighting someone else. I think it's just a new team this year. We're a new team. It's no revenge. Just going out there and playing Texas A&M.



Prediction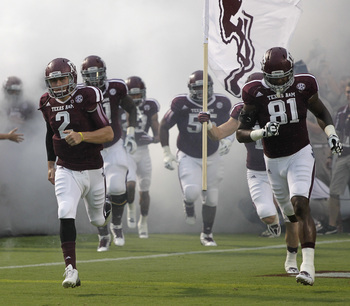 Bob Levey/Getty Images
Texas A&M 38, Alabama 31
Similar to last season, this game will come down to the wire. However, when it gets down to brass tacks, A&M's high-octane offense will prove slightly too productive for an Alabama defense loaded with talent while the Crimson Tide offense won't be able to catch up.
Behind Manziel, I expect a somewhat slow start but a fast finish for the Aggies, as an early Alabama lead will dwindle and disappear late in the third quarter and early into the fourth quarter. McCarron's experience and poise will lead to a decisive final drive, but a mistake similar to last season's interception will prove too much for the senior signal-caller.
Keep Reading

Texas A&M Football: Like this team?